Ditch sloughing dumps sediment in Loon Lake
Lakeshore property owners want the lake dredged; county says it won't happen quick.
JACKSON — A delta of sediment has attracted herons, Canada geese and a variety of ducks to the north end of Jackson County's Loon Lake, but not for the same reason it has lakeshore property owners up in arms.
Under sunny skies on an early May afternoon, a trio of property owners gathered at Jason Rossow's home along the lake, where Judicial Ditch 8 outlets into the water body. From Rossow's vantage point, an area of the lake once three to four feet deep is now home to an island surrounded by ankle-deep water.
Rossow, along with neighbors Dallas Luhmann and Brad Sievert, say a clean-out of JD8 in 2017 and 2018 created the problem. The ditch was compromised by two record-setting wet years in 2018 and 2019, breaking a record set in 1891, according to Jackson County Highway Engineer Tim Stahl.
No one could have predicted the record precipitation, least of all a county department with a laundry list of ditch clean-outs and repairs to complete.
Stahl said six miles of the ditch was cleaned — a process that involves removing sediment build-up from the bottom of the ditch. Roughly 25 years had passed since the ditch was cleaned out at the request of property owners in the ditch system. Loon Lake residents are not among those property owners.
While no one contends excessive rains caused sloughing of ditch banks — the problem occurred not just on JD8, but on numerous other ditches and stream banks across southern Minnesota — the fact is the sediment landed in the lake.
Now, lakeshore owners want to know who is going to fix it, when, and at whose expense.
Muck moves in
Rossow said in the early spring of 2019, when ice still covered much of Loon Lake, he watched as a "huge plume of mud" flowed from the drainage ditch and settled on top of the ice. The muck — which included corn stalks — formed an island and sand bar that changes shape from year to year depending on water levels and flow.
When the muck came in, Rossow and his neighbors gathered with Stahl, county commissioners and representatives from the Jackson County Soil and Water Conservation District.
"I think everyone, when we had the onsite meeting here, agreed that no one liked what was happening — it was unfortunate — but they said they followed the ditch law when they cleaned out the ditch," Sievert shared. "It was just too bad that it happened, but sorry."
Sorry isn't good enough for Rossow and his neighbors, however. They want the sediment cleaned out, sooner rather than later.
"The DNR (Minnesota Department of Natural Resources) thinks there's about four feet of silt out there," shared Rossow of probing that was done by DNR Hydrologist Tom Kresko.
The water has become so shallow that boats once able to travel in certain areas of the lake no longer can.
"I've seen several different boats come in and get beached way out there," Rossow said, pointing to an area south of his home.
"The problem is way bigger than what you see right now," added Sievert. "If the water drops 10 to 12 inches, the island will grow."
While they realize sediment has been washing into the lake for years — likely since the ditch was constructed in 1955 — they've never seen anything like the sediment dump that occurred in the spring of 2019.
"When you have a shallow lake to begin with, you can't afford for this to happen," Sievert said.
A Loon Lake resident since 1998, Rossow said for 20 years the lake was just fine.
"Then, all of a sudden they stick their machine in the ditch and they've got a clean ditch and we've got a dirty lake," he shared. "But the ditch is no longer clean."
County hires consultant
In response to the sediment issues in Loon Lake, Jackson County commissioners recently hired a consulting firm to evaluate JD8 and draft a repair order. The county also applied for a water quality grant to help pay for the work.
It isn't known how soon the repairs will be ordered, or when they will be completed, but Jackson County Commissioner Scott McClure knows one thing — it won't be quick.
"It's government; it has to go through a process," said the rural Sioux Valley farmer whose district includes the property owners on Loon Lake. "It's going to take a while, and it's not going to happen fast enough for those lake people."
McClure said once the repair order is submitted, a landowner meeting of the ditch system is required. It's the landowners within the ditch system who will ultimately decide if the repairs are made because they foot the bill through ditch assessments.
"The clean-out was a standard maintenance thing," McClure said. "If you want to point a finger, point it straight in the air. It was excessive rain for two years — it just happened. Anybody that blames somebody is wrong."
First a ditch repair, then the lake
Jackson County was told by the DNR that a permit to dredge Loon Lake will not be issued until the issues with JD8 are fixed. That means creating a retention area to handle the flow coming through the ditch system.
McClure said dredging is likely the only way that Loon Lake can be cleaned up, but that decision rests with the DNR.
Rossow said as plans move forward to fix the ditch, the lake issue seems to be at a standstill.
"Our fear is that when the ditch portion is done, they're going to leave the lake project as 'out of sight, out of mind' when the water comes higher," he said. "Several area farmers are on board with us trying to figure this out."
Those farmers live in the ditch system and decide what happens with the ditch clean-out, but the lakeshore owners feel like they are on their own.
"All we can do is squeak," Rossow said. He thinks the sediment flow into Loon Lake could have been avoided if the county had used silt screens while doing the ditch repair.
"They didn't do anything to try to prevent this from happening," Rossow said. "It's not a farmer or farmland problem — it's a ditch problem. We're not attacking the farmer in any way, shape or form. It's not farmer soil, it's the ditch soil."
He contends the liability is not with the farmland owners or the lakeshore owners.
"That's where we've got to get to — who's going to pay for it and where is that money going to come from?" questioned Sievert. "We all just agree we want the right thing done — cleaning out this that was not here three years ago."
Mark Goering farms along JD8, and therefore pays a ditch assessment. He supports the lakeshore owners in their quest to have Loon Lake cleaned, saying, "We can't have a problem like this and just walk away — we have to try to make it right."
While farmland owners should bear some of the cost, Goering doesn't think it should rest solely on them. He wished the county had consulted with landowners before ordering the clean-out, noting there were 1.5- to 2 miles of ditch that didn't need to be cleaned out.
"They undermined the slopes," Goering said. "It was too aggressive when they cleaned it out like that."
Regardless of who is to blame, Goering said, "You aren't going to find any landowner that doesn't want to do what needs to be done.
"We really need to do something to prevent this from happening again, whether it's riprap or buffer dams," he said, noting his own farmland incorporates conservation tillage and buffer strips far wider than what is required because "it's the right thing."
"It just pains me to see the silt fall down and pile up in the bottom (of the ditch)."
Following statute
Stahl said the JD8 clean-out was done according to statute (Minnesota drainage law). It states a ditch cannot be made deeper by a clean-out. There are no requirements for silt fences or other measures to prevent the sloughing that happened in JD8.
Sievert suggests the statute needs to be updated.
"If it's a 100-year-old law and this is the result of that, there's a problem," he said.
Minnesota drainage law is overseen by a committee of drainage attorneys and state legislators, shared McClure.
"While they have made some minor changes, the bulk of drainage law will stay the way it is," he added. "With the current disaster in the legislature and state government right now, (drainage law is) not a priority."
A public meeting will be at 9 a.m. June 3 in the cafeteria of the old Jackson County high school to discuss the condition of JD8.
1
/
4:
This aerial view of Loon Lake, with Jason Rossow's home in red, shows the delta created in the lake following a clean-out of Judicial Ditch 8 and two record-setting years of precipitation. The excessive rains caused sloughing in the ditch system, washing the sediment into the lake. (Special to The Globe)
2
/
4:
This aerial view of Loon Lake, with Jason Rossow's home shown, provides a clear view of the delta created in the lake following a clean-out of Judicial Ditch 8 and two record-setting years of precipitation. The excessive rains caused sloughing in the ditch system, washing the sediment into the lake. (Special to The Globe)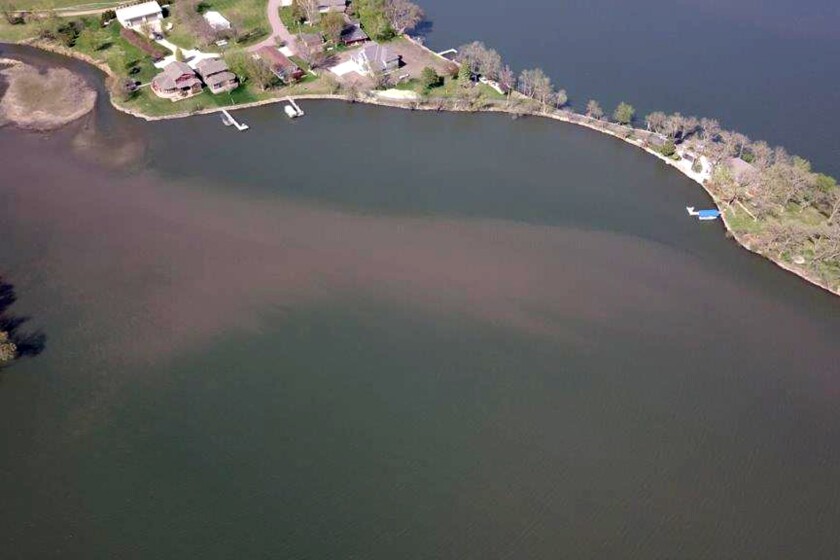 3
/
4:
The discoloration in the lake seen here is actually sediment flow that came from Judicial Ditch 8. (Special to The Globe)
4
/
4:
Shown is a photo of the Judicial Ditch 8 flowing into Loon Lake several years before the ditch clean-out was completed. (Special to The Globe)