Ruby takes the race in the second heat of the Great Gobbler Gallop in Texas
Cuero, Texas turkey outpaces Worthington's Paycheck to win the Traveling Turkey Trophy of Tumultuous Triumph.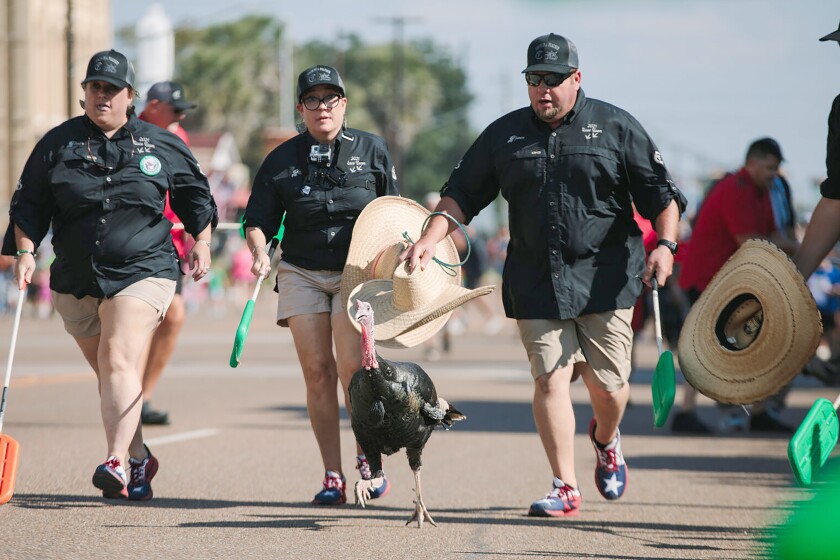 CUERO, Texas — Ruby Begonia came out the big winner in the second heat of the Great Gobbler Gallop in Cuero, Texas on Saturday, finishing the race in 51.12 seconds, while Worthington 's racing turkey, Paycheck , became distracted by the architecture and strolled to a 2 minute, 15 second finish.
After completing the two heats — the first of which took place during Worthington 's King Turkey Day on Sept. 18 — Ruby Begonia and her race team proudly accepted the Traveling Turkey Trophy of Tumultuous Triumph. Ruby 's combined time was 2 minutes, 25.72 seconds, compared to Paycheck 's time of 3 minutes, 27.36 seconds.
Cuero Race Team Captain, James Rath, told the Victoria (Texas) Advocate after the race: "It feels good to bring home the gold."
Rath and his teammates frequently admonished after the race in Worthington that "It ain't over 'til October," and this year, that phrase happened to be on their side.
Meanwhile, Paycheck 's Race Team Coach, Doug Tate, shared Tuesday morning that the Worthington team felt sorry for Cuero and "didn't want to quash their attitude forever by beating them six straight years."
Still, it was a disappointing finish for Team Paycheck.
"He was just taking a leisurely stroll down their street and checking out the crowd and their buildings," Tate said of Paycheck 's second heat. "We got a little slow start again, but not as slow as in Worthington .
"Then Paycheck noticed all of the buildings and all of the friendly folks in Cuero and thought he better take his time and check this place out," Tate added.
Worthington 's delegation arrived in Cuero last Thursday for a fun-filled weekend.
"They treat us like royalty — it's really amazing," Tate said of the southern hospitality.
On the day of the race, temperatures reached the low 90s, with some humidity.
"I thought it felt good; I don't think Paycheck liked it so well," Tate shared. "We didn't have to work up a sweat though — it was just a leisurely walk."
Naturally, the Texans were pretty excited to see Ruby take the win. Once it was certain she won the combined race, they cheered Paycheck across the finish line to a clear second place.
1
/
2:
James Rath, race team captain for Cuero, holds Ruby after the team won against Paycheck of Worthington, Minn., in the Great Gobbler Gallop as part of Turkeyfest on Saturday in Cuero. Emree Weaver/Special to the Globe
2
/
2:
Paycheck, of Worthington, Minn., runs down the street during the Great Gobbler Gallop as part of Turkeyfest on Saturday in Cuero. Emree Weaver/Special to the Globe