'Once Upon a Mattress' bounces at Memorial next weekend
Cast of 33 WHS students set to entertain in comic musical
WORTHINGTON — An uproarious splash of humor and color will hit the stage of Memorial Auditorium Performing Arts Center next weekend in the form of "Once Upon a Mattress."
Featuring 33 peppy Worthington High School students, the comic musical will be presented in three performances — at 7:30 p.m. Friday and Saturday, and at 2:30 p.m. Sunday.
"The students were requesting a comedy this year," said director Eric E. Parrish.
"And with 13 seniors in the cast, I wanted to find a show with enough parts to suit because we have a lot of talented kids.
"This is a funny show, with a very different style to it from what we have done the past few years."
Indeed, "Once Upon a Mattress" is a spoof of Hans Christian Andersen's classic fairy tale "The Princess and the Pea." During the '60s and '70s, Carol Burnett originated the lead role of Princess Winnifred on Broadway and in subsequent movies; in 2004, she switched sides and portrayed the show's antagonist, Queen Aggravain.
In this WHS production, senior Sarah DeSmith lends her voice and theatrical gifts to inhabit Princess Winnifred, while senior Katie O'Donnell is the duplicitous Queen Aggravain.
"This is very much Sarah's role," said Parrish.
"She has a powerful voice, and this is an awesome opportunity for her to shine."
The plot, in short, involves a medieval kingdom over which Queen Aggravain (O'Donnell) rules arbitrarily. She coddles her treasured only son, Prince Dauntless (A.J. Wass), and refuses to allow anyone else in the kingdom to marry until he does.
But the impossible tests she devises for her son's would-be brides leave her subjects in matrimonial limbo — especially the desperate-to-wed Sir Harry (Michael Schnieder) and Lady Larkin (Ashlyn Greve), who therefore take steps to recruit the unlikely Winnifred the Woebegone to audition for the role of Dauntless' wife.
Audiences can anticipate moments of farce, mistaken identity, vaudevillian antics and a hilarious dance contest, among other energetic displays on the colorful set.
According to DeSmith, the part of Princess Winnifred — more often known as simply Fred — came naturally to her.
"Winnifred is really a dynamic character to play," said DeSmith. "She is wacky and rambunctious and really confident, even though she is kind of an oddball, but I can identify with all of that.
Unlike DeSmith, O'Donnell finds herself playing against type as the villainous Queen Aggravain.
"Queen Aggravain is really not like my personality at all," said O'Donnell, who credits her three years in competitive speech as aiding her in memorizing the character's lengthy monologues.
"The hardest part is trying not to smile."
Smiling is key, however, for two senior male actors. Matthew Bartley, a WHS musical theater veteran, is the Jester, while Kalen Brands— a musical newcomer — is the mute yet extremely animated King Sextimus.
"I normally talk a lot," said Brands, who employs exaggerated facial expressions and a lot of slapstick physical comedy to communicate his intentions in "Once Upon a Mattress."
"I love making jokes and talking with my friends, but it was surprisingly not that hard to keep my mouth shut."
Schnieder, as Sir Harry, is familiar with the type of character he is called upon to depict in this show, having been seen as Rapunzel's Prince in "Into the Woods" two seasons ago.
"'Once' is soap opera-ish, with everything being kind of over the top, but that's what makes it all so funny," said Schnieder.
"Being in musicals throughout high school has helped me develop more confidence and learn to respond to what people are asking of me," he added.
"When Mr. Parrish gives me a critique, I try to correct it because I know it's all about trying to make a scene better or funnier."
Two student directors, junior Jeffrey Ludes and senior Bethany Dorschner, aided Parrish in producing "Once Upon a Mattress." Twelve more students are on the stage and technical crew, and five others are musicians in the pit band.
In addition, Parrish credits costume coordinator Roxanne Hayenga (assisted by Lisa Scholtes), lighting designer Erin Belpedio, pit band director Kris Stewart, choreographer Tiffany Koppes and MAPAC staff Mark Brodin and Tammy Makram with helping him bring the show to life.
"And we had a bunch of parent volunteers who assisted with the set," praised Parrish.
Parrish said that while "Once Upon a Mattress" contains some grown-up humor, it's essentially a fun, family-friendly entertainment spectacle that is sure to brighten the waning days of winter for all who attend.
"It's very campy and silly," said Parrish.
"And this is late winter — everyone feels kind of bleah, so the colorful 'Once' offers a chance for you to laugh and relax."
Confirmed Greve, "The slapstick comedy of it is all kind of ridiculous, but that's what makes it so appealing; people can come for the laughs."
The Worthington High School production of "Once Upon a Mattress" will be performed next Friday and Saturday at 7:30 p.m. and Sunday at 2:30 p.m. at Memorial Auditorium Performing Arts Center, 714 13 th St., Worthington. Tickets are available at the box office from 9 a.m. to 1 p.m. weekdays, by calling 507-376-9101 or by visiting friendsoftheauditorium.com. ISD 518 activity passes and student IDs will be honored for all three shows, but tickets for seating purposes must still be obtained.
1
/
6:
A group of cast members in the Worthington High School production of "Once Upon a Mattress" pose Tuesday afternoon during rehearsal in Memorial Auditorium Performing Arts Center. (Tim Middagh/The Globe)
2
/
6:
(Tim Middagh/The Globe)
3
/
6:
(Tim Middagh/The Globe)
4
/
6:
(Tim Middagh/The Globe)
5
/
6:
(Tim Middagh/The Globe)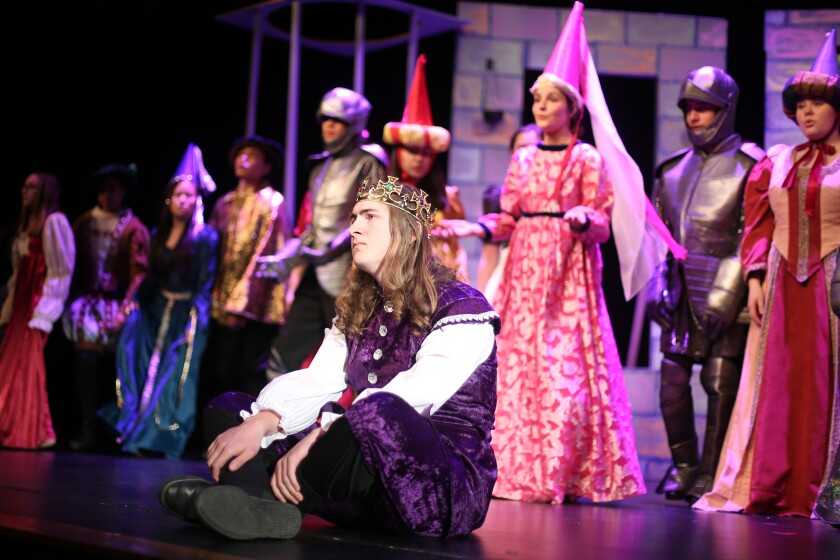 6
/
6:
(Tim Middagh/The Globe)