From high protein to sustainability, food trends drive demand for niche crops
Demand has boosted prices for some crops, which include field peas, oats and canola, grown in Minnesota, North Dakota and South Dakota on varying numbers of acres.
Consumers' appetite for certain foods has opened the door to more markets for northern Plains farmers to sell their commodities.
Demand has boosted prices for the crops, which include field peas, oats and canola, grown in Minnesota, North Dakota and South Dakota on varying numbers of acres.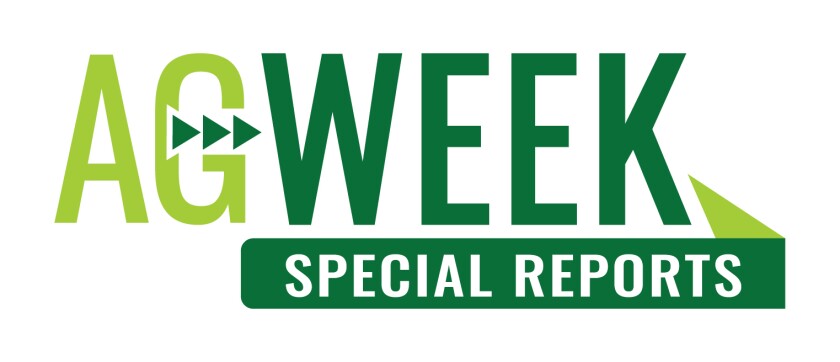 Paul and Diane Overby operate Lee Farms, near Wolford, North Dakota, where they farm 1,300 acres that include those three crops and sunflowers, flax, hard red spring wheat and soybeans. Instead of planting large fields of two or three different crops, they produce seven or eight grain and row crops.
The Overbys produce the crops on fields that average 70 acres, which is at least half the size of the fields on which many farmers raise conventional crops such as corn. The smaller fields are necessary because the couple produces more than half a dozen crops on their 1,300 acres of tillable land.
Over the years, the Overbys have tried a variety of crops. A few, like faba beans, they no longer grow, but most have become permanent parts of their rotations.
Archer Daniels Midland is paying Paul and Diane Overby, regenerative farmers from Wolford, North Dakota, to produce flaxseed to be sold in specialty food production markets.
"We've dabbled in a lot of things as contracts become available," Paul Overby said.
As consumers' demand for certain foods has increased, food companies have taken steps to ensure they meet the growing demand by contracting with farmers for acreage, Overby said.
No matter what separates us, we all have at least one thing in common — we all eat.
Agweek and our partners at Forum Communications Company are thinking about the Future of Food. This reporting series looks at the techniques and technologies that are advancing agriculture and the science around our foods and food production.




"The companies are saying, 'I want healthy food,'" Overby said.
North Dakota, especially, has several small processing plants that buy and process specialty crops.
"You go back 15, 20 years, there wasn't a lot of that going on. Now the food industry is getting better at handling segregation," he said.
In December 2022, the Overbys already have contracted about half of their total acreage of field peas, canola, oats, sunflowers and flax for 2023.
Contracting the acreage reduces the Overbys price risk. They know their price going into the growing season and don't have to be at the mercy of the cash market, which can wildly fluctuate.
The Overbys contract about 200 acres of Nexera canola, a high-oleic variety, with Bunge in Altona, Manitoba. Contract prices for the 2023 crop are from $2 to $3.50 per hundredweight higher than the market price, depending on the delivery month, Overby said.
The Overbys contracted for March 2024 delivery, which will be $3.50 over the market price. The cash Nexera canola prices were $30.83 per hundredweight in mid-December. The Overbys expected to begin locking in their price within the next month. They will price more of their 2023 crop as the year progresses.
Lee Farms also raises oats, which they contract with General Mills, and high-protein yellow field peas, which they contract with ADM.
Yellow field peas have potential to become a hot commodity in the specialty crops world.
PIP International, an agricultural technology company in Alberta, has developed a new method of extraction of pea protein which CEO Christine Lewington believes will revolutionize plant-based proteins and result in more opportunities for farmers to market their yellow pea crop.
The company's protein extraction process, which is significantly different from other protein extraction processes that other companies use, comes from the pharmaceutical industry, Lewington said. Her company used technology from the pharmaceutical industry, applied a "twist" on it and built its own equipment to extract the pea protein.
PIP International, which plans to contract for acreage with farmers in Saskatchewan and western North Dakota, has a $20 million pilot pea processing plant in Lethbridge, Alberta, which was in part funded by a $1 million grant from the Alberta government. PIP International plans to begin construction on a $150 million processing plant in the next few months.
The company has the ability to expand to process 126,000 metric tons of yellow peas per year which would be the highest capacity of any facility in the world.
The company's unique process has caught the eye of 39 private food companies that are negotiating with PIP International for use of its product, the company said.
The company's process to extract the protein results in a product that has a "good clean taste" that is unlike any other pea proteins, which aren't always palatable, Lewington said.
"They smell bad. They taste bad. They look bad," she said.
The pea protein will be highly functional for use across all sectors, including beverages, Lewington said.
"For farmers, I can now give them a long-term contract to grow my peas," she said.
PIP International is in the process of negotiating contracts, which are well above the market price of $10.50 per bushel in Canadian currency, with North Dakota farmers.
Raising niche crops has potential to provide opportunities for small farmers to stay viable, Overby said.
He also believes it could provide young people, who want to grow their crops sustainably and connect with consumers a less costly way to get into farming.
"The opportunities are better now than I've seen in my 30 years of farming and I hope they continue in North Dakota," Overby said.