What's the future of food and agriculture? A Purdue University economist shares his thoughts
Jayson Lusk, a distinguished professor and head of the Agricultural Economics Department at Purdue University in Indiana, has some ideas where the future of food and agriculture is headed.
As you sit down at your holiday meals in the coming days, take a look at the bounty before you. How is it different than what would have been there 20, 50, 100 years ago? And how might it be different than what you eat in 10 years? And, just as importantly, how will the way the food is produced and brought to your table change?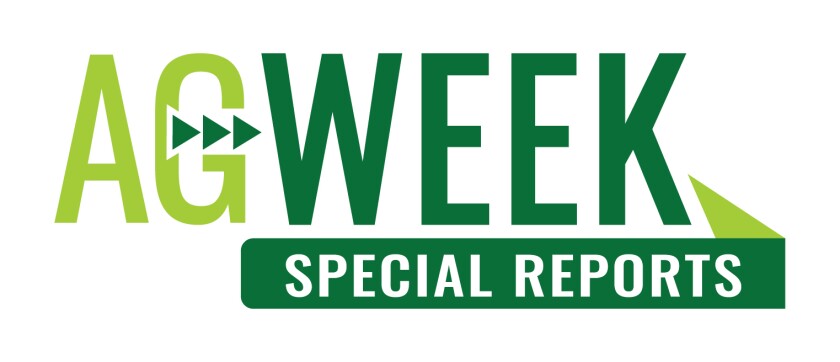 No matter what separates us, we all have at least one thing in common — we all eat.
Agweek and our partners at Forum Communications Company are thinking about the Future of Food. This reporting series looks at the techniques and technologies that are advancing agriculture and the science around our foods and food production.




How we farm and how we eat has changed over time. A tiny percentage of people produce food, and we don't rely solely on locally produced goods to fill our plates. Nor do most of us dine on the savory Jell-O salads of the mid-20th century. Farming no longer is accomplished by horse-drawn implements, and a vast majority of people buy their eggs in the store rather than gather them from their own flocks of chickens.
Science and technology — as well as human desires — constantly move and change, and agriculture and food are certain to keep changing, too. In the coming days, our Future of Food series will look at the technologies and changes food and agriculture are experiencing. We'll learn about technological advancements to farm and food equipment, new breeding techniques in plants, genetic discoveries in livestock, new ways to grow food, improvements to foods, new markets to meet changing consumer demands, and much more.
Jayson Lusk has some ideas where the future of food may go. Lusk is a distinguished professor and head of the Agricultural Economics Department at Purdue University in Indiana. He's a well-known speaker about the economics of food and agriculture and has written and co-written several books on the topic, including, "The Food Police: A Well-Fed Manifesto About the Politics of Your Plate," "Unnaturally Delicious: How Science and Technology Are Serving Up Super Foods to Save the World," and "Compassion by the Pound: The Economics of Farm Animal Welfare."
One thing he suspects is that how your food gets to your table might change in the next 10 years.
"I think you're almost certain to probably be buying more online," he said. "We were already on a trend of buying more food through the internet before the pandemic. Then we really kind of shot up on a whole new level."
He sees opportunities for entrepreneurs to come up with new ways for food to reach consumers. The food itself, he believes, will get easier and more convenient to prepare. When people prepare their holiday turkeys, for example, there's still a large spike online of discussions on how to cook it.
"It probably reveals an underlying fact that we've got foods that are just so much easier for us to cook and clean," he said. That won't stop, and the "continual blurring of 'what's a grocery store' and 'what's a restaurant'" is likely to continue, he said.
And then there's the matter of what consumers know about their food. Lusk thinks — with sufficient improvements to measurements and reporting — there could be quantitative labels about food, not unlike today's nutritional labels, that address things like carbon emissions and water usage.
"We're not there yet, and it's going to take a world where there's a lot more data that's being created and shared across the food system for that to happen," he said. "But I think that's sort of our world we're moving to, and maybe one that I think we can look forward to."
Agriculture has an incredible history of productivity growth, and I tend to think about productivity growth as being a cornerstone of discussions about sustainability.
Jason Lusk
The COVID-19 pandemic put more emphasis on regional and local foods and their importance in the resiliency of the food system, Lusk said. He doesn't expect those changes to just go away, and he thinks there is room for growth for local systems; however, it's also not likely that they will become the predominant way people get their food.
"Commodities are very efficient, very affordable. And when you deviate from that, costs increase. If you want to be smaller, you lose economies of scale," he said. "In most people, even today, we ask about what are the things, the biggest drivers of food purchases, and it's things like taste and price."
The November 2022 Consumer Food Insights Report from the Center for Food Demand Analysis and Sustainability in the College of Agriculture at Purdue University shows that holds true. The monthly report surveys more than 1,200 Americans from across the country to track trends and changes in consumer food demand and food sustainability behaviors. In November, taste, nutrition and affordability were the top attributes respondents in every region of the U.S. said they consider when purchasing food, followed by availability, environmental impact and social responsibility.
It's not, Lusk explained, that there is any one right or wrong food system.
"Yeah, economists have the saying that there are no solutions, only trade-offs," he said.
So, if you want more local foods, you will have to pay more. That might be an acceptable trade off for some people but not others, he said. Likewise, things like biotechnology, sustainability, means of meat production, and other food choices come down to trade offs.
For instance, in a paper recently published in the Proceedings of the National Academy of Sciences, researchers from the University of Minnesota's GEMS Informatics Center, Department of Applied Economics, and the Minnesota Supercomputing Institute showed that modern scientifically-bred crop varieties have led to an increase in biodiverse cropping practices and significantly higher wheat yields in the U.S.
That means that a trade-off of using heirloom varieties in agriculture might be accepting that those varieties will be less productive.
"The push for farmers en masse to return to heirloom varieties or landraces is not a sustainable solution. Innovation in scientifically bred varieties is enabling us to feed more people on less land, fertilizer and water while improving overall crop diversity," said Kevin Silverstein, scientific lead at the Supercomputing Institute.
The U.S. has many food choices from "large scale, efficient agriculture," Lusk said, from the "zillion options" in grocery stores to farmers markets and other sources of food.
"There is no one perfect system for everybody. And we're in a world where people can choose the systems that work best for them that have those trade offs," Lusk said.
Since conversations about food choices can be fraught, Lusk recommends starting from a basis of shared values, including that everyone cares about the future and the environment, even if they have different visions.
"Respect the choices of others who might be in a different income, position or, you know, have a slightly different place in their life," he said.
Biotechnology: The conversation around genetic modification has calmed down somewhat, Lusk said, in part because a federal labeling law provided people and companies the information they were seeking. Looking into the future, he thinks more innovation aimed at consumers could shift opinions on biotechnology. For instance, one of the key ingredients in an Impossible Burger that gives it its "red color and some of that animal-like flavor" comes from a GMO, he said. That hasn't caused much backlash.
"Part of that may be because a lot of people don't know it. But I think it also goes to suggest that if, you know, we start to see innovations, it becomes more of a secondary issue," he said.
Likewise, things like Arctic Apples that don't brown or innovations that affect flavors, spices or nutritional value may shift consumer opinion to more positive or neutral on biotechnology.
SUMMERLAND, British Columbia--Neal and Louisa Carter didn't set out to be pioneers in biotechnology. But their work to develop non-browning apples has made their company, Okanagan Specialty Fruits, a champion in the field of genetically modified ...
Lusk also anticipates that on-farm use of biotechnology could become more accepted, especially in the area of disease resistance among animals.
Sustainability: Development of solid sustainability metrics will be an opportunity for agriculture, Lusk said. The pressure to adopt sustainability standards has come more from the investment sector than from consumers, but if agriculture can show that it is producing more with less land, water, pesticides and fertilizers, that's a good story to tell.
"Agriculture has an incredible history of productivity growth, and I tend to think about productivity growth as being a cornerstone of discussions about sustainability," he said.
Development of those metrics will involve using technology to better track inputs, as well as better measure outcomes of carbon sequestration efforts like planting cover crops or using no-till techniques. Right now, the idea of how much carbon is sequestered is not based on sound science that works across different soil types and geographies. Improving that technology will better determine whether companies that are paying for carbon offset credits are getting their money's worth and better establish what a longterm commitment to an agricultural practice is worth for farmers, Lusk said.
Meat consumption: While the percentage of people not eating meat — or cutting down on meat consumption — continues to grow slightly, demand for meat products also continues to grow. The dichotomy, Lusk said, will likely lead to more polarized discussions around meat.
Animal welfare advocates have pushed for things like prohibitions on the use of gestation crates for sows and cages for poultry, and Lusk doesn't expect "continued pressures on the system to make improvements in animal welfare" will stop. However, he doesn't see any "big, significant changes" coming.
"If you get rid of some of the more negative images that can be displayed about production, it's hard to move to the next thing," he said.
Plant-based meat substitutes saw big gains in past years, but that has leveled off and even started to drop. It's not going away, he said, but it's not a big disrupter right now to meat.
"In fact, the most recent number I saw is that the sales of those products were down about 20% relative to the same time last year," he said.
The development of more cellular products could again draw interest in meat substitutes, he said.
Disease can cause disruptions to supply and demand. African swine fever has cut into pork numbers in other countries, and avian influenza has been a problem worldwide. But on the positive side, Lusk said new genetic advancements could improve productivity and disease resistance.
New food production systems: New technology that enables enhanced production of crops in inclement weather — things like vertical farming and aquaponics — are intriguing, Lusk said. But, ultimately, they've got stiff competition.
"The way I look at it is just, it's super hard to compete with the sun," he said.
Until advancements solve the problem of it being more efficient and affordable to grow crops outside using the sun as an energy source, Lusk thinks there will be limits to how much gets moved to indoor growing operations. However, there are places where it makes sense, including "really high-value crops," like herbs and lettuce.
Row crops: When it comes to the future of row crops, Lusk said trade and global events could be major disrupters. The U.S. is a major exporter of many crops, including corn and soybeans, so events that move the needle toward more or fewer exports can rapidly change the markets.
"It's not a free lunch," he said about trade. "It does create some vulnerabilities."
Other disruptions in crops could include anything that impacts animal agriculture and could lead to decreases or increases in feed needs. Because soybeans and corn go toward biofuel products in such large quantities, something like an increase of electric vehicles could curtail demand. Greater demand for non-meat plant-based products could lead to new opportunities. New technologies, like robotics or smaller-scale tractors that reduce compression on soil, could improve sustainability and productivity.