Buggin' out: Rural Worthington man's bug collection nears 10,000
WORTHINGTON -- Tom Middagh has his own personal museum of sorts at his farm property in rural Worthington. Just don't expect to see woolly mammoths or dinosaur skeletons. What he's got is a little bit ... smaller. With roughly 10,000 critters in ...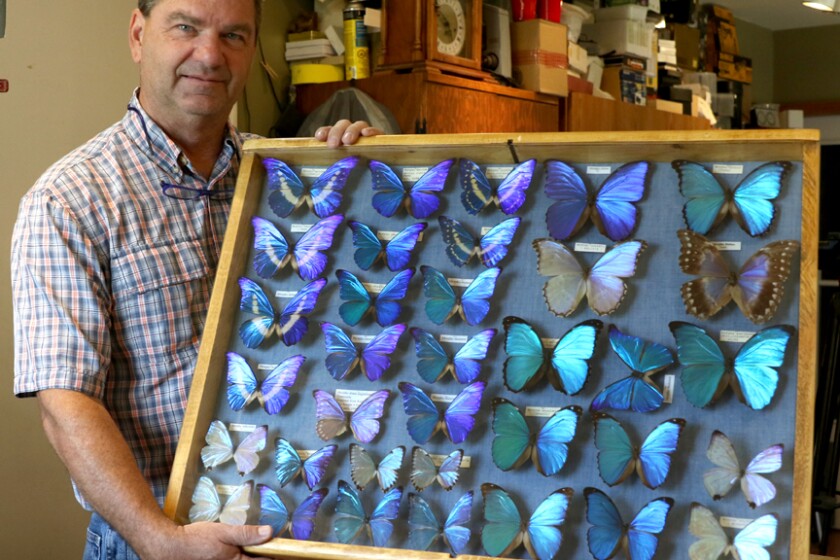 WORTHINGTON - Tom Middagh has his own personal museum of sorts at his farm property in rural Worthington.
Just don't expect to see woolly mammoths or dinosaur skeletons. What he's got is a little bit … smaller.
With roughly 10,000 critters in his possession, Middagh is the preeminent bug collector in southwest Minnesota. His collection mostly includes butterflies, moths and beetles. They come from all over the world, with the biggest bugs originating from South and Central America.
An area native, Middagh first began searching for bugs when he was 5 years old. He started with a simple jar, and as his arsenal grew to include butterfly nets, fermented fruit traps and ultraviolet light bug catchers, so did the number of bugs.
"Steadily, the collection expands every year," Middagh said. "That's why I had to move out here into the office. It used to be in the house when I was in high school, but it just got tighter and tighter."
Middagh's office is dedicated to his favorite hobby. Within shelves and cabinets are display cases with different species of insects. Despite living in the Worthington area his entire life, Middagh has bugs from all over the world. He does this primarily by trading his bugs for others from international collectors. He's currently trading with a fellow bug catcher from Ukraine.
"With the internet, it allows me to be in contact with people all over the world," Middagh said. "It's really changed since the internet. Before, in high school, it was letters, writing letters back and forth. It took forever."
Middagh has collected several bugs in the area that turned out to be Minnesota state records and holds many more county records. That includes bugs that had never been seen in the region before, such as the bright blue pipevine swallowtail butterfly and the black witch moth, known in Mexico as the "butterfly of death." He even found a local butterfly that is male on one side and female on the other, causing its right wing to be smaller than the left.
"The ultimate goal would be to find a species that nobody has found before," Middagh said. "But that's pretty hard to do."
He holds many area records, but then again, Middagh doesn't have much competition. His longtime friend Mitch Marcotte lives nearby and is an expert collector, but he gives everything he finds to Middagh.
"As far as competition … I'm kind of a one-man bug group here," Middagh said.
Friends and family sometimes give Middagh a bug for his collection, too. You could say it's in the family, as Middagh's cousin Richard Cowan runs LPS Imports in Denver, Co., the largest butterfly pupae importer in the U.S., which supplies butterfly houses around the world.
Though they aren't shown off like his colorful butterflies and shiny beetles, Middagh has some of the most common bugs as well. He's got pretty much everything one could think of … except spiders. His family does not like spiders.
"I've got stink bugs, bees and wasps, ants, dragonflies and cicadas," he said. "I do have a tick in my collection. I hate ticks."
Middagh typically injects bugs with ammonia to swiftly kill them. With modern technology, bug catching is easy. Middagh can set up an ultraviolet light bug catcher, which attracts insects by the hundreds overnight.
Middagh, though, still enjoys grabbing a butterfly net and doing it the old-fashioned way.
"Mostly it's taking the time to look," he said. "It takes some patience and you have to tune yourself in to that portion of it. It's like looking for rocks - put your head down and start walking."
Though not everyone likes bugs, Middagh said most people are extremely impressed when they see his collection up close, particularly his massive mouse-sized tropical beetles.
"It's usually, 'wow, oh wow. I've never seen anything like this before,'" he said. "So it's fun to show them off."
1
/
2:
Butterflies that Tom Middagh has traded for with a collector from the Ukraine are shown. (Tim Middagh/The Globe)
2
/
2:
Tom Middagh holds up a collection of rhinoceros beetles native to the rainforests of Central America, South America, and the Lesser Antilles. (Tim Middagh/The Globe)