County discusses need to continue offering pro-rate services
With approaching retirement in the Nobles County License Center, no one else is currently trained to complete the documentation.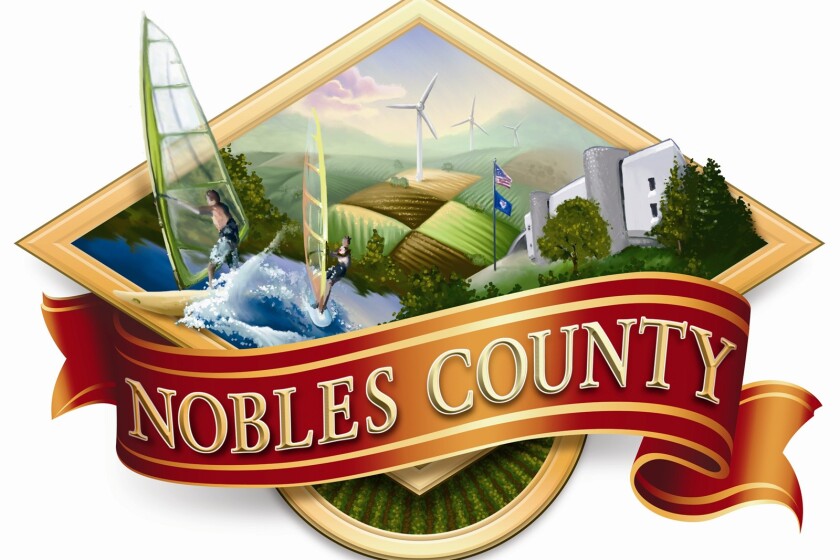 WORTHINGTON — With another retirement imminent in the Nobles County License Center, Auditor-Treasurer Joyce Jacobs and License Center Supervisor Louise Naumann appeared before county commissioners during a Wednesday morning work session to discuss pro-rate services used primarily by truck drivers.
Jacobs said more than half of the individuals who need help completing pro-rate documentation do not reside in Nobles County. They are doing so at the Worthington office because they either don't want to complete the documents online through the state, or their home county doesn't offer assistance in completing the paperwork.
At this time, Naumann is the only one in the license center trained to provide the service, and she intends to retire before July 1.
Jacobs said based on how busy the license center is, she wondered if the county wanted to continue to provide the service, or simply direct people to complete the registrations online.
"Over the years, the state has made it as easy as they can," she said, noting that the state offers the service online and will also mail paperwork out for those who don't have computer access or knowledge.
Naumann said she recently processed pro-rate documents for more than 60 trucks for New Vision Cooperative alone — paperwork that took her four hours to complete. Most trucking firms don't require that much documentation at one time, but it's a time-consuming process for the $11 fee the county collects for the work.
"Some take a long time to complete and some don't," Jacobs said. There are also those that don't have all of the documentation and sometimes have to make multiple visits to the license center to get the registration completed, she stated.
Jacobs said providing the service does create overtime, especially when truckers wait until the last minute. They have to complete the documentation between January 1 and March 1.
"You can't not have overtime when you have a seasonal thing," Jacobs said. "It's a service that a lot of times drives the overtime."
Commissioner Justin Ahlers said he doesn't want to take a service away from people.
"I have no problem telling the people from other counties 'No,' but with our residents, I have a really hard time (pulling the service)," Ahlers said.
Naumann said she didn't think anyone could be turned away, regardless of their county of residence, if they request pro-rate services.
Commissioner Donald Linssen said truckers need to be able to complete the documentation somewhere, and if the county doesn't provide the service, it puts them behind the eight-ball.
"They have to be licensed," he said. "I understand what they're doing. It's a requirement put out there that they have to do it.
"If we're not doing it, we're pushing people elsewhere," he added.
"If we want to be a regional center, we'd better be offering the service," added Commissioner Bob Demuth. "These people buy goods and services here, too."
Commissioner Gene Metz said it makes more sense to raise the fee. Given that the fees are set by the state, he encouraged staff to raise the issue with state legislators.
Meanwhile, Metz, as board chairman, and Linssen, as vice-chair, will meet with Jacobs to discuss cross-training and potential opportunities within the license center with Naumann's retirement.
Historical society seeks support for grant application
The Nobles County Historical Society is seeking the county's support for a grant application to the state capital grant and aid program to help fund renovations to the former armory.
Jerry Fiola reported that the NCHS received more than $275,000 in grants in the last year. The grants funded an HVAC system for the basement of the armory, tuckpointing, chairs and audio-visual equipment, recording oral histories about the armory from retired National Guard members, and studies to develop a storage plan and comprehensive interpretive plan.
"When we proposed this project, we knew it was going to be cost intensive," Fiola said. "We knew we needed to rely on as many grant opportunities as we could."
The grant application will be targeted to completing tuckpointing on the garage portion of the armory building. Fiola said there is a 50% match requirement, which can be in-kind.
The pre-application is due May 28, but grants won't be awarded until December or January. Pat Demuth said the estimate for tuckpointing on the garage is $40,000.
Commissioners couldn't formally act on the request during the work session, but plan to do so at an upcoming board meeting.
Pat Demuth also provided commissioners with a progress update, noting that the NCHS likely won't move out of its space in the War Memorial Building until September or October. He said another $170,000 is needed for renovations to the upstairs of the armory building, and that the NCHS is near the halfway point in funding the last phase of the renovation. A public campaign to raise funds for the facility is anticipated to begin this fall, he added.
NCHS Executive Director Beth Rickers said fundraising was hampered by COVID-19, though it has raised about $1 million, in addition to the $1 million donation from Bob and Pat Ludlow and the $500,000 each given by the city of Worthington and Nobles County.
Rickers said $3,089,000 has been committed to the project thus far, noting donations from community partners, numerous banks and individuals. The society's goal is to raise another $1.5 million to fully fund the project, including displays and furnishings.
In other business, the board:
Was notified of upcoming landowner meetings for judicial ditches 12, 17 and 26.

Discussed with Chuck Brandel, senior civil engineer with ISG, plans for a Ditch 101 public presentation for landowners, tiling contractors, county commissioners and all other interested individuals, to begin at 9 a.m. March 31 at the Worthington Event Center. Brandel will present information through photos and videos of proper tile connections and other construction procedures.
"We have a lot of farmers running around with tile plows and not all of them are doing it correctly," Ahlers said. "This is for anyone with a backhoe, tile plow or anyone who has drainage on their land. Chuck is going to show the right way to do a drain, to lay a pipe in a trench."
The presentation and question-answer session will last approximately two hours.
Learned of a design flaw in the new Information Technology space in the former jail space in the Nobles County Government Center that will cost about $10,000 to fix. During the renovation, the engineering firm failed to ensure heating reached two newly created restrooms and a hallway. Johnson is in discussions with the engineer about the error.

Discussed the process of identifying applicants to receive funds through the county's COVID-19 relief program. As of Wednesday, about $390,000 of the $425,000 was committed. More discussion and a formal awarding of the funds is anticipated to take place during Tuesday's regularly scheduled board meeting.