Downtown Worthington's purple ribbons have a purpose
Anyone can experience domestic violence, and many people do. Can you recognize the pattern of power and control?
WORTHINGTON — The ribbons bedecking downtown Worthington this month aren't celebrating a hometown event or a holiday season.
Instead, they serve as a reminder that October is Domestic Violence Awareness Month, and that anyone can experience domestic violence, regardless of gender, race, religion, sexual orientation, wealth, immigration, social status or identity.
"We serve people in this community that do experience (domestic violence)," said Sara Wahl, executive director of the Southwest Crisis Center in Worthington. "Domestic violence is really about a pattern of power and control."
It's a question of what someone is doing to regain power and control over another person, she explained. That can include using children against a parent, turning people against a victim, isolating them, verbally cutting them down or telling them they're crazy.
It isn't always clear-cut and obvious, and victims often don't recognize they're being abused. They may blame themselves for not seeing the signs of domestic abuse and domestic violence sooner, and they may think they're the only person dealing with the issue, too.
"We want to believe that we can take care of ourselves, that we don't need any help," Wahl said.
Abusers, even violent ones, may also be hard to spot from the outside, but one question to ask is whether someone tries to control as many aspects of the victim's life as possible.
It's also important to note that victims of domestic violence typically do not tell their friends and family "I am a victim of domestic violence," Wahl said.
Instead, they will use different terms to test the waters with other people, telling them they got kicked out of the house, that an ex won't return the kids, that they cannot see their own bank accounts or that their loved one continuously monitors their location. Often, a pattern emerges over time.
While those red flags do indicate a closer look may be warranted, some of those actions may not be issues in and of themselves, either, Wahl cautioned. Some people enjoy being texted frequently or trading location-tracking information, and some people would prefer their spouse took over the household's financial duties entirely.
"It's how it makes that person feel" that's important, Wahl explained. "Domestic violence is so complex, the dynamics are so complex."
Wahl has a message for people experiencing domestic violence.
"This is not you," she said. "In order for this to stop, the other person needs to stop what they are doing."
About 1 in 4 women and 1 in 7 men will experience domestic violence in their lifetimes, Wahl indicated in a news release.
The purple ribbons in the Southwest Crisis Center's five-county region — Nobles, Jackson, Cottonwood, Rock and Pipestone counties — are a reminder that, as the national Domestic Violence Awareness Month's national theme states, #Every1KnowsSome1.
Anyone who would like to donate money, gift cards or other items, provided they are not clothing, may contact the Southwest Crisis Center in Worthington at (507) 376-4311. Volunteers are also needed for staffing the 24-hour safe phone line, office work and even cleaning safe house locations.
Anyone who believes they might be experiencing domestic violence may call the Southwest Crisis Center at its 24-hour safe line at (800) 376-4311 or send a message through mnswcc.org .
1
/
2:
Purple ribbons in downtown Worthington Friday morning serve as a reminder that October is Domestic Violence Awareness Month. Tim Middagh/The Globe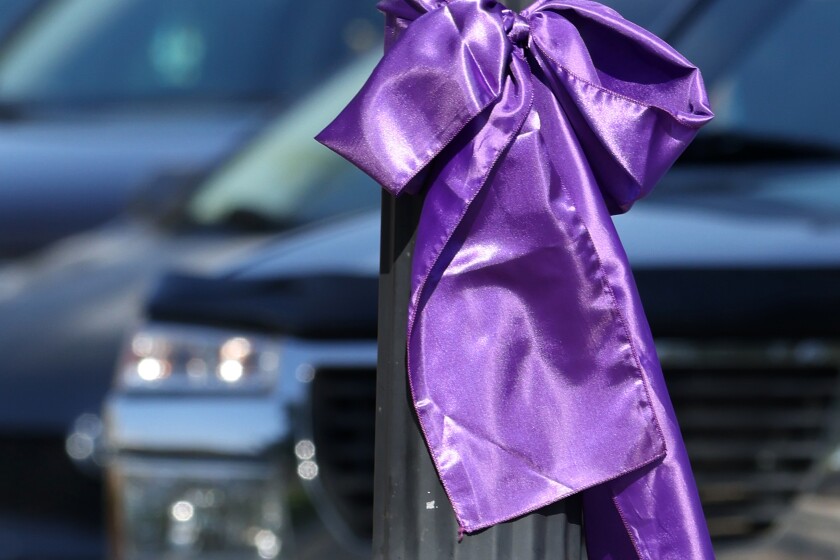 2
/
2:
Purple ribbons in downtown Worthington Friday morning serve as a reminder that October is Domestic Violence Awareness Month. Tim Middagh/The Globe