First-generation 4-H'ers experience Minnesota State Fair
WORTHINGTON -- A dozen Nobles County kids dually enrolled in 4-H and the EDGE afterschool program at Worthington Middle School experienced the Minnesota State Fair last week as part of 4-H Springboard.
WORTHINGTON - A dozen Nobles County kids dually enrolled in 4-H and the EDGE afterschool program at Worthington Middle School experienced the Minnesota State Fair last week as part of 4-H Springboard.
The new initiative provides first-generation 4-H'ers an introduction to all that is available through the youth organization - and the state fair has the greatest array of 4-H exhibits around.
Nobles County 4-H Program Coordinator Katie Klosterbuer and STEM Coordinator Jessica Velasco were joined by two other adult chaperones to lead the kids through a full schedule of activities during the day trip.
"Oftentimes, the state fair is the highlight of summer for 4-H members," Klosterbuer said. "This (trip) gave them that experience without being overwhelmed."
The girls collaborated on a presentation about Quinceaneras, the special celebration in Hispanic culture that marks a girl's 15th birthday, while the boys participated in STEM (science, technology, engineering and math) activities. The 12 kids then combined efforts for a Chef for a Day program in which they prepared a meal and then participated in a conference judging event.
"One of our Springboard groups won the competition," Klosterbuer said. "They made chicken and vegetable kabobs, used the correct terminology and techniques and they conferenced with a judge."
Last school year, 176 WMS students dually enrolled in EDGE and 4-H through a program partnership. The hope of the Nobles County 4-H program is to interest those students in all that 4-H has to offer, from club and county activities to exhibiting at the county - and perhaps even the state - fair.
Springboard was another step in that direction.
"It was exciting to see the kids participate and be engaged and really feel the 4-H pride - and that they do fit in with 4-H'ers at the state level and easily could do so at the county level," Klosterbuer said.
Prior to the trip, Velasco said a lot of the students had the assumption the fair was either carnival rides or animals. They weren't aware of the array of other projects, ranging from flower gardening and photography to crafts and clothing.
"I thought (Springboard) would be a good way to show 4-H isn't only about agriculture and you don't have to be a child of a farmer to participate in these things," Velasco said. She specifically highlighted the Clothes You Buy project, in which 4-H'ers purchase an outfit, which they model during fashion review, and also share their knowledge about clothing and what they think creates a nice outfit.
After seeing Cloverbuds (pre-4-H members ages 5-7) making bath bombs, Velasco said, "These are things I know my students already do. Some of them are fashionistas; some of them make (things like) slime."
Two of the 12 youths taking part in Springboard were Velasco's own sons.
"Being a youth worker, I try to let them be a little more independent," she said, adding that being a mom, that isn't always so easy.
She said observing them with the other boys making food had her in awe.
"This was a really good experience for them," she said. "They made their own dishes, cut up veggies and seasoned the meat, and then they were judged on their meals."
The foods were judged on presentation, taste, care in using kitchen utensils, organization, teamwork and cleanup.
The kids had both lunch and dinner in the 4-H Building's cafeteria on the second floor, and also toured some of the fairgrounds together.
One of their stops on the grounds was at the Miracle of Birth Center, where they got to see a newborn calf, lots of newborn piglets and a sheep that was ready to give birth.
"That was also a good experience for them," Velasco said.
Both Velasco and Klosterbuer are considering taking another group to the Springboard event next year at the state fair. Meanwhile, they are hopeful that with the excitement and interest in 4-H among this year's participants, they can grow a new 4-H club in Nobles County.
"I had five parents contact me after the trip, asking how they could get their child involved in opportunities like this," Velasco said.
The 4-H program is open to youths in grades 3 through one year past high school. The new 4-H year begins in October. For more information about 4-H or how to join a club, call Klosterbuer at 295-5314.
1
/
5:
Donning their 4-H aprons, the kids were excited about participating in Chef for a Day in the 4-H Building at the Minnesota State Fair. (Submitted photo)
2
/
5:
The girls gave a presentation in the 4-H Building at the Minnesota State Fair about Quinceaneras. (Submitted photo)
3
/
5:
While at the state fair, the 4-H'ers participated in Chef for a Day. (Submitted photo)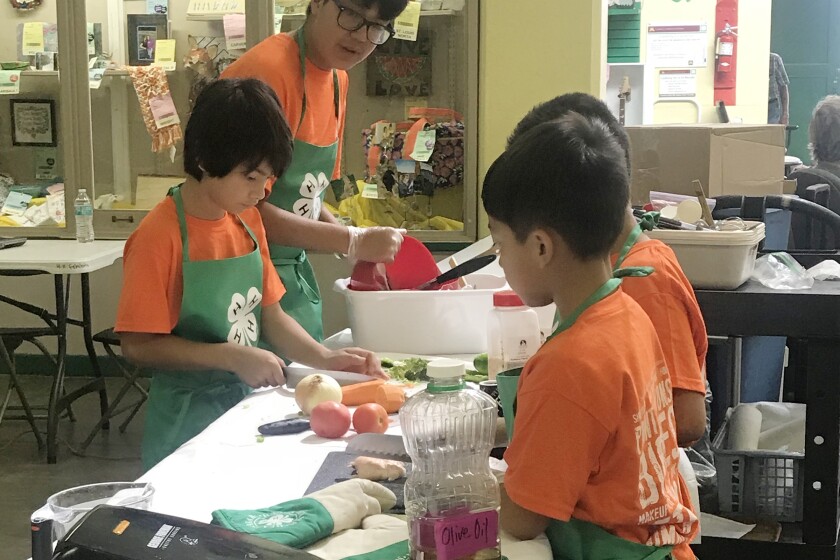 4
/
5:
While at the state fair, the 4-H'ers participated in Chef for a Day. (Submitted photo)
5
/
5:
The boys in the group take their turn enjoying STEM (science, technology, engineering and math) programming at the 4-H Building at the Minnesota State Fair. (Submitted photo)