From Civil War soldier to Cottonwood County pioneer: Potter farm settled in 1900
JEFFERS -- A yellowed newspaper clipping neatly folded and featuring the handwritten date of Nov. 27, 1919 is headlined: "Cottonwood County Pioneer Passes Away."...
JEFFERS - A yellowed newspaper clipping neatly folded and featuring the handwritten date of Nov. 27, 1919 is headlined: "Cottonwood County Pioneer Passes Away."
This is just one of the items Ray and Diane Potter have to help them share the story of their newly designated century farm in rural Amboy Township, Cottonwood County.
Ray's great-grandfather was William Alonzo Potter, and not only was he one of the first settlers in Cottonwood County, he was a Civil War veteran.
Born in Onondaga County, New York in 1839, William Potter was 6 years old when he moved with his family to Hardin County, Ohio. He attended school there, and was still living at home with his parents at the start of the Civil War.
According to the newspaper clipping, Potter enlisted with Company A, 82nd Ohio Volunteer Infantry on Oct. 12, 1861. He served three years with the regiment, participating in the battles of Chancellorsville, Gettysburg and others. Two years into his service the regiment was transferred to the army operating around Chattanooga, then under the command of Grant. Potter participated in the battles of Lookout Mountain and Missionary Ridge and was later with the regiment in the Atlanta campaign under command of General Sherman.
The story goes on to say that after three years, Potter was commissioned as 1LT in Company K, 180th Ohio Infantry. He served with them until his discharge on July 12, 1865, at the end of the Civil War.
Potter returned to his family in Ohio, and on Dec. 20, 1866, he married Arrabella Baker. The following year they, along with William's brother, Charlie, headed west for Minnesota territory. Originally they settled on a farm near Mantorville in southeast Minnesota, where they remained until the fall of 1874, when they moved farther west, to New Ulm. Three years after that, in the spring of 1878, they settled in Amboy Township.
Here is where the last of their seven children were born.
"He homesteaded the farm west of here," said Diane Potter, noting that it wasn't until 1900 that William purchased the parcel in Section 14, northeast of Jeffers. The town had officially been incorporated in September 1899.
William Potter paid $7,000 for the land in 1900 and mortgaged it several times before selling it to his son, Claude, for $1 in 1905. Within five years, however, Claude died and the farm went to his wife, Cora. When she died within a month after Claude, on Jan. 16, 1911, Cora's sole heir was her father, J.C. Haggard.
"Her dad sold it back to William for $2,000," Diane shared, noting the warranty deed signed on Jan. 30, 1911. "For two weeks, the farm was lost from the Potter family."
Since 1911, the land on the Red Rock Ridge hasn't left the Potter name.
"At one point, William had three sections, plus another quarter that he owned," said Diane. "I think he did a lot of land trading for something closer.
"In those days it was easier to buy and sell because there was more land (available)," she added.
William, who was already in his early 70s when he purchased the farm in Section 14 for the second time, gave half of the section - 320 acres - plus three-quarters of the neighboring section, or 480 acres, to his son George.
While George owned the land, he split his time between the farm and the coal business he owned in Mankato. He married Lola Mae (Burrill), and the couple had four children who called the farm home - Theodore Roosevelt Potter, Clarabelle, Lloyd and Leslie. Leslie died at the age of 5 or 6 after he'd fallen on something and developed blood poisoning.
Among the stories Ray grew up hearing about his grandfather was the time George was leading his team of mules, pulling a load of hay, home for lunch. The mules, no matter what they were doing, had long stopped when the noon whistle blew from the town of Jeffers.
Well, George hadn't quite made it home when the whistle blew and the mules stopped in their tracks in the middle of the road.
"Grandpa lit some hay on fire behind the mules to get them moving and they stepped ahead, only for the hayrack to catch on fire and burn," Ray shared.
Of George and Lola's three children who grew to adulthood, Theodore moved to Mankato and operated a hardware store, Clarabelle moved to Oregon and Lloyd stayed to take over the family farm. George sold him the land for $1 on March 22, 1945.
"Dad had a lot of flax around here - it was just a sea of blue," said Ray of his father's early years of farming. Oats, wheat and corn were also grown, and when their first soybean crop was harvested, it was cut for feed.
Lloyd and his wife, Florence, also raised several hundred sheep, as well as a large cattle operation.
"My dad was the first flying farmer around here," Ray shared. "He sold a lot of cattle, and he would fly up to the Cities when the cattle were sold."
Lloyd and Florence had three children, although the first two - a boy and a girl - died in infancy. Third born was Ray, who grew up working alongside his father on the farm.
"I was 4 years old when they built this house," Ray said of the brick home. "I got this little metal pail that I carried nails in."
Lloyd became sick when Ray was still in high school, which left Ray and Florence to do much of the farm work. By then, they'd already sold the sheep as well as some of the land.
Lloyd told his son that he had a choice: he could either agree to take over the farm, or Lloyd would sell it.
The choice was easy.
"I hate being in town," Ray said.
"You come from a long line of farmers," added Diane, who grew up on a farm six miles east of Ray. She went to school in Comfrey; Ray in Jeffers. They married Dec. 6, 1969, and moved into the tenant house on the Potter farm, as Lloyd and Florence remained in the brick home.
As Ray and Diane's family grew, so did the tenant house - they added to three of the four sides of the home at different times. This was where they raised their four children, Laurie, Amy, Bob and Brian.
In 1996, Ray officially took ownership of the Potter farm's 240 acres. A few years after his mother's death, the couple began renovations of the brick home, doing all of the work themselves. They continue to use the tenant house when their children and grandchildren return to the farm to visit.
Ray and Diane continued in his parents' tradition of raising beef cattle, operating a cow-calf herd up until six years ago. The cattle still contained the genetics from the purebred Hereford cows purchased by George and Lloyd in the early 1960s from the Sutton Ranch in Potter County, S.D.
"For many years we had Herefords and then I switched to a black bull," Ray said.
Their decision to sell the cattle was primarily age and crop prices.
"Diane got ran over and I got ran over twice," Ray said. "We thought the cattle were getting faster or we were getting slower. We were getting slower."
While the farmsite has changed over the years - grain bins taking the place of a corn crib, a shed repurposed into a pump house and new cattle and machine sheds were constructed - the farm still boasts its original barn, a granary and a wooden silo.
Ray and Diane continue to farm the land, raising 50-50 corn and soybeans. Their two sons help out with harvest when they can.
The Potters encouraged all of their children to get an education, and now they've scattered to within five hours of the home place. Laurie manages the Surf Ballroom in Clear Lake, Iowa; Amy will be teaching science and growing food for the Kelliher school district this fall and is one of eight teachers in the nation to be named an Ag in the Classroom Teacher of the Year; Bob is a civil engineer for the Bureau of Indian Affairs in Bemidji and Brian is a wireless network engineer working in Brandon, northwest of Alexandria.
The Potters have six grandchildren.
Looking toward the future of the Potter Century Farm, Ray hopes it will remain in the family.
"I really don't want the farm to go to anybody else," he said. "I've told the kids to rent it out - don't sell it. You at least have a place you can come back to."
1
/
8:
The Potter family includes William (front, from left), Cora, Edward and Arrabella; and back: Claude, Minnie, Charlie, Effie and George. (Special to The Globe)
2
/
8:
Lola Mae and George Potter, the second-generation owners of the Potter farm. (Special to The Globe)
3
/
8:
Lloyd and Florence Potter, the third-generation owners of the Potter family farm. (Special to The Globe)
4
/
8:
Lloyd Potter, third-generation owner of the Potter family farm, was known as the flying farmer. He'd fly to the Twin Cities to attend stockyard sales when he sold cattle. (Special to The Globe)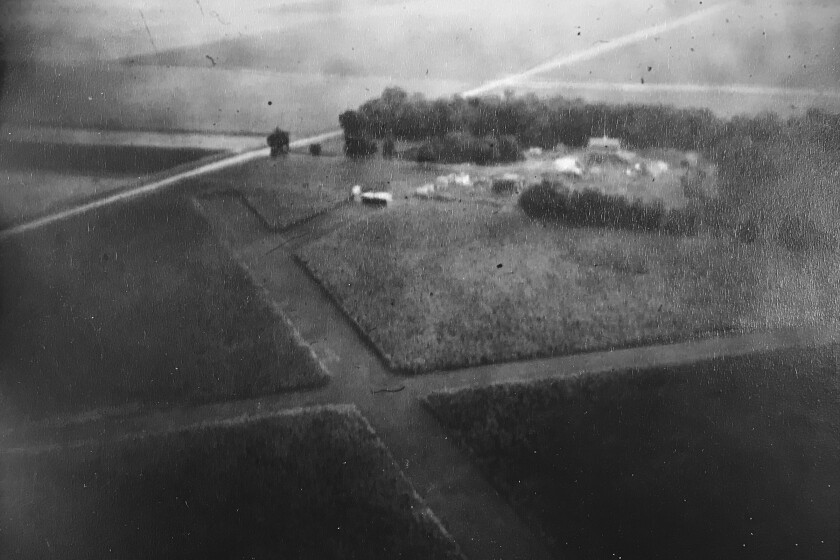 5
/
8:
These are the air strips Lloyd Potter created on the farm. (Special to The Globe)
6
/
8:
The Ray and Diane Potter family. (Special to The Globe)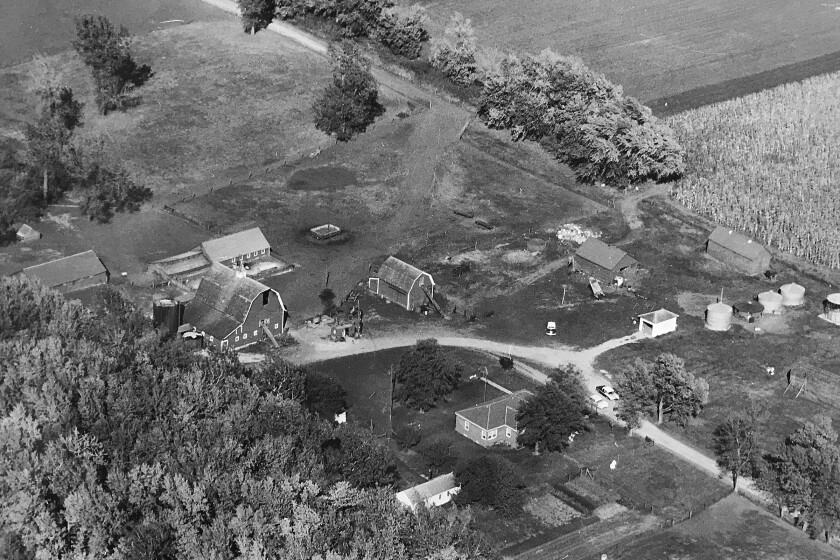 7
/
8:
An aerial view of the Potter farm in Section 14, Amboy Township, Cottonwood County, as it appeared in the late 1950s. (Special to The Globe)
8
/
8:
Diane and Ray Potter have had red tractors on their farm since the family's first tractor, an F-20 Farmall, was purchased by Ray's dad during World War II. Diane painted the circle P on the rock box, which has been mounted now on three different tractors. (Julie Buntjer / The Globe)