40-turbine Walleye Wind Farm to be constructed near Beaver Creek
NextEra broke ground on its new 110-megawatt capacity wind farm on Wednesday.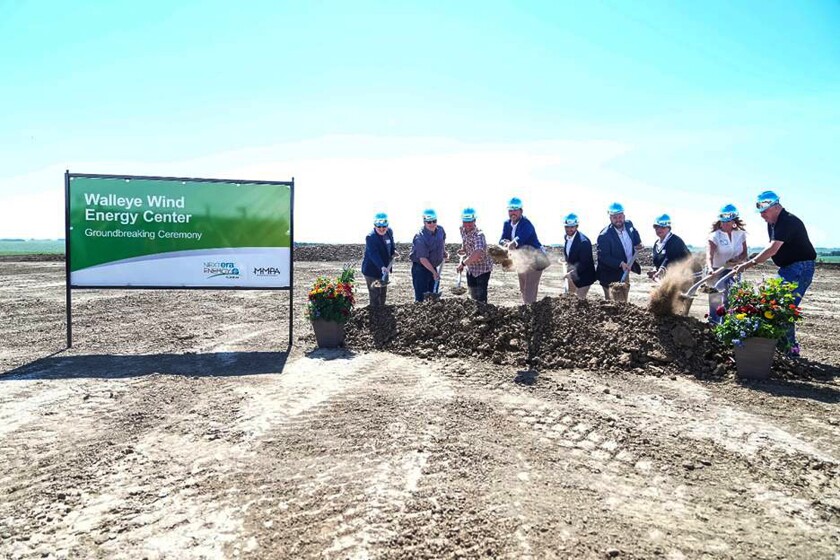 We are part of The Trust Project.
BEAVER CREEK — NextEra Energy Resources broke ground in western Rock County during a Wednesday morning ceremony on its newest wind farm.
Cases of fraud or alleged fraud have caused uncertainty and mistrust among some consumers in an industry that relies largely on the honesty of producers, processors and packagers to maintain the integrity of the industry.
Gary Tharaldson, North Dakota's successful hotel developer and owner of Tharaldson Ethanol in Casselton, North Dakota, describes how his company will move forward after the death of chief operating officer Ryan Thorpe. Tharaldson urges people to check in on others but said there was no warning at work that would have predicted the tragedy of Thorpe's death by suicide.
Lida Farm grows for Community Support Agriculture customers, farmers markets and food stands, with a little going to a local food co-op. Since 2004, the west central Minnesota farm has changed how it operates to keep up with the times and what they can handle.
Walleye Wind Energy Center will consist of 40 wind turbines near Beaver Creek. Once operational, the farm will have the capacity to generate up to 110 megawatts of wind energy.
Several local leaders, stakeholders and landowners joined NextEra and executives from the Minnesota Municipal Power Agency attended the ceremony.
"This site will usher in the next generation of American homegrown energy for the state and for the Minnesota Municipal Power Agency, as well as bring numerous economic benefits for the area," said Mark Lennox, project director for Walleye Wind Energy Center.
Lennox said construction is estimated to take approximately six months, with commercial operation anticipated to begin before the end of the year. During the course of construction, 185 jobs will be created, with three to five full-time jobs once the wind farm begins generating electricity.
Over the expected 30-year life of the project, Lennox said NextEra expects to pay up to $18 million in taxes to Rock County and the townships where the turbines are located.
"This wind energy project will generate low-cost, homegrown energy and provide millions of dollars in additional tax revenue to Rock County over the life of the project," added Kevin Gildea, vice president of development at NextEra Energy Resources. "We are pleased to work with MMPA to break ground on Minnesota's newest wind energy center."
NextEra touts itself as the world's largest generator of wind and solar energy and a world leader in battery storage.
"For decades now, our company has developed wind projects across North America and I can tell you there has never been a better time for renewable energy than right now," Gildea said. "The cost of wind energy has come down so much, it competes with every form of new energy in the country. And the technology has improved so we are now able to capture the wind more efficiently to offer a tremendous value."
A subsidiary of NextEra Energy Resources will build, own and operate the project.
"MMPA is pleased to work with NextEra Energy Resources on the Walleye Wind Energy Center," said David Niles, senior vice president of Avant Energy, Inc., MMPA's management partner. "This project is an important part of MMPA's renewable program and demonstrates MMPA's ongoing commitment to sustainable energy."
NextEra Energy Resources, LLC has approximately 24,600 megawatts of total net generating capacity, primarily in 38 states and Canada as of late 2021. The company is a subsidiary of Juno Beach, Florida-based NextEra Energy, Inc.
The Minnesota Municipal Power Agency provides wholesale power to 12 communities across Minnesota: Anoka, North St. Paul, Chaska, Shakopee, Elk River, Le Sueur, Arlington, Brownton, Buffalo, Olivia, Winthrop and East Grand Forks.