Baking on the rise: Ellsworth students participate in bread baking program
"There's nothing like baking bread in winter when the world is kind of cold and dreary," said FCS teacher Lori Romans.
ELLSWORTH — Homemade bread made in the dreary months of winter, it's a little like sharing sunshine. That's the idea Ellsworth Public School Family and Consumer Science teacher Lori Romans wanted to bring to her students when she first proposed participating in the King Arthur Bake For Good Program.
"Perhaps we can all take a look at the anti-bullying policy and see whether there's anything that you should do to make it more robust."
By Minnesota law, vehicles are required to stop 20 feet away from the bus when its stop arm is out and red lights are flashing.
"I'm hoping, by bringing this event, we may be able to engage more of our younger veterans."
As part of the program, students across the county are provided both educational and baking materials by the King Arthur Baking Company to learn about the bread-making process, which they then participate in. Romans, a life-long baker herself, was introduced to the idea by another teacher and thought it would be a great thing to bring to her own students.
"I looked into it, and I discovered that King Arthur had a program designed especially for FCS classes," Romans said. "If we would bake with our students, they would provide the flour and the recipe and … enough ingredients for each student to make two loaves of bread, one that the students could take home and share with their family, but also a second loaf that was to be donated to whoever we chose."
King Arthur Baking Company, which began in 1790 as a flour distributor, has grown into an employee-owned company with a variety of programs focused on giving back to communities — and Bake for Good is just one of the ways they do that, said program instructor Pam Jensen.
"This is a program that's about 30 years old, and it started with just a handful of schools," she said. "Now, many years later, we reach about 40,000 to 50,000 students a year through Bake for Good."
King Arthur offers several different program types, which can be customized to the age, group size, or in-school access of the students. They even have a take-home style kit that's available to home-schooled students.
After applying to the program, schools are provided free equipment and baking material. Additionally, they receive an educational video and recipe booklet that teaches students about the bread-making process.
Since the pandemic, Zoom use has allowed the Bake for Good program to reach more students than ever before, with nearly every state in the U.S. having participated in the Bake for Good program, Jensen said. For the first time in the program's history, applications are currently closed due to the high demand they've seen.
"We're actually booked out for the rest of the year right now, but we'll open again in August for the next school year," Jensen said. "I just love this program, and I'm so happy that we've been able to bring it to so many new schools these last few years."
This is Ellsworth High School's first time participating in the program. Romans had a specific theme she wanted to bring to her students, formed around the children's book, "Sun Bread" where in the midst of a long winter, a loaf of sun-shaped bread shared between friends inspires the sun to come out from hiding.
"There's nothing like baking bread in winter when the world is kind of cold and dreary," Romans said. "I thought of all the Minnesota winter days that we have that are just like that, with everyone cooped inside … so baking a little sunshine, like in the book, that's the goal I wanted to bring to students."
Romans sees this not as just a wonderful educational opportunity for students, but baking itself is a great way to bring people together, she said. Today, kids don't always get to learn those skills at home, the way Romans did, so bringing both volunteers and students into the classroom to take part in this experience helps keep that alive.
"I can remember as a child watching my mom bake, and we had a counter to where my mom would stand on one side of the counter, and children would push chairs up on the other side of the counter," said Romans. Her mother, now 82, came in to volunteer and help students mix ingredients during the bread baking. "We would watch her mix the dough … it was just an intimate time with mom. I'd learn a lot, just watching her."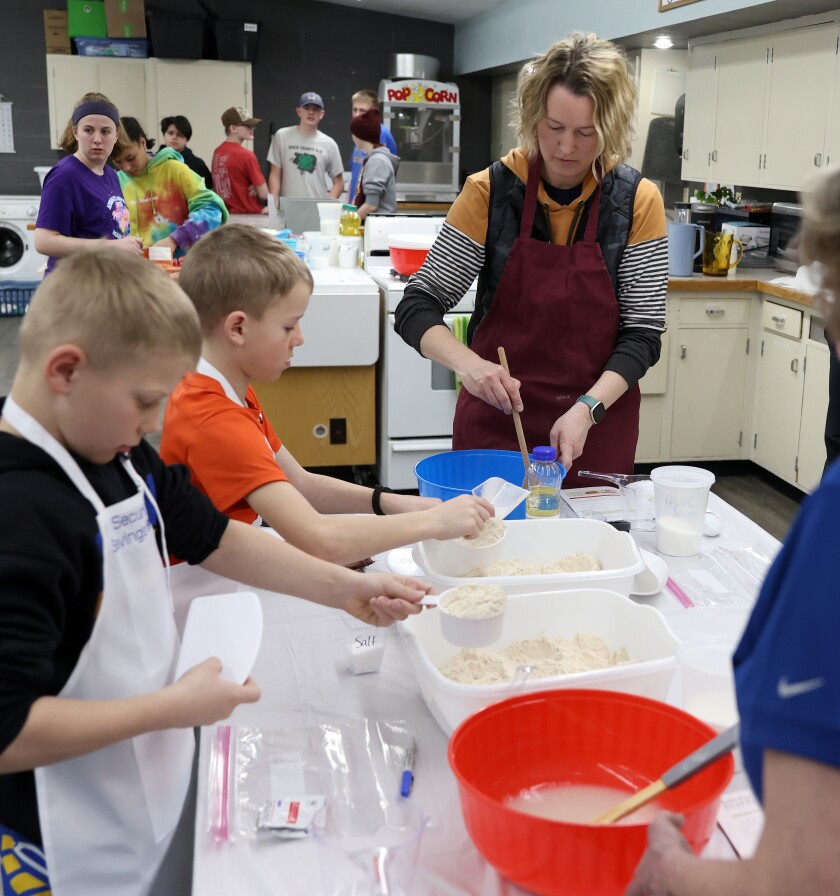 The baking day started off with 13 fifth graders and a matching number of volunteers, all spread out in Romans' classroom. Students were joined by two volunteers each from the Nobles County Sheriffs Office and Security Savings Bank of Ellsworth, as well as a number of community members, per baking session. Aprons, donated for students by Security Savings Bank, featured the bank's name — stitched by volunteer Becky Ranchau.
If any of the student bakers lacked a partner, high school students from Romans' FCS classes were on hand to help.
"We've been baking bread for weeks now," said Ellsworth junior Harley Bloom, who helped with the first group of bakers. "We have the recipe down pretty well."
Later that afternoon, smaller groups of fourth and sixth graders showed up in Romans' classroom to bake, making 54 loaves of bread. Each elementary school student received a loaf, and the rest were delivered by students and volunteers to Parkview Manor last Friday.
The recipe, a whole grain white bread provided by King Arthur, was approved by the staff dietitian at the nursing home, and students brought slices of bread with handmade, colorful notes to residents. It's another, small bit of sunshine during the cold winter months.
"Our little bread-baking project has turned out quite a bit bigger than we expected, and we really are excited about that," said Romans. "I want our younger kids to know that, yes we are a small school, but even with that we can still do really great things."