Worthington 150: Great Depression had tremendous impact on Worthington's history
One Worthington woman who was close to the welfare scene expressed it another way: "I never told my kids how tough we had it. And I forgot it as soon as I could."
We are part of The Trust Project.
WORTHINGTON — The Depression had a profound effect on American life. It brought about a whole new lifestyle. It changed lives and attitudes permanently. It inspired new political, social and economic philosophies. Yet it is largely an untold story. Little has been written about the era.
One Worthington woman who was close to the welfare scene expressed it another way: "I never told my kids how tough we had it. And I forgot it as soon as I could."
E. O. Olson was a prominent figure in Worthington's history
Worthington was a natural for the natural ice industry. The railroads were here. The lake was here.
Perhaps people don't want to recall "how it was." Perhaps the depression will ever be "The Invisible Scar," as Caroline Bird, the era's best chronicler, has said.
One Worthington woman who was close to the welfare scene expressed it another way: "I never told my kids how tough we had it. And I forgot it as soon as I could."
Yellowing newspaper pages and fading memories are about the only sources for piecing together the local depression story. When the decade began, Worthington had two weekly competitive papers. When it closed, the Times had folded and the Globe had become a daily paper.
The evidence of poverty and tough times were only hinted at on those pages. For the most part, both papers were community boosters, ever reflecting a Chamber of Commerce sort of Hey-we're-great posture. The papers suggest impending prosperity and constant community development.
A beacon on Worthington's courthouse illuminated the new airport and the light could be seen for 40 miles. Billboards in 1935 proclaimed Worthington as "The Business Heart of Southwestern Minnesota. Population 4,800. Featuring good schools, fine churches and beautiful homes."
But everyone was aware of "Hobo Jungle" down by the Omaha Railroad tracks, a stopping point for hundreds of homeless transients, many on their way to work in camps in Minnesota. Kids were told to stay clear of the place. People were advised not to feed tramps but to send them to the Chamber office where they would receive a ticket redeemable for 15 cents worth of food any place in the city.
1
/
28:
People enjoy splashing in Lake Okabena in this undated image from the Nobles County Historical Society archives.
2
/
28:
Activity abounds in the early days on Worthington's Lake Okabena.
3
/
28:
Fourth generation farmers Norm Larson (left) and John Moberg stand at the site where a sod hut, shared by their forefathers, was located in rural Worthington.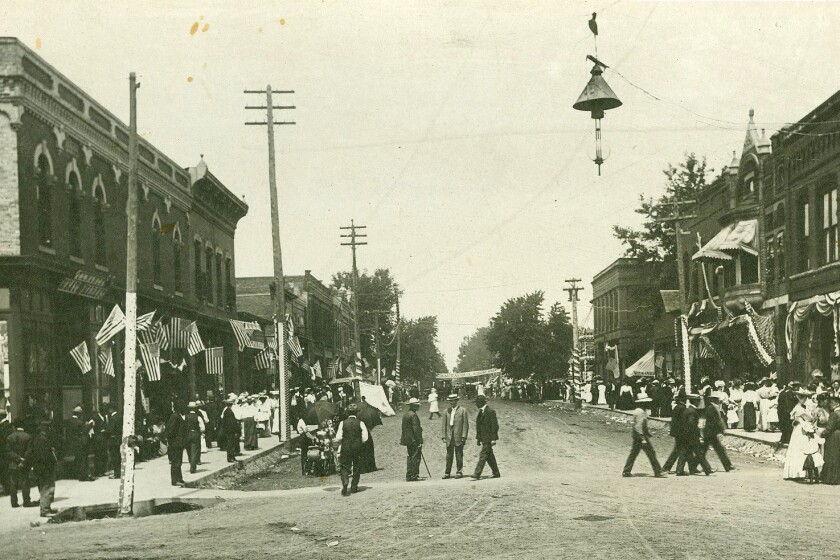 4
/
28:
An Independence Day celebration takes place on the yet-unpaved 10th Street in downtown Worthington.
5
/
28:
Paycheck and Ruby Begonia race team members get ready to chase their birds down 10th Street in one of the early days of the Great Gobbler Gallop.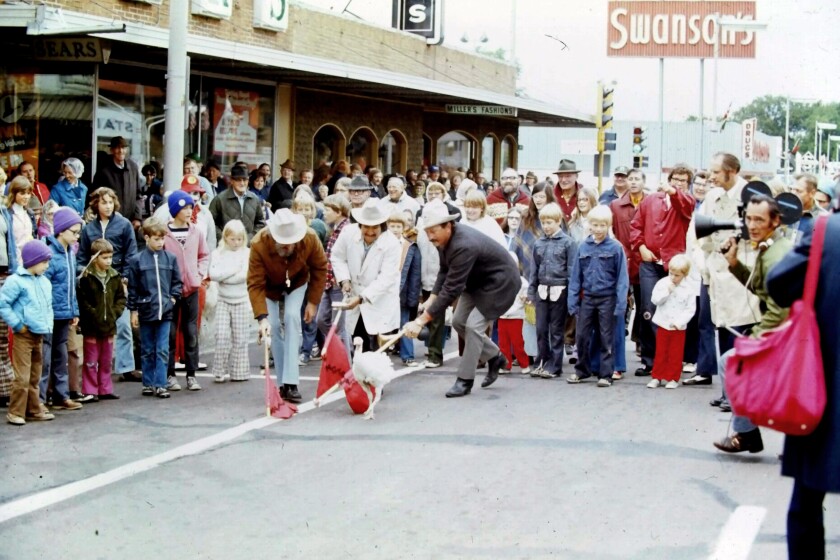 6
/
28:
Crowds gather to watch the Great Gobbler Gallop down 10th street in downtown Worthington.
7
/
28:
Peter Hartwich, of Excelsior, Minnesota sails on Lake Okabena between races during the 2022 Worthington Windsurfing Regatta.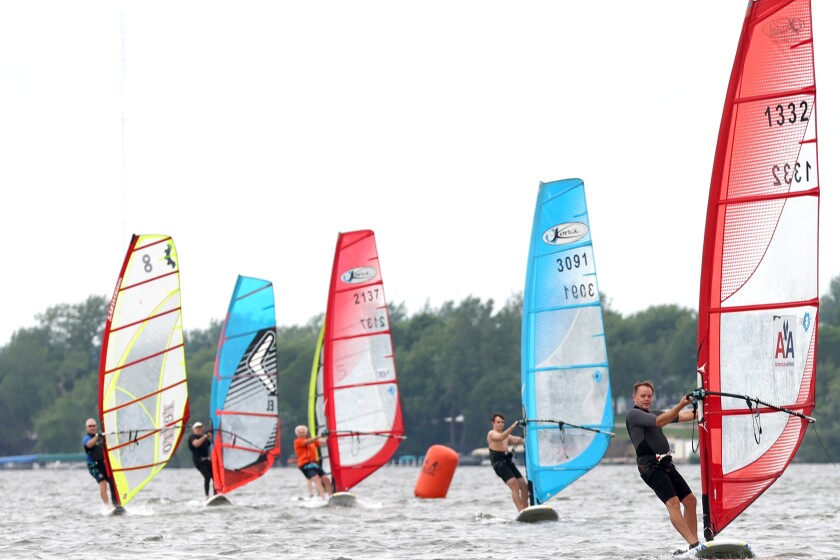 8
/
28:
Windsurfers race during the 2022 Windsurfing Regatta on Worthington's Lake Okabena.
9
/
28:
Crowds gather to hear musical acts during the 2022 Windsurfing Regatta and Music Festival on the shores of Lake Okabena.
10
/
28:
The Thompson Hotel is seen in this undated photo of Worthington's 10th Street.
11
/
28:
The Thompson Hotel recently underwent a major renovation of its apartment units and 10th Street storefronts.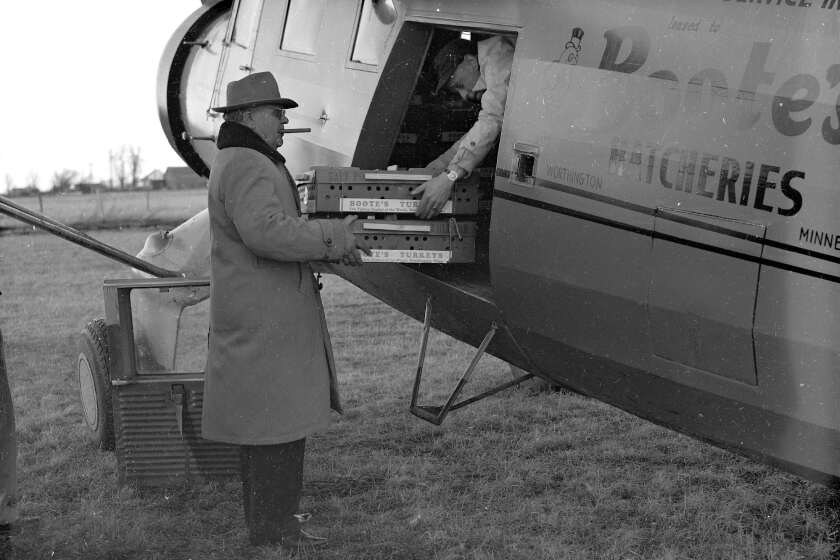 12
/
28:
Jack Boote, with a cigar in his mouth, holds a couple of boxes of turkey poults that are being loaded into his plane for delivery.
13
/
28:
Worthington's Jack Boote poses for a photo in a private rail car in this undated image.
14
/
28:
E.O. and Bella Olson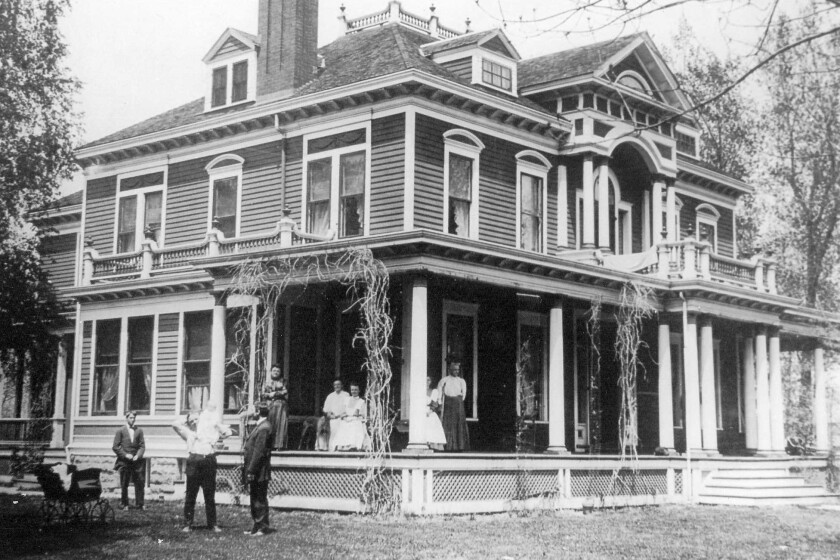 15
/
28:
The home of George Draper Dayton and his family for the 19 years they lived in Worthington remains today at the corner of 13th Street and Fourth Avenue. The Dayton House is now a bed and breakfast and a community gathering space.
16
/
28:
Teams of horses are used to assist with ice harvest on the shore of Lake Okabena.
17
/
28:
Crews push ice chunks toward the conveyor belt as they harvest ice from Worthington's Lake Okabena.
18
/
28:
Crews harvest ice from Lake Okabena in this undated file from the Nobles County Historical Society.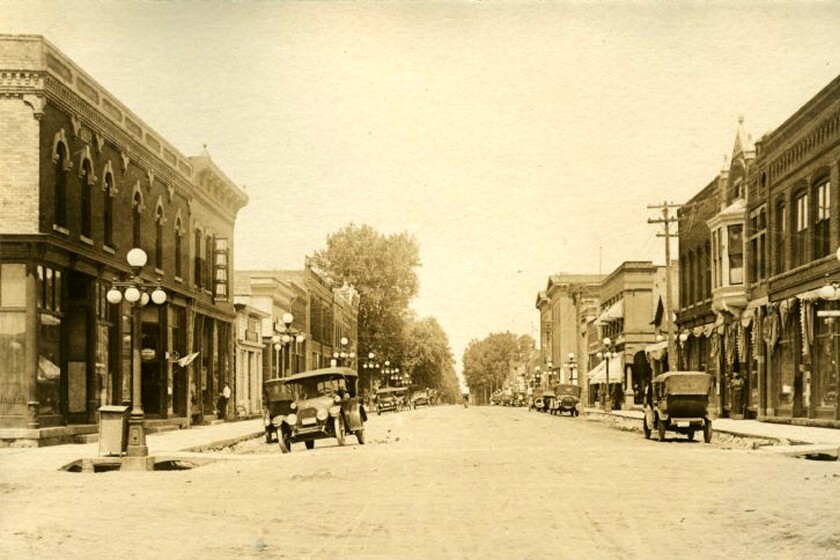 19
/
28:
An undated street scene of downtown Worthington.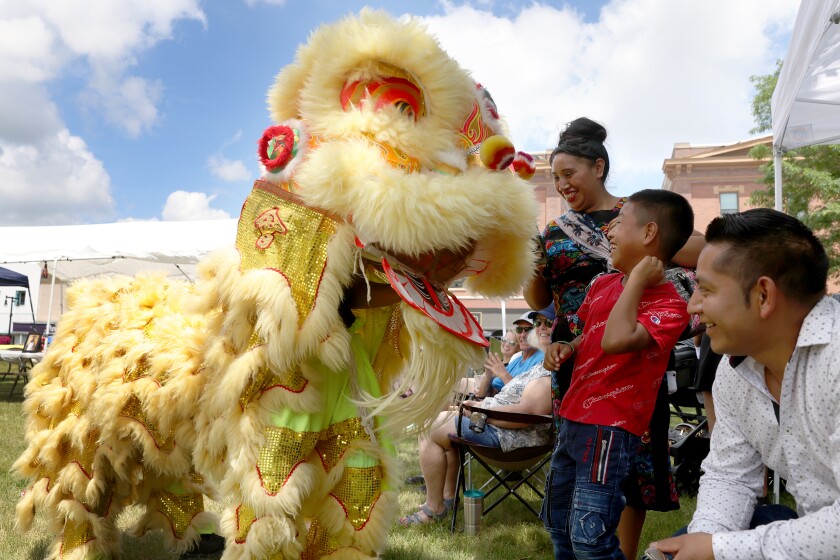 20
/
28:
The Chinese ceremonial Lion Dance group works the crowd at the 28th annual Worthington International Festival Saturday afternoon, July 9, 2022.
21
/
28:
The flag bearer for Mexico gets the flag ready for the parade of flags at the opening of the 28th annual Worthington International Festival July 8, 2022.
22
/
28:
Much of Crailsheim was destroyed by bombings shortly before the end of World War II.
23
/
28:
The people of Crailsheim gather to get supplies sent over in a shipment from Worthington residents.
24
/
28:
Volunteers sort through the many items donated by Worthington residents to be shipped to the people of Crailsheim, Germany.
25
/
28:
Volunteers weigh boxes of items ready to be shipped to Crailsheim, Germany.
26
/
28:
Martha Cashel (with letter) initially sought to help her Finnish pen pal by gathering shoes to send to Finland. Her idea prompted her parents to provide aid to war-ravaged Europe on a grander scale, and that's what led to the sister city partnership with Crailsheim, Germany.
27
/
28:
An early day gathering at Worthington's Chautauqua Park.
28
/
28:
The Little Sioux steam boat takes passengers for a ride on Lake Okabena.
In June 1934, the town furnished 939 meals to 235 men, ages 16 to 50, but the public wasn't overly sympathetic. A Globe editorial in 1933 suggested the city start "a wood pole for panhandlers to work on."
Coal stealing in the railroad yards became a problem in Worthington. The railroad said it was losing about 60 tons per month as a result of night time activity. But every winter evening, a procession of men, women and (mostly) children moved with wagons and carts to the railroad coal chutes at the 16th Street crossing to glean what everyone called "lugnite."
It was a noisy, hilarious and potentially dangerous scene. But the merchants of 1934 declared it a huge success.
One night he ran smack-dab into a group of evangelists while staggering out of a saloon. He was converted on the spot. Since then he traveled all across the country preaching the gospel and convincing sinners to "get right with God."
The city's Army National Guard unit, Co. F of the 215th Coast Artillery, was ordered to active duty in 1940, a full year before the Japanese bombing of Pearl Harbor.
Police Officers A.W. Hawkinson and Roy Fitch arrested 16 grown men one night after 2 a.m. stealing coal. That was why, most often, families sent their children with sleds and wagons.
There were no apple sellers, a nation-wide symbol of unemployment, on the streets of Worthington, but a one-legged pencil seller reflected the economic pinch. In 1931, he told a Globe reporter that his sales, which had averaged from $7 to $10 in Worthington on Saturday, had dropped to about $1.50 per day.
Unemployment reports and salary cutbacks became news here as elsewhere. In 1932 and 1933, teachers' salaries were reduced by about 15%. Rural teachers were cut from $88.30 to $72.80 per month. City teachers signed for $900 per year. Superintendent Roy E. Miller voluntarily asked to have his salary cut from $3,230 to $2,800.
Politically, Nobles County was always a Republican stomping ground. But it did an about face and joined in the Roosevelt landslide in 1932. There was a heavy snowstorm that election day, but Roosevelt took the county by a vote of 4,343 to 2,417, winning every precinct except Indian Lake Township, Bigelow, Brewster, and Worthington's first ward, half the city.
On the farm scene Mother Nature dealt additional blows to the economy. Large portions of the plains were lifted off the earth and forced upward in wind-driven opaque clouds of dust. The area had seen dust storms before but never on such a devastating scale of those of the early 30's. The tragedy of how the soil was misused with poor farming practices became apparent. Worthington and Nobles County experienced dirt storms which were nightmarish summer blizzards. Dirt drifted along the streets.
There were rumblings of discontent in 1930 when suddenly the nation had farm surpluses instead of shortages. By 1932, agricultural income had dropped to half of what it was in 1929. Actually, the farm depression had been serious since 1927.
A timeline that celebrates big moments in our town's history.
Adrian proposed dissecting Nobles County so it could reign over a new county.
While Worthington City Hall maintains all council meeting minutes, the early minutes are handwritten.
With prices hitting bottom, it was only natural farmers would strike back. The Farm Holiday movement was organized, first in Iowa, by Milo Reno. The late Ben Diekmann of Lismore, who served later as a Nobles County commissioner, was one of the active organizers in Nobles County.
Trying to force prices up, farmers blocked roads into Wortington, turned back cars and trucks bound for market, and dumped milk produced by other farmers. Fortunately, hard words and some fist fighting was as serious as the situation ever got here. However, in one courageous confrontation, Sheriff Elden Rowe ordered farmers on Highway 60 south of Worthington to stand back and opened the highway for a truck.
Farm mortgage foreclosures in Nobles County reached a high of 71 in 1932. A few were stopped by threats of violence. More were stopped when the farmers themselves bid ridiculously low prices and then handed the livestock and machinery back to the farmers who were being sold out.
Extension and 4-H club work, which had concentrated on increasing production, was halted for two years by the Nobles County commissioners, as it was in about half the counties of Minnesota. With a surplus of agricultural products there was no need to teach farmers how to grow more. The service was reinstated later.
In spite of all adversity on the rural scene, agricultural problems here were not as severe as other parts of the nation. One thing above all that helped the town and the farming community was an ugly, skittish thing called the turkey.
In the early 30's, when farming floundered and business declined, the Worthington area experienced a steady growth in the turkey business. Farmers experimented with new ways. By 1939, the town could and did proclaim itself the Turkey Capital of the World.
Major credit for the growth can be attributed to E. O. Olson, founder of Worthington Creamery and Produce, forerunner of Campbell Soup, which began in 1912 with one building on the corner of Fourth Avenue and Ninth Street. By 1936, when the Creamery, as people called it, celebrated its 25th anniversary, it included one of the largest ice cream plants in the state (excluded only by Minneapolis and Duluth), manufactured enormous quantities of cheese and butter, and had revolutionized the poultry industry, particularly turkey growing.
"Nobody here but us chickens" may have been an apt phrase in Worthington in the 1920s, but in the 1930's, F. E. Mixa changed all that. He joined Olson's team in 1927 as a poultry specialist out of Iowa State College and probably did more toward teaching farmers about the scientific methods of raising turkeys than any single individual.
Women were on a journey to visit sister cities of German towns in the territory of their reign.
Stadtkapelle, city delegation spent a week in Worthington.
Oberburgermeister Dr. Christoph Grimmer, Mayor Mike Kuhle and Paul Summers LaRoche were among the speakers.
During the 1930's the Boote Hatchery operation also grew by leaps and bounds and contributed much toward making Worthington a turkey growing mecca and dressing center. With two leading produce plants in town, the turkey industry exceeded the $500,000 mark here in 1936.
Approximately 500 farms in the area were involved in the business in some way — 100 of them in a big way. Turkey hens in Nobles County couldn't keep up with the demand for eggs, so large shipments came from Texas and California.
The Worthington turkey became quite the traveler. He often originated in California as an egg, was hatched in a local hatchery, was raised under controlled conditions on a Nobles County farm, and then dressed here and shipped to the New York market in cold storage.
It was no longer a sideline or pin money operation for many. Turkey was king. Farmers in 1935 made about $1.50 profit per bird and many new brooder houses appeared in the area.
The Globe, in October 1936, reproduced on its front page a photo of a check the Creamery had issued to Mrs. A. G. Thom of Rushmore in the amount of $10,156 for the sale of 3,617 birds. It was the largest single sale recorded at the plant and illustrated how exciting it was to the area.
Throughout the 1930's, the initial game was played here as it was everywhere in the nation. The FERA, FWA, PWA, NYA, MRA, WPA, CCC and many other social panaceas pumped blood into the sickly economy. Many local residents saw them only as a joke.
"Building international relations on a community-to-community basis … represents a new approach to democracy."
His home still stands today as a bed and breakfast.
In 1916, a hexagonal bandstand was built about 75 feet out on Lake Okabena at the foot of Third Avenue.
The short-lived National Recovery Administration (NRA) was launched in the summer of 1933 with all the fervor of a wartime campaign. By August, the blue eagle was flying from the windows of nearly every Worthington store. Merchants reduced their working hours and collectively sponsored a double-page ad in the paper that read: "We're backing you to the last Mr. President."
Damned by some, lauded by others, emergency work measures left only a small lasting effect on the local community. The post office was built by federal funds. Approximately 40 blocks of sidewalks and one large sewer line along the north side of town were laid. About $200,000 PWA funds, including $96,000 for the power plant, were used in Worthington.
Local relief rolls swelled in the early 30's, but the federal government picked up a big share of the costs. Later the emphasis shifted to work projects like WPA. Many people were not in favor of direct relief, even though families only got $23 to $27 per month. One year, the Nobles County commissioners passed regulations so no one on relief could own an automobile and so welfare families could not pay in excess of $12 per month for rent. Persons with financial troubles were scorned more than they were assisted.
A variety of items were distributed, from surplus commodities to garden seed to fruit jars. The Red Cross played a role, distributing carloads of federal farm board wheat, flour, and many yards of cotton.
By 1935, there were indications that the economy was recovering, if not well. Mortgage foreclosures declined from a high of 71 in 1933 to 43 in 1934, 21 in 1935, and 13 in 1936. Families on relief dropped from 210 in 1934 to 120 in 1935.
At the Ceamery in the late 1930's, wages were increased from a minimum of 25 cents per hour for women to 32.5 cents and a minimum of 30 cents for men to 37.5 cents. Women were limited to 48-hour work weeks and men to 54 hours with a week's vacation pay for both. This action was taken before the National Labor Standards Act went into effect in October 1938, setting minimum wages at 25 cents per hour with time and a half for overtime over 44 hours a week.
The development of cooperatives was one spectacular feature of the depression decade, especially the REA. The Nobles Co-op Electric was organized in June 1936, for farm families in Nobles and Murray counties. Within three years it had grown to the largest co-op of its kind in the state with 2,050 stockholders. There were 1,172 farms getting electricity and there were 700 miles of energized line within the borders of the two counties by March 30, 1939.
About the same time, Elmer Kane, president of the First National Bank, announced that deposits had passed the $1 million mark for the first time. This was considered an indication of marked revival of trade and former conditions. As bank deposits increased, so did loans, indicating renewed confidence in the economy.
A Department of Commerce survey in the mid-1930's showed that Worthington was the busiest city of its population in the state in terms of the number of stores (99), full-time employees (227), and net sales.