UPDATE: City Council talks aquatic center, GreatLIFE golf and emergency responses in special session
The City Council held a special session on Wednesday afternoon.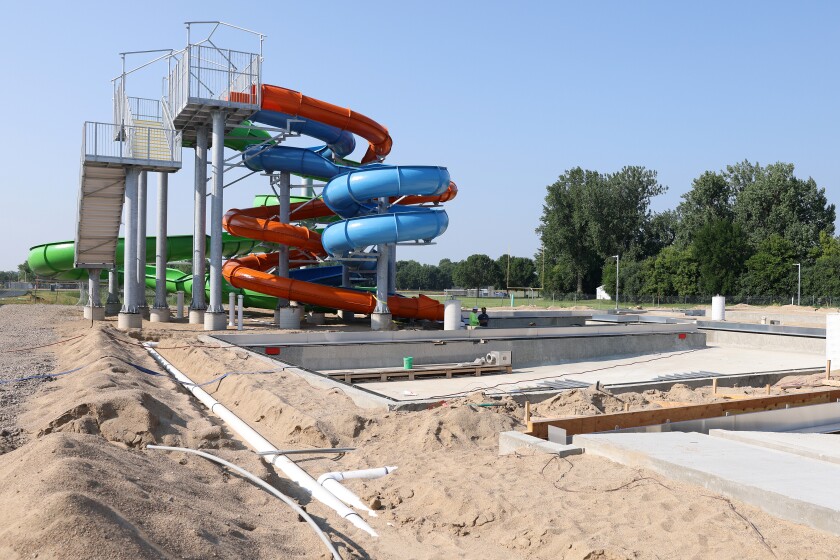 We are part of The Trust Project.
WORTHINGTON — A change order proposal for the new Worthington Aquatic Center amounting to $162,674 kicked off a special session of the City Council on Wednesday afternoon.
The Center for Active Living's racquetball courts were also discussed. They will be repaired, with one of the courts to be retrofitted to better serve CAL members.
Rick Von Holdt presided over his first meeting as Worthington's new mayor.
New Worthington Mayor Rick Von Holdt and council members Alaina Kolpin and Larry Janssen participated in a swearing-in ceremony at Worthington City Hall on Jan. 4, 2023
The change order, which would bring the city's total contract price up to $6,785,744, was proposed by Tri-State General Contracting.
Public Works Director Todd Wietzema stated that during the construction process of the Aquatic Center, contractors have encountered a higher than anticipated groundwater table and concerns have been raised about whether or not the current tile surrounding the pool structure is sufficient.
The proposed change order would add 6 inch drain tile, 8 feet deep, encased in rock, around the perimeter of the new aquatic center. A similar tile would also be added to the existing pool, as well as a manhole with casting and two pumps to remove excess groundwater.
While multiple council members agreed that the changes were necessary, questions as to why the problem was not anticipated earlier were brought up. City Administrator Steve Robinson stated that there was a "whole list" of people who had dropped the ball on this matter.
"I don't have a problem with the project," said Councilwoman Amy Ernst. "I have a problem with the city paying the full amount of the project and nobody else taking responsibility."
Council ultimately moved to table the discussion until its next meeting, in order to speak with other parties involved with the project about the new costs.
The City Council also heard a presentation from Fire Chief Pat Shorter regarding fire and rescue responses. Shorter expressed concerns over multiple calls within the last few months where the fire department was either not dispatched to scenes, or received calls late.
Blowing snow caused poor visibility and the wind and plummeting temperatures combining to make spending time outdoors an uncomfortable experience for anyone unprepared.
A combined system with Sanford Health and Fairview Health Services will allow us to do even more to strengthen our health care workforce and make care more accessible, equitable and sustainable.
Wednesday's community input meeting at Worthington High School was the third of four planned by the Minnesota Attorney General's Office.
Shorter stated that this was due in part to a policy where the fire department is not immediately paged for vehicle accidents that happen under a certain speed, and urged that these procedures be reexamined.
"The risk associated with waiting and the liability that comes with that are too great to ignore," Shorter told the council. "People's lives hang in the balance because of a lack of communication. We can do better than this."
Shorter noted that the Fire and Rescue team is able to provide assistance in terms of accident scene safety and emergency medical response, as well as mitigating risks involving vehicle fires that can result after crashes — but not if they aren't called.
"There's an expectation from the general public, whether they're citizens or not that if something bad happens, the right people are underway," Shorter added. "And that is not happening here."
While no official action was taken, several members of city council, including Mayor Mike Kuhle, agreed that the procedures were worth looking at, in order to better utilize Worthington's emergency response resources.
Several representatives of GreatLIFE, including GreatLIFE Golf and Fitness CEO and Chairman Tom Walsh Sr., also attended Wednesday's meeting to further discuss the future of the golf course and facility.
Walsh submitted a proposal to the City Council back in June to deed the property over to the City of Worthington, under the agreement that the facility would continue to be operated by GreatLIFE.
Water access, low membership numbers, and a facility in need of renovations have all been raised as concerns by Walsh — concerns that the council have also noted as potentially costly, should they become involved.
Walsh noted that, having already invested $1 million of his own money into the facility, between $300,000 and $400,000 would be necessary over the next couple of years to "get the place up to shape."
While corporate sponsorship and a partnership with the city were brought up during the meeting, council members agreed further conversations would need to happen in order to find a solution.