Civil rights activist advocates service, voting rights in Worthington
"We are in the throes of an important struggle in this country," McLemore said to students, faculty, and community members Tuesday. "...This battle is around the right to vote."
We are part of The Trust Project.
WORTHINGTON — In the Fine Arts building on the campus of Worthington's Minnesota West Community and Technical College, civil rights activist Leslie McLemore stands behind a podium the day after Martin Luther King Jr. Day, and he tells the students, faculty and community members filling the seats to take note of the names he mentions.
Professional researcher Debbie Boe will give an introduction to family history research for new genealogists.
Greg and Cindy DeGroot offered a matching fund of up to $100,000 through the Legacy Partners program of Worthington Regional Health Care Foundation.
Awards were announced during Friday's annual FORWARD Worthington Extravaganza at Lerma's Event Center.
He jokes that, come Monday at 9 a.m., there will be an exam — essay, not multiple choice — and they should know names like Ida B. Wells, Marion Barry, Fannie Lou Hamer, and other individuals who helped drive forward America's civil rights movement.
"I want you to ask me questions," McLemore tells the room, "I want you to write a thesis or dissertation on some of these people. Because we need more dissertations on foot soldiers of the civil rights (movement)."
It's a movement McLemore, of Walls, Mississippi, has been a part of since the 1960s, during his years at Rust College in Holly Springs, Mississippi. He'd later go on to attend post-doctoral fellowships at Johns Hopkins University and at Harvard University, having obtained degrees in economics, political science and government from a host of academic institutions.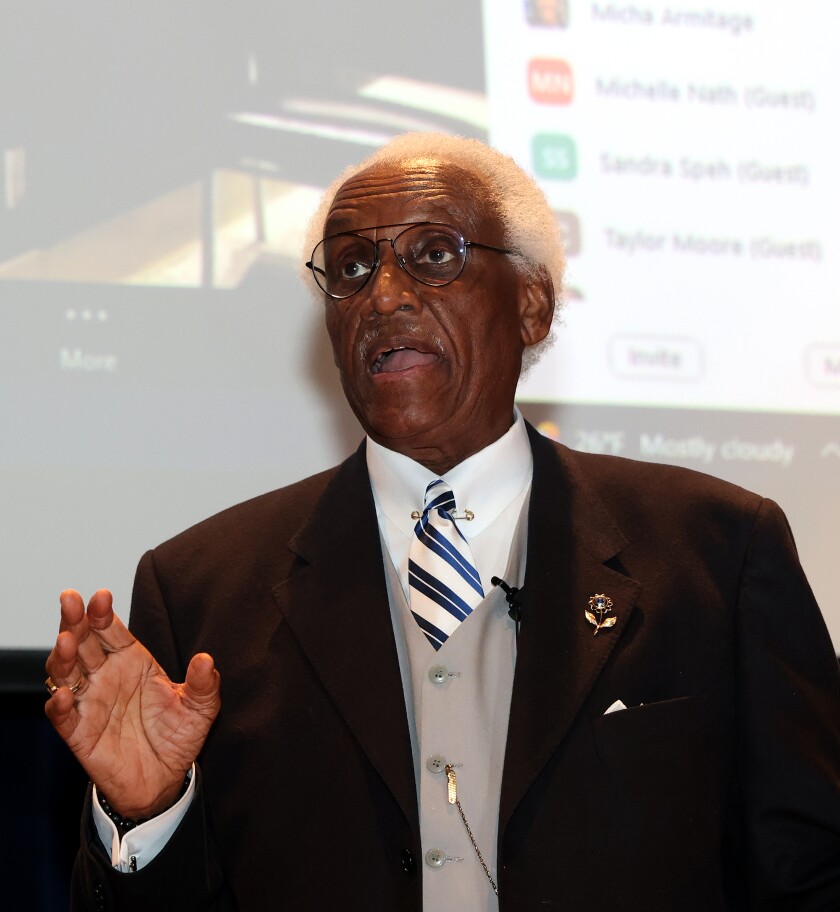 He's been a member of both the National Association for the Advancement of Colored People and the Student Nonviolent Coordinating Committee. He was involved in the creation of the Mississippi Freedom Democratic Party, of which he was vice chairman.
But in Worthington, he has two lessons to impart during his visit to Minnesota West's campus, back for the first time in several years. The first lesson he delivers by echoing a sentiment from Martin Luther King Jr.: "Everyone can be great because everyone can serve."
From his time as a city councilman and interim mayor in Jackson, Mississippi, to his current position as an alderman in his hometown of Walls, the idea of service is something McLemore has spent his life honoring. He's taken part in boycotts and protests and organized voter registration drives; he's been an educator, a speaker and an activist.
"Service is important," he says. "You should see service as a possibility…Service is something you can do every day. We can all serve."
It's this idea that leads McLemore to his second point, his second lesson that he imparted on those in attendance. In all of McLemore's years of public service, back to when he was a student activist at Rust College and helping with voter registration drives, voting rights in America is a battle he's seen play out again and again — one, he says, that he's watching play out once more, now.
A showdown between two of the top-ranked Division III women's basketball teams went the way of No. 1 Wednesday night
The students will compete for over $41M to be awarded in scholarships
Seven interested parties attended a recent meeting for those interested in starting a child care business.
"We are in the throes of an important struggle in this country," McLemore tells the room. "...this battle is around the right to vote."
He talks about the literacy tests required of Mississippi voters back in the 1960s, and the intimidation tactics used to keep black voters from showing up to the polls. Then, he talks about today, about the debates around voter ID and early voting, and the talk of violence at voting sites he heard during the most recent midterm election. He talks, at length, about how the right to vote is essential to maintaining democracy in this country, and people have fought too hard, and too frequently, to go backward.
"If you are the most conservative person on the face of the earth, and you call yourself an American citizen, you ought to believe in the right to vote," McLemore says, "because that is the hallmark of our democracy — it doesn't get any more fundamental than that."
America, he says, is a place with so much opportunity, but you have to take advantage of it. Regardless of where you're from, the circumstances you're in, McLemore encouraged his audience to get involved in their communities, to get their education, to run for public office — to be of service, when they can be.
"We have more things that bind us together, than the things that we differ on," he reminds the room. "That's why service is important. People reaching out to one another is important."