Column: District 518 features orchestra, varsity strings programs
Varsity Strings was developed in 2018 simply to help fit in our classroom! Creating two high school orchestras has made each rehearsal more manageable to better meet the needs of students.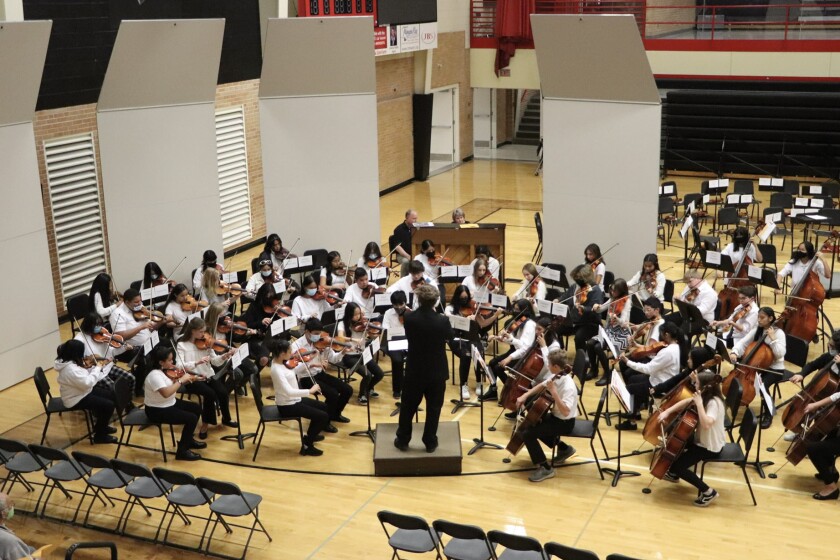 We are part of The Trust Project.
The Worthington High School Orchestra program consists of two fully-balanced string ensembles called Varsity Strings for freshman/sophomore students and WHS Orchestra for sophomore, junior and senior students.
Unpacking is set for later in the week, with the facility scheduled to open to the public on Feb. 13.
"Our staff has done a great job integrating social and emotional learning curriculum, allowing students to engage in meaningful conversations and activities."
The school district's initial request, which dates back two years, was that the watershed have no more than 20 acres of the property for a retention pond.
Varsity Strings was developed in 2018 simply to help fit in our classroom! Creating two high school orchestras has made each rehearsal more manageable to better meet the needs of students. This year's Varsity Strings consists of 24 violins, 12 violas, six cellos and two basses for a total of 44 players. The WHS Orchestra is 52 members strong with 29 violins, seven violas, 14 cellos and two bass players.
Our fall concert was Nov. 14, and featured 215 sixth-12th grade orchestra musicians. It was thrilling to hear "The Star-Spangled Banner" together at the beginning of the concert and to conclude with "Freedom Finale" by the mass orchestra playing together at the end of the concert.
On Dec. 22, high school orchestra students will welcome alumni to join in the main lobby for Alumni Orchestra Day. This tradition started in December 2010 to share holiday music within our school day for all who might get a chance to listen and enjoy the festive tunes along with hearing from each orchestra alum about what they have been doing since graduation. In the past, we've had over 20 WHS Orchestra musicians at a time perform with our current students. Join us at 11:55 a.m. on Dec. 22 for the fun!
February 2023 is filled with numerous events for our musicians. This includes a Feb. 13 large group contest concert featuring WHS band, choirs and orchestras for an evening performance at 7 p.m. Dillon Maras, senior string bass player, auditioned and was selected for Minnesota's All-State Orchestra. Dillon attended a week-long summer camp and will perform with elite high school orchestra musicians for the final concert at Orchestra Hall in Minneapolis on Feb. 18. Performances for this year's high school musical, "Hello Dolly!" are set for Feb. 23-26 and sure to impress with a stellar cast and accompanying pit orchestra.
To round out the year, orchestra students prepare repertoire for a recital night on March 13 and will travel to Mankato State University on March 17 to perform their solos and ensembles for adjudication in hopes of receiving a medal for each superior rating achieved. A final POPS concert will be held on May 19, 2023, at 7 p.m. and is always a highlight as we honor our seniors and present awards.
NCHS director Beth Rickers will lead a program about the Victorian language of flowers and Valentine's Day traditions.
Attendees will be able to sit in on presentations and receive overdose response training on Thursday, at the Worthington Event Center.
Those who value education are attracted by strong public libraries, which is why professionals ... are drawn to communities with up-to-date, attractive libraries....
As director of District 518 orchestras since 2006, it has been a huge blessing for me to see the growth of the string program over the years and to be able to welcome added staff for the increasing numbers at each level. Mr. Zachary Paulsen joined District 518 in 2016 to teach fifth through eighth grade orchestra at Worthington Middle School. As numbers of students continued to increase throughout the district and in the orchestra program, we welcomed Miss Morgan Rukstales to Worthington in 2019 to teach general music and our fifth grade orchestra.
Zac, Morgan and I are privileged to teach alongside eight additional music directors in Worthington schools. It is a great musical team of teachers to be a part of!