Faith, family and fun are winning trio for Worthington natives Thai Hua and Laura Johnson
"Growing up, the one thing I'd imagined about my wedding was dancing with my nieces and nephews, and we got to do just that," said Laura. "It was so much fun."
We are part of The Trust Project.
REGIONAL — After spending over a decade building his career as a salesman, Thai Hua made the sale of his life on Oct. 10, 2021.
Area leaders were taking part in Coalition of Greater Minnesota Cities event.
"With just one student, it was a little challenging," Tarus said. "... the harvest was a little rough."
Newspaper industry peers from the Kansas Press Association judged the 3,453 contest entries submitted from 132 Minnesota newspapers.
That's the date on which he proposed to Laura Johnson, daughter of Steve and Teresa Johnson, Worthington, and secured her "yes" to become his wife.
"You learn to read people if you want to get through to them," said Hua, national sales manager for Van Beek Natural Science of Orange City, Iowa. "There is some skill that plays into being a good salesman, but at its heart, salesmanship is just about getting people to see things from your point of view and finding common ground."
He succeeded completely in that mission with Laura, who shares his belief that faith and family will be at the center of their lives.
"I knew marrying a Christian was important to me," Laura said.
Added Thai, "Before I proposed, I asked her dad's permission to marry her and he asked me, 'Are you a Christian?' When I said I was, he gave me a big bear hug."
The pair wed on April 22, 2022, in a ceremony at Sioux Falls' St. Therese Catholic Church, which is their new religious home.
"We'd gone to a worship night with my best friend Jon at St. Katharine Drexel Catholic Church," said Hua of his engagement surprise last fall. "Jon gave us a tour of the sanctuary, and he distracted her while I was trying to pull out the ring.
"I walked her over to a statue of St. Joseph and proposed to her there," he said, explaining that St. Joseph is an excellent role model of a loving and strong husband and father.
Laura was swept away by it all, saying the moment had a dreamlike quality to her.
"I remember him saying, 'Laura Ann,' and realizing I hadn't heard him use my middle name before," said Laura.
Similar origins, separate paths
Thai was active in wrestling and dance before graduating from Worthington High School in 2005. Laura, a 2007 WHS graduate, was always aware of Thai in those years but admits they had no interaction in high school.
"I knew of him; I mean, he was Homecoming king, how can you not know who the Homecoming king is?" she laughed. "But I think he knew me as 'Jason's little sister.'"
Before transferring first to Augustana University and then to Clarkson College in Omaha, Neb., where she earned a degree as a Certified Nurse Practitioner, Laura attended Minnesota West Community and Technical College for a semester.
"Thai had just moved back to town (after completing a degree at a technical school in Chicago) and we were in a group of young adults who hung out together for a few months," said Laura.
"That's when we truly met each other, but then I went my way and he went his … for 14 years."
Thai asserted, "I think there had always been a mutual attraction, but we were at a different stage of life then."
Indeed. Thai had returned to Worthington, in part, to become a guardian and father figure for his two younger nephews and niece.
"I was about 20 and heard my dad tell me this and I thought, 'Wow,' because when I was that age it was all 'me, me, me,'" said Laura. "One of the things I love most about him is his selflessness, and taking them in and supporting them as he did is not a path many people would choose."
While Thai's older nephew and niece are full-fledged adults with families and lives of their own, his younger nephew, Johnny, is 20 and continues to live with the Huas in Sioux Falls while attending college.
"They're a big part of my life," said Thai.
Over the years, neither Thai nor Laura had met anyone that seemed the right match for a life partner.
They touched base with each other in a friendly manner about every two years, they estimate. Laura continued working as a CNP at Avera Pediatric Specialists, Thai was advancing in his sales career and living in Orange City, and time was marching on.
But one day in the fall of 2020, Thai was idly scrolling through his Facebook feed and spotted something entertaining Laura had posted.
"The funny thing is, neither of us were big social media posters so a lot of people didn't know we were dating until we were engaged — but that's how we reconnected," Laura said. "He reached out to me on Facebook, so I can't totally hate it."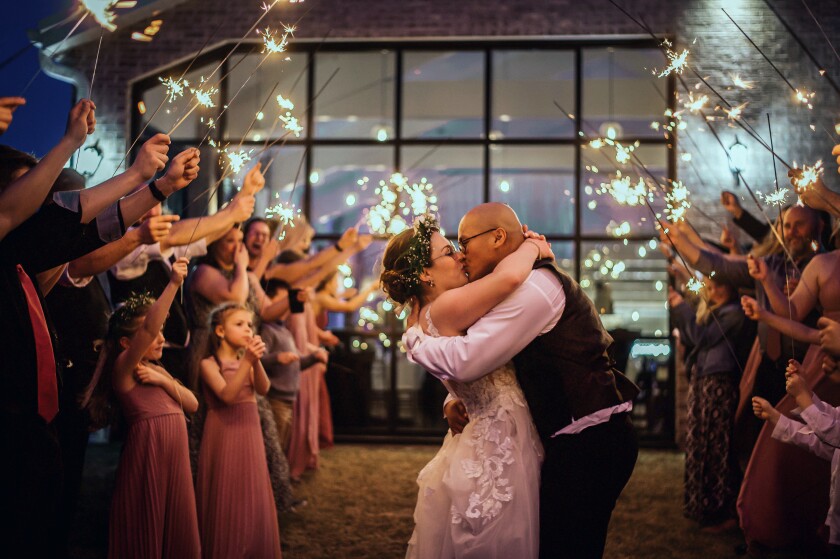 Thai suggested a coffee date — and Laura promptly shot him down.
"She said no because it was in the middle of the pandemic, before vaccines were available, and given her field of work she was really worried about possibly spreading COVID to her patients or loved ones," said Thai. "So she kept me at bay until she'd had her first round of vaccinations."
Explained Laura, "I take care of kids with Type 1 diabetes and our hospital was overflowing. As a health care worker, it was a terrifying time."
When Laura let Thai know she'd had her first COVID vaccination, he eagerly responded, "One step closer to our coffee date." It was then she realized, "Oh, this is a DATE-date," laughed Laura.
More amusingly, their "coffee date" never actually happened. Thai was still living in Orange City then, but let her know he'd be in Sioux Falls attending a birthday party for his goddaughter.
Thai suggested she stop by the party — and she did.
"They have a big family, so she walked into what could have been a hornet's nest and handled it like a champ," said Thai.
The two hadn't seen each other in 14 years and Laura knew nobody at the gathering except him.
"I still don't know how I had the bravery to do it," she said. "But they were playing 'Kids Against Maturity,' I joined in and ended up winning the game!"
Their second "date" was equally unique; Laura had fallen ill and couldn't meet, but Thai offered to stop by to see her anyway.
"When he was on his way, I asked if he could go to Hy-Vee to get me some Sprite," said Laura.
"I brought Sprite, Club crackers and grapes to her house and sat with her while she was trying not to throw up," laughed Thai.
But his attentiveness and care greatly impressed Laura, making her realize he was a sincere winner.
"I felt he was so much more mature than any other guy that age I'd ever encountered, and he's observant and intuitive about my needs," she professed. "He loves me in the ways that I need the most and is good at reading my emotions. And it is so easy for me to talk to him."
Thai, in turn, values Laura's kindness, loving attitude and patience.
"And she keeps things light," he said. "She has a good sense of humor and an endless amount of surprises."
Laura thinks she may have inherited those traits from her late grandma, Sally Ann Johnson.
"In our wedding homily, the priest listed things that make a happy marriage and then he added, 'One of these — laughter — is something Laura does a lot,'" Laura noted.
Laura regrets that her Grandma Sally died at age 88 just one month before their wedding.
"She was so excited about the wedding," said Laura. "Grandma told me she'd prayed for a long time that God would bring me a good man — and he did.
"I'm so glad grandma got to meet Thai. She said, 'Oh, and Laura — he's so handsome!'"
With 17 nieces and nephews on the Johnson side of the family, the couple had a "junior bridal party" rather than identifying one or two flower girls or ring bearers.
And that familial abundance contributed to the fulfillment of one of Laura's long-held dreams.
"Growing up, the one thing I'd imagined about my wedding was dancing with my nieces and nephews, and we got to do just that," said Laura. "It was so much fun."
Laura chose an A-line style dress with an illusion neckline and a soft floral lace appliqué overlay, purchased at Ellie Stone Bride in Sioux Falls. Thistle & Dot Floral Design of Sioux Falls provided the flowers, including a flower crown that Laura swapped in for her veil at the reception.
"I loved the flower crown," said Laura, adding that the junior bridesmaids also wore them.
Thai was resplendent in a black tux and black bow tie.
The Huas' reception, which accommodated their 300 guests, took place at the Atrium at Blue Haven on the west side of Sioux Falls. And although Catering by Cleavers provided a classic meal (chicken, pork, mashed potatoes and green beans) and Chef April concocted a luscious white cake with raspberry filling, neither Laura nor Thai had much capacity to enjoy it.
"We had the stomach flu the Tuesday before our wedding and still weren't very hungry then. But we hear the food was great," she laughed.
Brianna Lien-Onsy of LO Photography snapped their engagement and wedding photos; she was a high school classmate of Thai's and has been a good friend ever since. Stovetop Productions provided DJ services for the wedding dance, which ended with a sparkler picture that delighted Laura.
And a week-long honeymoon at a Dominican Republic resort was a relaxing start to the Huas' married life.
Thai fits right in with the Johnson family; Laura's brothers (Matt, Kyle and Jason) happily add him to their golf foursomes, and Thai's golf enthusiasm has prompted Laura to take up the sport as well. Laura, meanwhile, is embracing her role as "Granty" (grandma/aunt) to Thai's adorable great-nieces.
Spending time with each other and with their families is always a top priority.
"We are old," joked Laura. "We just haven't been married that long."
They agree that although they loved their wedding, their marriage itself is what's most important.
"We complement each other well," said Thai.
Added Laura, "And our wedding day was exactly what we wanted it to be. I wouldn't have changed a thing."