Federated Rural Electric awards grants to assist area fire departments
Jackson, Heron Lake departments among those to receive $7,500 donations.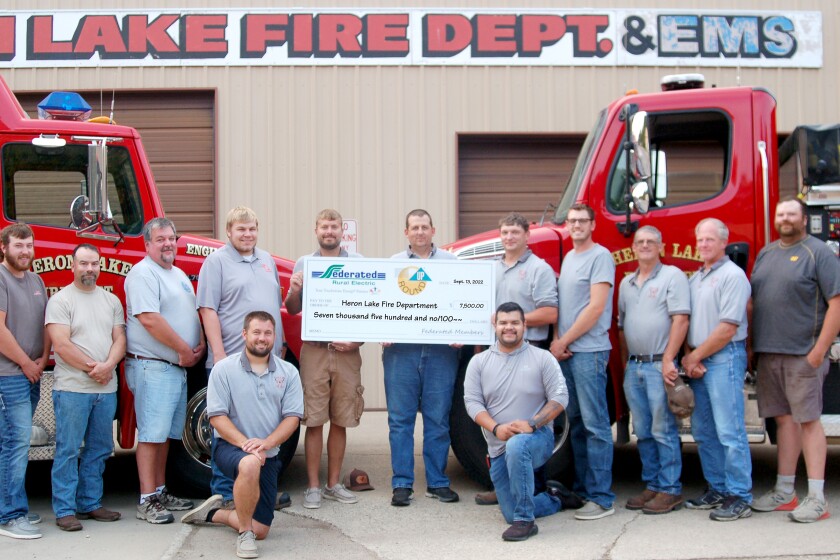 We are part of The Trust Project.
JACKSON — Federated Rural Electric, Jackson, recently presented a donation totaling $7,500 to fire departments in Heron Lake, Jackson, Welcome and Granada.
Becker Transports of Wadena, Minnesota, started in with a 1985 Mack Superliner bought in 2010. A dozen years later, that '85 Mack is still putting in the miles as Becker Transport has grown into a regional trucking company, hauling loads like farm machinery, construction equipment, gravel and grain across the upper Midwest.
CHANDLER — The Monogram Foods Loves Kids Foundation, the charitable fund of Monogram Foods, announced that 11 local organizations will receive a 2022 grant. A committee of team members from Monogram Foods in Chandler divided $60,000 among the charitable organizations. The initiatives funded by each grant are as follows:
The North Dakota Mill and Elevator opened its doors in Grand Forks on Oct. 20, 1922, after several decades of attempts by farmers to halt the hold the grain trade had on pricing and grain grading.
Federated took advantage of matching funds from two organizations to triple the impact. "Federated donated $2,500, then secured matching funds from CoBank's Sharing Success Program and Basin Electric Cooperative," stated Federated's General Manager Scott Reimer. "Cooperatives are concerned about their local communities; we saw this as a way to help each fire department with costly equipment needs. We started with two towns where we have buildings and will rotate this donation the following years until we've helped each fire department in our service area."
CoBank is one entity that provides Federated long-term financing for line construction projects, while Basin Electric is one of Federated's wholesale power providers.
The Jackson Fire Department ordered a 100-foot aerial ladder fire truck this year for $1.3 million. "With larger grain elevators, grain bins and metal machine sheds we need to reach those fires," stated Kirk Dunlavey, fire department training officer. "This will be our first ladder truck and it can be shared through mutual aid with neighboring departments. Due to supply chain issues, we probably won't have it until 2023. However, we are doing major fundraising so this donation is greatly appreciated."
Meanwhile, the Heron Lake Fire Department will buy four sets of bunker gear.
"We will order four sets of turnout gear, which includes pants/bibs, coats and suspenders," said Chad Diemer, Heron Lake's fire chief. "This donation will cover two of these sets. This equipment needs to be replaced every 10 years so we really appreciate this donation."
Two other departments in Federated's service territory received grants, including Welcome and Granada.