Nobles County auditor-treasurer dispels myths about elections
If people do suspect election fraud or voting fraud, they should let the auditor-treasurer's office know, Jacobs said, so that it can be investigated.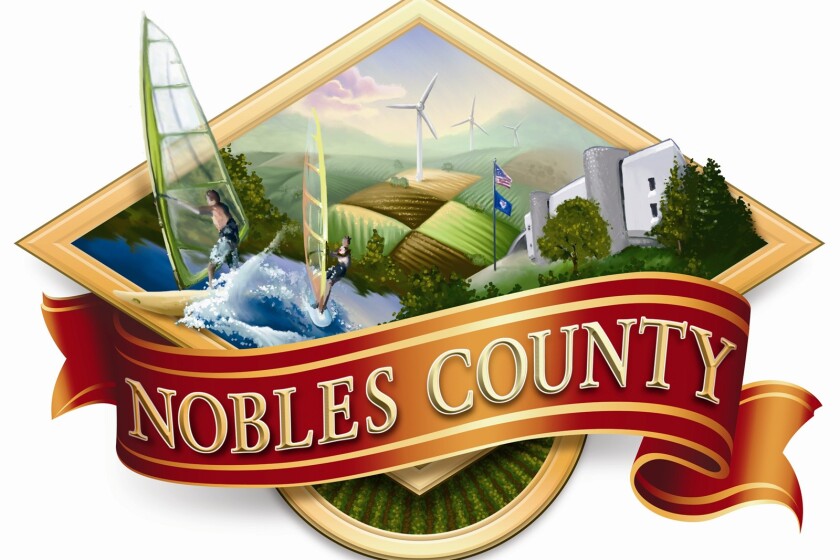 We are part of The Trust Project.
WORTHINGTON — Dead people do not vote in Nobles County, and elections there are secure — that's the message Joyce Jacobs, Nobles County auditor-treasurer, gave to the Nobles County Board of Commissioners Tuesday.
Students from Adrian, Edgerton, Murray County Central and Luverne schools attended the event.
"We're dumbfounded," said Mark Loosbrock, secretary/treasurer of Lismore Cooperative Telephone Company, which spearheaded the project. "They had maps that our engineers, that nobody had. That's why that money got denied."
"And we are not asking the state to spend the budget surplus on us. What we are asking the state to do is to make bold strategic investments in us so that we can help the state grow with surplus even more."
"One of the things that has really changed with the face of elections is the political climate and the concern around election integrity and security," Jacobs said.
In the past, her office has helped educate the public about how and where to vote.
"But I think now we're also responsible to help educate the public about some of the misinformation that is out there about elections," she added.
Jacobs informed the commissioners that about half the precincts in the county use mail-in ballots, and dispelled some of the myths about elections that have spread nationwide in recent years. Then Cathy Roos, the county's chief deputy auditor-treasurer, walked the board through the voting process and showed them some of the voting equipment people can use in Nobles County.
"One of the myths we talked about is that dead people vote," Jacobs said.
In reality, the Minnesota Department of Vital Statistics notifies election officers of deaths, and Nobles County also monitors obituaries for out-of-state deaths. Sometimes names of deceased people are pulled off the voter registration rolls before the person's funeral. And 31 states work with the state of Minnesota to inform them about deaths too. Because South Dakota isn't one of them, a staff member watches the local funeral homes.
If a deceased person in Nobles County does receive a ballot, it's most likely a question of timing — perhaps they died after the mail ballot was sent out but before they voted.
However, even then, if someone else in a household tries to use that ballot to vote, the system is made to catch that as well using data about the voter, and then the case is turned over to the county attorney.
Becker Transports of Wadena, Minnesota, started in with a 1985 Mack Superliner bought in 2010. A dozen years later, that '85 Mack is still putting in the miles as Becker Transport has grown into a regional trucking company, hauling loads like farm machinery, construction equipment, gravel and grain across the upper Midwest.
CHANDLER — The Monogram Foods Loves Kids Foundation, the charitable fund of Monogram Foods, announced that 11 local organizations will receive a 2022 grant. A committee of team members from Monogram Foods in Chandler divided $60,000 among the charitable organizations. The initiatives funded by each grant are as follows:
The North Dakota Mill and Elevator opened its doors in Grand Forks on Oct. 20, 1922, after several decades of attempts by farmers to halt the hold the grain trade had on pricing and grain grading.
Since an individual may vote only once in a given election, if someone attempted to vote twice, say once with a mail-in ballot and once in person, that person would be caught.
Ballots also cannot be photocopied, Jacobs said. They are made of a very specific type of paper with coding marks on it specific to a particular precinct, and if it's not perfect the voting machines will not accept the ballot, Jacobs said.
"There's also a myth out there that multiple ballots are mailed out," she added.
She recalls the instance of a voter who came into the county offices saying she'd gotten three ballots in the mail. As it turned out, she had — but they were for three different elections.
Another person once verbally attacked Jacobs claiming that her uncle had received multiple ballots in the mail, and so the elections were clearly fraudulent. But she hadn't been opening the "ballots," and they turned out to be applications for requesting absentee ballots, not actual ballots. Those are often sent out in bulk with the county's return address on them by other groups hoping to increase voter turnout, which is legal, Jacobs explained.
"I had one on my kitchen table, and it made me furious when I came home one night... it looks like it came from our office," Jacobs said.
It didn't.
Another myth is that the election machines are connected to the internet, which would make them vulnerable to hacking. They aren't connected to the internet, Jacobs said, and even the laptop used to submit election results to the state on election night isn't used for anything else, ever.
If people do suspect election fraud or voting fraud, they should let the auditor-treasurer's office know, Jacobs said, so that it can be investigated.