Nobles County commissioners approve 20% salary increase for county attorney, 4.55% for auditor-treasurer
Commissioners opted to raise their $20,816.34 pay by 2.75% for 2023, the same cost-of-living increase all employees will receive, and maintain their per-diem at $150.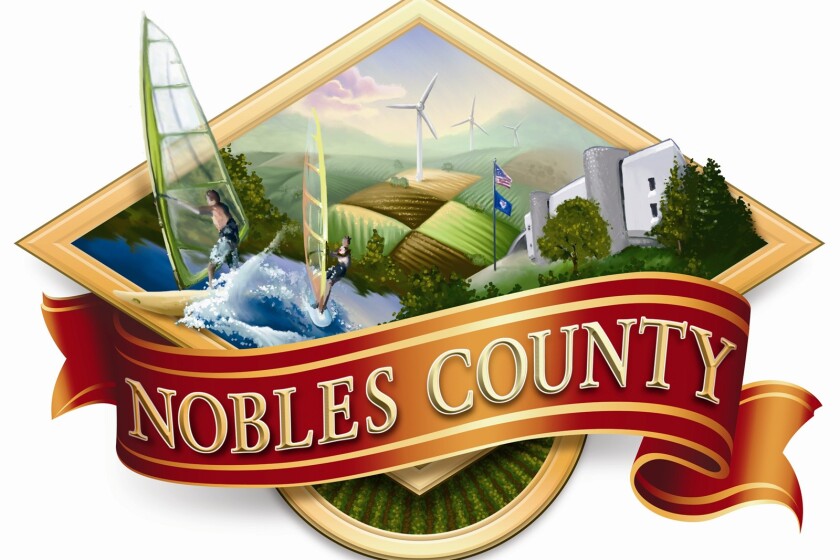 We are part of The Trust Project.
WORTHINGTON — The Nobles County Board of Commissioners set salaries for elected officials Tuesday, including a 2.75% increase for themselves and a 20% increase for Nobles County Attorney Joe Sanow, which is intended to keep his pay comparable to others in the same position.
No decisions were made, nor votes taken on the matter, as Tuesday's meeting was a work session only.
"We've been really fortunate as far as equipment goes. Things break when it gets cold. The guys have been really good about being careful."
An early traffic study resulted in a recommendation to raise speed limits along part of the Crailsheim Road corridor, leading dismayed local governments to request a new traffic study.
"It seems that I have not been as diligent in requesting increases over the last several years as I probably should have been," Sanow explained, offering a table showing data for neighboring and similar-sized counties.
According to the information presented, 2022 county attorney salaries were $106,000 in Jackson, $141,544 in Martin, $117,135 in Cottonwood and $154,800 in Lyon County, Minnesota.
Sanow's salary was $100,000 in 2022, and the increase will put him at $120,000 for 2023.
Sanow said that given he was appointed to the position in October 2019, and had only been in the position for two months when salaries were set that year, he didn't feel comfortable asking for more then.
However, things have changed since. There is a shortage of qualified applicants for assistant county attorneys, and vacancies remain unfilled in the county attorney's office, Sanow said, noting the rest of the state is also experiencing difficulties filling those roles.
"I understand it's a double-digit increase, but I think there's a bit of catching up to do since 2019," said Commissioner Bob Demuth Jr.
Welcome Corps is geared to fast-track refugees, many of whom have waited years to be resettled. The goal is to welcome 5,000 refugees to the U.S. this year, the first to arrive as early as April.
Incidents reported the evening of Jan. 31 through the evening on Feb. 3.
Robert and Kelli Bush are scheduled to make their initial court appearances Feb. 7.
The other commissioners agreed and the salary increase was approved.
County Auditor-Treasurer Joyce Jacobs requested a salary increase of 10.24%, which would have brought her from $91,192 to $100,530.
She presented salary surveys from auditor-treasurers in other counties as well, including $100,276 in Martin, $93,999 in Murray, $97,698 in Pipestone and $79,500 in Fillmore County.
She said she pulled the information from all the counties with populations smaller than 30,000 people, since her office's workload is largely dependent on voters and parcels, both of which change based on population.
She found that the difference to align with 2022 salaries of those other counties was $4,149, or a 4.55% salary increase, and in order to bring her into alignment with 2023 salaries, she requested an additional increase of 5.69%, approximating what county employees would get for their annual cost-of-living increase of 2.75% plus salary step increases.
"What has changed in the last year?" asked Commissioner Justin Ahlers, a question he asked each of the elected officials.
"New staff, lots of training. The biggest change has really been how elections are viewed," Jacobs said, explaining that she has spent significant time ensuring data requests regarding the 2020 general election were responded to.
"And taking the time to talk to the registered voters in the county who had questions has been both rewarding but also challenging," Jacobs said. "There are folks that, no matter what I tell them, with all the knowledge I have around elections, that I still can't convince them that what they're hearing (elsewhere) is not accurate information.
Even if it's not a lucrative venture, the hobby of raising rabbits continues at this farm near Sebeka, Minnesota.
The program provides funding to help processors add value to Minnesota agricultural products by investing in production capacity, market diversification and market access for value-added products.
The application deadline is March 6.
"But I've had a lot of great conversations where I've had registered voters walk away and thank me because they just had questions, and they need those questions answered."
Commissioners asked what it would look like if Jacobs received her requested 10.24% increase and other county employees only got their cost-of-living increase of 2.75%.
Jacobs said workers also receive a step increase each year as well, and that county employees also receive other benefits elected officials don't.
Demuth made a motion to give Jacobs the 4.55% raise to bring her into alignment with other auditor-treasurers, plus the 2.75% cost-of-living increase, for a total 7.3% salary increase. That motion failed 2-3, with Commissioners Gene Metz, Donald Linssen and Ahlers voting in opposition.
The board then approved a 4.55% salary increase (to $95,341) in a 3-2 vote, with commissioners Demuth and Linssen opposed.
County Recorder Thelma Yager requested and received a 12.12% salary increase, noting that most supervisors in the county were paid higher than she was being paid as a department head. The board approved the salary increase 4-1, Ahlers dissenting, bringing Yager's pay from $77,750 in 2022 to $87,173 for 2023.
County Sheriff Ryan Kruger asked for and received a 7% raise, taking him from $100,000 to $107,000.
"The rate of inflation being 14%, 7% is kind of a bargain," Demuth said.
A mental health screening was requested for 51-year-old Vincent Muccio, who was previously committed for treatment needs.
Lawmakers asked for a review amid an investigation of the nonprofit Feeding Our Future. Employees and others are accused of using $250 million intended for meal programs for real estate and travel.
Phone calls between Ray "Pato" Camacho, 38, and others were recorded by the prison, and used as evidence that led to the conviction.
Commissioners opted to raise their $20,816.34 pay by 2.75% for 2023, the same cost-of-living increase all employees will receive, and maintain their per-diem at $150 per day.
In other news Tuesday, the board:

Received an update from the University of Minnesota Extension Office, and met Wendy Baumgartner, its new support staff member, as well as Anna Rose, its new 4-H youth development educator.
Accepted a $25,000 grant from the Minnesota Department of Human Resources, which will be used to provide mental health case management services for adults without health insurance who are impacted by COVID-19.
Approved a request to hire a new family and children's social service supervisor before Beth Mahoney retires, so that Mahoney can help train her successor.
Renewed an agreement with CliftonLarsonAllen to audit the county's 2022 finances for $83,075. CLA has done the county's audit for a number of years.
Set the 2023 wage for temporary and seasonal employees at $17 per hour, an increase from the current $16 rate.
Discussed its slate of appropriations for 2023, including whether to give the $20,000 that had previously gone to the Worthington Regional Economic & Development Corporation to FORWARD Worthington, the combined WREDC, Worthington Chamber of Commerce and Worthington Convention and Visitors Bureau. The commission agreed that the appropriation could remain, but the organization must make a presentation to them in order to receive the money.
Received an update about the need for storage space at the Prairie Justice Center for impounded vehicles and evidence, and heard that the possibility of a small pole barn and fenced-in area for the vehicles is being priced out.