Nobles County commissioners talk $4.2 million in ARPA funds, tobacco ordinance changes
Five cities' infrastructure projects were added to the list of potential projects the county could spend its ARPA money on.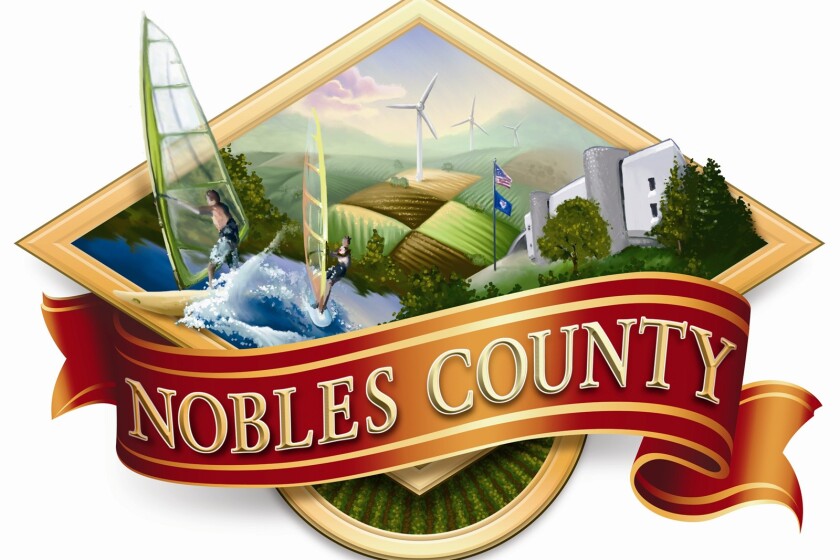 WORTHINGTON — Five infrastructure projects are in the works for cities in Nobles County, its Board of Commissioners learned Wednesday as they continued pondering how to spend the $4.2 million in federal American Rescue Plan Act funds the county received.
"I don't envy your job a bit in trying to decide how this comes out," said Mike Carr, an engineer with Dewild, Grant & Reckert & Associates, who walked commissioners through the five projects during their work session.

Brewster wastewater treatment facility improvements: Upgrades to the existing wastewater treatment facility would increase its capacity and upgrade it to meet new, more stringent limits on effluents. The project would cost an estimated $5.2 million, and would serve the city of Brewster and Minnesota Soybean Processors.
Brewster water improvements: The existing water supply to MnSP is high in sulfates, and treated water discharged by the company is even higher in sulfates — a problem that could be solved by connecting to and using Lincoln-Pipestone Rural Water instead. The project would cost an estimated $5 million, with the bulk of that cost passed on to MnSP.
Ellsworth water main replacement: Many of Ellsworth's water mains are aging or undersized, and this would replace about four or five blocks' worth of them. While the project is still in the planning stages, its cost is estimated at $760,000.
Adrian water main replacement: Adrian also has many aging, undersized water mains, and its project is in the preliminary planning stage, with an estimated cost of $500,000.
Adrian water and sewer study: Adrian would create a plan that would prioritize water and sewer improvement projects for the city. The study would likely cost an estimated $30,000 to $40,000.
Nobles County commissioners already had a list of more than a dozen requests for its ARPA funds from all over the county, most of which were sewer or water projects, and the board decided to make its final decision on the matter in April.
Commissioner Gene Metz wanted to know if the five municipal projects were in the planning stages before they knew that Nobles County would receive ARPA funds, and whether the cities had any other options for funding sources, such as grants.
Carr said some of the projects had certainly been planned beforehand, and listed some funding options, such as grants for sulfate removal and forgivable loans from a federal infrastructure grant program.
Commissioner Bob Demuth Jr. said he hoped the groups asking for ARPA funds hadn't already set aside their own money for the projects and then decided to go to the county for funds as if it had "become Santa Claus."
"I don't like being played, and if that was on their radar already, and if they're asking for it and laughing all the way to the bank then I'm not agreeable" to granting the funds, Demuth said.
Carr said that for many of the projects, users' water or sewer rates would go up in order to pay for any part of the project that wasn't covered by other funding sources.
"You're lowering the utility rates for residents of Nobles County," Carr said. "It's not building anything that's not already required, it's just lessening the burden on the taxpayers."
Because the ARPA funds can be used as revenue lost due to COVID-19, it may also be possible to use the money for roads.
"I think most counties are being very cautious in allocating things," Carr said.
Commissioner Justin Ahlers suggested another possible use for the funds — using them to mitigate county medical staffing shortages by offering education grants in exchange for people agreeing to work in Nobles County following graduation.
"I would love to explore an option like that," Ahlers said. "That benefits the county as a whole too."
Commissioners Bob Paplow and Gene Metz both agreed that it would be important to think long-term and look to the future when deciding how to use the ARPA money.
In other news Tuesday, the board:

Heard some adjustments in the proposed changes to the county's tobacco ordinance, including adding exemptions for menthol, mint and wintergreen products to a potential ban on flavored items. The hearing on the proposed changes to the tobacco ordinance was moved to the April 5 board meeting to more easily give retailers a 30-day notice about any changes that are passed at that time.
Received an update on redistricting. Commissioners will need to approve a redistricting plan for the county by April 26, according to Joyce Jacobs, auditor-treasurer. Preliminary numbers indicate that if nothing changes for the city of Worthington, district boundaries would not need to change, and commissioners would not have to run for election unless scheduled to do so already. Jacobs cautioned that the numbers are not final and could change.
Learned about efforts being made to merge the Worthington Chamber of Commerce, the Convention & Visitors Bureau and Worthington Regional Economic Development Corporation into a single group, called Focus On Results Worthington Area Regional Development (FORWARD) Worthington. Commissioners expressed concern that a single director for the merged entity would be spread very thin.