Options abound for floor coverings in the home
While plenty of people choose luxury vinyl plank flooring for kitchen and dining rooms, recently, they've been using it in living rooms and even bedrooms, using the same flooring for the whole place.
We are part of The Trust Project.
WORTHINGTON — The days of orange shag and avocado green linoleum set in bold, eye-bleeding patterns may be over, but trends and styles in flooring continue to change just as they do in any industry.
This live, online program will provide up-to-date, research-based information to help optimize your crop management strategies for 2023.
When Avera Worthington Specialty Clinic closed its surgical center on the third floor of its Ryan's Road facility, it created space for home health and hospice services that were previously provided by Avera's Sibley, Iowa program.
The designation also includes the contiguous counties of Jackson, Murray, Nobles, Redwood, Brown and Watonwan.
Fortunately, contemporary floor coverings tend to be a little more subtle, and so are at least some of the trends.
For example, while plenty of people choose luxury vinyl plank flooring for kitchen and dining rooms, recently, they've been using it in living rooms and even bedrooms, using the same flooring for the whole place.
"It looks more consistent with it all the same," said Tony DeWall, who owns Carpet Plus along with his brother, Matt DeWall. "People who have pets don't have to vacuum up hair all the time. It's maybe a little bit easier to take care of than carpet."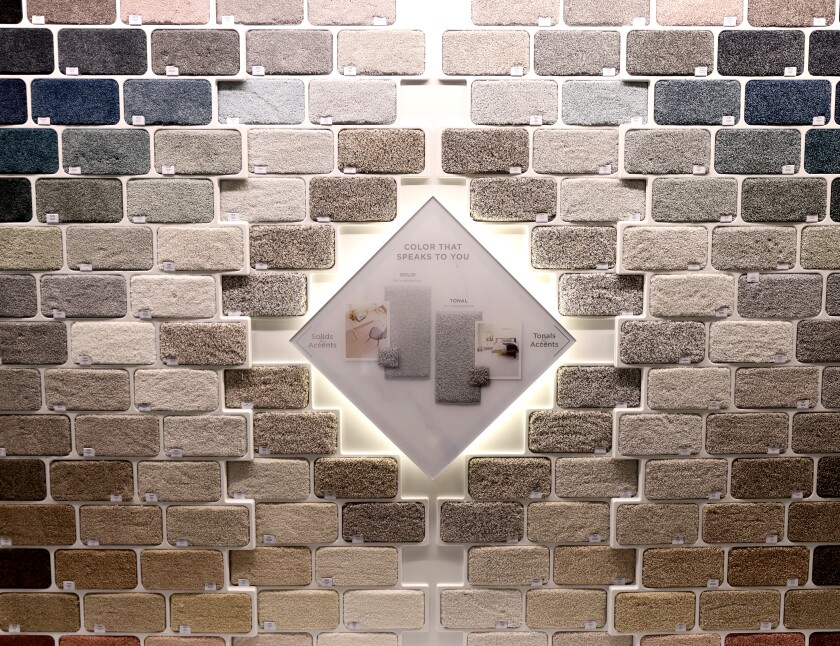 Most of the vinyl plank flooring is waterproof, too, meaning that moisture doesn't really affect it like it did the old laminates, Tony said. Typically, cleaning it just involves sweeping and then using a spray-on, wipe-off cleaner.
People still choose the type of floor covering they like, though, so carpet remains very popular.
"Carpet has gotten a little shorter and tighter than it was maybe 8 to 10 years ago," Tony explained, noting that overall, floor coverings have generally shifted toward warmer tones and away from the chillier grays.
Rune's Furniture offers vinyl flooring and carpet, but not the planks. There too, the warmer tones have become more popular, said Dave Frisch, co-manager along with his brother, Doug.
One new option in carpeting at Rune's is "Random Nature," which has multicolors, a bit of sculpturing to it, a lower cut and doesn't show traffic lines.
"It's easy to walk on if a senior has any issues catching the carpet with their shoes a lot," Dave said.
The multi-tone frieze carpets, with their tight twists, are still the most popular at Rune's, though.
Some carpet brands even come with a plastic backing, so that pet accidents and spills never soak through the carpet into the pads to cause problems.
People also still want hardwood floors, though those sales have declined a bit in the past decade or so, potentially because there are more options in the more affordable luxury vinyl plank flooring.
Still, there is a difference between true hardwood and vinyl planks that people might not notice immediately, Tony said — the sound is different, as hardwood sounds very solid and vinyl tends to sound a little more hollow. And hardwood floors can be refinished, too.
Between donations from parishioners, friends and family, enough money has been raised to purchase 187 milk goats for new mothers and their malnourished infants half-way around the globe.
Follow the Globe Minute, our twice-weekly Worthington news and weather podcast, on Apple, Spotify, or Google Podcasts!
"Right now our number for registered children in Nobles County is around 700," Harrington said of the local Toys for Tots campaign. "Our goal is to provide three toys per child, so if we can get our toy count up to 2,500, that would be great."
Traditional sheet vinyl has also remained popular, particularly for bathrooms, as it's soft, easy to clean and nice to stand on, like the old linoleum-style flooring it has replaced. Sheet vinyl patterns seem to be moving toward mock wood, stone or marble looks; hexagonal faux tile seems to be popular too, Tony said.
Tile and stone are options as well.
"Everybody likes something different," Tony added.