Regatta acts announced, from country's Chase Matthew to the Fabulous Armadillos
"We're just excited to be able to get him to come to Worthington."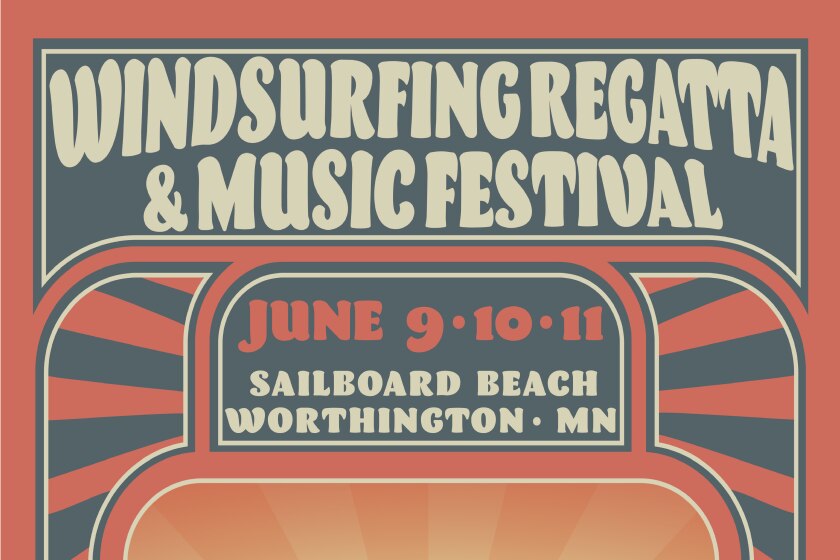 WORTHINGTON — The musical lineup for the 2023 Windsurfing Regatta and Music Festival is set, featuring up-and-coming country artist Chase Matthew as the headliner on Friday and the Twin Cities-based cover band the Fabulous Armadillos on Saturday.
"We've noticed over the years that a lot of younger people are coming to the event, and Chase Matthew has recently been signed to Warner Brothers and he's very big on Spotify and Tiktok," said Barry Roberts, program director for RadioWorks, who coordinates the musical acts for the festival. "And just a lot of younger people know who he is."
In the past, the Music Festival has sought out more established artists with many hits, but in this case, organizers decided to bring in a new artist gathering steam. Matthew, a Nashville-based artist, made his Grand Ole Opry debut this month and has been selling out venues.
"We're just excited to be able to get him to come to Worthington," Roberts said.
The Fabulous Armadillos, a highly-sought-after crowd-pleaser that covers a wide range of timeless classics, will headline Saturday's music lineup.
"It's an eight-piece band of very seasoned performers… They've had a lot of tribute bands that have come to Worthington, but this is more of the party band," Roberts said. "We've been trying to get them for three or four years, and we were finally able to this year."
Jacuzzi Puma, a cover band that plays David Bowie, Led Zeppelin, Prince, the Rolling Stones, Elton John and much more, will warm up the crowd for Matthew on Friday.
Show Me Your Hits, "a Minneapolis millennial-made cover band," will play tunes from the 80s to today on Saturday, bringing a high-energy performance that delivers nostalgia but keeps its catalog fresh and relevant.
Following the chair auction, country artist Derek Jones will take the stage. He describes himself as a "relentless country-rock outlaw harboring a principled character and deep-rooted respect for people and our nation." Jones toured alongside Billy Ray Cyrus for four years and has shared the stage with Charlie Daniels, Ashley McBryde, Trace Adkins and Dwight Yoakam, among others.
"We're just excited to have another big year," Roberts said. "Last year was great and we're always thinking of 'Hey, what can we do better this year?'"
Since the COVID-19 pandemic, booking acts has been a little more challenging than usual, as many entertainers are trying to do the shows that were canceled in those years.
"We want to appeal to everyone. We want to appeal to the kids all the way to adults," he said. "You can come out and enjoy the free music due to sponsors and beverage sales. And we want the community to come and join us for the summer kickoff in June."
The Regatta kicks off with opening ceremonies at 6:30 p.m. on Friday, June 9, followed by Jacuzzi Puma from 7 to 8:30 p.m. and Chase Matthew from 9:30 to 11 p.m.
The celebration begins again June 10, with Show Me Your Hits playing from 4 to 5:30 p.m., the chair auction starting at 6 p.m. and Derek Jones taking the stage from 7 to 8:30 p.m. The Fabulous Armadillos will play from 9 to 11 p.m.