Rushmore family restores 1942 McCormick B Farmall
Tractor had been purchased new by great-grandfather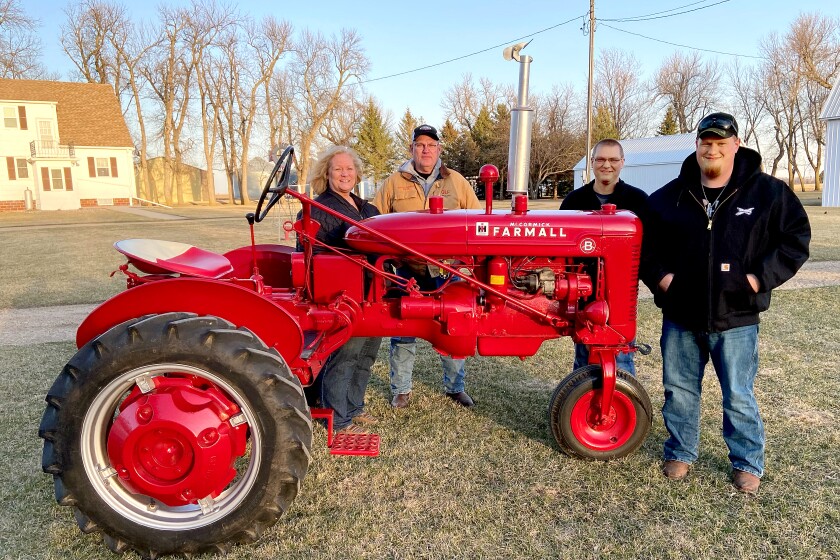 We are part of The Trust Project.
RUSHMORE — A 1942 McCormick B Farmall shines bright red under a setting sun these days, thanks to the efforts of a Rushmore family who was determined to not only keep the first new tractor their great-grandfather ever purchased, but restore it to its original beauty.
Brothers Keith and Travis Ailts, along with their dad, Gary, worked the better part of six months to bring the tractor back to life.
John and Mary Clercx, farmers who owned a quarter section in northwest Iowa's Lyon County, just east of Lester, originally purchased the tractor in 1942.
"I think it was the first tractor that Grandpa bought new," shared Melody Ailts. It was used for tillage and planting, picking corn, pulling wagons to the elevator and hauling manure — a pure workhorse in its heyday, and a tractor dwarfed in size by those farmers drive today.
Gary had first seen the B on the Clercx farm when he and Melody were dating.
"I thought it was unusual because it only had one wheel in the front." Gary said. "When John died, I asked Mary if I could buy it and she said no, Duane (Melody's uncle) was going to get it."
Melody's mom, Peggy Reemts, and Duane were John and Mary's only children, and they wanted the tractor to remain in the family.
While Duane became the tractor's owner, the implement was kept in storage in an old shed on the farm. It hadn't been touched in years, and certainly didn't run.
Then, in 2017, when the Ailts attended a family picnic with Melody's relatives, Duane seemed disappointed that Keith — the youngest of Gary and Melody's two sons — hadn't come along. He told Gary that he was hoping to talk to the boy.
Keith called Duane that night and learned of the plans to burn the old house down.
"This tractor sat in a little shed within 20 feet of the house and they wanted to burn that down too," said Gary. "Since Keith was a mechanic, Duane said if (Keith) could get it running, he could have it. He wanted it to stay in the family."
"I thought it was pretty cool," Keith said of the offer. "We'd always look at it when we were there, but it never ran.
"I didn't want to see it go anywhere else besides stay in the family," he added.
On the other hand, Keith had never thought about restoring a tractor either.
"It was a good project for these three," said Melody, who was on the clean-up crew after weekends of dismantling, cleaning and putting things back together.
For the most part, the father and sons did the work themselves. Not experienced in removing and replacing the four sleeves on the motor, they sought help from Gene DeBoer of Magnolia.
"The sleeves were stuck in there pretty bad," Gary said. "Gene helped us get those out."
It wasn't just the motor that was in pretty bad shape.
When the Ailts removed it from that little shed on the Clercx farm, it was very rusted and full of mud.
"We had to cut branches to get it out," Gary said, noting that volunteer trees had grown up around the shed.
"They never really cleaned it after they were done using it," Keith added. "It was full of corn stalks and muid, and there were parts laying all over in the shed that they had taken off."
From the time they hauled it to Rushmore on a flatbed trailer in the fall of 2017 until March 2018, the Ailts spent their weekends on the restoration project. And when they weren't working on the tractor, they were paging through the Steiner parts catalog, produced by a Michigan-based company that provides new parts for old tractors. The catalog is a bit thicker than the old JCPenny or Sears Christmas wish books, and equally as drool-worthy for tractor enthusiasts.
"The three of them made a list of parts that they needed and that's what they got for Christmas that year (in 2017)," Melody said. "Christmas shopping was very easy."
Before they turned to new parts, however, they searched for original parts wherever they could.
"We drove all around looking for B Farmalls," Melody said.
"I found one in a grove when I was out deer hunting," added Keith. Unfortunately, the owner had died and there was no one to ask if they could get some of its parts.
Keith found one part at the tractor salvage in Worthington — bell housing that already contained the mechanism for electric start. Considering the B Farmall they had was a crank start, the Ailts were rather grateful to be able to update the part.
The pistons, sleeves, gaskets, wiring and harness were ordered new from Steiner.
With all of the work that had to be done to the tractor, the Ailts agreed that the hardest project was repairing the tractor's existing grill.
The bottom portion — below the grill — had a dented area with a rusted out hole.
After searching near and far for a replacement, they finally found a grill at a salvage yard in Lyons, Nebraska that, while it wasn't identical, the size matched up.
"The grill we found didn't have the right kind of fastener," Gary said. "Jack's (Autobody and Paint) in Ellsworth cut the bottom of this grill off and the bottom of the one we found, and then welded them together. You can't tell the difference."
Jack's Auto Body also applied the new decals, which the Ailts ordered from Steiner.
Once completed, Keith was the first one to take it for a drive around his Grandma June Ailts' farm yard. He was grinning from ear to ear.
"I thought it was pretty cool," he said of the restoration project. "It's been in the family for a long time, and it will stay in the family for a long time to come.
"It's a pretty cool accomplishment for us three — it was a fun time to spend with them out in the shop."
By day, Keith is a mechanic for Titan (formerly Jaycox Powersports) and works on small engines. Meanwhile, Travis is an electrician at Bedford Industries, where Gary works on the production line on the overnight shift.
"It was fun to see it from when we got it to what it ended up to be," Travis said of the tractor.
Of course, they had to share the restoration with Melody's Uncle Duane as soon as they had it finished.
"We didn't tell him we had it done," said Gary.
The couple invited him over for lunch one day, and afterwards, offered to take him out to June's farm to show him their progress.
"When he saw that it was done, he was about in tears," Melody said.
He didn't want to take the tractor for a drive himself, but he did sit on it and let Keith take him for a little ride around the yard.
The Ailts plan to use the tractor for hauling seed out to the field and other little projects. They also hope to take it to events for more people to see their tractor renovation.
Last summer, it went to Ribs and Rims in Adrian, and Melody would like to see it return to Lyon County, Iowa, for a tractor show sometime.
The Prairie Reapers are featuring International this year, so it's a possibility the tractor will be seen at one of their events as well.