Spomer Classics hits the road
After two decades, the Worthington car and automotive memorabilia museum is closing its doors.
We are part of The Trust Project.
WORTHINGTON — It's a collection 43 years in the making, brought together from across the United States and made possible by a lifetime of connections, love of all things automotive, and enough electricity to power a showroom of neon signs.
Commercial farmers in Nebraska, the Dakotas, and Minnesota start using drones for spraying, seeding.
Even if it's not a lucrative venture, the hobby of raising rabbits continues at this farm near Sebeka, Minnesota.
The program provides funding to help processors add value to Minnesota agricultural products by investing in production capacity, market diversification and market access for value-added products.
Spomer Classics, a car and automotive memorabilia museum, has been a Worthington must-see since owner Marv Spomer first opened its doors. But now, after two decades, the museum is closing.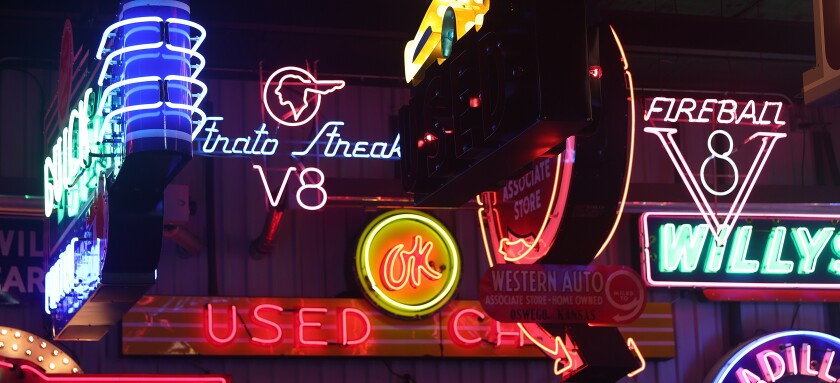 "It isn't going to be easy," Spomer said, standing in the back room of the former car dealership-turned-muesum. The back room is filled with classic cars. Most of the time, Spomer has had 18 to 20 cars on display, including a 1957 Venetian orange Corvette, and the sleek red '66 Pontiac that Robert Kennedy signed — and rode in — during his participation in the King Turkey Day parade.
It's all part of the history, part of the collection, that Spomer has spent over half of his life building. While his love of the automobile has been lifelong, the collection he credits to his wife Jeanine, an antique lover who encouraged Spomer to ride along when she went to auctions.
Together, they built Spomer Classics, and since its opening, car enthusutaists, history lovers, and the mildly curious have made their way to the Worthington muesum.
The museum has hosted many large groups who took one of Spomer's two-hour tours, while he walks them around the brightly-lit interior. People come from nearby; they travel across state lines, and in some cases, from out of the country.
"Two weeks ago, we had two people in from South Africa," Spomer shared. "That's the biggest thing, is we're gonna miss the people, because we've gotten to talk to people from all over the world."
While many people come in to view the cars, Spomer says they're really a secondary attraction.
"We have people come in here all the time (who say) 'Oh we gotta see the cars,' but pretty soon all they're looking at is the neon signs." he said, walking along a line of sleek looking automobiles in the back showroom. "The signs and the clocks and the memorabilia, that's what they're really here to see. They just don't understand that 'til they come in."
His very first neon signs — a Pontiac and a Fireball V8 — came from an auction in Scotland South Dakota. There's a Coca-Cola sign from the gas station Spomer's father used to run, where Spomer first got into the car business pumping gas.
Towering above one of the cars near the back is an 11-foot-long rotating sign from 1953 that was found in a grove of trees in Decorah, Iowa. Spomer cleaned it out himself — as he does with most of the signs he's collected. The restoration is all part of the process, and Spomer jokes that he can never be without some project, whether that's a car, a sign, or figuring out how to find space for a massive rotating sign.
"That rotator, it actually came off the Phillips 66 sign in Worthington," Spomer said, adding that a friend from his coffee group gave it to him after hearing about his new sign. "It was totally shot. It took me six months to get it all working again."
He points out other signs and says a friend told him about it, or a contact tracked him down and offered to sell it to him, or someone, somewhere, said they had a sign and a story.
Spomer, it seems, collects both.
"There's a lot of research that goes into this," he said, "The stuff we find, we try to find the history that goes with it."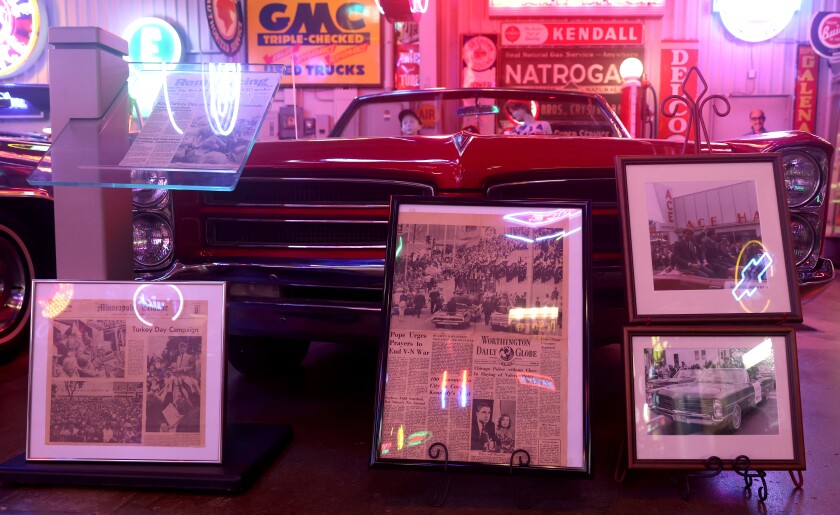 In a room packed so full of lights and signs that it's hard to find the walls, Spomer's own tales about how he acquired pieces of memorabilia mingles with the item's history. Interspersed with talks of the auctions and antique stores he's collected from is a vast assortment of automotive trivia and historical tidbits, connected to the various items that make up Spomer's collection.
Neon signs, he explained, took off in the United States in the 1920's and first showed up at a Packard car dealership in Los Angeles. They were a huge hit at the 1926 National Auto Show at Madison Square Garden in New York, and the subsequent neon wave spread throughout the world of advertising.
While that spread is on full, technicolor display inside Spomer Classics, the neon signs are only a portion of the collection. Porcelain and tin, lit-up milk glass, Spomer possesses what is one of the largest collections of automotive signs in the country — and more than a couple pieces are one-of-a-kind.
"I've got quite a few signs that are over 100 years old," he said, "and we have broadened out from automotive, to gas and oil…. And naturally, we've collected a lot of local stuff — Worthington stuff — that will be going into the historical building downtown."
Spomer will be giving — or returning, in some cases — several pieces from his collection to people the memorabilia holds significant value for. In large part though, most of the memorabilia will be sold.
Since deciding to sell, Spomer said he's had visits from some of the top auctioneer companies in the country, and that's where a majority of the signs will be headed. The first grouping will include 30 signs, split between two auctions in North Carolina. The first will take place in Feburary, with additional auctions yet to be determined.
"It's gonna take time, but it'll be interesting to watch," Spomer said, "So many of these things are so unique."
Spomer will keep some of the signs, along with a handful of cars that he's not looking to part with. And, even though he's closing the museum, he doesn't plan to quit his restoration hobby any time soon.
While pieces have begun leaving Spomer Classics, he encourages anyone still interested in a tour to give him a call at 507-360-9557.
While some of the cars have been sold, and a few could go to auction, Spomer has yet to decide where the others will end up.
"It's been a wonderful journey," he said, "For the simple fact of all the wonderful people we've met doing this. It warms your heart seeing the expression of their faces when you light this place up. We've always said, we're about restoring cars and signs and memories, and some days, the memories really hit."