VIDEO + GALLERY: Students' prairie tour includes flowers, a confused bee and a chance to eat a bug
One student eagerly volunteered to eat the wasp larva.
We are part of The Trust Project.
WORTHINGTON — Students from Adrian, Ellsworth, and three Worthington schools came together to unravel the mysteries of the prairie — and, for a lucky few, get a grown-up-sanctioned opportunity to eat a bug — this week at the Prairie Wetland Learning Area.
The program will be "Exploring Norwegian and Other Scandinavian Christmas Traditions," presented by Harvey Pedersen.
"We're not here to just throw the book at them," Landgaard emphasized. "We want to do what's right for them… our goal is not to expel kids, it's to educate kids."
"As you walk through the halls of the Learning Center, you will see students collaborating with teachers and students collaborating with other students."
The field trip has become a tradition for the local schools, and typically, the Nobles County Soil and Water District, Okabena-Ocheda Watershed District and Prairie Ecology Bus Center team up to offer students the chance to see beyond the surface level of a restored prairie.
This year, Stepheney Marfechuk, a naturalist with the Prairie Ecology Bus Center, led one of the tours Wednesday morning, a chilly day with a momentary drizzle of rain or two. Marfechuk had two rules: She was to be at the front of the group for the duration of the walk, and also, students were not to pick any plants to take home unless they were specifically asked to do so.
"And one of the best things, if you want the best chance of seeing anything cool, is to keep our voices down, OK?" Marfechuk added. "Definitely feel free to talk, but let's try and keep it like a whisper."
While larger animals seemed to be scarce during their walk, students did have the opportunity to see some insect life. Many grasshoppers clung to the foliage, and the group even paused to use a stick to pick up an addled bumblebee, crawling slowly along the path due to the cold weather, and place it out of harm's way nearby.
Marfechuk also told the students about a species of wasps that lays an egg inside a plant that irritates it into creating a gall — a plant growth a little like a tumor, inside of which the tiny wasp larva grows. She cut one of the galls apart so the students could see the worm-like creature inside.
"Now guess what, guys? These little larvae are edible," Marfechuk explained. "And they're really, really good fishing bait."
One of her students eagerly volunteered to eat the wasp larva, and bravely put it on his tongue, before deciding that was too much for him, and discarded it without chewing.
Another group of students led by Dan Livdahl, administrator of the Okabena-Ocheda Watershed District, was given the same information about the wasps, and this time, the volunteer wasp-eater downed the tiny larva without much hesitation, revealing to Livdahl and his classmates afterward that it didn't really taste like much of anything.
The other prairie life the students learned about was definitely less squirmy, like the wild sage some Native American peoples use for ceremonial purposes, or milkweed beloved by monarch butterflies that makes them toxic to predators — so toxic that other butterflies mimic the monarch warning coloring to avoid being eaten too.
There were also Queen Anne's lace flowers, which Marfechuk told students were related to carrots as well as hemlock and poison hemlock, and echinacea, which is full of vitamin C. Livdahl pointed out prairie wild roses, which have rose hips that are also full of vitamin C.
Livdahl also warned the students about prairie cordgrass, and how its leaves are very smooth in one direction, but running one's finger along the leaf in the other direction can actually cut the finger.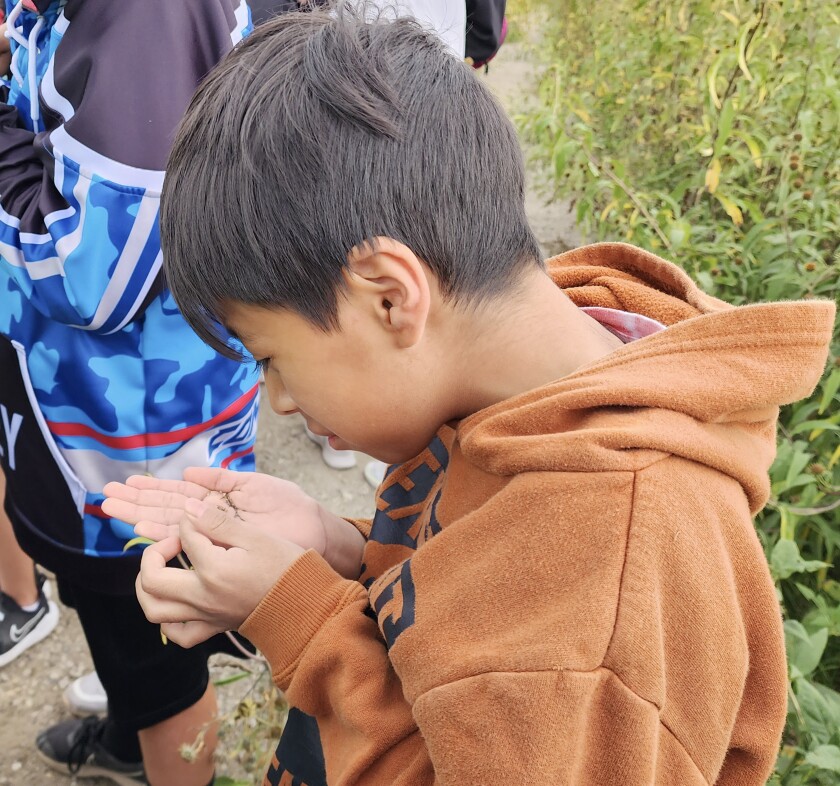 Along with the tour of the prairie the students also got to spend time on the Prairie Ecology Bus, a classroom on wheels based in rural Lakefield that incorporated as a 501c3 nonprofit in 1990.
For more information on the Prairie Ecology Bus Center, visit ecologybus.org. For more information on the Okabena-Ocheda Watershed District, visit okabenaochedawd.org.