Worthington 150: Celebrating 150 years ... and poised for the next 150
Worthington Mayor Mike Kuhle shares thoughts on city's milestone anniversary.
We are part of The Trust Project.
WORTHINGTON — The city of Worthington in 2022 is celebrating the 150th Anniversary of our founding. The future of our city looks bright and promising for the next 150 years.
It was a noisy, hilarious and potentially dangerous scene. But the merchants of 1934 declared it a huge success.
One night he ran smack-dab into a group of evangelists while staggering out of a saloon. He was converted on the spot. Since then he traveled all across the country preaching the gospel and convincing sinners to "get right with God."
The city's Army National Guard unit, Co. F of the 215th Coast Artillery, was ordered to active duty in 1940, a full year before the Japanese bombing of Pearl Harbor.
In the first 100 years, early settlers arrived and with hard work and determination developed the city and the rich land surrounding it. These early pioneers were immigrants mostly of European descent.
The early history of Worthington was marked by remarkable work in agricultural production, manufacturing and marketing. The names are too numerous to mention, but their contribution to our community's history is so valuable. It brought food processing companies such as Campbell Soup and Armour to our community that provided good jobs. The Armour pork processing plant is now JBS. Agriculture is, and always will be, a huge part of our community.
Business and manufacturing leaders were very instrumental in developing Worthington as a
prosperous place to live and work. George Dayton, E.O. Olson, and Robert Ludlow are a few of the many that contributed to the economic success of Worthington.
In the late 1970's, the Veterinary Medical Center under the leadership of a group of very enterprising young veterinarians started a company called Oxford Labs. Some of the names involved were Schmidt, Freese, Pfeifer, Simonson, and others. They built up Oxford Labs and sold it to Upjohn, which is now Merck. This company is located on the south side of Worthingon and is thriving as one of our major employers.
Then, some members of this enterprising group came together a number of years later to form and build up another company, Newport Labs. Newport was then sold to a large Italian company and eventually sold to a German giant in the BioScience industry. And, by the way, this group of veterinarians located Newport Labs in the "Big Red Barn" in our new Bio Science Park north of Interstate 90. And now Cambridge, a third animal vaccine company, is being developed.
1
/
28:
People enjoy splashing in Lake Okabena in this undated image from the Nobles County Historical Society archives.
2
/
28:
Activity abounds in the early days on Worthington's Lake Okabena.
3
/
28:
Fourth generation farmers Norm Larson (left) and John Moberg stand at the site where a sod hut, shared by their forefathers, was located in rural Worthington.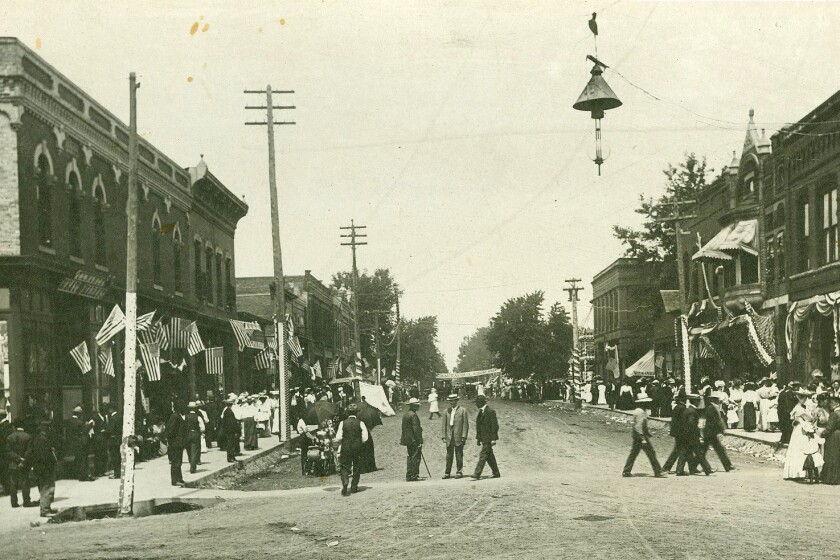 4
/
28:
An Independence Day celebration takes place on the yet-unpaved 10th Street in downtown Worthington.
5
/
28:
Paycheck and Ruby Begonia race team members get ready to chase their birds down 10th Street in one of the early days of the Great Gobbler Gallop.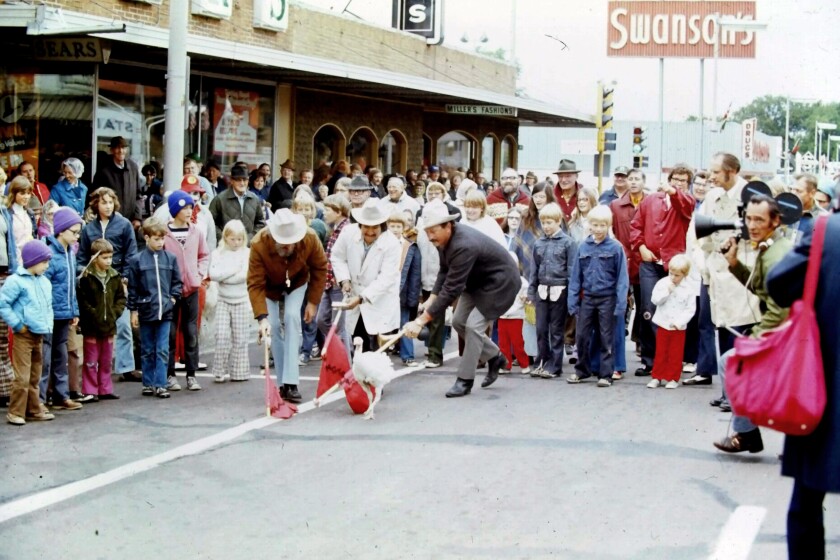 6
/
28:
Crowds gather to watch the Great Gobbler Gallop down 10th street in downtown Worthington.
7
/
28:
Peter Hartwich, of Excelsior, Minnesota sails on Lake Okabena between races during the 2022 Worthington Windsurfing Regatta.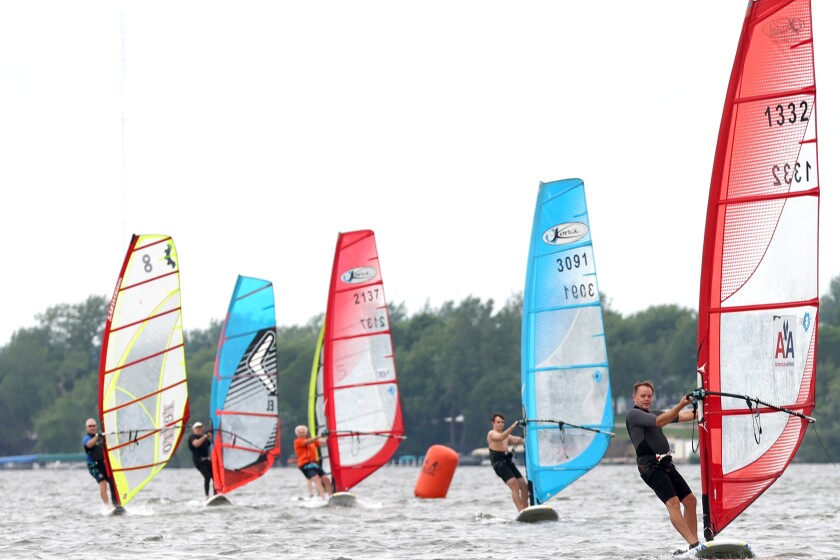 8
/
28:
Windsurfers race during the 2022 Windsurfing Regatta on Worthington's Lake Okabena.
9
/
28:
Crowds gather to hear musical acts during the 2022 Windsurfing Regatta and Music Festival on the shores of Lake Okabena.
10
/
28:
The Thompson Hotel is seen in this undated photo of Worthington's 10th Street.
11
/
28:
The Thompson Hotel recently underwent a major renovation of its apartment units and 10th Street storefronts.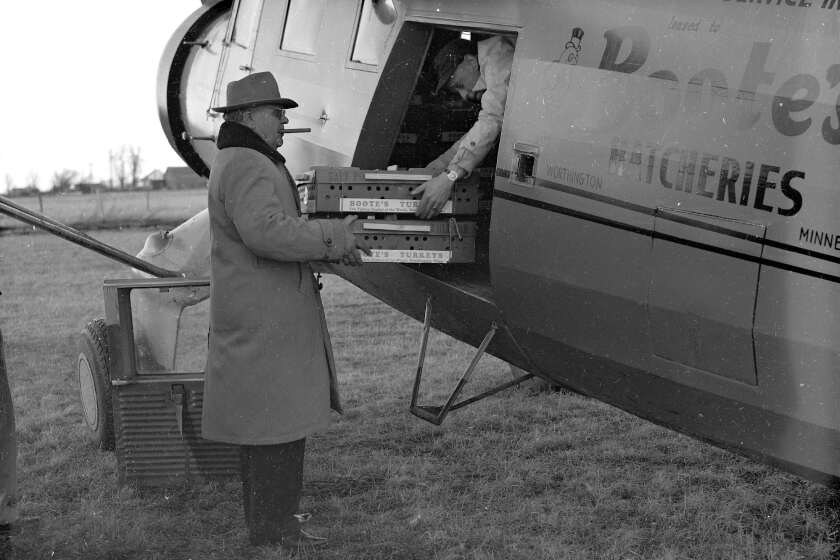 12
/
28:
Jack Boote, with a cigar in his mouth, holds a couple of boxes of turkey poults that are being loaded into his plane for delivery.
13
/
28:
Worthington's Jack Boote poses for a photo in a private rail car in this undated image.
14
/
28:
E.O. and Bella Olson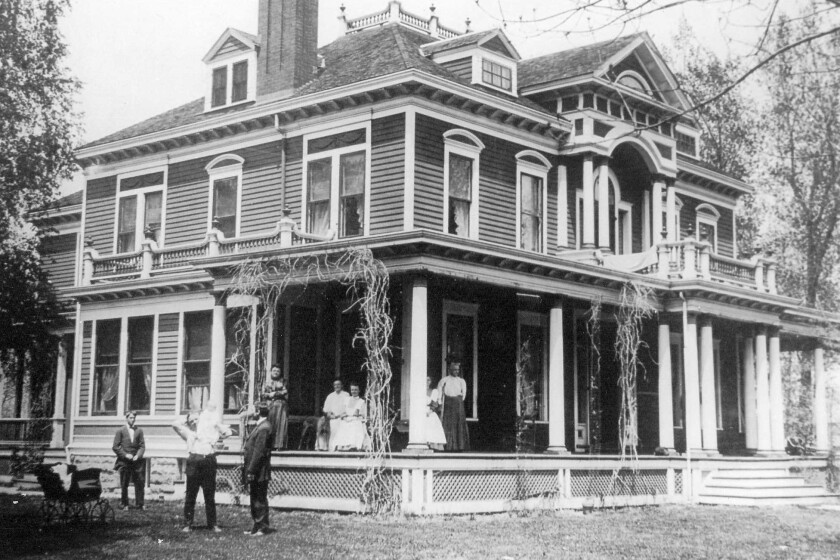 15
/
28:
The home of George Draper Dayton and his family for the 19 years they lived in Worthington remains today at the corner of 13th Street and Fourth Avenue. The Dayton House is now a bed and breakfast and a community gathering space.
16
/
28:
Teams of horses are used to assist with ice harvest on the shore of Lake Okabena.
17
/
28:
Crews push ice chunks toward the conveyor belt as they harvest ice from Worthington's Lake Okabena.
18
/
28:
Crews harvest ice from Lake Okabena in this undated file from the Nobles County Historical Society.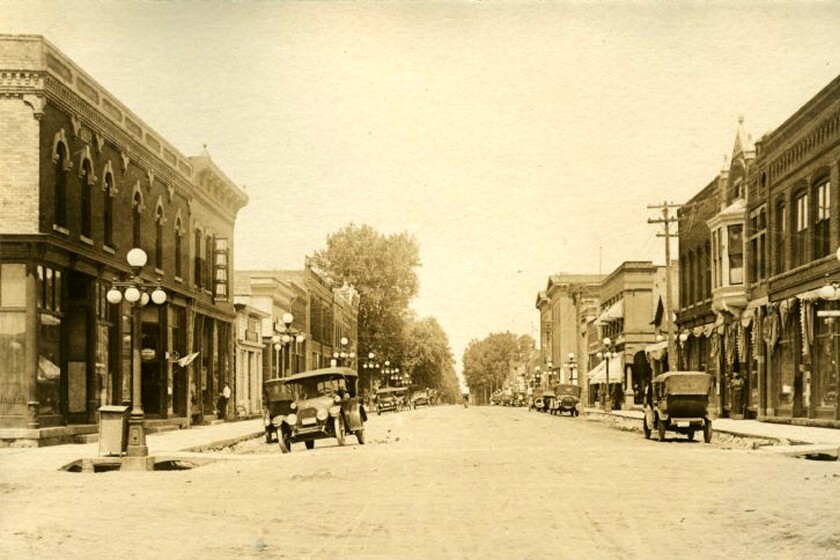 19
/
28:
An undated street scene of downtown Worthington.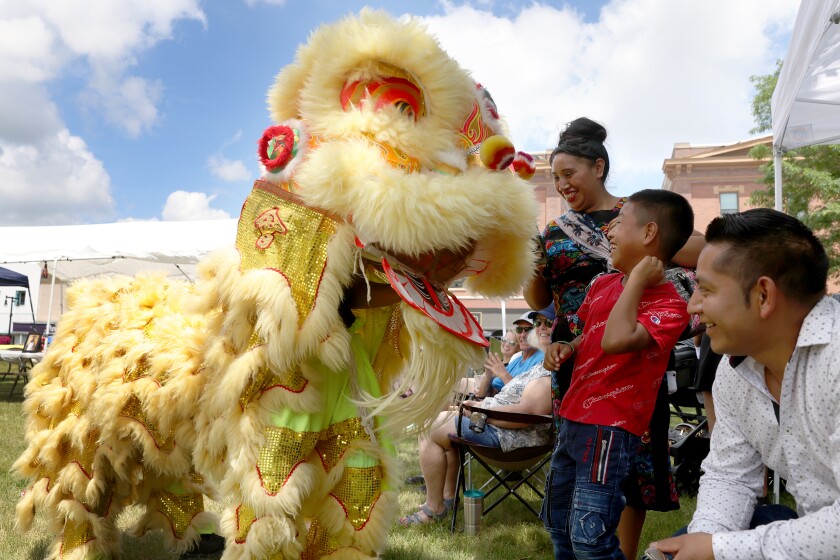 20
/
28:
The Chinese ceremonial Lion Dance group works the crowd at the 28th annual Worthington International Festival Saturday afternoon, July 9, 2022.
21
/
28:
The flag bearer for Mexico gets the flag ready for the parade of flags at the opening of the 28th annual Worthington International Festival July 8, 2022.
22
/
28:
Much of Crailsheim was destroyed by bombings shortly before the end of World War II.
23
/
28:
The people of Crailsheim gather to get supplies sent over in a shipment from Worthington residents.
24
/
28:
Volunteers sort through the many items donated by Worthington residents to be shipped to the people of Crailsheim, Germany.
25
/
28:
Volunteers weigh boxes of items ready to be shipped to Crailsheim, Germany.
26
/
28:
Martha Cashel (with letter) initially sought to help her Finnish pen pal by gathering shoes to send to Finland. Her idea prompted her parents to provide aid to war-ravaged Europe on a grander scale, and that's what led to the sister city partnership with Crailsheim, Germany.
27
/
28:
An early day gathering at Worthington's Chautauqua Park.
28
/
28:
The Little Sioux steam boat takes passengers for a ride on Lake Okabena.
The Bio Science Business Park represents the future of economic growth for high paying jobs and for advancement in animal vaccines and the Ag Bio Science business sector — not only in our region, but throughout the great state of Minnesota.
Bob and Pat Ludlow started Bedford Industries in their garage/home making, of all things, bread ties. This business has grown into a huge entity that sells to the world market and is evolving and re-inventing itself every day. New products such as Elasti-Tag are being developed every day.
A timeline that celebrates big moments in our town's history.
Adrian proposed dissecting Nobles County so it could reign over a new county.
While Worthington City Hall maintains all council meeting minutes, the early minutes are handwritten.
What Bob and Pat started back then. and now with the leadership of the next generations that include Kim and Jay Milbrandt, is a true asset to our community.
The immigration of the late 19th Century and early 20th Century built and made our community into what we are today. Our church communities provided the moral support necessary to enrich our community. The teachers who taught all of the children in Worthington contributed to our success by providing a quality education.
The last 50 years has been marked by a second wave of immigration in Worthington. Our churches in the early 1990's started this change by sponsoring immigrants from southeast Asia; a worthy humanitarian effort!
In the years since, Worthington has grown because of increased immigration from Latin and Central America and East Africa. Our companies need these workers to survive and expand.
Worthington has been successful in welcoming these cultures into our community. While we have had challenges with immigration, we have worked hard and are providing a stable workforce for our companies.
Immigration has been a big part of our last 150 years, and will define our future.
A timeline that celebrates big moments in our town's history.
Adrian proposed dissecting Nobles County so it could reign over a new county.
While Worthington City Hall maintains all council meeting minutes, the early minutes are handwritten.
Worthington leaders, with the help of our voters, are investing in amenities that will attract people and grow our community. The "Sales Tax" projects are providing improvements to our park system, a new indoor fieldhouse, 10th Street pavilion, outdoor aquatic center and ice arena improvements. We still have much more to do in Lake Okabena improvements and other projects to complete the legacy of these "Sales Tax" projects.
The city, along with our partners such as Worthington Public Utilities, Housing and Redevelopment Authority and private businesses are also working hard to address housing in our community.
If Worthington history gives any indication, it is that the future is secure and is full with opportunities for our visionaries and innovators to write the next chapter. We are not defined by one sector over another, we are part of the larger economy. Indeed, we are part of the world's economy with multinational cutting edge companies that export ag and manufacturing products all throughout the world.
Worthington is in a good position! Because of the last 150 years of work, we will prosper and grow.
Happy 150th Anniversary, Worthington!