Worthington 150: City experienced big changes in first 100 years
Worthington's economic base began to broaden from the narrow pedestal of farming to the much broader one of agriculture.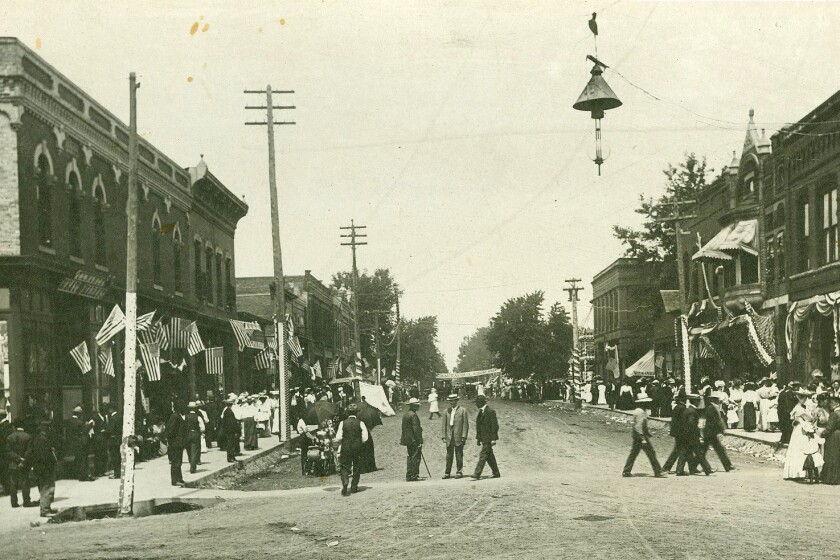 We are part of The Trust Project.
WORTHINGTON — Every decade since its founding has seen Worthington undergo changes befitting a growing city. But one of the unchanging constants through most of the time has been the economic base upon which the entire city has been built. That base has been farming. The business of this city traditionally has been serving the needs of farmers.
A timeline that celebrates big moments in our town's history.
Adrian proposed dissecting Nobles County so it could reign over a new county.
While Worthington City Hall maintains all council meeting minutes, the early minutes are handwritten.
In the 10th decade, however, some rather remarkable changes took place. Worthington's economic base began to broaden from the narrow pedestal of farming to the much broader one of agriculture. Where the main business was supplying farm and household needs of farmers, it shifted perceptibly toward processing the produce of farmers. Where Worthington had been supplying labor for farmers, it began to be a place where the sons and daughters of farmers found employment when squeezed off land by the technological revolution.
In the process, the city cast off its traditional social make-up and became multi-racial and vastly more cosmopolitan in its social outlook. And the city was forced to strengthen its municipal skeleton at vast expense to meet the needs.
In the closing years of the 1950's, Campbell Soup Company bought from the Swanson Company what had been the old Worthmore creamery complex and went into heavy production of chicken and turkey soup components. Employment shot upward toward a thousand people. This followed by other major developments. In 1962, the city opened its northeast industrial tract. Fleetwood Homes was the first tenant. Factory built housing components were the product and many farm and non-farm homes began to roll out the wide doors by Christmas of that year.
1
/
28:
People enjoy splashing in Lake Okabena in this undated image from the Nobles County Historical Society archives.
2
/
28:
Activity abounds in the early days on Worthington's Lake Okabena.
3
/
28:
Fourth generation farmers Norm Larson (left) and John Moberg stand at the site where a sod hut, shared by their forefathers, was located in rural Worthington.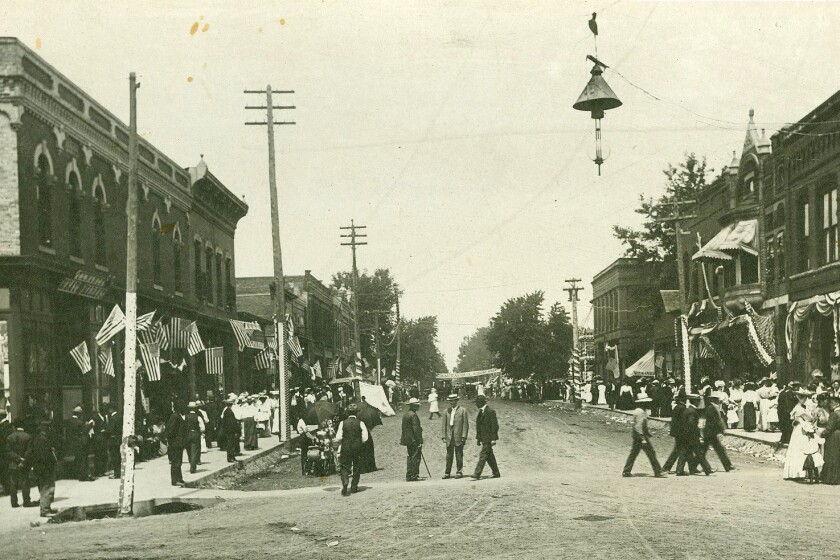 4
/
28:
An Independence Day celebration takes place on the yet-unpaved 10th Street in downtown Worthington.
5
/
28:
Paycheck and Ruby Begonia race team members get ready to chase their birds down 10th Street in one of the early days of the Great Gobbler Gallop.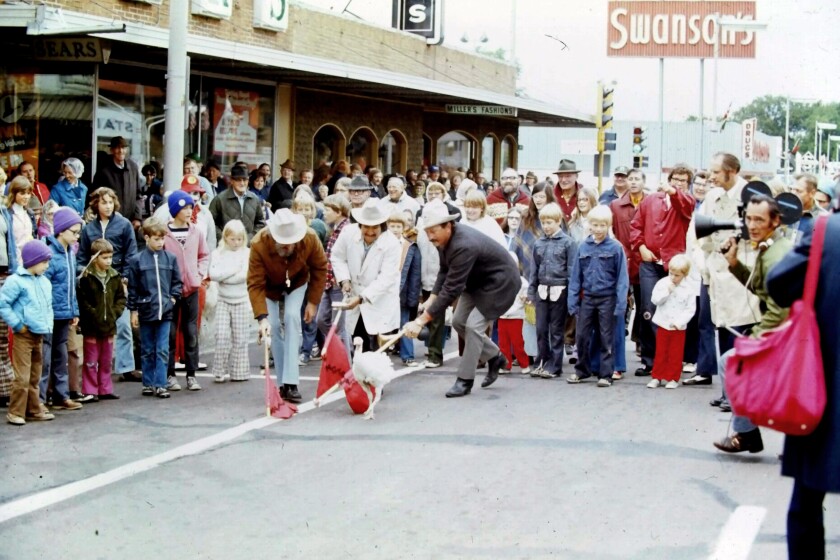 6
/
28:
Crowds gather to watch the Great Gobbler Gallop down 10th street in downtown Worthington.
7
/
28:
Peter Hartwich, of Excelsior, Minnesota sails on Lake Okabena between races during the 2022 Worthington Windsurfing Regatta.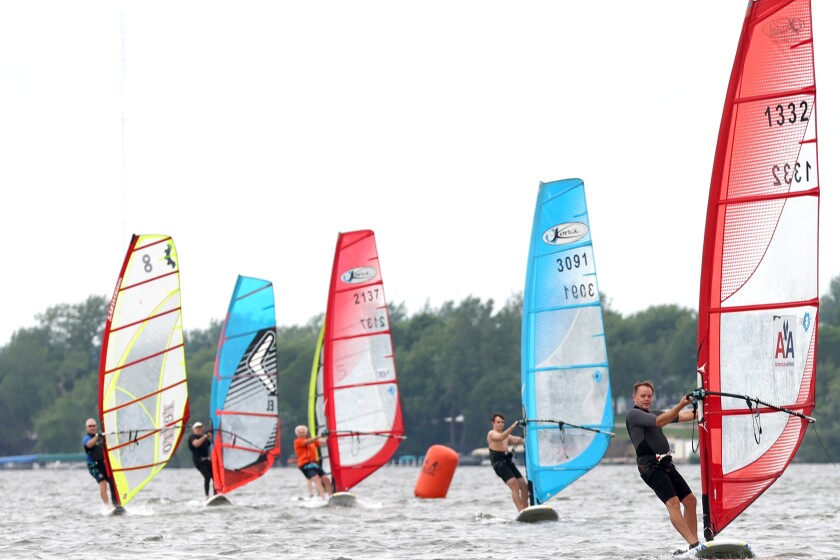 8
/
28:
Windsurfers race during the 2022 Windsurfing Regatta on Worthington's Lake Okabena.
9
/
28:
Crowds gather to hear musical acts during the 2022 Windsurfing Regatta and Music Festival on the shores of Lake Okabena.
10
/
28:
The Thompson Hotel is seen in this undated photo of Worthington's 10th Street.
11
/
28:
The Thompson Hotel recently underwent a major renovation of its apartment units and 10th Street storefronts.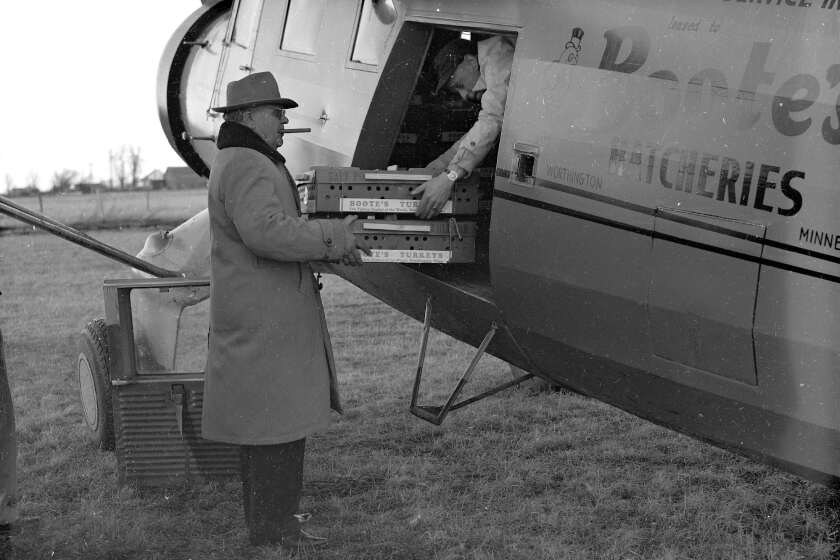 12
/
28:
Jack Boote, with a cigar in his mouth, holds a couple of boxes of turkey poults that are being loaded into his plane for delivery.
13
/
28:
Worthington's Jack Boote poses for a photo in a private rail car in this undated image.
14
/
28:
E.O. and Bella Olson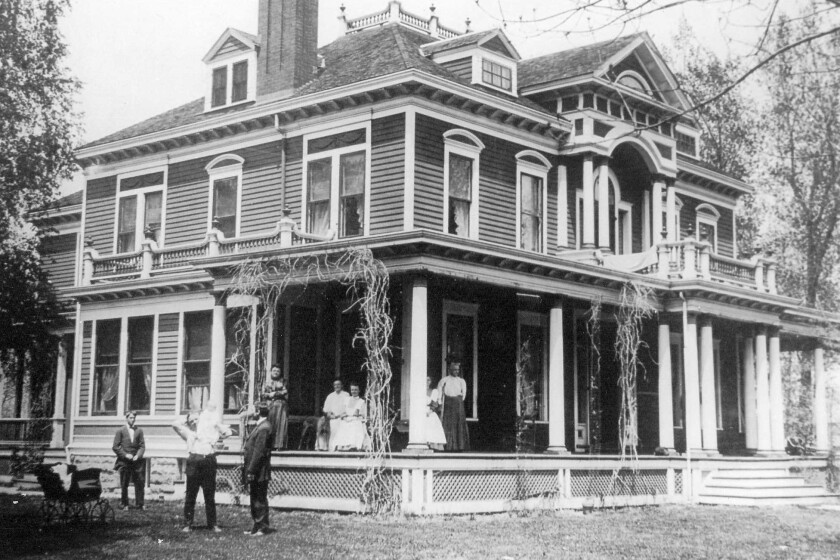 15
/
28:
The home of George Draper Dayton and his family for the 19 years they lived in Worthington remains today at the corner of 13th Street and Fourth Avenue. The Dayton House is now a bed and breakfast and a community gathering space.
16
/
28:
Teams of horses are used to assist with ice harvest on the shore of Lake Okabena.
17
/
28:
Crews push ice chunks toward the conveyor belt as they harvest ice from Worthington's Lake Okabena.
18
/
28:
Crews harvest ice from Lake Okabena in this undated file from the Nobles County Historical Society.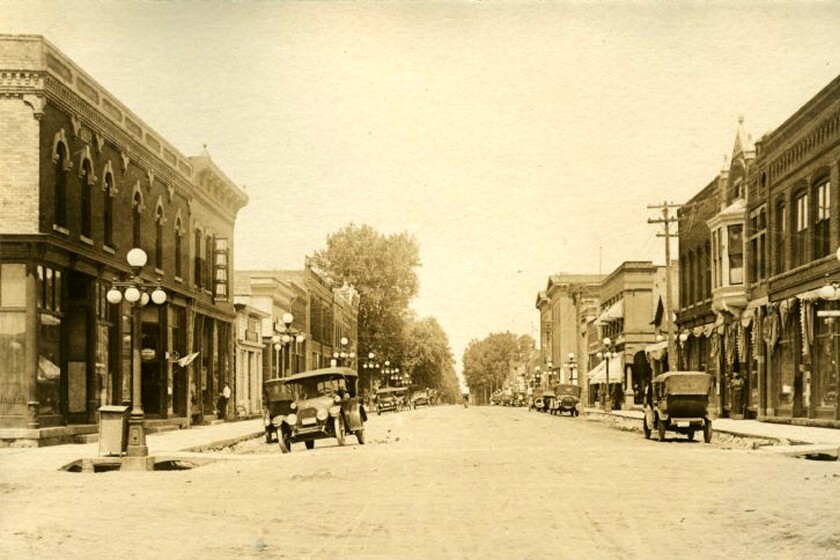 19
/
28:
An undated street scene of downtown Worthington.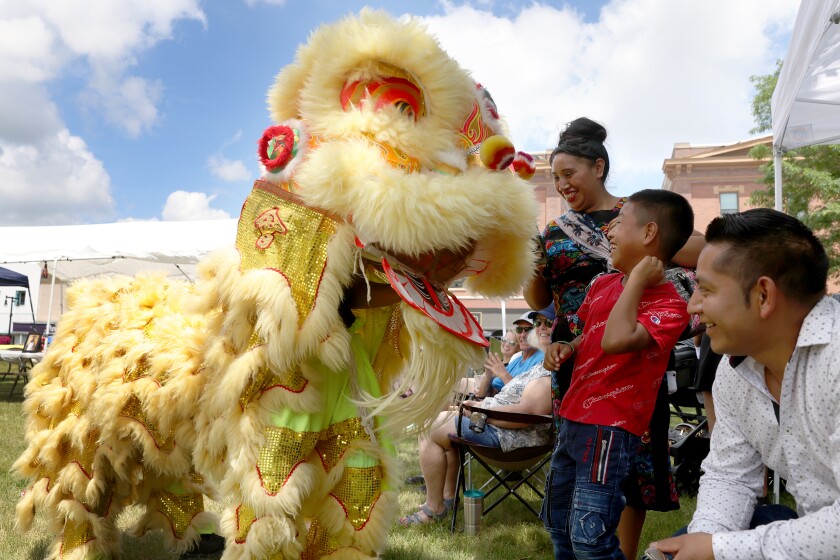 20
/
28:
The Chinese ceremonial Lion Dance group works the crowd at the 28th annual Worthington International Festival Saturday afternoon, July 9, 2022.
21
/
28:
The flag bearer for Mexico gets the flag ready for the parade of flags at the opening of the 28th annual Worthington International Festival July 8, 2022.
22
/
28:
Much of Crailsheim was destroyed by bombings shortly before the end of World War II.
23
/
28:
The people of Crailsheim gather to get supplies sent over in a shipment from Worthington residents.
24
/
28:
Volunteers sort through the many items donated by Worthington residents to be shipped to the people of Crailsheim, Germany.
25
/
28:
Volunteers weigh boxes of items ready to be shipped to Crailsheim, Germany.
26
/
28:
Martha Cashel (with letter) initially sought to help her Finnish pen pal by gathering shoes to send to Finland. Her idea prompted her parents to provide aid to war-ravaged Europe on a grander scale, and that's what led to the sister city partnership with Crailsheim, Germany.
27
/
28:
An early day gathering at Worthington's Chautauqua Park.
28
/
28:
The Little Sioux steam boat takes passengers for a ride on Lake Okabena.
On March 14, 1963, Armor & Co. announced it would close its Sioux City, Iowa plant, a facility which employed 1,100 persons with a payroll of $7 million. The reason given was the fact the plant could not be modernized economically.
Among the workers transferred in were 39 blacks and several Native Americans, and for the first time the city became truly multi-racial. That didn't prove to be as much of a problem as did the matter of finding housing for new citizens. Worthington had filled every existing dwelling. Two families lived for much of that fall in the city park in tents. A housing bureau was set up and volunteer workers manned the phones. Some workers lived for weeks in hotels and motels, but finally a place was found for everyone wanting one and Armour became an important corporate citizen. Mayor Joe Roos appointed the city's first human relations council on Dec. 22, 1965.
One Worthington woman who was close to the welfare scene expressed it another way: "I never told my kids how tough we had it. And I forgot it as soon as I could."
E. O. Olson was a prominent figure in Worthington's history
Worthington was a natural for the natural ice industry. The railroads were here. The lake was here.
Satellite industries sprung up around Armour. The largest was Worthington Freezer Warehouse which was built in 1965. Late in the decade, another major industrial development came.
Star Homes, a division of Boise Cascade Corporation, announced July 16, 1969, that it would build a plant in Worthington to produce mobile homes. It became the second major industry in the decade to build here.
As a result of these activities, Worthington's employment shot upward. In fact, it grew substantially faster than the population. In January 1960, the total number of job-holders was 3,553. It went past the 4,000 mark to 4,035 in mid-1963, the first time in history it had done so. It went to 4,372 in November 1964 and hit its all-time peak of 5,077 on July 15, 1968. It fell back in response to national trends but still stood at 4,884 in the summer of 1970.
Most employees were engaged not in farming but in processing of agricultural production.
The city invested heavily in public facilities during the decade. It put $1.5 million into the new sewage plant and another $500,000 into new lagoons. Sewage treatment is for a population of 100,000.
It invested $1.4 million in 1963 to improve local water mains, build additional storage capacity and to develop the south well field. Included was 10.25 miles of 20-inch pipeline, which took 65 railroad carloads of pipe to build.
The city found it necessary in 1964 to invest heavily in school additions at West and at the high school. At the time, the schools were 12 classrooms short.
The new county library was built in 1963 at a cost of $250,000.
Late in the decade, hospital improvements costing $2.8 million were planned including a 40-bed convalescent and rehabilitation wing.
It was a noisy, hilarious and potentially dangerous scene. But the merchants of 1934 declared it a huge success.
One night he ran smack-dab into a group of evangelists while staggering out of a saloon. He was converted on the spot. Since then he traveled all across the country preaching the gospel and convincing sinners to "get right with God."
The city's Army National Guard unit, Co. F of the 215th Coast Artillery, was ordered to active duty in 1940, a full year before the Japanese bombing of Pearl Harbor.
Worthington was quite a different town in 1970 than it was in 1960. It had 20% more people at work. They were doing in many cases work that wasn't even thought of 10 years previously. The companies for which they worked were pouring dollars into the economy. Campbell's announced at the end of 1967 that it had spent $9 million for wages, supplies and services that year in the local area. Armour said it paid out $43.35 million to area farmers for livestock in the year ending October 1969. It paid out $300,000 on one single day of October that year.
Hog production shot upward. From 1964 to 1969, it was reliably estimated production went up 20% in the area and prices were holding 50 to 75 cents above the regular market.
And the city looked different even though cynics said it smelled the same. The aromatic old sewer plant across the street from the high school was gone. In its place was the facility near the airport and the aromatic lagoons to the northeast. A single quarter in Section 18 of Lorain Township which had grown corn in 1960 had sprouted millions of dollars worth of industries by 1970.
For better or for worse, after the 1960's Worthington would never be quite the same again.
It would never be a small farming town again. It had begun to make noises like a city.