Worthington 150: City hosted first Windsurfing Regatta in 2000
At least 50 confirmed reservations were received from Midwestern windsurfers of various skill levels.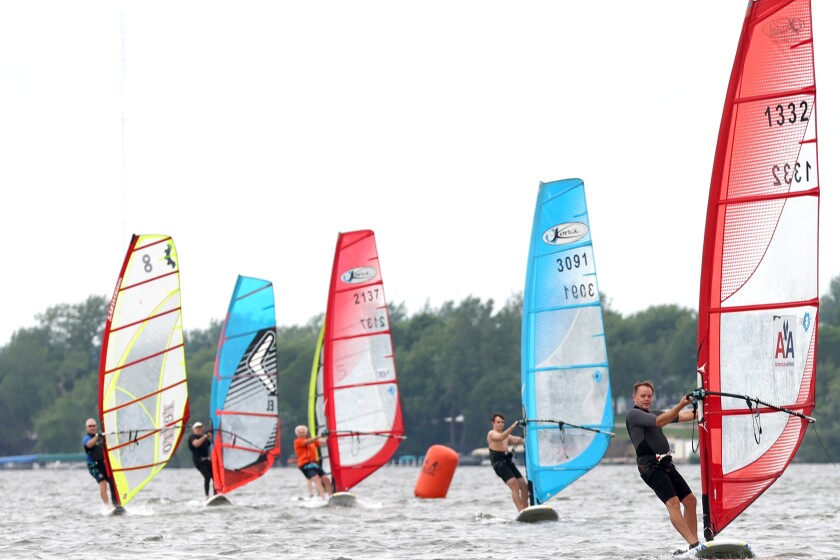 We are part of The Trust Project.
WORTHINGTON — The idea for a windsurfing regatta in Worthington was planted long before it became a reality, and involved local businessman Bill Keitel and a conversation he had with a local weather expert who believed Worthington was the second windiest region in the United States.
It was a noisy, hilarious and potentially dangerous scene. But the merchants of 1934 declared it a huge success.
One night he ran smack-dab into a group of evangelists while staggering out of a saloon. He was converted on the spot. Since then he traveled all across the country preaching the gospel and convincing sinners to "get right with God."
The city's Army National Guard unit, Co. F of the 215th Coast Artillery, was ordered to active duty in 1940, a full year before the Japanese bombing of Pearl Harbor.
"Fargo (North Dakota) is indisputably the windiest. Fargo doesn't have a lake, but Worthington does," Keitel shared in The Globe in early June 2000. "The Department of Public Service has put together some very definitive maps that prove this is the windiest spot in the Midwest that has a lake."
Keitel had been windsurfing for at least a dozen years, and Jeff Hegwer for about eight years. Both spearheaded Worthington Okabena Windsurfers, and know firsthand that Worthington's Lake Okabena has prime conditions for the sport.
"This is not just a contrived event," emphasized Keitel. "People look at Worthington now and say this lake does have the best wind."
"High and consistent wind," added Hegwer. "We'd been kind of thinking, having good intentions, for six years, and good intentions turned into actions when the Worthington Convention and Visitors Bureau became involved (in planning a windsurfing event)."
Leading up to Worthington's first-ever windsurfing regatta in 2000, Keitel and Hegwer spread the word to fellow windsurfers and listed the event in the U.S. Windsurfing Association calendar of events and with the Minnesota windsurfing organization, which has called the Worthington regatta "the event of the summer."
A regatta is a term that generally denotes speed — seeing which sailing vessel can go the fastest. But the Windsurfing Regatta will be more about promoting the sport and Worthington's natural resource — Lake Okabena.
At least 50 confirmed reservations were received from Midwestern windsurfers of various skill levels, and the organizers hoped to entice a lot of locals into giving it a try.
"It's more about fellowship," said Hegwer. "The main requirement is entertainment and fun. We're not stressing competitiveness."
The gathering place for the regatta was the east lake edge, near the former power plant site — a spot now dubbed Sailboard Beach. A two-block section of Lake Street was barricaded to facilitate the gathering.
The two-day agenda included a swap meet where people could buy used equipment, get instruction and attend clinics, and participate in surf activities and attempts at formations. There was also entertainment, a hog roast and community mixer. Events were scheduled hourly beginning at 9 a.m. both days, but a lot will depend on wind conditions.
"Windsurfers recognize that the wind doesn't blow all the time," said Keitel. "It's not a sure thing."
The event was deemed a rousing success after the fact, with all of the elements coming together — wind, waves, surfers and sun. Colorful sails filled the lake as sailboarders danced their way across the waves, sometimes racing in organized events, sometimes just honing their freestyle skills.
By noon on that Saturday, more than 75 windsurfers had registered, hailing largely from the Twin Cities area, but also from Fremont, Nebraska; Dallas Center, Iowa; and Yankton, South Dakota. And by the end of the day Sunday, more than 115 individuals had registered.
The winds had calmed on Sunday, facilitating beginners' lessons. The more advanced windsurfers offered their skills for teaching instead of surfing. Organizers estimated that at least 50 people hopped on a board, achieving varying levels of success.