Worthington 150: First shipment of clothing reaches Crailsheim on Feb. 6, 1948
Committee member recounts sorting everything from dresses and suits to shoes.
We are part of The Trust Project.
Editor's Note: This story of the distribution of clothing in Crailsheim was written by Ersilia Schuler, a teacher in the Crailsheim schools. It was printed in the Daily Globe April 23, 1948.
A timeline that celebrates big moments in our town's history.
CRAILSHEIM, Germany — You will have heard, no doubt, in the meantime of the festive reception of your shipment of clothing on Feb. 6 and probably you will find in your papers the pictures taken by the American and German journalist at our time. It was a great day for our city, and everybody was aware of it. It had been very long on its way, but it did arrive after all just before the coldest period of this winter and so served its purpose well and was of great help.
Unfortunately, there is no suitable building or even large room left in our city where we could have unpacked and sorted the various articles of dress. So we had to resort to the kindergarten, which was lent to us for a few days only, as all the Crailsheim children are taken care of there by a number of governesses.
There, we unpacked the 121 sacks. ("We" means Mr. Denneler; Mr. Leibersberger and myself as members of the committee, and about 10 church confidence women as well as some of our Red Cross nurses.) Our helpers used to come either in the morning or afternoon, so that there were generally about eight of them in readiness, whereas Miss Frand and myself stayed there most of the time, day and night.
It was a hard task to do things properly as we had not enough room, first of all, not enough time and only a few makeshift tables to put treasures on.
The unpacking was the most exciting part. I wish you could have heard our cries of delight when we beheld all the lovely things the sacks contained. We would run to each other just to show the latest item "our sack" had yielded and to admire the treasures the clothes had delivered.
But then the difficulties began. We had to pile the coats and dresses and suits and other things on top of each other on the few makeshift tables and stuff most of the shoes under the tables and into every nook and corner that was not taken.
For two weeks we worked, as I mentioned before, all day and the best part of the night, some of us deciding which of the items on the applications we could give and others making bundles of, say, a coat, some underwear, two pairs of shoes and some baby things.
You will surely have had many letters by this time of those who were eager to express their gratitude for what they received, and so I think I need not tell you about it all; those letters will speak for themselves.
It was a noisy, hilarious and potentially dangerous scene. But the merchants of 1934 declared it a huge success.
One night he ran smack-dab into a group of evangelists while staggering out of a saloon. He was converted on the spot. Since then he traveled all across the country preaching the gospel and convincing sinners to "get right with God."
The city's Army National Guard unit, Co. F of the 215th Coast Artillery, was ordered to active duty in 1940, a full year before the Japanese bombing of Pearl Harbor.
As they often had to pull things out from underneath others, some of the addresses that had been pinned on came off and got lost in spite of all admonitions to be very, very careful. And some of the packages (for instance, Mrs. Rawlings' printed material, clothes for babies and various things for a little girl of 3) were not kept together, but given to different families, which is all due to hurry, in which we were forced to do the job.
I hope your people will not mind too much if some of the receivers thank them for an article they did not send. I picked up as many of the stray addresses as I could get and told the people to write and thank you all for what they got, so that kind givers should not be disappointed. And they all do want to write and thank you all for what they have received.
1
/
28:
People enjoy splashing in Lake Okabena in this undated image from the Nobles County Historical Society archives.
2
/
28:
Activity abounds in the early days on Worthington's Lake Okabena.
3
/
28:
Fourth generation farmers Norm Larson (left) and John Moberg stand at the site where a sod hut, shared by their forefathers, was located in rural Worthington.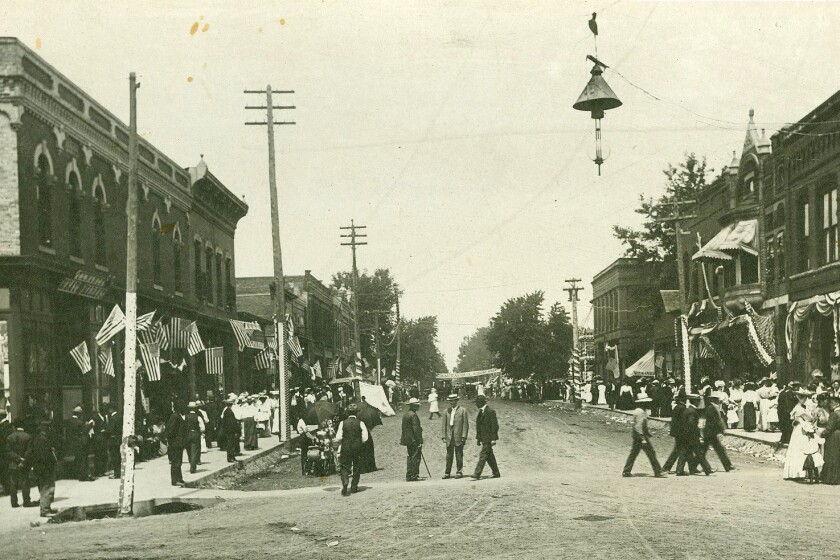 4
/
28:
An Independence Day celebration takes place on the yet-unpaved 10th Street in downtown Worthington.
5
/
28:
Paycheck and Ruby Begonia race team members get ready to chase their birds down 10th Street in one of the early days of the Great Gobbler Gallop.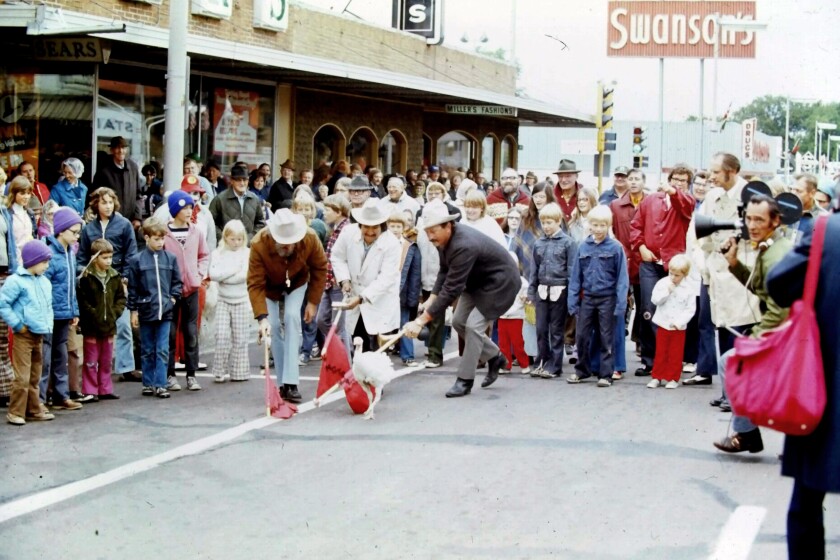 6
/
28:
Crowds gather to watch the Great Gobbler Gallop down 10th street in downtown Worthington.
7
/
28:
Peter Hartwich, of Excelsior, Minnesota sails on Lake Okabena between races during the 2022 Worthington Windsurfing Regatta.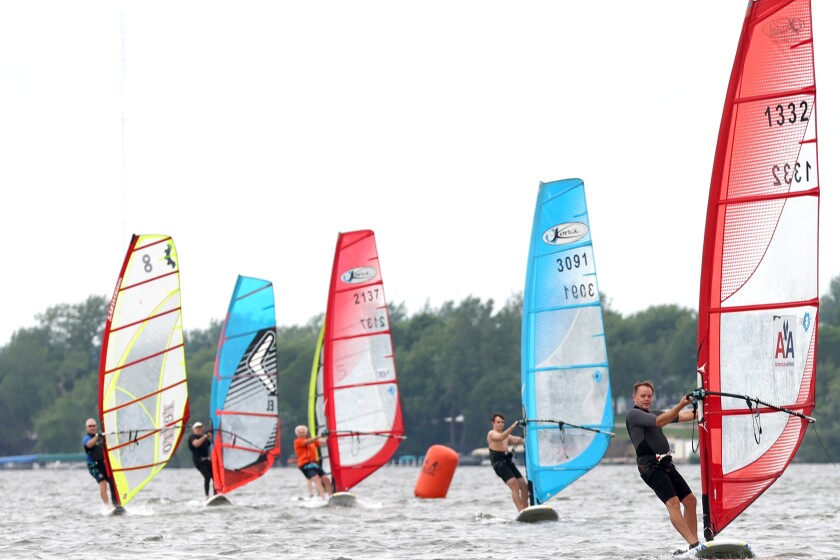 8
/
28:
Windsurfers race during the 2022 Windsurfing Regatta on Worthington's Lake Okabena.
9
/
28:
Crowds gather to hear musical acts during the 2022 Windsurfing Regatta and Music Festival on the shores of Lake Okabena.
10
/
28:
The Thompson Hotel is seen in this undated photo of Worthington's 10th Street.
11
/
28:
The Thompson Hotel recently underwent a major renovation of its apartment units and 10th Street storefronts.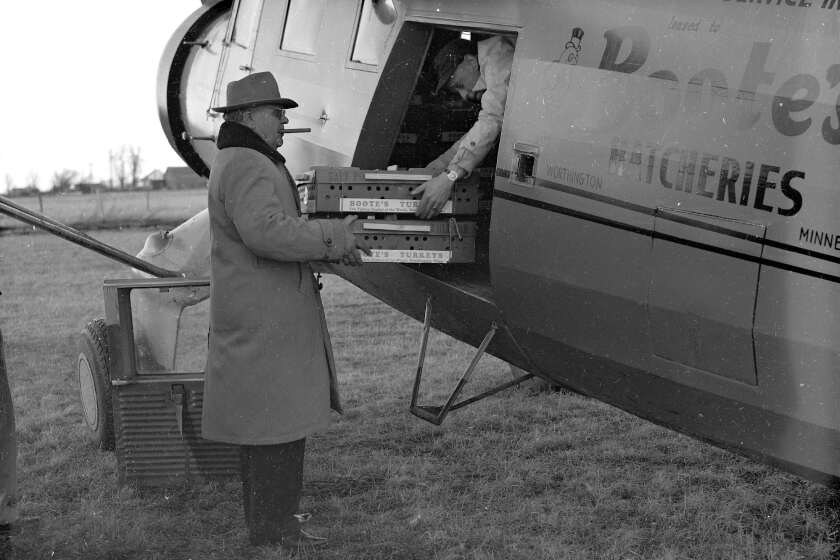 12
/
28:
Jack Boote, with a cigar in his mouth, holds a couple of boxes of turkey poults that are being loaded into his plane for delivery.
13
/
28:
Worthington's Jack Boote poses for a photo in a private rail car in this undated image.
14
/
28:
E.O. and Bella Olson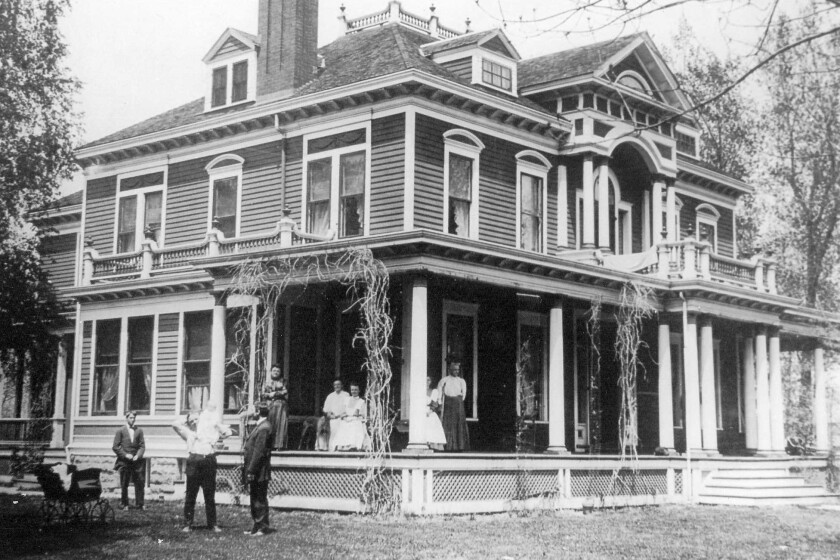 15
/
28:
The home of George Draper Dayton and his family for the 19 years they lived in Worthington remains today at the corner of 13th Street and Fourth Avenue. The Dayton House is now a bed and breakfast and a community gathering space.
16
/
28:
Teams of horses are used to assist with ice harvest on the shore of Lake Okabena.
17
/
28:
Crews push ice chunks toward the conveyor belt as they harvest ice from Worthington's Lake Okabena.
18
/
28:
Crews harvest ice from Lake Okabena in this undated file from the Nobles County Historical Society.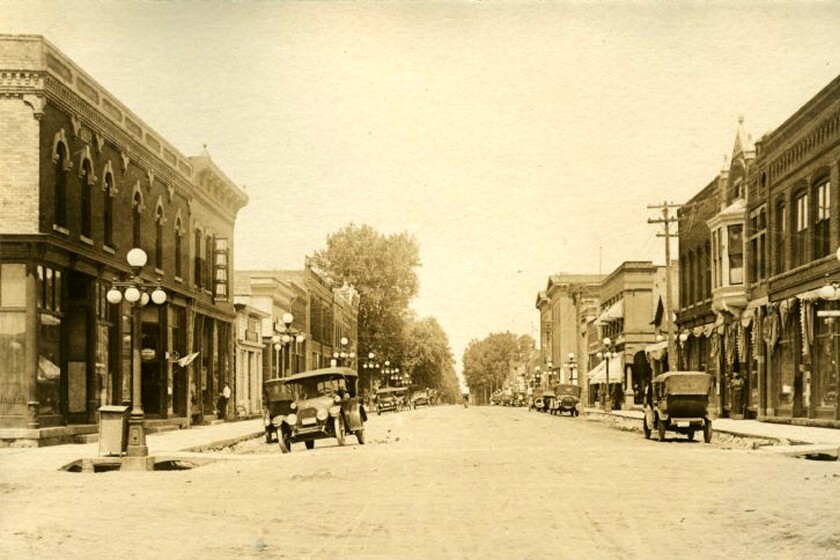 19
/
28:
An undated street scene of downtown Worthington.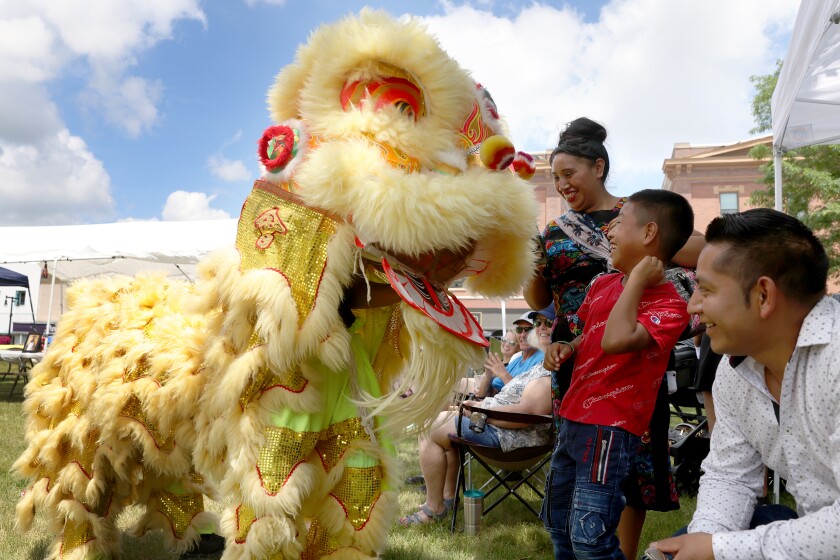 20
/
28:
The Chinese ceremonial Lion Dance group works the crowd at the 28th annual Worthington International Festival Saturday afternoon, July 9, 2022.
21
/
28:
The flag bearer for Mexico gets the flag ready for the parade of flags at the opening of the 28th annual Worthington International Festival July 8, 2022.
22
/
28:
Much of Crailsheim was destroyed by bombings shortly before the end of World War II.
23
/
28:
The people of Crailsheim gather to get supplies sent over in a shipment from Worthington residents.
24
/
28:
Volunteers sort through the many items donated by Worthington residents to be shipped to the people of Crailsheim, Germany.
25
/
28:
Volunteers weigh boxes of items ready to be shipped to Crailsheim, Germany.
26
/
28:
Martha Cashel (with letter) initially sought to help her Finnish pen pal by gathering shoes to send to Finland. Her idea prompted her parents to provide aid to war-ravaged Europe on a grander scale, and that's what led to the sister city partnership with Crailsheim, Germany.
27
/
28:
An early day gathering at Worthington's Chautauqua Park.
28
/
28:
The Little Sioux steam boat takes passengers for a ride on Lake Okabena.
Of course, there are always some who will never be satisfied with whatever you give them, generally those who used to be the best-known petitioners at every welfare organization of the second and third Reich and are now again besieging the relief institutions of all creeds and nations.
But as a rule the receivers were more than grateful and not satisfied with merely saying, "Thank you." They would say, "Vergelt's Gott," which means "God may pay it back to you (the giver)." When I took up my lessons again, my boys and girls met me in order to show me joyfully what they had received. They were so-o proud!
I wonder whether we did it all according to your plans and intentions, especially by not only providing for the "poorest of the poor," as some would have it, but by giving a share of it to all those who had lost their belongings, their houses and furniture and clothing and their merchant goods by actions of war and cannot buy what they need. Though they may have the money, as everything is rationed and even if you do get a special voucher, the articles in nine cases out of 10 are not to be had.
A timeline that celebrates big moments in our town's history.
Adrian proposed dissecting Nobles County so it could reign over a new county.
While Worthington City Hall maintains all council meeting minutes, the early minutes are handwritten.
I had a list made of the people who got the coats and suits. There are switchmen and truck drivers, chemists, instructors, widows, chairwomen, students and disabled veterans. We have not had time yet to find out how many residents of our town did receive some of the clothing, but should say about 4,000 or more. Many residents had not made an application, but being aware of their sad plight we provided for them, too.
I must not forget to mention that we were surprised not only by the quantity and quality of your gifts, but also at the good shape in which they arrived, which was certainly due to the careful packing.
We hope and pray that the joy you have been giving may some day come back to you.