Worthington 150: Horace Ludlow developed Okabena apple
Ludlow a figure in Worthington's early history.
We are part of The Trust Project.
WORTHINGTON — Prior to coming to Worthington in 1875, Horace J. Ludlow, a native of New Jersey, had learned the sewing machine business from an uncle and had been manager of the Singer Sewing Machine Co.
One Worthington woman who was close to the welfare scene expressed it another way: "I never told my kids how tough we had it. And I forgot it as soon as I could."
E. O. Olson was a prominent figure in Worthington's history
Worthington was a natural for the natural ice industry. The railroads were here. The lake was here.
After coming to Worthington, he bought land, in addition to hardware stock from Hewitt & Martin, which he kept for 12 years before going into the grocery store business.
In the fall of 1882, Ludlow purchased 87 acres of the old Hoffman homestead on the south shore of Lake Okabena. This was the first land farmed in the vicinity of Worthington. G.J. Hoffman had taken a claim here before Worthington was founded and before the railroad was built in the county.
The noted Okabena apple was started from seed Hoffman had procured from Peter Gideon, Excelsior, and was developed by Ludlow.
After a few years on the farm, Ludlow returned to Worthington, putting up a residence here and starting a nursery business.
In 1895, he returned to the farm, acquired 208 acres of lake shore land and, in 1907, erected his spacious stone and frame home, long noted for its hospitality. The residence later became part of the Lake Haven nursing home complex (now South Shore Care Center).
Ludlow spent thousands of dollars in fruit experiments, and his 400-acre Okabena Apple Orchard became well known throughout the state.
1
/
28:
People enjoy splashing in Lake Okabena in this undated image from the Nobles County Historical Society archives.
2
/
28:
Activity abounds in the early days on Worthington's Lake Okabena.
3
/
28:
Fourth generation farmers Norm Larson (left) and John Moberg stand at the site where a sod hut, shared by their forefathers, was located in rural Worthington.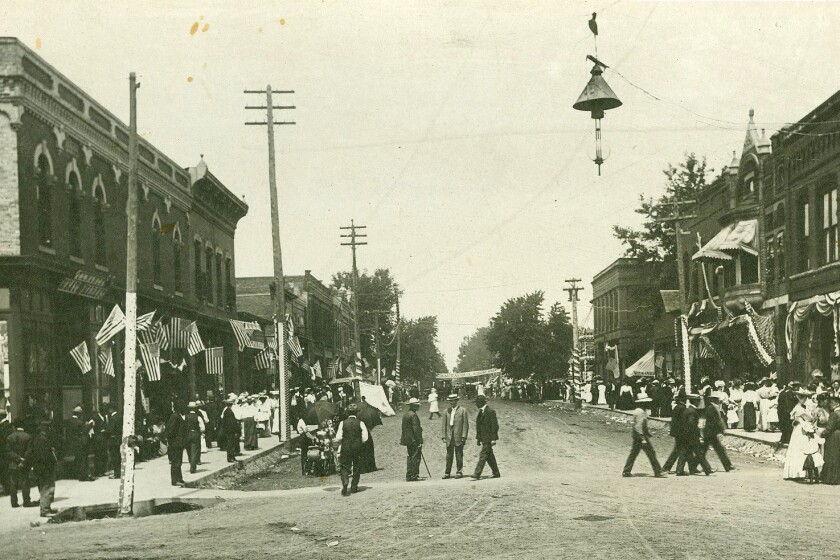 4
/
28:
An Independence Day celebration takes place on the yet-unpaved 10th Street in downtown Worthington.
5
/
28:
Paycheck and Ruby Begonia race team members get ready to chase their birds down 10th Street in one of the early days of the Great Gobbler Gallop.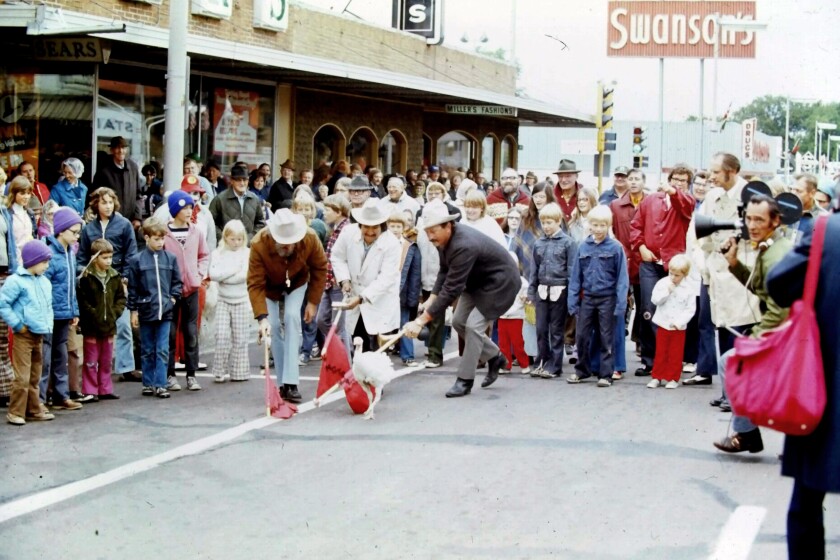 6
/
28:
Crowds gather to watch the Great Gobbler Gallop down 10th street in downtown Worthington.
7
/
28:
Peter Hartwich, of Excelsior, Minnesota sails on Lake Okabena between races during the 2022 Worthington Windsurfing Regatta.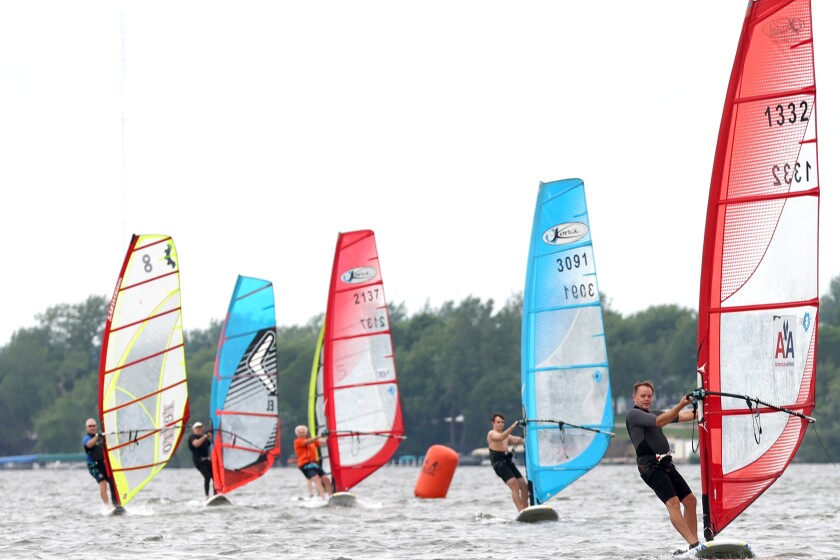 8
/
28:
Windsurfers race during the 2022 Windsurfing Regatta on Worthington's Lake Okabena.
9
/
28:
Crowds gather to hear musical acts during the 2022 Windsurfing Regatta and Music Festival on the shores of Lake Okabena.
10
/
28:
The Thompson Hotel is seen in this undated photo of Worthington's 10th Street.
11
/
28:
The Thompson Hotel recently underwent a major renovation of its apartment units and 10th Street storefronts.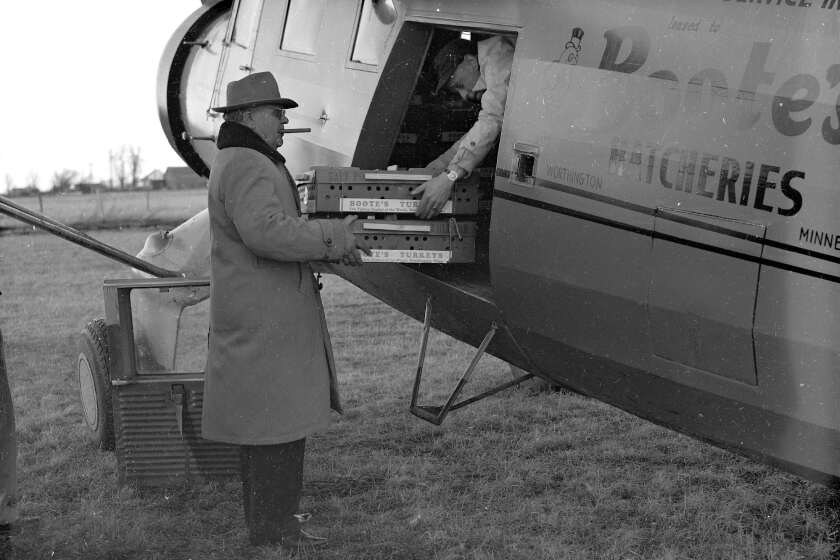 12
/
28:
Jack Boote, with a cigar in his mouth, holds a couple of boxes of turkey poults that are being loaded into his plane for delivery.
13
/
28:
Worthington's Jack Boote poses for a photo in a private rail car in this undated image.
14
/
28:
E.O. and Bella Olson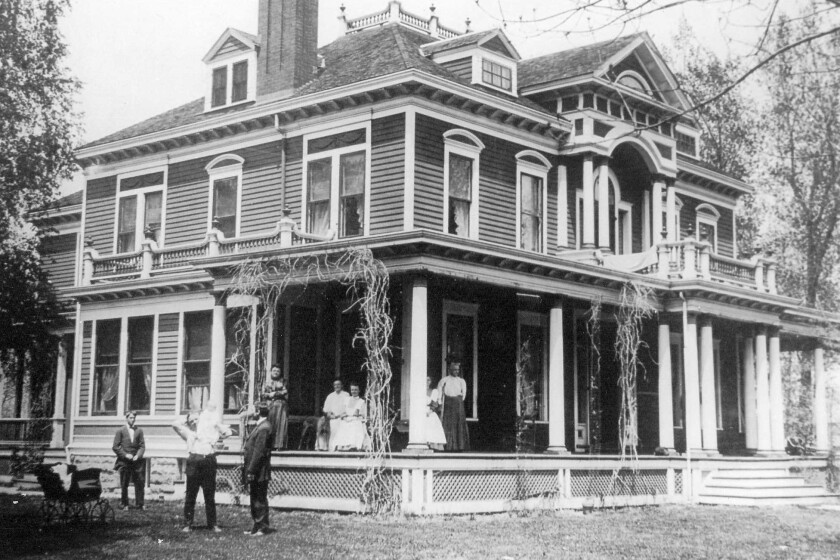 15
/
28:
The home of George Draper Dayton and his family for the 19 years they lived in Worthington remains today at the corner of 13th Street and Fourth Avenue. The Dayton House is now a bed and breakfast and a community gathering space.
16
/
28:
Teams of horses are used to assist with ice harvest on the shore of Lake Okabena.
17
/
28:
Crews push ice chunks toward the conveyor belt as they harvest ice from Worthington's Lake Okabena.
18
/
28:
Crews harvest ice from Lake Okabena in this undated file from the Nobles County Historical Society.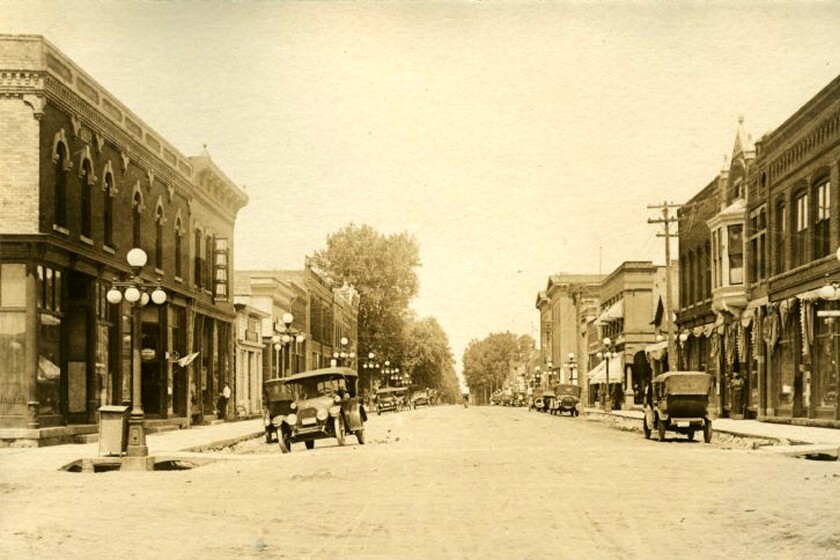 19
/
28:
An undated street scene of downtown Worthington.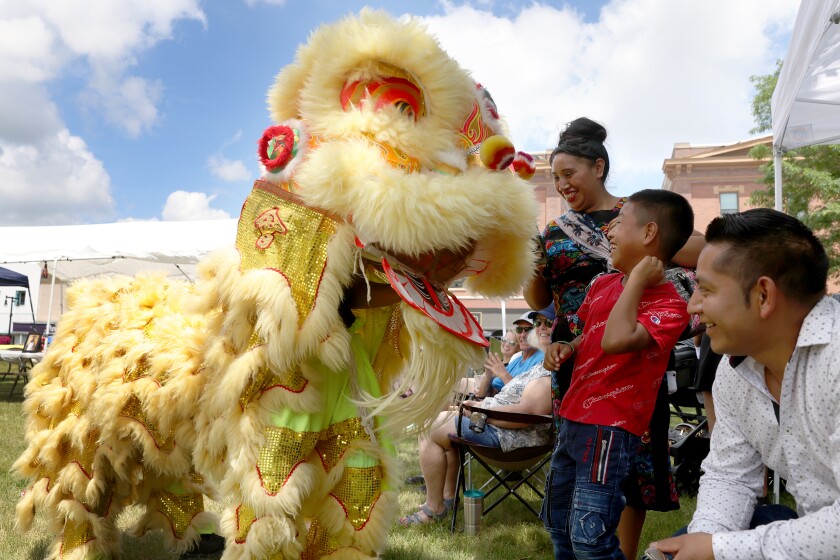 20
/
28:
The Chinese ceremonial Lion Dance group works the crowd at the 28th annual Worthington International Festival Saturday afternoon, July 9, 2022.
21
/
28:
The flag bearer for Mexico gets the flag ready for the parade of flags at the opening of the 28th annual Worthington International Festival July 8, 2022.
22
/
28:
Much of Crailsheim was destroyed by bombings shortly before the end of World War II.
23
/
28:
The people of Crailsheim gather to get supplies sent over in a shipment from Worthington residents.
24
/
28:
Volunteers sort through the many items donated by Worthington residents to be shipped to the people of Crailsheim, Germany.
25
/
28:
Volunteers weigh boxes of items ready to be shipped to Crailsheim, Germany.
26
/
28:
Martha Cashel (with letter) initially sought to help her Finnish pen pal by gathering shoes to send to Finland. Her idea prompted her parents to provide aid to war-ravaged Europe on a grander scale, and that's what led to the sister city partnership with Crailsheim, Germany.
27
/
28:
An early day gathering at Worthington's Chautauqua Park.
28
/
28:
The Little Sioux steam boat takes passengers for a ride on Lake Okabena.
He and the former Mary E. Barlow had married April 4, 1873 at Ripon, Wisconsin. Of their three sons, Herbert Dwight was the only one to continue in the nursery business. Milton engaged in farming and J. Burr, one-time mayor of Rushmore, had many business interests in that community before becoming a banker at Minneapolis and then at Sibley, Iowa.
The Ludlows also had two daughters, Una, who died as a child, and Helen, who became Mrs. Frank Hansberger and made her home in Ohio.