Worthington 150: International Festival draws thousands to Worthington for first event
First festival focused on playing soccer.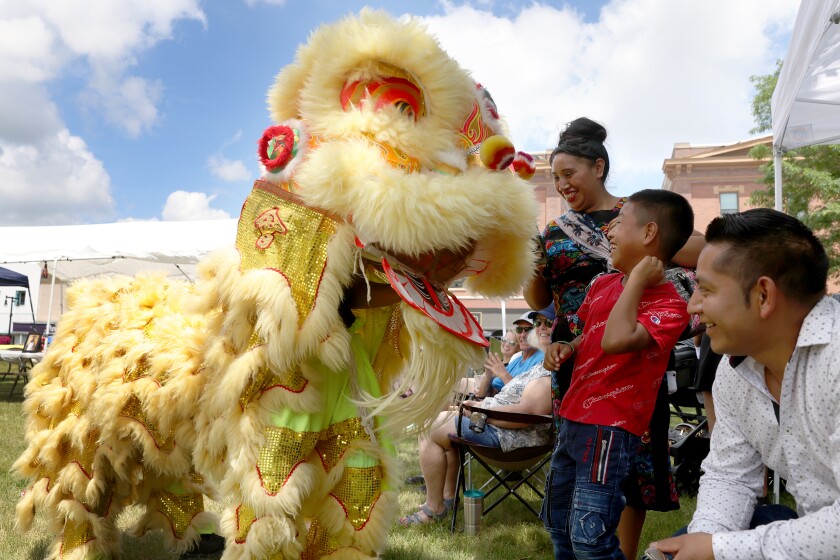 We are part of The Trust Project.
WORTHINGTON — Teamwork.
It's what the game of soccer is all about. It's also what made International Festival 1994 an overwhelming success on Sunday, July 17, 1994.
A timeline that celebrates big moments in our town's history.
Adrian proposed dissecting Nobles County so it could reign over a new county.
While Worthington City Hall maintains all council meeting minutes, the early minutes are handwritten.
Sponsored by the Worthington Cultural Diversity Coalition, the festival was intended as a celebration of the area's cultures. It centered upon a soccer tournament, since the globe's most popular sport is enjoyed by many of the diverse cultures in the Worthington area.
The teamwork involved in putting the festival together culminated Sunday morning, when volunteers began arriving at daybreak at Worthington Junior High School. In order to be ready by the 11 a.m. starting time, the volunteers began working shortly after 7 a.m.
"The setup itself was really something," said Sara Taylor, one of the festival's organizers. "Everyone worked together to make this happen."
Spectators nibbled on international delicacies such as crab rangoon, tamales, apple strudel, Greek delicacies and German pretzels as they watched the teams compete on the soccer fields. Others gathered on a grassy knoll overlooking the field to listen to a Laotian vocalist or Mexican folk band, or to watch the Tapestry of Youth, a local dance troupe.
Areas also were available to view ethnic crafts and for preschool-aged children to play. Both were busy for the duration of the festival.
Taylor said about 25 people were involved in the advance planning of the event. The weather cooperated perfectly for the festivities. Parking spots were hard to find, people lined up at the food stands at lunch time and a large crowd surrounded the soccer fields and other areas on the school grounds throughout the day.
Crowd estimates soared into the thousands, with between 1,000 and 2, 000 people on hand at the height of the festival.
1
/
28:
People enjoy splashing in Lake Okabena in this undated image from the Nobles County Historical Society archives.
2
/
28:
Activity abounds in the early days on Worthington's Lake Okabena.
3
/
28:
Fourth generation farmers Norm Larson (left) and John Moberg stand at the site where a sod hut, shared by their forefathers, was located in rural Worthington.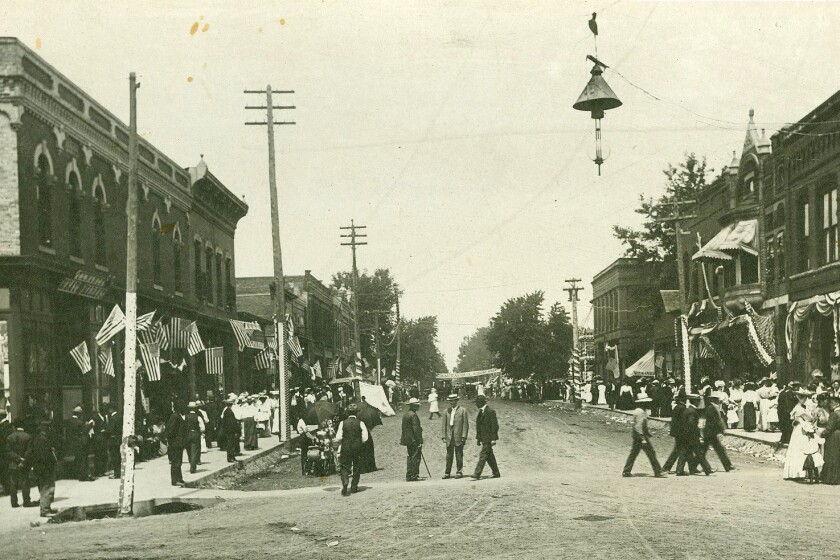 4
/
28:
An Independence Day celebration takes place on the yet-unpaved 10th Street in downtown Worthington.
5
/
28:
Paycheck and Ruby Begonia race team members get ready to chase their birds down 10th Street in one of the early days of the Great Gobbler Gallop.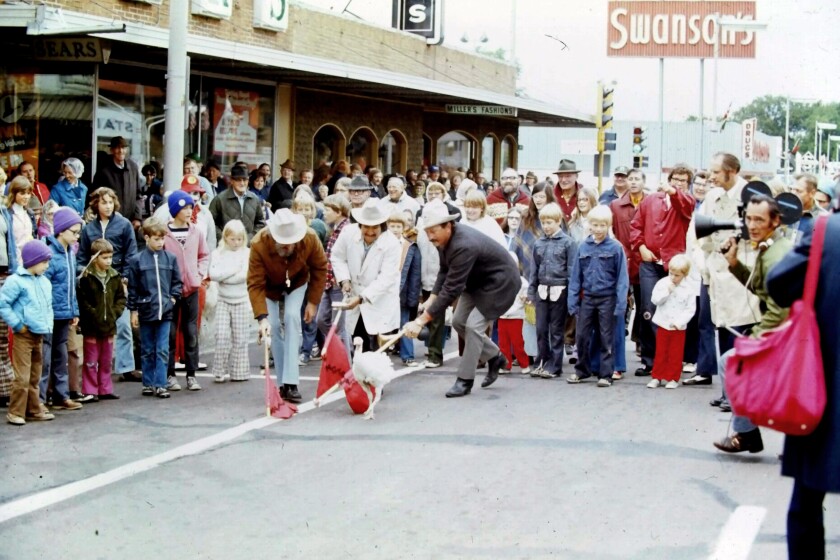 6
/
28:
Crowds gather to watch the Great Gobbler Gallop down 10th street in downtown Worthington.
7
/
28:
Peter Hartwich, of Excelsior, Minnesota sails on Lake Okabena between races during the 2022 Worthington Windsurfing Regatta.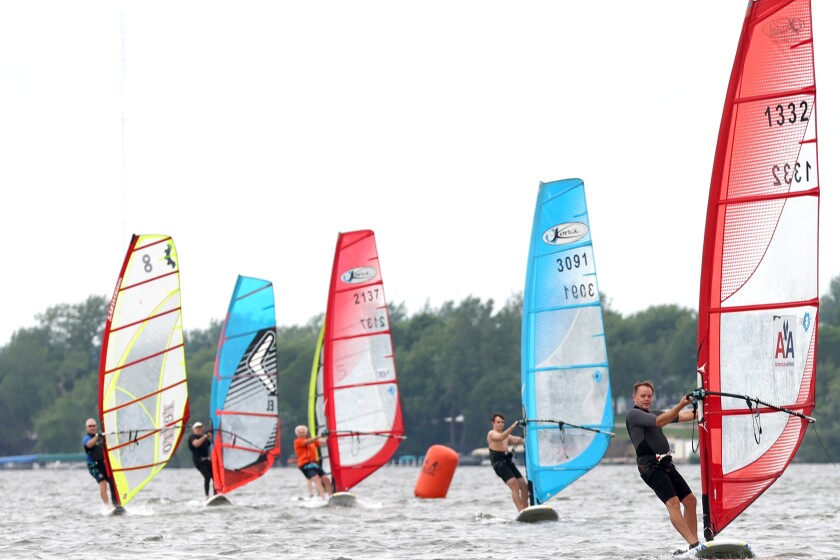 8
/
28:
Windsurfers race during the 2022 Windsurfing Regatta on Worthington's Lake Okabena.
9
/
28:
Crowds gather to hear musical acts during the 2022 Windsurfing Regatta and Music Festival on the shores of Lake Okabena.
10
/
28:
The Thompson Hotel is seen in this undated photo of Worthington's 10th Street.
11
/
28:
The Thompson Hotel recently underwent a major renovation of its apartment units and 10th Street storefronts.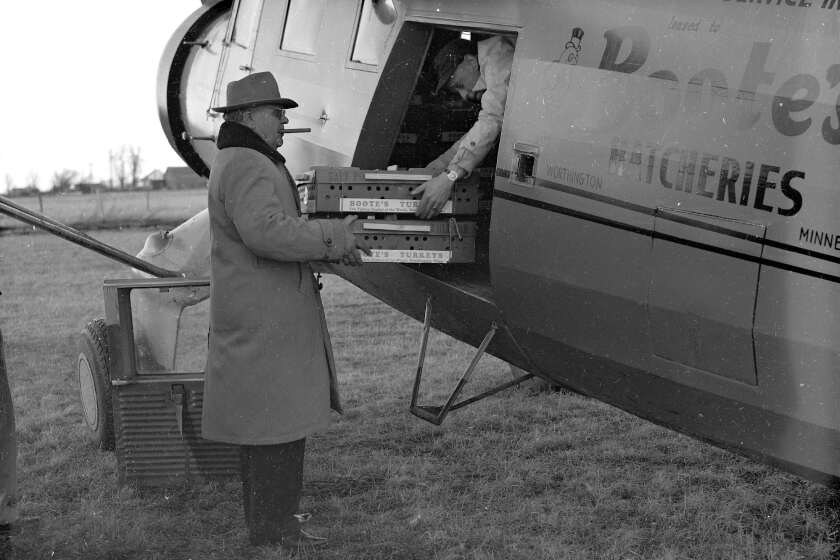 12
/
28:
Jack Boote, with a cigar in his mouth, holds a couple of boxes of turkey poults that are being loaded into his plane for delivery.
13
/
28:
Worthington's Jack Boote poses for a photo in a private rail car in this undated image.
14
/
28:
E.O. and Bella Olson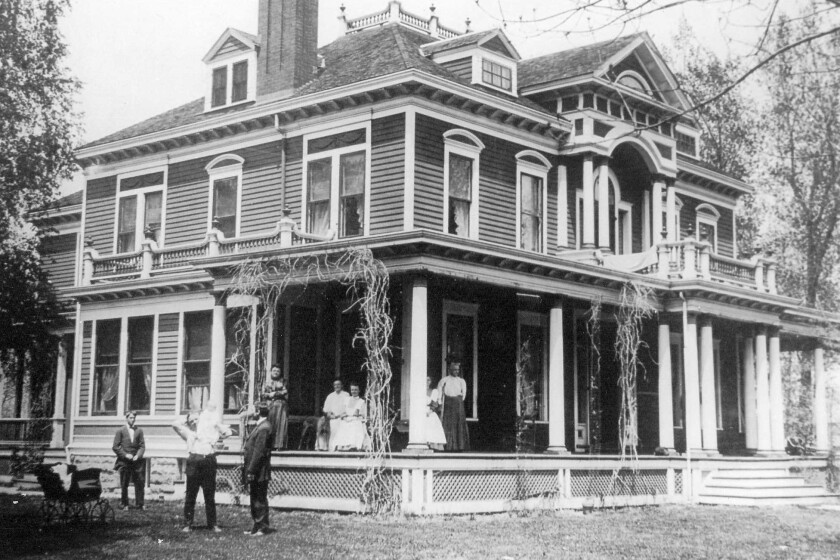 15
/
28:
The home of George Draper Dayton and his family for the 19 years they lived in Worthington remains today at the corner of 13th Street and Fourth Avenue. The Dayton House is now a bed and breakfast and a community gathering space.
16
/
28:
Teams of horses are used to assist with ice harvest on the shore of Lake Okabena.
17
/
28:
Crews push ice chunks toward the conveyor belt as they harvest ice from Worthington's Lake Okabena.
18
/
28:
Crews harvest ice from Lake Okabena in this undated file from the Nobles County Historical Society.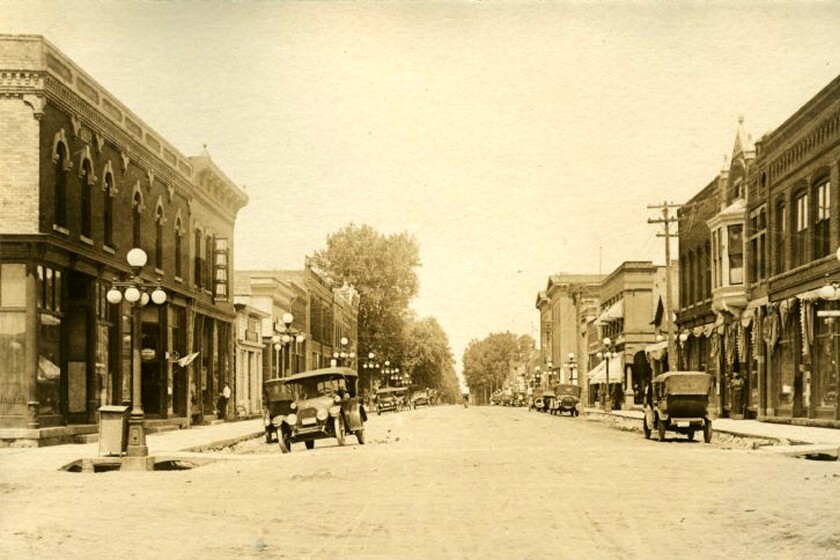 19
/
28:
An undated street scene of downtown Worthington.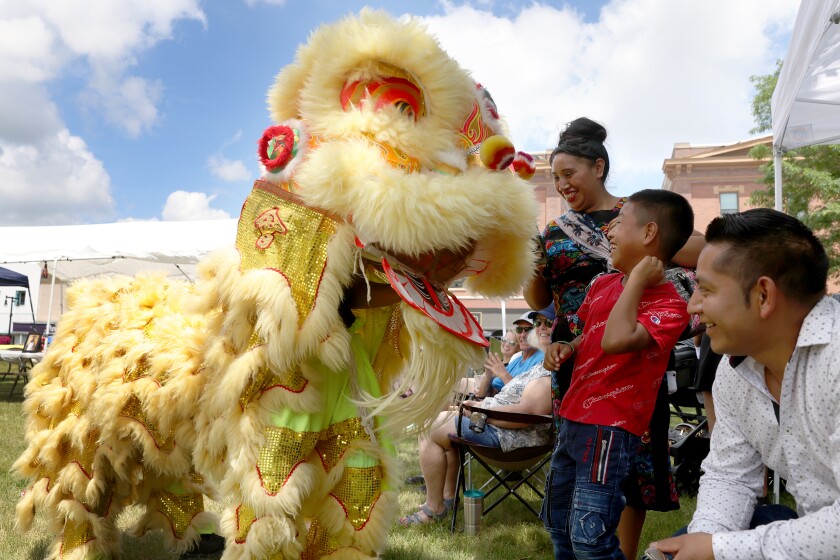 20
/
28:
The Chinese ceremonial Lion Dance group works the crowd at the 28th annual Worthington International Festival Saturday afternoon, July 9, 2022.
21
/
28:
The flag bearer for Mexico gets the flag ready for the parade of flags at the opening of the 28th annual Worthington International Festival July 8, 2022.
22
/
28:
Much of Crailsheim was destroyed by bombings shortly before the end of World War II.
23
/
28:
The people of Crailsheim gather to get supplies sent over in a shipment from Worthington residents.
24
/
28:
Volunteers sort through the many items donated by Worthington residents to be shipped to the people of Crailsheim, Germany.
25
/
28:
Volunteers weigh boxes of items ready to be shipped to Crailsheim, Germany.
26
/
28:
Martha Cashel (with letter) initially sought to help her Finnish pen pal by gathering shoes to send to Finland. Her idea prompted her parents to provide aid to war-ravaged Europe on a grander scale, and that's what led to the sister city partnership with Crailsheim, Germany.
27
/
28:
An early day gathering at Worthington's Chautauqua Park.
28
/
28:
The Little Sioux steam boat takes passengers for a ride on Lake Okabena.
"I think it was a great success and I think it can be an even greater success next year," said Worthington Mayor Bob Demuth. "The food was good, the musical arrangements were good and I had a thoroughly enjoyable time."
One Worthington woman who was close to the welfare scene expressed it another way: "I never told my kids how tough we had it. And I forgot it as soon as I could."
E. O. Olson was a prominent figure in Worthington's history
Worthington was a natural for the natural ice industry. The railroads were here. The lake was here.
"You never know what to expect, but it (the turnout) was just about what I expected," said Jerry Fiola, another organizer. "We're hoping to make this an annual event and we'd like to see the thing grow even more."
"This is by far the coalition's most successful event thus far," said Brian Emmel, a member of the Cultural Diversity Coalition who was involved in the planning. "And for the first time we've got a mixture of all the cultures together in one place."
In 2022, the Worthington International Festival celebrated its 28th year. The celebration moved downtown to the Nobles County Government Center lawn years ago, where entertainers perform on stage, numerous ethnic groups set up tents with displays, and food trucks line Third Avenue between Ninth and 10th streets.