Worthington 150: Settlers built one sod house for two families
The Mobergs and Larsons came to America together in 1870, an arduous journey by boat, foot, wheel car and railroad.
We are part of The Trust Project.
WORTHINGTON — Two Swedish immigrant families, hopeful of owning a piece of the earth's surface, came to Worthington in the fall of 1871 and built a 12- by 20-foot sod dugout which four adults and five children shared for almost a year.
It was a noisy, hilarious and potentially dangerous scene. But the merchants of 1934 declared it a huge success.
One night he ran smack-dab into a group of evangelists while staggering out of a saloon. He was converted on the spot. Since then he traveled all across the country preaching the gospel and convincing sinners to "get right with God."
The city's Army National Guard unit, Co. F of the 215th Coast Artillery, was ordered to active duty in 1940, a full year before the Japanese bombing of Pearl Harbor.
It was not the first sod hut on this grassy, treeless, windswept prairie. But it may have been the first and only intentionally made for duplex-style living.
Pressed by the arrival of winter, Mr. and Mrs. Peter Larson and Mr. and Mrs. Jonas Moberg only had time to build one dugout. They constructed the shanty so the lot line between their claims ran through the middle of the tiny room. Under one roof, each family could then sleep and live on their own side of the room and thus meet the legal claim requirement of the Homestead Act.
In June 1972 — 101 years and four generations later — the descendants of the pioneering couples, Norman Larson and John Moberg, still farmed side by side on those original claims. An indentation where the two-family dugout stood could still be seen in Bigelow Township 26.
The two-family story of neighborliness began in Jemtland, Sweden, as was the case with many homesteaders in the Worthington area, especially in Indian Lake and Bigelow townships.
The Mobergs and Larsons came to America together in 1870, an arduous journey by boat, foot, wheel car and railroad. Unable to find work in Chicago, they pushed on to Minneapolis, then a city of shacks and saw mills, of soldiers and Swedes. The men did some lumberjacking and worked off and on for the railroad.
It was a letter from Hans Nystrom, another friend from Sweden, that lured the two families to Nobles County. Hans had already taken a claim and urged them to come immediately.
A timeline that celebrates big moments in our town's history.
Adrian proposed dissecting Nobles County so it could reign over a new county.
While Worthington City Hall maintains all council meeting minutes, the early minutes are handwritten.
The men made two trips here in the summer of 1871. They walked from Mankato to Worthington the first time. A few weeks later, they took the train to St. James and walked from there. On that journey they picked out side-by-side claims and walked on to Jackson to make the official filing.
By October, the railroad had pushed on to Windom so the two families rode that far on the caboose of a construction train. The children at that time included Lewis and Jake Larson, ages 11 and 4, and Anna, Neils, and Christine Moberg, ages 9, 4, and 18 months.
Life seemed bright, full of promise. They were finally within reach of owning some rich farmland of their own. Building that sod duplex was the first thing they had to do.
Scooped deep into an earthen embankment, the home was much like the so-called potato cellars used by later generations. The roof was just three feet above ground at the front of the hut and 10 inches above ground at the back. The floor was dirt. Walls above ground were sod and boards. There was a stove in the center of the room and wooden bunk beds at each side.
1
/
28:
People enjoy splashing in Lake Okabena in this undated image from the Nobles County Historical Society archives.
2
/
28:
Activity abounds in the early days on Worthington's Lake Okabena.
3
/
28:
Fourth generation farmers Norm Larson (left) and John Moberg stand at the site where a sod hut, shared by their forefathers, was located in rural Worthington.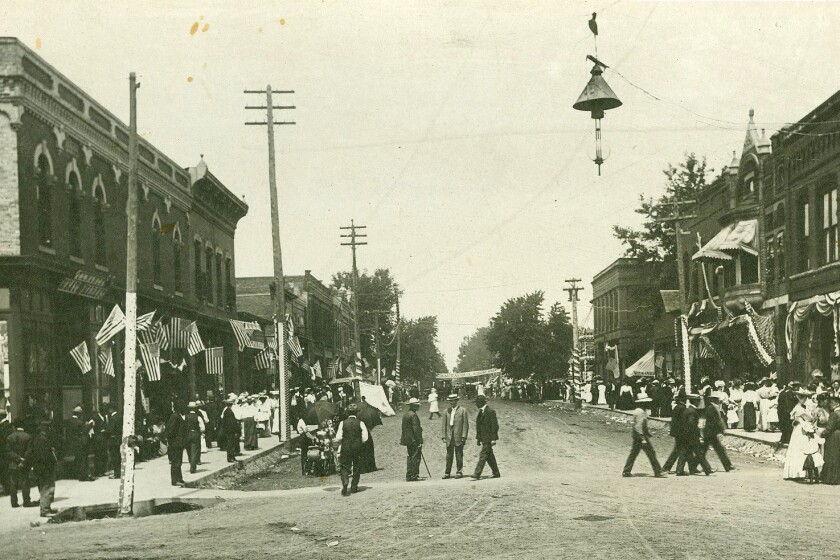 4
/
28:
An Independence Day celebration takes place on the yet-unpaved 10th Street in downtown Worthington.
5
/
28:
Paycheck and Ruby Begonia race team members get ready to chase their birds down 10th Street in one of the early days of the Great Gobbler Gallop.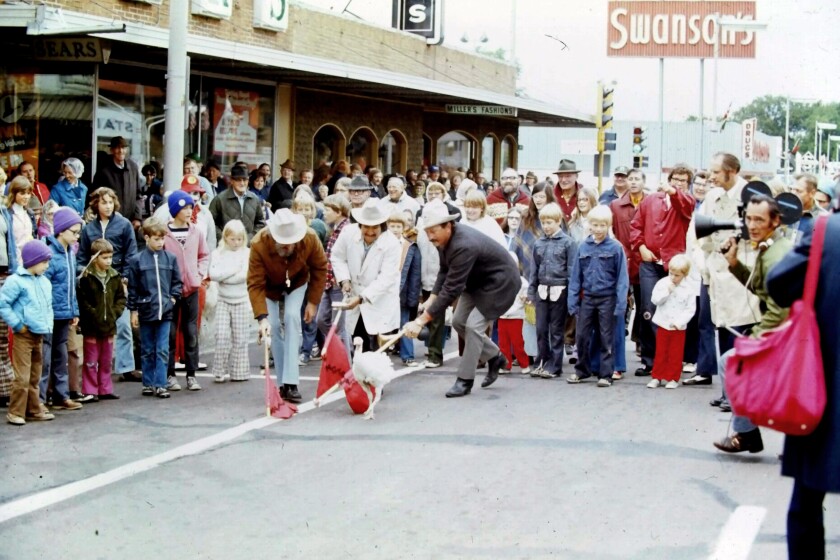 6
/
28:
Crowds gather to watch the Great Gobbler Gallop down 10th street in downtown Worthington.
7
/
28:
Peter Hartwich, of Excelsior, Minnesota sails on Lake Okabena between races during the 2022 Worthington Windsurfing Regatta.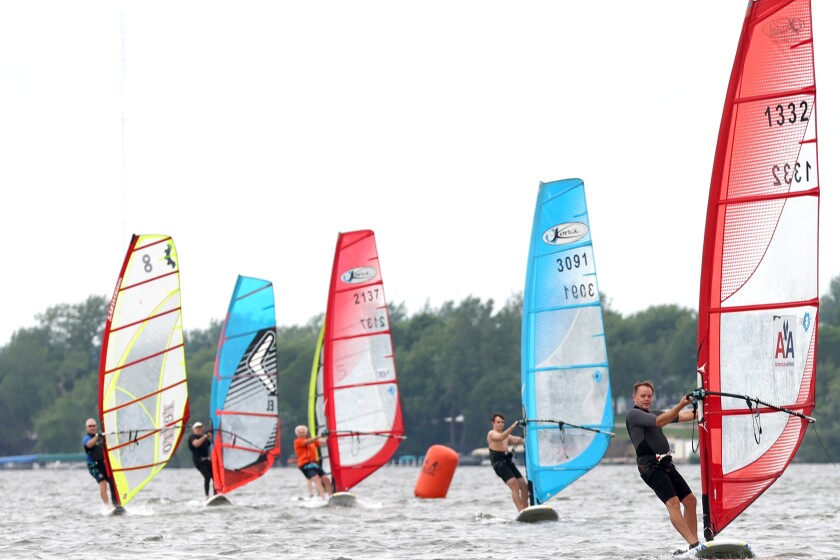 8
/
28:
Windsurfers race during the 2022 Windsurfing Regatta on Worthington's Lake Okabena.
9
/
28:
Crowds gather to hear musical acts during the 2022 Windsurfing Regatta and Music Festival on the shores of Lake Okabena.
10
/
28:
The Thompson Hotel is seen in this undated photo of Worthington's 10th Street.
11
/
28:
The Thompson Hotel recently underwent a major renovation of its apartment units and 10th Street storefronts.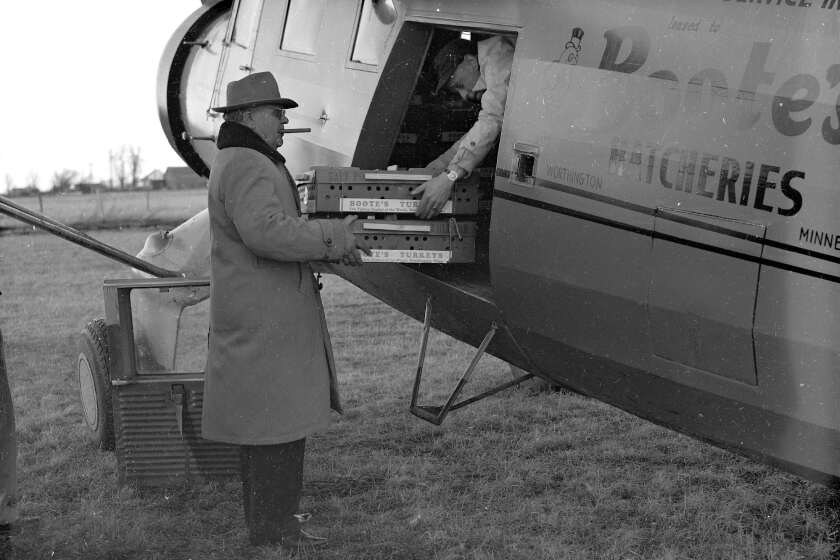 12
/
28:
Jack Boote, with a cigar in his mouth, holds a couple of boxes of turkey poults that are being loaded into his plane for delivery.
13
/
28:
Worthington's Jack Boote poses for a photo in a private rail car in this undated image.
14
/
28:
E.O. and Bella Olson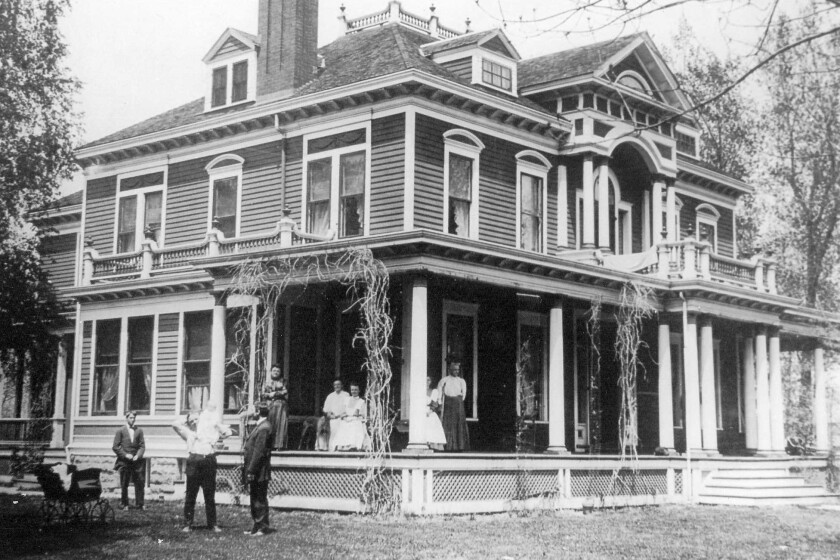 15
/
28:
The home of George Draper Dayton and his family for the 19 years they lived in Worthington remains today at the corner of 13th Street and Fourth Avenue. The Dayton House is now a bed and breakfast and a community gathering space.
16
/
28:
Teams of horses are used to assist with ice harvest on the shore of Lake Okabena.
17
/
28:
Crews push ice chunks toward the conveyor belt as they harvest ice from Worthington's Lake Okabena.
18
/
28:
Crews harvest ice from Lake Okabena in this undated file from the Nobles County Historical Society.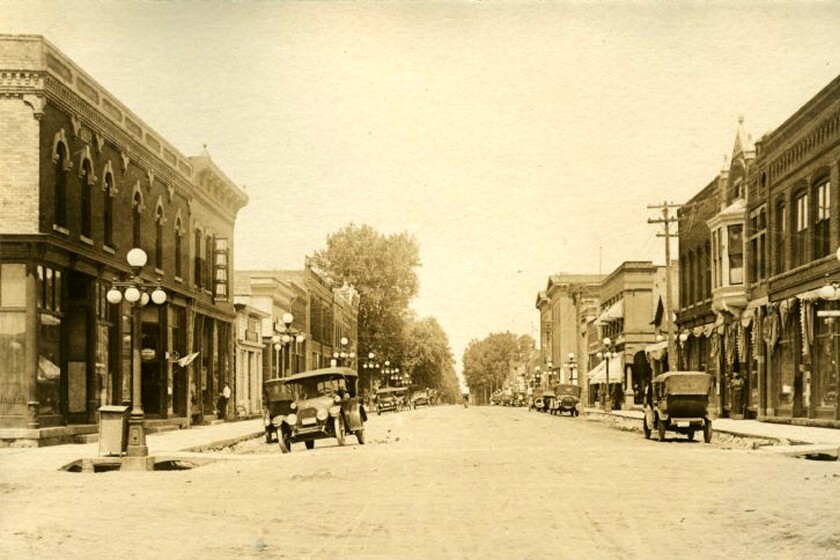 19
/
28:
An undated street scene of downtown Worthington.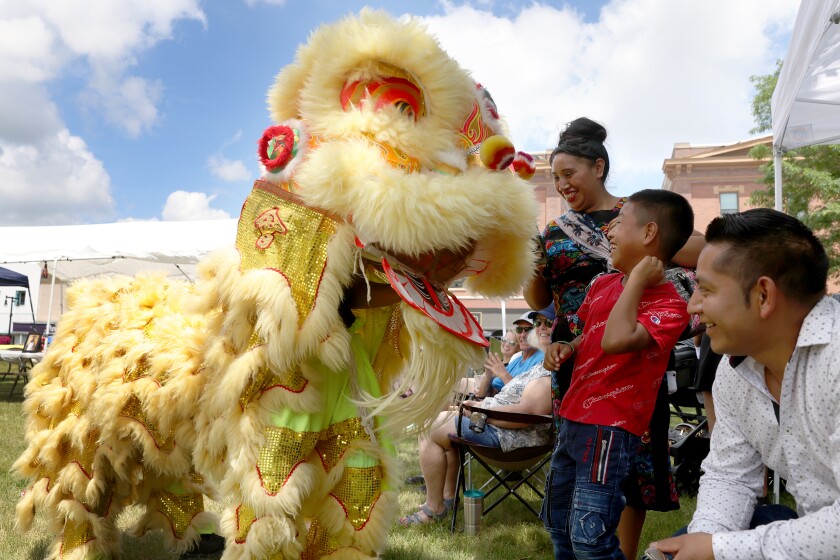 20
/
28:
The Chinese ceremonial Lion Dance group works the crowd at the 28th annual Worthington International Festival Saturday afternoon, July 9, 2022.
21
/
28:
The flag bearer for Mexico gets the flag ready for the parade of flags at the opening of the 28th annual Worthington International Festival July 8, 2022.
22
/
28:
Much of Crailsheim was destroyed by bombings shortly before the end of World War II.
23
/
28:
The people of Crailsheim gather to get supplies sent over in a shipment from Worthington residents.
24
/
28:
Volunteers sort through the many items donated by Worthington residents to be shipped to the people of Crailsheim, Germany.
25
/
28:
Volunteers weigh boxes of items ready to be shipped to Crailsheim, Germany.
26
/
28:
Martha Cashel (with letter) initially sought to help her Finnish pen pal by gathering shoes to send to Finland. Her idea prompted her parents to provide aid to war-ravaged Europe on a grander scale, and that's what led to the sister city partnership with Crailsheim, Germany.
27
/
28:
An early day gathering at Worthington's Chautauqua Park.
28
/
28:
The Little Sioux steam boat takes passengers for a ride on Lake Okabena.
Years after his boyhood experience, Lewis Larson was once quoted as saying this about life in that sod hut: "The space was pretty well taken up when all the folks were in the room."
Nine people. Twelve by 20 feet.
Peter Larson, asleep in the northeast quarter of the section which he claimed, may well have stretched out a foot in the night into the northwest quarter which belonged to Jonas. And vice versa.
Although they could look forward to delicious meals of fresh fish and prairie chickens, the eating was very skimpy that first year.
One Worthington woman who was close to the welfare scene expressed it another way: "I never told my kids how tough we had it. And I forgot it as soon as I could."
E. O. Olson was a prominent figure in Worthington's history
Worthington was a natural for the natural ice industry. The railroads were here. The lake was here.
There had been no time or money to put in the simplest provisions like spuds or meat. So they ate what they had — 100 pounds of flour. Sometimes when they could get milk from neighbors, they mixed it in boiling milk. They call it "greit" and they served it in a dish and ate it with a spoon. It was about as tasty as wallpaper paste.
Fuel was a constant worry to the early pioneers, too. There were few trees on the prairie except along the lakes and creeks. They kept warm mainly by burning twisted hay.
Somehow, in January 1872, the two fathers managed to walk to Heron Lake and purchase a cow which they herded back over the snow drifts. The journey took one week.
When spring arrived they also bought a team of oxen and went into a partnership of sorts with Erick Mahlberg, another early pioneer who already had a team. With Erick's help, Mrs. Larson and Mrs. Moberg broke up 70 acres of prairie that spring while their husbands worked on the railroads. This was the only means they had to accumulate cash with which to buy seed from Peter Thompson, one of Worthington's early store keepers.
In the fall of 1872, before the full year of duplex living was over, the families built small, simple frame houses for themselves on their own claims. One of the early frame houses on the Moberg farm was still used a century later as a chicken house.