Worthington 150: Stubborn Swede with social conscience built up region's largest industry
E. O. Olson was a prominent figure in Worthington's history
We are part of The Trust Project.
WORTHINGTON — "Luck and Pluck." The story of Worthington's E. O. Olson is a real-life tale. It is the story of the phenomenal growth of a local industry — a 200,000-pound output the first year to millions of pounds of foodstuffs annually — as the "poor boy triumphed in the face of numerous obstacles."
A timeline that celebrates big moments in our town's history.
Adrian proposed dissecting Nobles County so it could reign over a new county.
While Worthington City Hall maintains all council meeting minutes, the early minutes are handwritten.
A shrewd, stubborn Swede, tall in stature, "Creamery Olson," as he became known, was left fatherless at the age of 7.
His father, a Swedish emigrant who had homesteaded near Grandy, Minnesota in 1869, died in 1885, leaving his wife and several small children in hard financial straits. School was two and one-half miles away and the youngsters could attend only in the fall and spring months. Bad roads and cold weather kept them at home in the winter.
Their main source of living depended on the little income they earned from their few cows. Ten years later, after the death of their mother, the children were "farmed out."
In 1898, young Erick became a helper in the Grandy creamery, remaining there two and a half years.
He then attended dairy school at St. Peter, after which Professor Haesker helped him get a job as a buttermaker at Grove Lake.
From there he went to Brooten, where he was a buttermaker and where he and Bella G. Pladson were married Dec. 21, 1908.
1
/
28:
People enjoy splashing in Lake Okabena in this undated image from the Nobles County Historical Society archives.
2
/
28:
Activity abounds in the early days on Worthington's Lake Okabena.
3
/
28:
Fourth generation farmers Norm Larson (left) and John Moberg stand at the site where a sod hut, shared by their forefathers, was located in rural Worthington.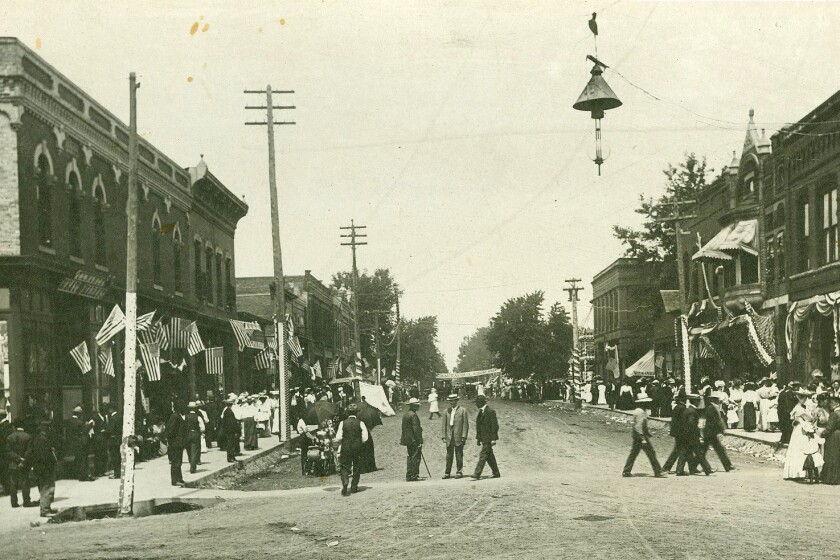 4
/
28:
An Independence Day celebration takes place on the yet-unpaved 10th Street in downtown Worthington.
5
/
28:
Paycheck and Ruby Begonia race team members get ready to chase their birds down 10th Street in one of the early days of the Great Gobbler Gallop.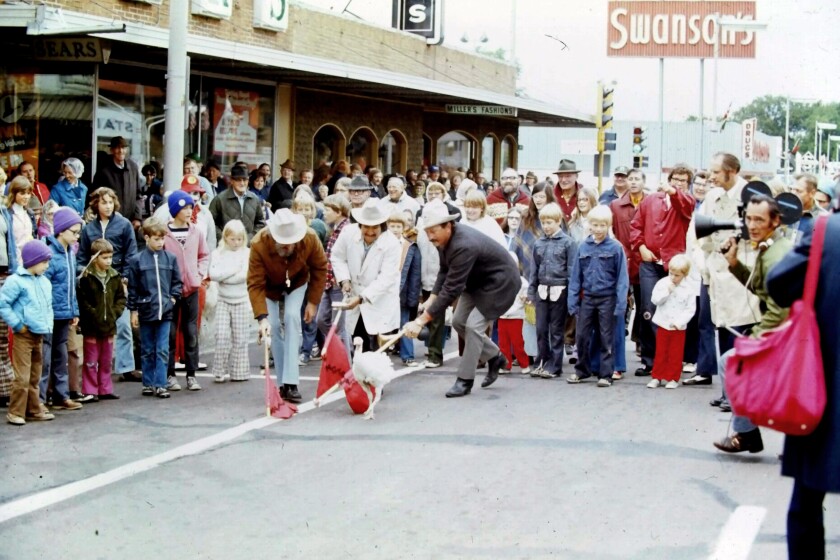 6
/
28:
Crowds gather to watch the Great Gobbler Gallop down 10th street in downtown Worthington.
7
/
28:
Peter Hartwich, of Excelsior, Minnesota sails on Lake Okabena between races during the 2022 Worthington Windsurfing Regatta.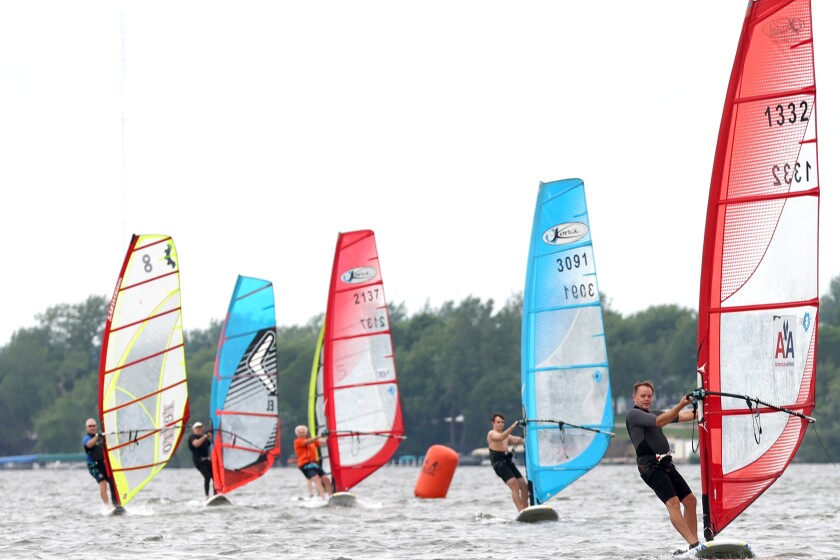 8
/
28:
Windsurfers race during the 2022 Windsurfing Regatta on Worthington's Lake Okabena.
9
/
28:
Crowds gather to hear musical acts during the 2022 Windsurfing Regatta and Music Festival on the shores of Lake Okabena.
10
/
28:
The Thompson Hotel is seen in this undated photo of Worthington's 10th Street.
11
/
28:
The Thompson Hotel recently underwent a major renovation of its apartment units and 10th Street storefronts.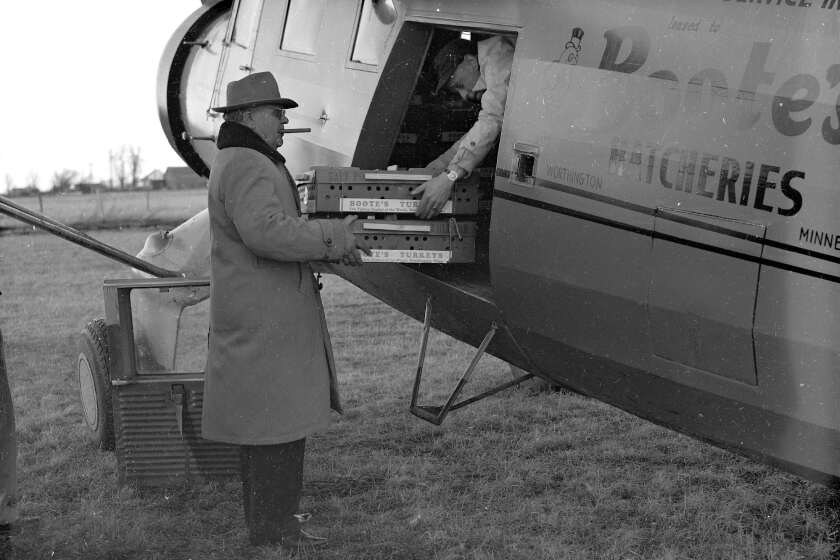 12
/
28:
Jack Boote, with a cigar in his mouth, holds a couple of boxes of turkey poults that are being loaded into his plane for delivery.
13
/
28:
Worthington's Jack Boote poses for a photo in a private rail car in this undated image.
14
/
28:
E.O. and Bella Olson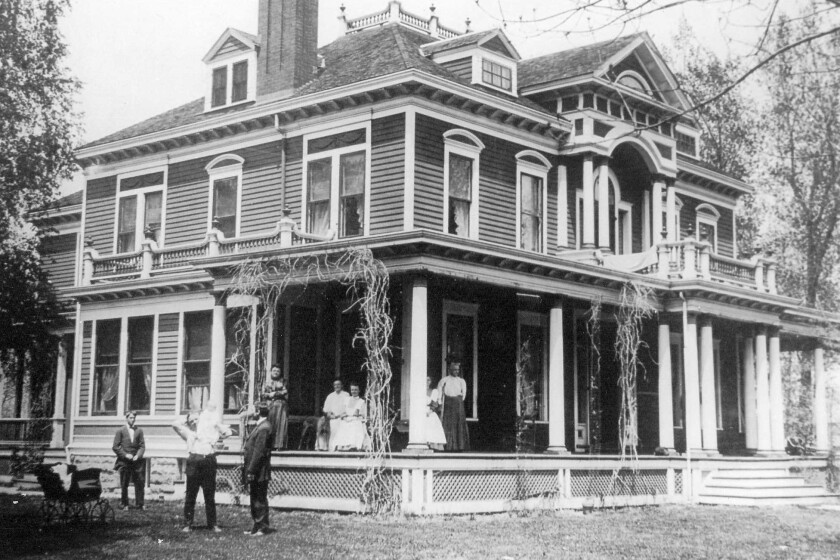 15
/
28:
The home of George Draper Dayton and his family for the 19 years they lived in Worthington remains today at the corner of 13th Street and Fourth Avenue. The Dayton House is now a bed and breakfast and a community gathering space.
16
/
28:
Teams of horses are used to assist with ice harvest on the shore of Lake Okabena.
17
/
28:
Crews push ice chunks toward the conveyor belt as they harvest ice from Worthington's Lake Okabena.
18
/
28:
Crews harvest ice from Lake Okabena in this undated file from the Nobles County Historical Society.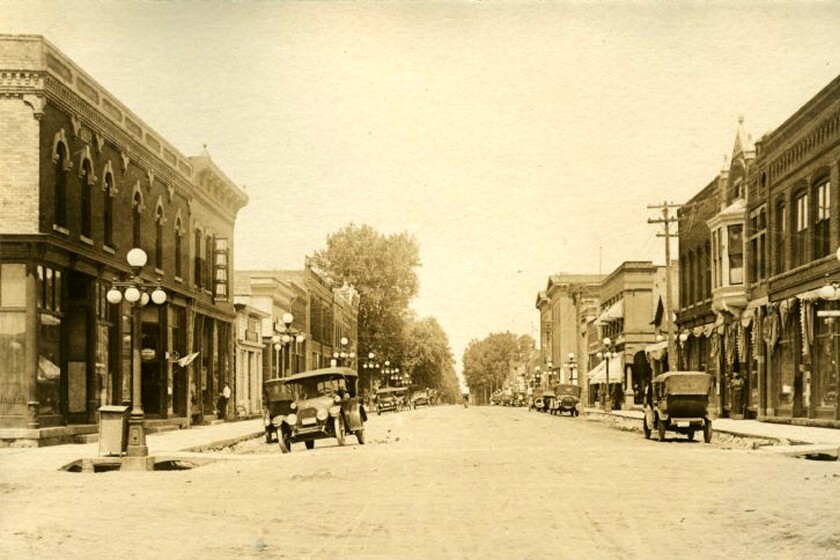 19
/
28:
An undated street scene of downtown Worthington.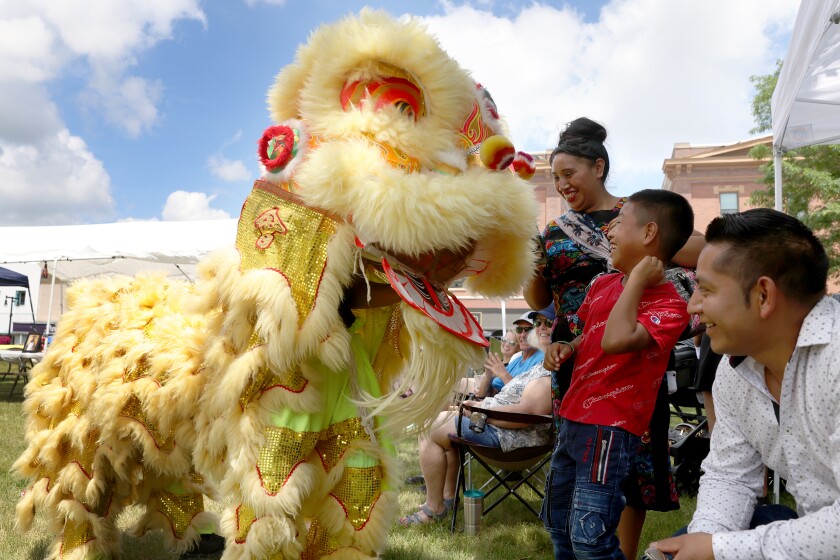 20
/
28:
The Chinese ceremonial Lion Dance group works the crowd at the 28th annual Worthington International Festival Saturday afternoon, July 9, 2022.
21
/
28:
The flag bearer for Mexico gets the flag ready for the parade of flags at the opening of the 28th annual Worthington International Festival July 8, 2022.
22
/
28:
Much of Crailsheim was destroyed by bombings shortly before the end of World War II.
23
/
28:
The people of Crailsheim gather to get supplies sent over in a shipment from Worthington residents.
24
/
28:
Volunteers sort through the many items donated by Worthington residents to be shipped to the people of Crailsheim, Germany.
25
/
28:
Volunteers weigh boxes of items ready to be shipped to Crailsheim, Germany.
26
/
28:
Martha Cashel (with letter) initially sought to help her Finnish pen pal by gathering shoes to send to Finland. Her idea prompted her parents to provide aid to war-ravaged Europe on a grander scale, and that's what led to the sister city partnership with Crailsheim, Germany.
27
/
28:
An early day gathering at Worthington's Chautauqua Park.
28
/
28:
The Little Sioux steam boat takes passengers for a ride on Lake Okabena.
Next, he became buttermaker and part owner of the Sunburg creamery, south of Brooten, and then he became renter and full owner of the Swift Falls Creamery northwest of Sunburg. He built a new creamery at Swift Falls but sold both this and his interest at Sunburg in 1911 and rented a creamery at Adrian, his first venture in southwest Minnesota.
One Worthington woman who was close to the welfare scene expressed it another way: "I never told my kids how tough we had it. And I forgot it as soon as I could."
E. O. Olson was a prominent figure in Worthington's history
Worthington was a natural for the natural ice industry. The railroads were here. The lake was here.
After more than a year of successful operation of the Adrian creamery, Olson left there, purchasing the privately-owned Worthington Creamery and Produce Co. plant at Worthington from William Burchard for $3,100. He made only butter and ice cream at first.
Three years later the first plant was outgrown and, in 1915, Olson built a brick structure at the corner of Fourth Avenue and Ninth Street.
Who could have guessed that his modest start would mushroom into a mammoth industry and produce the city's most highly-respected benefactor?
During the heavy poultry-dressing season in 1915, the local creamery was paying 25 cents for hens four pounds and over, 23 cents for those under four pounds, 30 cents for spring chickens two pounds and over, 15 cents for old roosters and ducks and 10 cents for geese.
At the same time, eggs brought 43 cents, going up to 63 cents in the winter. By Jan. 1, 1919, business had developed into a "mammoth industry with a handsome annual payroll."
Millions of pounds of poultry were purchased and prepared for market in cities throughout the nation, with a big share going to New York and eastern markets. With an average weight of four pounds per bird, 250,000 foul went through the local plant per year.
In the seven months preceding 1919, the average monthly payroll was $1,000, with an annual payroll budget of $40,000.
Weekly ads informed the public that Worthington Creamery & Produce paid the highest cash price for eggs, sold cracked eggs for half price, offered free buttermilk — for "health and longevity" — left over from the heavy feeding season.
It was a noisy, hilarious and potentially dangerous scene. But the merchants of 1934 declared it a huge success.
One night he ran smack-dab into a group of evangelists while staggering out of a saloon. He was converted on the spot. Since then he traveled all across the country preaching the gospel and convincing sinners to "get right with God."
The city's Army National Guard unit, Co. F of the 215th Coast Artillery, was ordered to active duty in 1940, a full year before the Japanese bombing of Pearl Harbor.
Furthermore, women could earn from $20 to $30 per week for picking chickens, $18 weekly as butter wrappers, and $20 as poultry packers.
By 1920, the plant at Fourth and Ninth had become too small. That spring, construction of a "mammoth fireproof building" was begun on Second Avenue, with Omaha railway trackage.
The new building, later site of the present Campbell Soup Co. sprawling complex, offered 35,000 square feet of floor space — three times that on Fourth Avenue.
Sam Swanson was contractor for the two-story brick and concrete building, which included a high basement. Plans also included poultry-receiving rooms on the first floor; a cold-storage area with 10-carload capacity — of 10,00 pounds of butter, 15,000 dozen eggs and 10,000 pounds of dressed poultry. A poultry-feeding plant with a 40,000-head fowl capacity would be located on the second floor. This required special sanitary engineering. Sunshine and fresh air were needed and birds were to be penned in the latest steel "batteries."
At this time, the plant employed 20 men and 30 women, and was headquarters for 28 stations within a 50-mile radius of Worthington, doing an annual business of well over $1 million.
In the new and continually expanding plant, Frank E. Mixa and R. W. Olson managed the new hatchery operation. R.W. Bergstrom, Nick Hand and R.W. Hoxie are but a few of the names long associated with Worthington Creamery & Produce.
Hoxie was with the creamery before railroad cars were refrigerated. Poultry had to be shipped live to Chicago and New York and he traveled right in the cars with it, making sales at stops along the way.
By 1936, more than 600 cars of processed dairy and poultry products were shipped by rail and 300 cars of raw materials arrived during the year.
The long-term goal of the project is to keep gravel from washing into the lake, and increase parking overall.
At this time, the "Worthmore" label was used on products. Tom Hauge oversaw buttermaking; R. H. Sampe, cheese production, and Fred Hyke, ice cream.
Christmas parties for employees began in December 1939, with more than 1,000 attending the first party at the local Armory.
E.O. Olson's daughter said it was impossible to estimate the number of employees he had, and the impact their earnings made on the local community. Suffice it to say, it was substantial.
After E.O. Olson's retirement in 1944, when he sold the entire business to C. A. Swanson and Sons, Olson still "sat in the driver's seat" community-wise.
Quietly and behind the scenes — many of his acts are unknown to the general public because he wanted it that way — he put money to work on behalf of the community where he had made his fortune.
His main interests were an ample water supply for Worthington, better recreational facilities for its citizens, and a YMCA to build better young people.