Worthington 150: Theodora Cashel founded partnership of peace
The founder of this unique partnership visited Crailsheim in 1958, when she was decorated with the "Bundersverdienstkreuz Erster Klasse."
We are part of The Trust Project.
Editor's note: This was originally written as a tribute to Theodora Cashel, who died in 1922. It has been updated to reflect the ongoing partnership.
One Worthington woman who was close to the welfare scene expressed it another way: "I never told my kids how tough we had it. And I forgot it as soon as I could."
E. O. Olson was a prominent figure in Worthington's history
Worthington was a natural for the natural ice industry. The railroads were here. The lake was here.
WORTHINGTON — In 1946, Theodora Cashel was stimulated through the sponsorship of her 11-year-old daughter, Martha "Marnie", for a Finnish girl who really wanted shoes
Looking beyond that incident, Theodora wanted to develop a sponsorship of a German city, similar in size and structure to Worthington.
Following up on a suggestion from the U.S./military/government, she looked for a city in the U.S. zone.
The 70% destroyed city of Crailsheim was chosen for the sponsorship. In those days, Crailsheim had a population of 8,700. In spite of some opposition in this country — and in this area — the plan of a first American-German city partnership was carried through.
The sponsorship was to bring material help, but also to bring human relations between both cities. The first of this aid — six tons of clothing and other donations — arrived on Jan. 6, 1948.
From this help and other aid, personal letters and pen friendships passed back and forth between Worthington and Crailsheim. A street in Crailsheim, the Kronprizenstrasse, was renamed Worthingtonstrasse.
A student exchange program was initiated in 1956 with two students from Worthington going to Crailsheim in 1956-57. In the following school year, two students from Crailsheim came to Worthington.
1
/
28:
People enjoy splashing in Lake Okabena in this undated image from the Nobles County Historical Society archives.
2
/
28:
Activity abounds in the early days on Worthington's Lake Okabena.
3
/
28:
Fourth generation farmers Norm Larson (left) and John Moberg stand at the site where a sod hut, shared by their forefathers, was located in rural Worthington.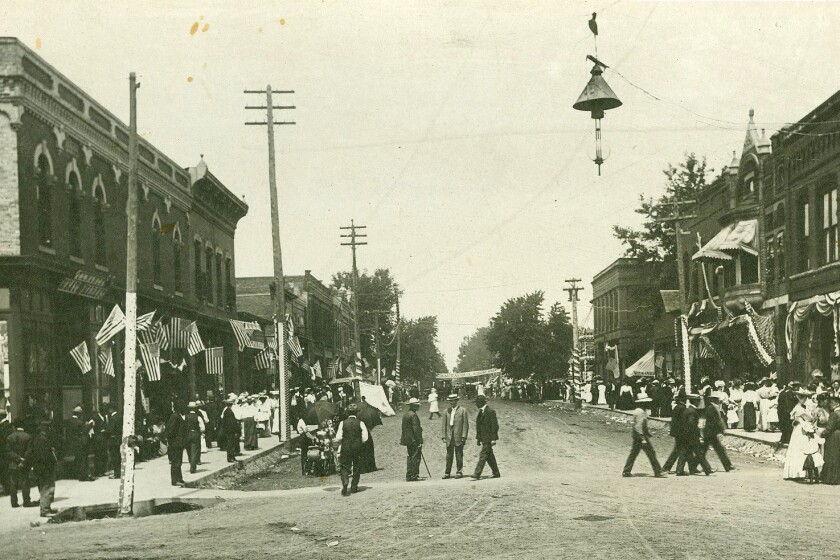 4
/
28:
An Independence Day celebration takes place on the yet-unpaved 10th Street in downtown Worthington.
5
/
28:
Paycheck and Ruby Begonia race team members get ready to chase their birds down 10th Street in one of the early days of the Great Gobbler Gallop.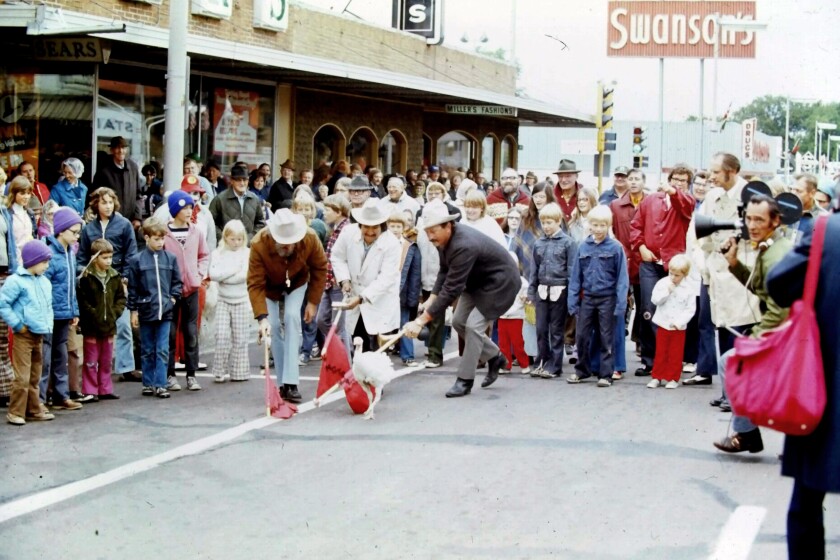 6
/
28:
Crowds gather to watch the Great Gobbler Gallop down 10th street in downtown Worthington.
7
/
28:
Peter Hartwich, of Excelsior, Minnesota sails on Lake Okabena between races during the 2022 Worthington Windsurfing Regatta.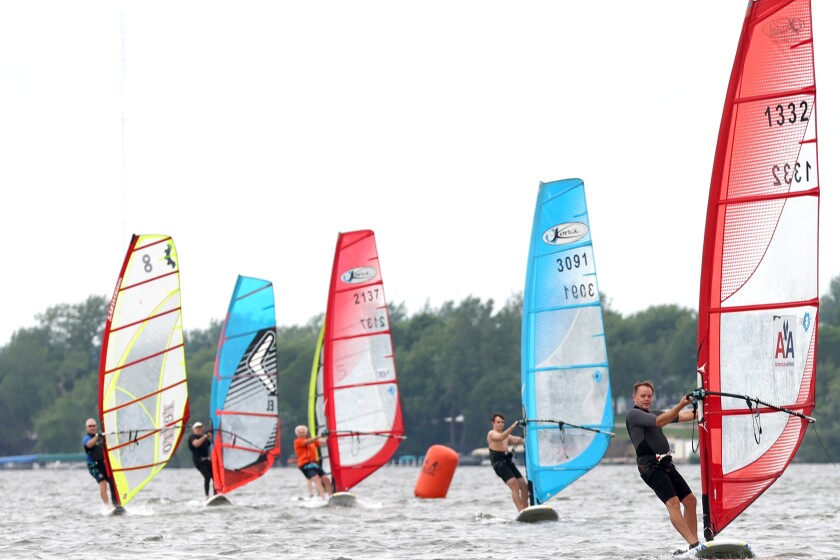 8
/
28:
Windsurfers race during the 2022 Windsurfing Regatta on Worthington's Lake Okabena.
9
/
28:
Crowds gather to hear musical acts during the 2022 Windsurfing Regatta and Music Festival on the shores of Lake Okabena.
10
/
28:
The Thompson Hotel is seen in this undated photo of Worthington's 10th Street.
11
/
28:
The Thompson Hotel recently underwent a major renovation of its apartment units and 10th Street storefronts.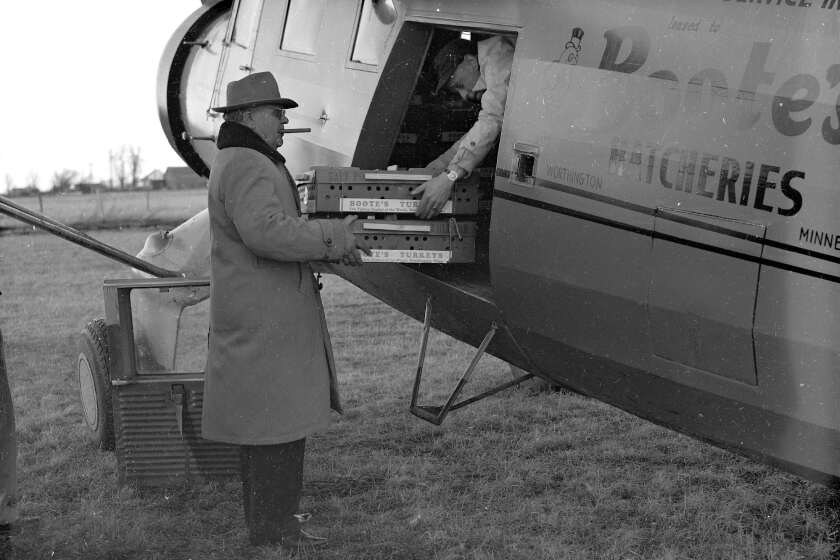 12
/
28:
Jack Boote, with a cigar in his mouth, holds a couple of boxes of turkey poults that are being loaded into his plane for delivery.
13
/
28:
Worthington's Jack Boote poses for a photo in a private rail car in this undated image.
14
/
28:
E.O. and Bella Olson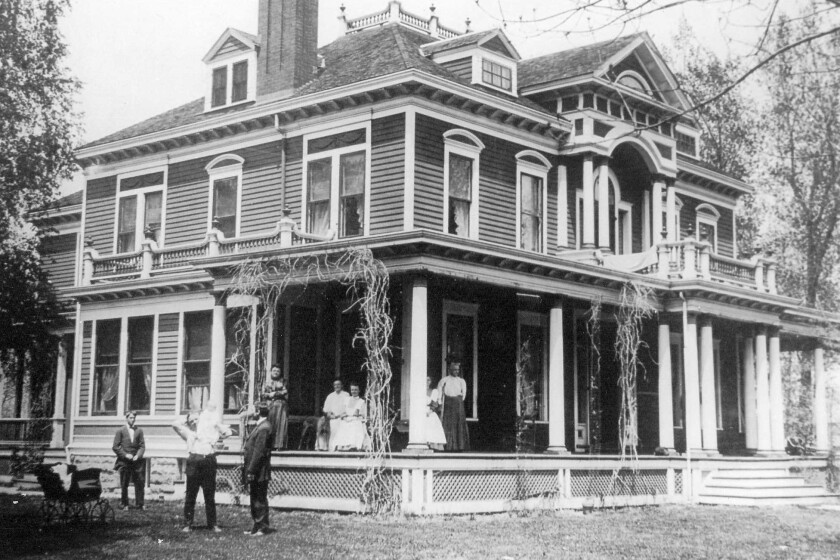 15
/
28:
The home of George Draper Dayton and his family for the 19 years they lived in Worthington remains today at the corner of 13th Street and Fourth Avenue. The Dayton House is now a bed and breakfast and a community gathering space.
16
/
28:
Teams of horses are used to assist with ice harvest on the shore of Lake Okabena.
17
/
28:
Crews push ice chunks toward the conveyor belt as they harvest ice from Worthington's Lake Okabena.
18
/
28:
Crews harvest ice from Lake Okabena in this undated file from the Nobles County Historical Society.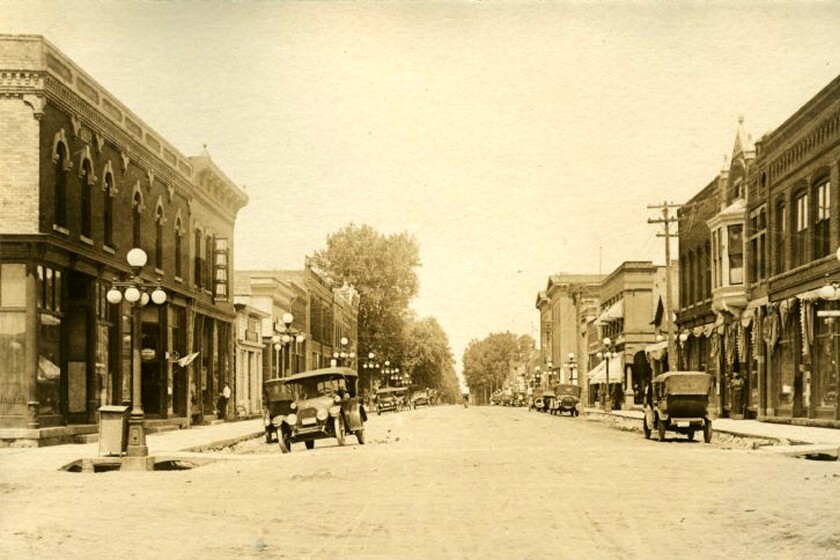 19
/
28:
An undated street scene of downtown Worthington.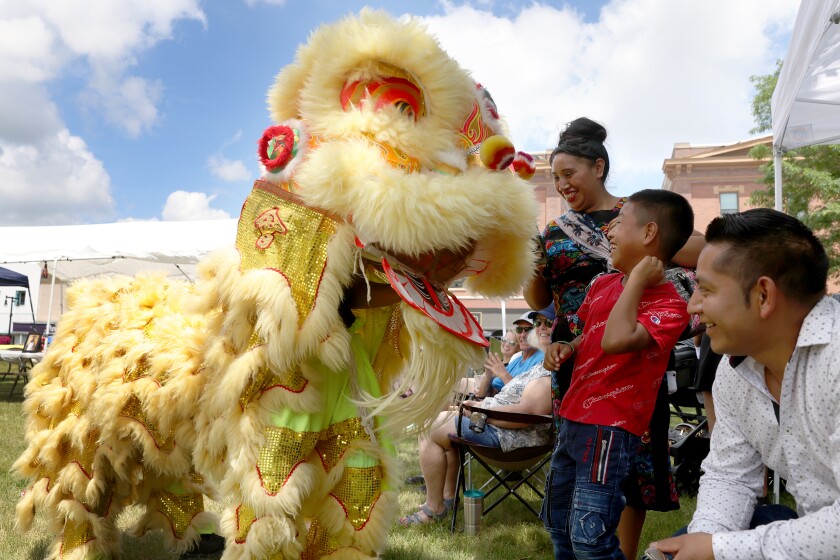 20
/
28:
The Chinese ceremonial Lion Dance group works the crowd at the 28th annual Worthington International Festival Saturday afternoon, July 9, 2022.
21
/
28:
The flag bearer for Mexico gets the flag ready for the parade of flags at the opening of the 28th annual Worthington International Festival July 8, 2022.
22
/
28:
Much of Crailsheim was destroyed by bombings shortly before the end of World War II.
23
/
28:
The people of Crailsheim gather to get supplies sent over in a shipment from Worthington residents.
24
/
28:
Volunteers sort through the many items donated by Worthington residents to be shipped to the people of Crailsheim, Germany.
25
/
28:
Volunteers weigh boxes of items ready to be shipped to Crailsheim, Germany.
26
/
28:
Martha Cashel (with letter) initially sought to help her Finnish pen pal by gathering shoes to send to Finland. Her idea prompted her parents to provide aid to war-ravaged Europe on a grander scale, and that's what led to the sister city partnership with Crailsheim, Germany.
27
/
28:
An early day gathering at Worthington's Chautauqua Park.
28
/
28:
The Little Sioux steam boat takes passengers for a ride on Lake Okabena.
An organization, eventually named Worthington-Crailsheim International, Inc., was started with much support from Theodora and a group of people in Worthington who were eager as she was to try to develop better relationships with other nations in the world, but especially with Germany because of the fairly large concentration of German ethnics in this area.
In April 1958, Worthington received the first World Brotherhood Award for its promotion of international understanding and friendship. With the award came financial awards that Worthington shared with her partner, Crailsheim.
It was a noisy, hilarious and potentially dangerous scene. But the merchants of 1934 declared it a huge success.
One night he ran smack-dab into a group of evangelists while staggering out of a saloon. He was converted on the spot. Since then he traveled all across the country preaching the gospel and convincing sinners to "get right with God."
The city's Army National Guard unit, Co. F of the 215th Coast Artillery, was ordered to active duty in 1940, a full year before the Japanese bombing of Pearl Harbor.
The founder of this unique partnership visited Crailsheim in 1958, when she was decorated with the "Bundersverdienstkreuz Erster Klasse."
In 1972, after 25 years of this friendship, a special exhibition in the Ratsaal recalled the history of this partnership. Four Franconian costumes were given as a present to Worthington, where they were worn in the Turkey Day Parade. The Costumes are now on display in a special exhibit in the Nobles County Historical Museum.
Never forgotten and remembered fondly is Theodora Cashel's counterpart in Crailsheim. Isolde Matthes, who, from the very beginning and for 38 years until her death in 1985, cared in a very intensive and special way for the connection between Crailsheim and Worthington.
Her friends in Worthington presented a plaque to her at the first Worthington Choir exchange. At the 40th anniversary of the partnership, the plaque found a significant resting place in the Rathaus in Crailsheim. A copy was given to the Nobles County Historical Museum in Worthington.
Theodora Cashel visited Crailsheim in September 1967. Many still remembered the well-dressed woman with a strong personality, but also a mature woman whose feelings for people were reflected in her light blue eyes.
A timeline that celebrates big moments in our town's history.
Adrian proposed dissecting Nobles County so it could reign over a new county.
While Worthington City Hall maintains all council meeting minutes, the early minutes are handwritten.
In September 1987, Crailsheim celebrated the 40th anniversary of this unique friendship, not only the first of its kind, but also a lasting one that will always be remembered. Theodora Cashel was present at the 40th anniversary festivities to receive an honorary citizen award that has only been granted six times in the history of Crailsheim.
Crailsheim also renamed a street in honor of the partnership founder: Theodora Cashel Strasse. Since then, long-time Worthington Mayor Bob Demuth was also honored with a street, Demuth Allee, in Crailsheim.
The city of Crailsheim hosted a group from Worthington in 2017 — including the "Amazing" Worthington City Band — to celebrate the sister city partnership.
Earlier this summer, the cities of Worthington and Crailsheim celebrated 75 years of partnership with a celebration in Worthington. More than 70 individuals from Crailsheim traveled to Worthington, including the Crailsheim Stadtkapelle and Crailsheim Oberbürgermeister Dr. Christoph Grimmer.