Worthington 150: Turkey Day origin was frantic crowd on court square fighting for live turkeys
It was a noisy, hilarious and potentially dangerous scene. But the merchants of 1934 declared it a huge success.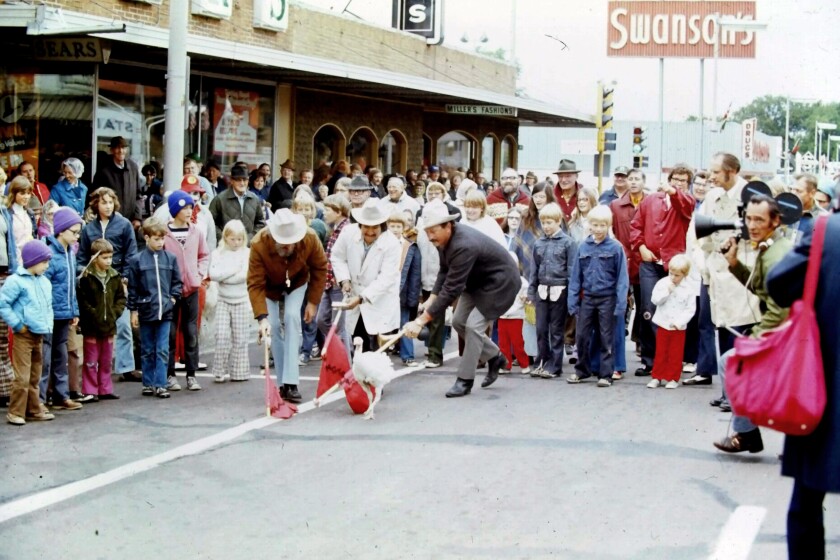 We are part of The Trust Project.
WORTHINGTON — Picture the courthouse square on a December day with hundreds of outstretched hands reaching skyward. Suddenly the air was filled with 100 flying turkeys and guinea hens which had been dropped from the top of the courthouse tower.
A timeline that celebrates big moments in our town's history.
Adrian proposed dissecting Nobles County so it could reign over a new county.
While Worthington City Hall maintains all council meeting minutes, the early minutes are handwritten.
As the birds neared the earth, the crowd of 3,000 pushed and shoved. A cheer went up as two of the frightened birds put on a sudden burst of speed. One landed on the roof of a building across the street. Another landed in a store awning that was soon torn to shreds. Still another landed in a tree. Several boys tried to scramble up the tree. Others tossed snowballs at the turkey.
It was a noisy, hilarious and potentially dangerous scene. But the merchants of 1934 declared it a huge success. It was their best day's business yet.
Long before the first King Turkey Day was celebrated in 1939, this was the sort of Turkey Day our town observed, along with a Chick Day and a Rooster Day.
Enticing a big crowd to town for Christmas shopping was the purpose of the Goodwill Turkey Scramble, as it was sometimes called. Catch a turkey and you had yourself a free Christmas dinner.
As the crowds grew, so did the possibility of accidents and injuries; turkeys are skittish and unpredictable at best. People were serious about wanting to catch one, to say the least.
In 1938, the merchants sent balloons aloft containing slips for free turkeys instead of the real thing. Even this proved potentially dangerous. Some of the balloons blew out on Lake Okabena. Four boys fell through the ice chasing them.
One Worthington woman who was close to the welfare scene expressed it another way: "I never told my kids how tough we had it. And I forgot it as soon as I could."
E. O. Olson was a prominent figure in Worthington's history
Worthington was a natural for the natural ice industry. The railroads were here. The lake was here.
Chick Day in May was a big spring promotion sponsored by the Civic and Commerce association in the 1930's. For every dollar that a shopper spent in Worthington that day, he received a coupon which could be traded for three (two after 1939) baby chicks at the Worthington Creamery or Boote's Hatchery.
The limit for a single shopper was eventually set at 150 chicks for $50 spent. Many farm wives did their major shopping on Chick Day and thus stayed in the chicken business.
The chicks in 1937 were worth eight cents each, so little profit was realized for participating merchants. The promotion was considered a good way to extend Wortington's trade territory, however.
Sometimes Worthington had a "Swap the Rooster Day," too, when farmers were urged to rid their flocks of surplus males.
1
/
28:
People enjoy splashing in Lake Okabena in this undated image from the Nobles County Historical Society archives.
2
/
28:
Activity abounds in the early days on Worthington's Lake Okabena.
3
/
28:
Fourth generation farmers Norm Larson (left) and John Moberg stand at the site where a sod hut, shared by their forefathers, was located in rural Worthington.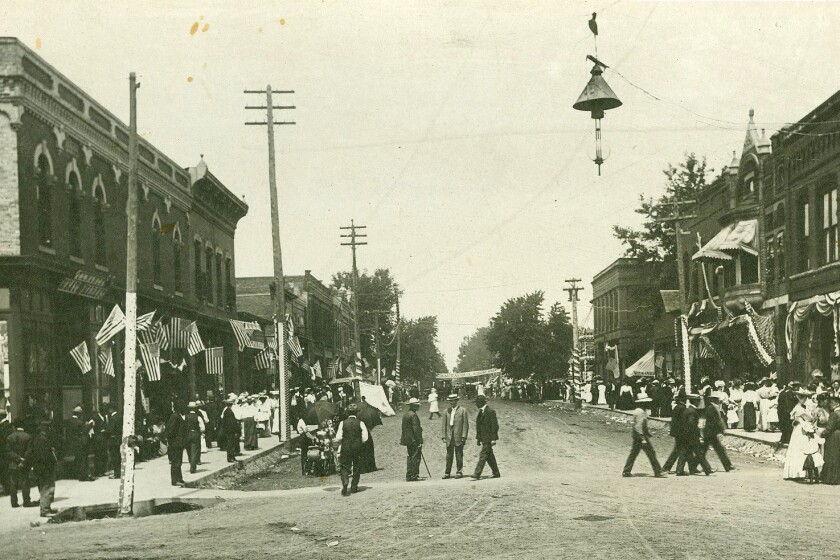 4
/
28:
An Independence Day celebration takes place on the yet-unpaved 10th Street in downtown Worthington.
5
/
28:
Paycheck and Ruby Begonia race team members get ready to chase their birds down 10th Street in one of the early days of the Great Gobbler Gallop.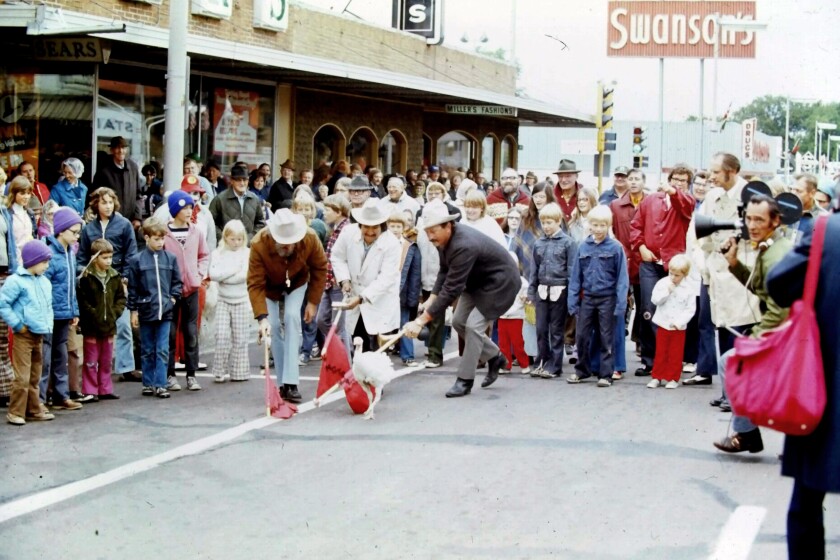 6
/
28:
Crowds gather to watch the Great Gobbler Gallop down 10th street in downtown Worthington.
7
/
28:
Peter Hartwich, of Excelsior, Minnesota sails on Lake Okabena between races during the 2022 Worthington Windsurfing Regatta.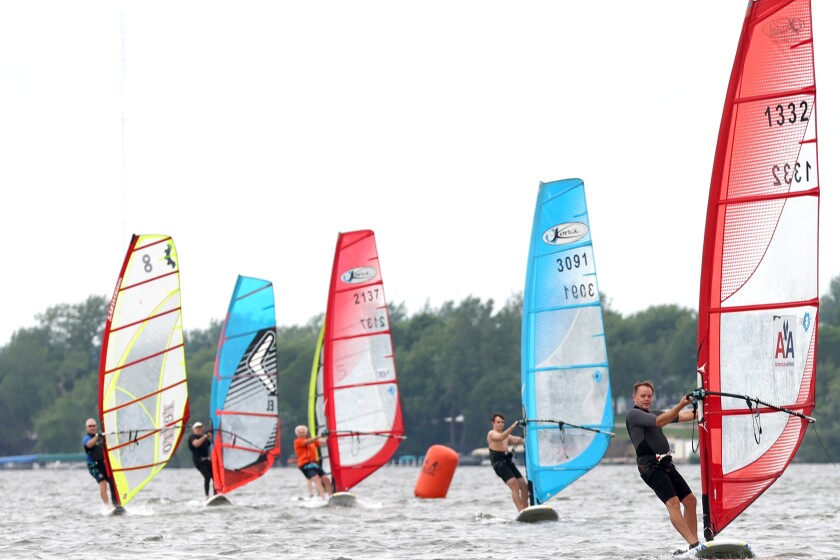 8
/
28:
Windsurfers race during the 2022 Windsurfing Regatta on Worthington's Lake Okabena.
9
/
28:
Crowds gather to hear musical acts during the 2022 Windsurfing Regatta and Music Festival on the shores of Lake Okabena.
10
/
28:
The Thompson Hotel is seen in this undated photo of Worthington's 10th Street.
11
/
28:
The Thompson Hotel recently underwent a major renovation of its apartment units and 10th Street storefronts.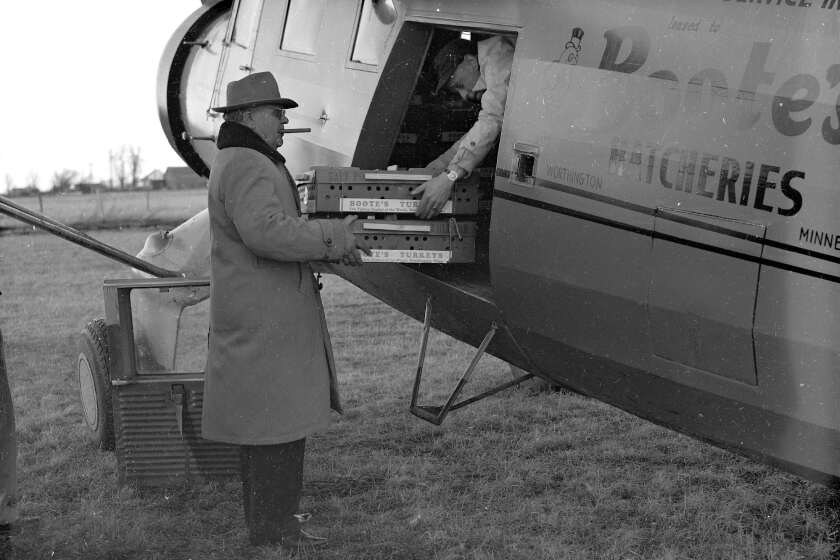 12
/
28:
Jack Boote, with a cigar in his mouth, holds a couple of boxes of turkey poults that are being loaded into his plane for delivery.
13
/
28:
Worthington's Jack Boote poses for a photo in a private rail car in this undated image.
14
/
28:
E.O. and Bella Olson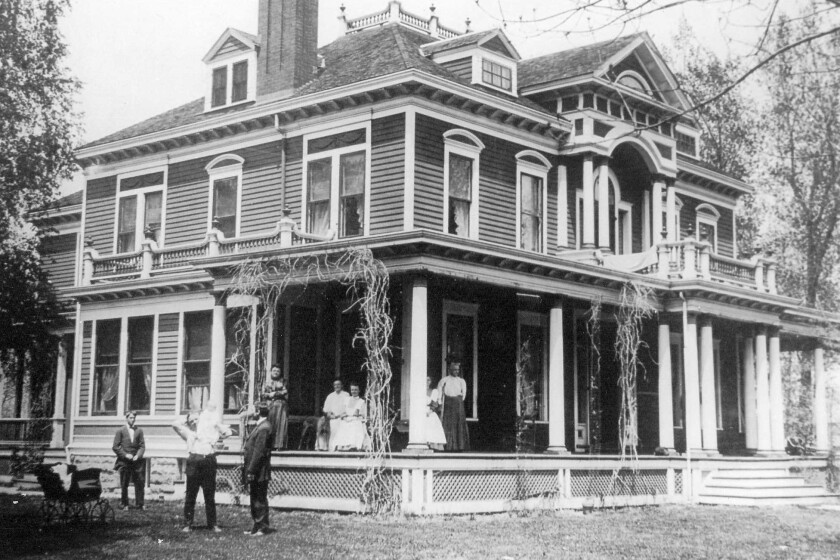 15
/
28:
The home of George Draper Dayton and his family for the 19 years they lived in Worthington remains today at the corner of 13th Street and Fourth Avenue. The Dayton House is now a bed and breakfast and a community gathering space.
16
/
28:
Teams of horses are used to assist with ice harvest on the shore of Lake Okabena.
17
/
28:
Crews push ice chunks toward the conveyor belt as they harvest ice from Worthington's Lake Okabena.
18
/
28:
Crews harvest ice from Lake Okabena in this undated file from the Nobles County Historical Society.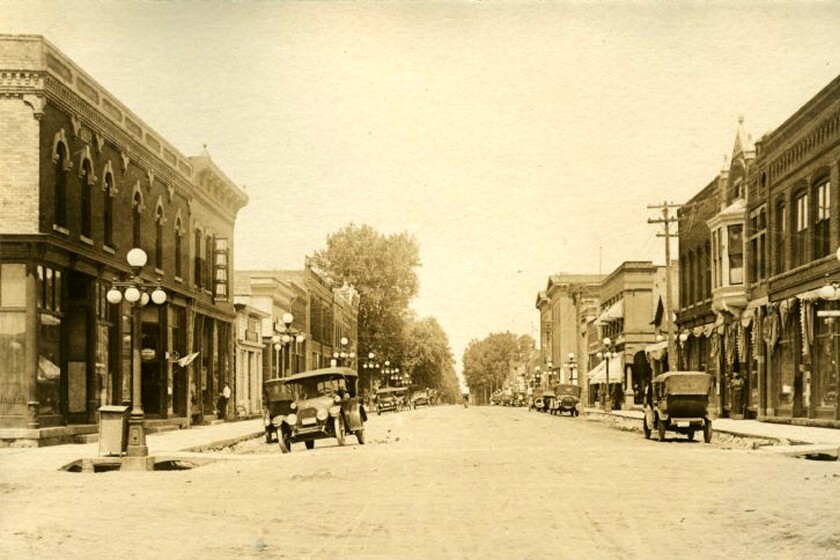 19
/
28:
An undated street scene of downtown Worthington.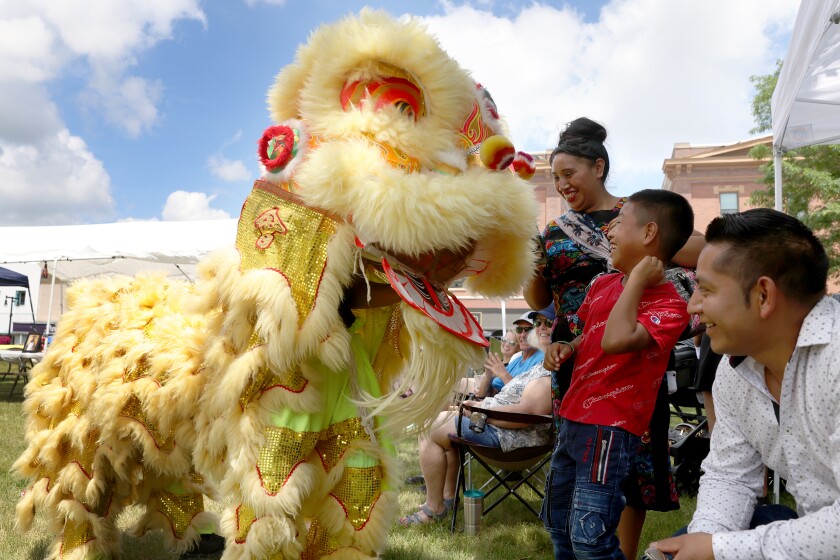 20
/
28:
The Chinese ceremonial Lion Dance group works the crowd at the 28th annual Worthington International Festival Saturday afternoon, July 9, 2022.
21
/
28:
The flag bearer for Mexico gets the flag ready for the parade of flags at the opening of the 28th annual Worthington International Festival July 8, 2022.
22
/
28:
Much of Crailsheim was destroyed by bombings shortly before the end of World War II.
23
/
28:
The people of Crailsheim gather to get supplies sent over in a shipment from Worthington residents.
24
/
28:
Volunteers sort through the many items donated by Worthington residents to be shipped to the people of Crailsheim, Germany.
25
/
28:
Volunteers weigh boxes of items ready to be shipped to Crailsheim, Germany.
26
/
28:
Martha Cashel (with letter) initially sought to help her Finnish pen pal by gathering shoes to send to Finland. Her idea prompted her parents to provide aid to war-ravaged Europe on a grander scale, and that's what led to the sister city partnership with Crailsheim, Germany.
27
/
28:
An early day gathering at Worthington's Chautauqua Park.
28
/
28:
The Little Sioux steam boat takes passengers for a ride on Lake Okabena.
To round up the barnyard alarm clocks, the Creamery and Boote's Hatchery offered a premium above-market price for the birds. Merchants gave extra bonuses if the special rooster checks were spent in Worthington.
More than 20,000 pounds of chanticleers were snatched from flocks one Rooster Day. Anything for some extra cash.
So even before Turkey Day, it was a wing-ding of a town.