Worthington's Than Than Kyaw draws on experiences to connect, create and communicate
"The whole community of Worthington helped raise me," said Kyaw, who moved to Nobles County with his mother in 2011 when she began working at JBS.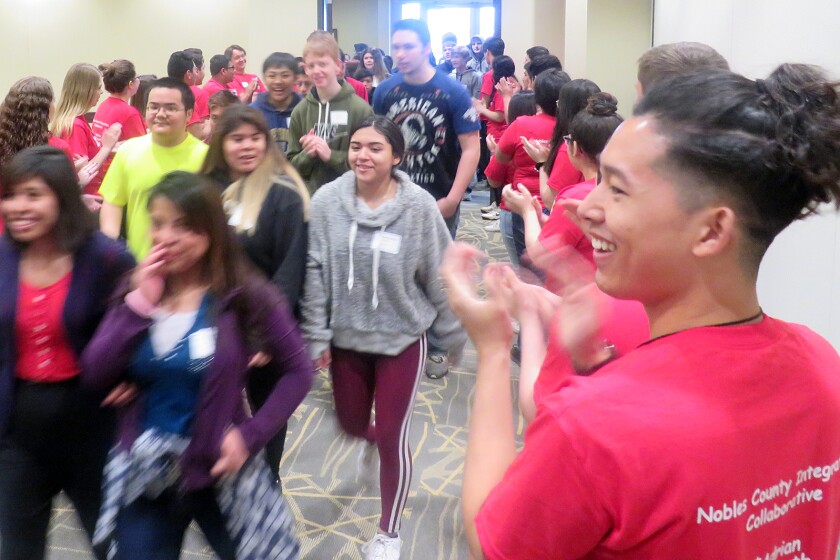 WORTHINGTON — Conversing with Than Than Kyaw, a Class of 2017 Worthington High School graduate, is a pleasure.
Kyaw's velvety voice, which translates to a singing baritone, is easy on the ears. The 24-year-old's confidence, descriptive phrasing, calm delivery and broad vocabulary rarely hint that Kyaw spent the first 12 years of his life in Thailand's Nupo Refugee Camp and that he was an ESL student through his junior year of high school.
The youngest of five children, Kyaw's family arrived in the United States on Sept. 2, 2010 — a date burned into his memory — and initially settled in Roseville.
"I went to sixth grade there," said Kyaw, who is fluent in English and Sgaw, the language spoken by those of Karen heritage, and is additionally proficient in Thai and Burmese. He became a U.S. citizen on Sept. 11, 2018.
"I walked into school (Roseville) and looked for the number '6,'" he recalled, not realizing there was a registration process. "They sent me to the office."
Such experiences make Kyaw an ideal fit for his current job as a Community Engagement Specialist with Southwest Initiative Foundation. Kyaw was previously employed at JBS as a community liaison for immigrants and refugees, and prior to that he worked for the Nobles County Integration Collaborative.
"The whole community of Worthington helped raise me," said Kyaw, who moved to Nobles County with his mother in 2011 when she began working at JBS.
"Educators and community organizers here were a great support to me, and I'm super grateful."
In turn, Kyaw strives to give back to others and lends a hand to more recent newcomers in the area so they too can make similar strides in acclimating and progressing in their new hometowns.
"At JBS, I learned about how businesses work, and at every job I've learned new strategies in how I approach my career — and the best part is I can take all of that and use it to nurture the community," said Kyaw. "That's a beautiful thing."
As a kid in the Nupo Refugee Camp, Kyaw joined his family to labor in cornfields, pepper plots and rice paddies during harvest seasons.
"And they taught me how to forage, to find edible fruits and vegetables in the forest," said Kyaw.
"My mother taught me how to build a shelter and my grandparents, too, taught me how to really survive in the wild. So when we were able to come to America, I knew it might be wild but I was ready to face that because I told myself, 'I'll survive, no matter what.'"
At WHS, Kyaw gravitated to the arts; he was a four-year member of the WHS choirs, participated in theater and musicals and was in the WHS marching band's color guard, plus he joined the AOK Club despite being unable to fit art classes into his schedule until his senior year.
Upon graduating in 2017, he was named the WHS Senior Student of Excellence in Art; earlier, he'd qualified for the 2016-17 Minnesota All State Men's Choir.
Kyaw grasped every art-related opportunity he could, including serving on the Worthington Public Arts Commission, volunteering with kids' art activities at local Windsurfing Regattas and International Festivals and assisting with the Center for Active Living's courtyard mural, among other contributions.
"I've been volunteering since I was in middle school," said Kyaw. "And employment with the NCIC gave me opportunities to participate in more community projects and events and work with our elders; that's how I got into community organizing work."
Kyaw studied at Minnesota West Community and Technical College for two years, initially intending to become an art teacher.
"NCIC was very flexible with my work schedule, which allowed me to teach art at summer camps and coach the WHS band's color guard, something I'm going to do again after taking a break from it for two seasons when I had my new job with Community Education," said Kyaw.
Kyaw fully intends to finish his degree at some point, but since starting his job with SWIF last August, work has taken top priority.
His SWIF duties include guiding a focus group that's researching the broader community's strengths and challenges, and assessing how services can best aid those in need of them. SWIF serves 18 southwest Minnesota counties and two Native American nations.
"We want to really support employers to make sure they have inclusive policies and practices in the workplace and retain the talent they have," said Kyaw. "The 'Reinventing Community' project focuses on increasing educational skills in underrepresented and marginalized communities while also addressing systemic barriers and workforce development."
Other areas in which Kyaw's work concentrates include a teacher pathway program and Welcoming Week, the latter a September event aiming to celebrate values that unite all community members and help towns be more welcoming to all who reside in the region.
Kyaw displays an inherent optimism that belies the many hurdles he's already overcome.
How does he do it? Letting curiosity shine through, for one, and drinking in all he encounters.
When not working or volunteering, Kyaw loves being outdoors — paddle boarding, playing volleyball — and spending time with friends and family.
"One of my favorite quotes is from Albert Einstein," said Kyaw, reciting, "Look deep into nature, and then you will understand everything better."
Valuing diversity in all its forms is another takeaway.
"The respect I have for our community diversity and culture is a huge inspiration for me," said Kyaw. "No matter where I go, I have a place for Worthington in my heart."
Recently, Kyaw fulfilled a childhood dream of visiting New York, something he'd dreamed about since seeing a shooting star at Nupo Refugee Camp.
He viewed Central Park as an oasis amid the city's bustle.
"I loved its green space," said Kyaw, drawing a lesson from it. "When you meet people in your life, no matter how chaotic or broken they are, there's always that 'green space,' that goodness inside of them.
"That's a great hope for humanity: seeing the good things in each other."