Moore reflects on appointment to Minnesota Supreme Court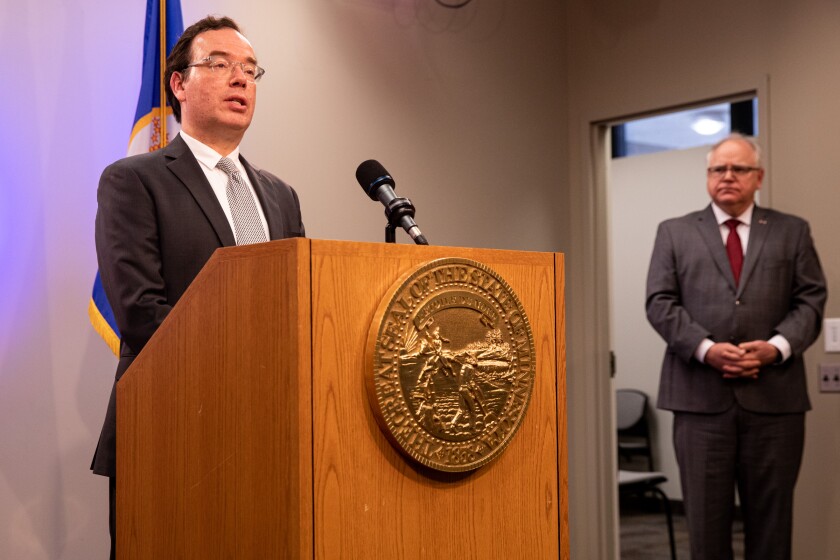 We are part of The Trust Project.
Editor's note: The Globe Editor Ryan McGaughey recently spoke with Nobles County District Judge Gordon Moore, who was appointed on May 15 by Gov. Tim Walz to the Minnesota Supreme Court. The following are Moore's responses (edited for brevity) to the first five of 10 questions. The second of two question-and-answer stories will appear in the June 17 edition.
Q: What led you to apply — or ask to be considered, or however this works — for the Minnesota State Supreme Court?
A: As some may know, I was one of four finalists last October for an at-large position on the Minnesota Court of Appeals but was not selected then. When the governor's office announced in late January or early February that applications were going to be received for Justice Lillehaug's open position, I took a look at the required application materials and told them I was not going to be a candidate at that point because of my mother-in-law's situation; she was ill and needing a lot of assistance from us, so it just didn't seem like the right time — and frankly, it also seemed like a bit of a jump.
However, I ended up reconsidering my position after she passed away later in February. Then, I ended up applying for a Court of Appeals position that was posted in early March due to Judge John Rodenberg's announced retirement. When the governor's office extended the time period for the Supreme Court application process, I was encouraged to reconsider and I threw my hat in that ring as well.
Q: When you began your career in law, was this something you dreamed of? I know I wanted to be an editor of a daily newspaper. What kind of career goals did you have?
A: It's a little hard to say. For me, it was not really something that was even in my wildest dreams. I had thought the District Court bench was a possibility after I'd worked in Worthington for a number of years, and I was encouraged to consider that, but the notion of planning or expecting to be appointed to the state Supreme Court is something that would be an incredible reach for most people. That's not really something you plan for. It was maybe a distant thought in my mind, but not something I spent a whole lot of time seriously considering.
Obviously, for Minnesota attorneys, the Supreme Court is the pinnacle of the court experience, and any lawyer who has had the opportunity to argue a case at that level won't forget it, particularly if they appeared in the State Capital's Supreme Courtroom. It's just a beautiful space, and it really impresses upon you the seriousness and majesty of the law, frankly — and that's what it's intended to do.
Q: I imagine you had to provide multiple references for this post. Do you know if any one — or more — made a significant difference?
A: These applications do require a lot of references, and there's a lot of vetting and due diligence that goes on. For me it was important to have my references speak to the total experience I've had in my career. I had persons ranging from court interpreters, law enforcement personnel, public defenders, directors of non-profit organizations and retired judges write on my behalf. People who knew me from different aspects of my work, I thought, would be in the best position to speak to my abilities, and I obviously did receive generous support from a lot of people, including many attorneys.
It was clear that had an effect on the governor because he mentioned this in his remarks at the press conference announcing my appointment. And that's really what this position is about — serving the people. It's not just about serving lawyers and the legal community, though that's an important part of the Supreme Court's job, but we are fundamentally working for the people and it's critical for non-lawyers to have some say in this, too.
Q: I imagine you had to have at least one interview with Gov. Walz. What was that like, and what kinds of questions did he ask?
A: The interviews this time around were all done virtually because of the COVID pandemic, so they used a couple different types of online platforms to interview. It made for a different experience than last fall. This time I was sitting in my office in Worthington, which was convenient from a travel standpoint, but it was interesting because there's a lack of personal connection that you gain when you're in the same room with somebody.
The interview panel consisted of approximately eight persons that the governor's office put together, and the governor was then part of the final interview. Gov. Walz led the questioning, but the other members of the team who were part of the final interview were quite involved. Lieutenant Gov. Flanagan was not directly part of the final interviews, as I believe she and the governor have been making sure they're not in the same place at the same time, but she was definitely a part of the process.
The interview was quite rigorous. At times, it reminded me somewhat of that experience in law school where you're getting fairly pointed questions about particular areas of the law; it's not intended to just be an informal process. They asked a lot about me, and about my background and knowledge of certain legal areas, so it was certainly an interesting and invigorating interview.
The governor is very much on task and does his research, and the process he put together is extremely thorough. Many people were contacted by phone, including many I had not even suggested to them. I was directed to provide names of five additional lawyers who had recently appeared in front of me to give a good representation of what I've been doing, and I think each of those persons were in turn asked to give other names. It's a process they take quite seriously.
Nevertheless, the meeting room was similar to the panel interview I'd had in the fall, except — virtual. There were some of the same people, some of the same categories of questions from the panel level. It was beneficial to have gone through the process once before.
Q: A few people have pointed out the fact that you're a white male replacing a white male. In turn, others have made note of the fact that you bring a Greater Minnesota perspective to the court. What do you think your Greater Minnesota experience brings to the Minnesota Supreme Court?
A: I personally think it was an essential aspect of why I was chosen. To paraphrase the African proverb, "it took a village to raise a judge." There are many, many fine attorneys in outstate Minnesota, and I would never suggest in any way that I was the only person who could have been in that position. But clearly there was a sense from many I had talked to that the appellate courts needed more outstate diversity, I'll call it, from a representational standpoint. If you do a little research, it won't take long to discover that the vast majority of those on these courts worked and lived in the metro area prior to appointment. But the Nobles County experience embraced both outstate and cultural diversity.
I want to emphasize that I am extremely aware of the need for the Supreme Court of this state to reflect the rich ethnic and cultural diversity of all of this state. As a white male judge serving one of the most diverse counties of the state, I am acutely aware of the obligation to ensure that the court system in this state provides equal and impartial justice under the law to all who appear before it. Anybody who knows anything about Nobles County is aware of the cultural diversity that exists here, and in my courtroom in particular. In a given year, I've had language interpreters for 18 or more different languages working in my courtroom, and one of the real benefits to me has been vast exposure and professional experience with that level of cultural diversity.
My job in Nobles County has forced me to become more culturally competent and to re-evaluate some of my personal background and implicit assumptions, and, frankly, my personal privilege, which is evident when you see and hear the remarkable stories of people who appear in court, from the fourth-generation farmer to the first-generation immigrant newcomer to the community. I think that combination of elements made a difference here.
It's been a long time since an outstate trial judge has been appointed to the Minnesota Supreme Court, and I think some of the comments that have come up since the announcement was made suggest it was time for this — but it's important to emphasize that the people on these finalist lists were all outstanding lawyers. When you get to this point in the process, your competitors are skilled and highly credentialed, and I was absolutely not banking on anything. In fact, I largely assumed this wouldn't happen, so when I got the call, it was a significant surprise. I had to look at the phone a couple of times; it was a sort of wake-me-up-when-it's-over moment. It was an amazing 24 hours between receiving the call from Gov. Walz and then going to St Paul for the May 15 press conference where he announced me as his pick.
Cases of fraud or alleged fraud have caused uncertainty and mistrust among some consumers in an industry that relies largely on the honesty of producers, processors and packagers to maintain the integrity of the industry.
The South Dakota Department of Public Safety is releasing daily updates on crashes and crime in and around Sturgis for the duration of the nine-day rally.