Nobles County Board sets salaries for elected officials
County Attorney Joe Sanow was the only elected official who received the salary increase of 6.67%; others got between 3.401% to 5%, apart from the commissioners themselves, who increased their salary by 2.75%, which is the bargaining units' current proposed cost of living increase.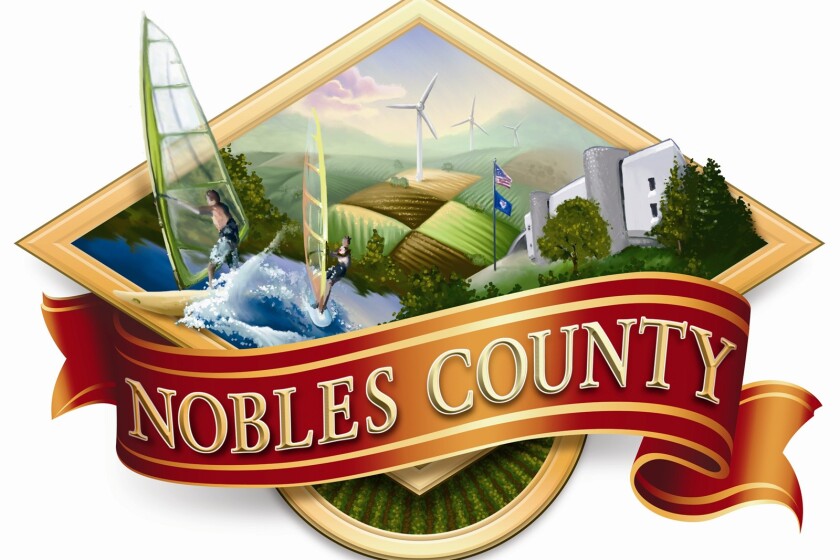 WORTHINGTON — The Nobles County Board of Commissioners set salaries for elected officials Tuesday, with salary increases ranging from 2.75% for the commissioners to 6.67% for the Nobles County Attorney.
The commissioners set the salary of the county's elected officials — the county attorney, auditor-treasurer, recorder, sheriff — and their own.
County Attorney Joe Sanow, who began in his position in October 2019, was the only elected official who received the increase he requested of $6,254, which brings his salary from $93,746 in 2021 to $100,000 in 2022.
County Auditor-Treasurer Joyce Jacobs, whose 2021 salary was $88,192, had initially requested a $7,000 or 7.94% increase for a 2022 salary of $95,192. Commissioners instead set Jacobs' salary at $91,192 for 2022, an increase of $3,000 or about 3.401%.
Jacobs gave a description of her duties, and explained how she came up with her requested salary increase. She said she looked at the pay scale for county employees, noting that it does not apply to elected officials but has been used to set starting pay for her position in the past.
Jacobs asked that she be given the equivalent of a step increase from a step E to a step G, plus whatever cost-of-living adjustment the county sets for the next year.
"I put in the hours. I don't think my staff would take issue with the fact that I put in long hard days and do the very best I can for the county. Hopefully by the work I'm doing it will make the position easier for the future for all my staff," Jacobs said.
"My question is, why are we referring to the county's pay scale when you're not on the county pay scale?" asked Commissioner Don Linssen, stating that they should divorce the process from the pay scale because elected officials aren't on it.
"Point well taken," Jacobs said, and encouraged commissioners to look at the salary numbers for other auditor-treasurers.
Commissioner Justin Ahlers said he looked at auditor salaries for the previous year to come up with a number, and Jacobs said those salaries would also likely see an increase for 2022.
Commissioners voted 4-1 to increase Jacobs' salary to $91,192, with Commissioner Robert Demuth Jr. dissenting.
County Recorder Thelma Yager, whose 2021 salary was $74,048, requested a 9.45% salary increase, which would have brought her 2022 salary to $81,048. Commissioners instead set Yager's salary at $77,750, an increase of 5%.
Demuth said he felt he was in a dilemma, as he was willing to pass Sanow's salary request, but that after passing Jacobs' salary he felt the commissioners were "all over the place."
"We're not looking at percentages here. We are looking at numbers here," said Ahlers, also restating that elected officials are not on the step system. He praised Jacobs for bringing data on pay for the same position in other counties.
Ahlers moved to increase Yager's salary by $2,500, bringing it to $76,548, but the motion failed.
Linssen moved to increase the salary by 5%, or $3,702, bringing the total to $77,750, a motion that passed 4-1 with Ahlers dissenting.
Sheriff Ryan Kruger, whose 2021 salary was $96,500, requested a salary increase of 5%, which would have brought his 2022 salary to $101,325. Commissioners instead set Kruger's salary at $100,000, an increase of about 3.626%.
Ahlers pointed out that Kruger has only been in his position for 4 months and would still be on probation if he were in most other jobs.
"I'm a little bit hesitant about (setting your salary) higher than our attorney at this time," said Commissioner Gene Metz.
A motion to set the salary increase at 5% failed, as did a motion to set Kruger's salary at $99,000. A third motion to set the salary at $100,000 — the same as that of the county attorney — passed 4-1, with Ahlers dissenting.
The commissioners then set their own salary. Initially, a motion failed to keep the salary at $20,259, as it was in 2021, with commissioners expressing concern that this would lead to "handcuffing future commissioners to a larger increase."
Demuth moved to increase commissioner pay by 2.75%, to $20,816.34. That percentage is the proposed cost of living adjustment increase for 2022.
"Would you be willing to take 34 cents off?" Metz asked.
"No, 2.75%," Demuth said, and the motion passed.
The per diem rate of pay for commissioners, $150 per day, remained the same.
In other news Tuesday, the board:
Accepted the bond sale results for Lincoln-Pipestone Rural Water System, which will refund existing bonds to capitalize on lower interest rates and costs, saving about $1.3 million and shortening the length of the bond by eight years.
Accepted a DoorMen quote for $10,495 for replacement and installation of an overhead door for the Nobles County Public Works storage building just off Minnesota 60 southeast of Worthington. The aging doors are bifold and staff have had to chip ice from them to open them, so they will be replaced with more effective overhead doors to save staff time and avoid injuries.
Sold a property at 108 Kentucky Ave. in Adrian to Jason and Amber Like, after acquiring it to remedy public health and public protection concerns. The issues have been abated and the property is now a bare lot. The county sold it for $1,000, and the Likes will pay all associated costs, fees and assessments.
Congratulated Vilay Lunt, legal secretary, for receiving the county's October Excellence in Performance Award.
Authorized the signing of the 2022-2023 Natural Resource Block Grant of $70,282, which has already been incorporated into the proposed 2022 budget.