Nobles County commissioner candidates vie for votes in forum
Tuesday night candidates forum in Worthington featured individuals seeking District 1, District 3 board seats.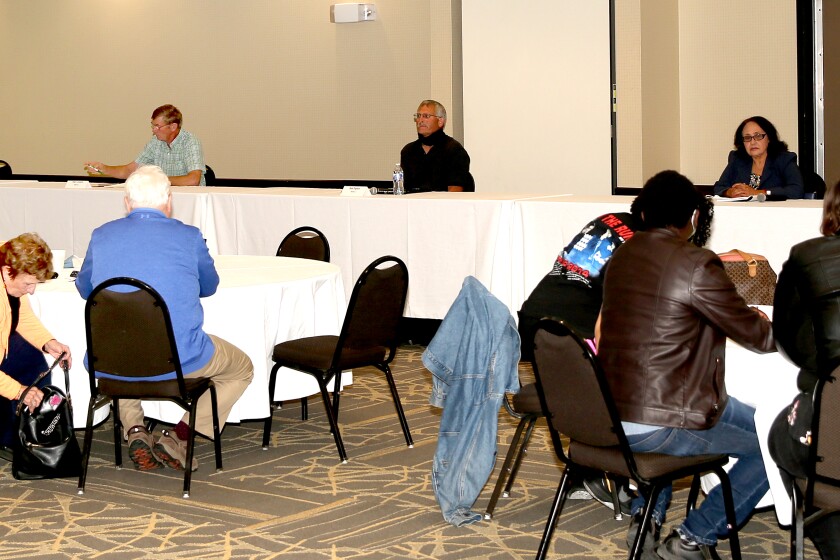 WORTHINGTON — With three Nobles County commissioner seats on the ballot this November, four individuals — including one incumbent — faced off in a candidate forum Tuesday evening at the Worthington Event Center.
In District 1, incumbent Justin Ahlers faces challenger Marv Zylstra, who held the seat for 14 years prior to his loss to Ahlers four years ago. In District 3, Robert Paplow, who campaigned eight years ago, is competing for votes with political newcomer Leticia Rodriguez to fill the seat being vacated by two-term commissioner Matt Widboom. District 5 Commissioner Bob Demuth Jr. is running unopposed and did not participate in the forum.
During the roughly 90-minute program, candidates were asked questions ranging from the challenges facing Nobles County to how they will connect with communities of color, ongoing library discussions and collaboration.
Ahlers vs. Zylstra
Both Ahlers and Zylstra are farmers in the 1st District, with Ahlers also serving as the director of public works for the city of Lismore and as a volunteer firefighter. Zylstra is a former University of Minnesota Extension Educator in agriculture and farm business management.
Zylstra said he accomplished a lot during his 14 years on the Nobles County Board, and he'd like the opportunity to serve again.
"I bring experience and knowledge to the position," he said.
Ahlers is currently serving as board chairman and said, "I do feel there could be economic hardships going forward and we need to be cognizant of our spending."
Spending and budgets were both ranked at the top for the two candidates in response to the question about challenges facing Nobles County.
Ahlers said it seems like there's never enough money to go around, and commissioners need to be aware of what they're spending money on.
"Every dollar we spend of the levy is a dollar we have to get from the taxpayers," Ahlers said. "We need to pretty much hold our levy steady. My solution is what we've been doing — trying to make sure we don't spend any money we don't absolutely have to."
Zylstra said the impact of COVID-19 is an immediate issue and the county has to keep its staff and citizens safe.
"Another priority we have to address is our roads and bridges," he said, noting the recent vote authorizing a half-cent sales tax to be earmarked for transportation projects. "Also, retirements. We have a lot of long-time employees that have been with the county for years. I think we have to do an all-out effort to do some cross training so we're ready when some of these key people retire."
Responding to a question on how they would reach out to communities of color and make sure they are heard, Zylstra said the county needs to create a more welcoming environment.
"I think we need to try and get to the leaders of each of the cultural groups and have a roundtable discussion," he said.
Meanwhile, Ahlers mentioned the Coffee with the Commissioners events that took place nearly once a month prior to COVID-19, including one visit to the Adult Basic Education classrooms at the West Learning Center.
"At that particular time, the commissioners encouraged everyone in the room to seek out appointments to advisory boards," Ahlers said. "We'd love people to come out and talk to us. I just wish we could get more people, whether they're diverse or not, to become involved."
At this, Zylstra took the opportunity for rebuttal, recalling a statement made by another commissioner earlier this year that "advisory boards are just that and (county commissioners) don't need to listen."
"That (offends) people who serve on the advisory boards," Zylstra said.
On whether or not there should be an expanded or new county library in Worthington, Ahlers said his stance on a library has not changed in the last four years.
"I said we do not need a new library. I voted against the W.E.L.L. project," Ahlers said. "When the time is right, I think we do a remodel of the present building. I do not support the construction of a new library."
When that time will come, Ahlers didn't specify, noting only that the historical society will free up a portion of the basement when it moves out within the next year.
Zylstra, meanwhile, said the space at the War Memorial Building is the issue, and said the county's mission is to "improve the quality of life of the citizens of the county."
Zylstra said the county paid $238,000 for the armory, plus gave another $500,000 to the historical society for its capital campaign. Now, Zylstra said the historical society still needs $2 million to improve the armory building.
"I think, going forward, the board is going to have to take a look at what our community needs and how we serve our citizens of our community and our county," Zylstra said.
Both Ahlers and Zylstra said they favor collaboration, with Zylstra saying it's important to collaborate with the city and the school district.
"Our CARES funding is proof of what you can do when you work together," replied Ahlers. "I definitely support collaboration; I just don't support a brand new building for a library."
In seeking new opportunities to collaborate, Zylstra said the county already collaborates with cities and townships through its monthly NEON (Nobles Economic Opportunities Network) meetings, and said the W.E.L.L. project idea came from that collaborative effort.
"I also think there's room for collaboration on housing," Zylstra said, adding that it took collaboration between the county, cities and school districts to create the Nobles Home Initiative, a tax abatement program developed to encourage new home construction, several years ago.
Ahlers spoke of the ongoing collaboration with cities and townships regarding the CARES Act funds and creation of a Small Business Assistance Grant program, as well as the collaboration with the city of Worthington Police Department on shared space in the new garage at the Prairie Justice Center.
"I see our public works department as a great place to collaborate," Ahlers added. "We don't need all of this equipment for each entity."
Paplow vs. Rodriguez
Paplow is a 34-year resident of Nobles County and currently serves as construction manager for Johnson Builders, his employer for 36 years. He served on the Bigelow City Council for 16 years, is a firefighter and has been involved in various community organizations.
Rodriguez, who moved to Nobles County in 1990, is employed by the University of Minnesota as a SNAP-Ed educator. She's an alumni of a Blandin leadership program and volunteers in community engagement activities.
Paplow said he sees the county's biggest challenges in transportation and business development.
"We need to try to get roads and bridges fixed up — some of them are pretty bad," he said. "We also need to help out the stores that aren't doing so well and try to get more stores in town here to help the community so they don't have to go to Sioux Falls, Sioux City or Mankato."
Rodriguez said COVID takes priority and that the CARES funding needs to reach as many people as possible. Funding transportation is also a challenge.
"I question a lot of things the county board does," she said. "I'm the type of person that looks outside of the box. I think the county, the city and the school district doesn't engage with community members — especially communities of color."
Rodriguez said women comprise 40% of Nobles County's population, and yet there is no woman serving on the board. (The last female to serve on the board, Diane Thier, retired from her seat eight years ago.)
Regarding how she, as a commissioner, would reach out to communities of color, Rodriguez said she's participated in several voter registration drives and engages with the community in a lot of different ways. She said the county would be better served by offering services during non-traditional hours, and said commissioners should be available 24-7.
"It seems like the hours are getting shorter and shorter for the DMV (Department of Motor Vehicles) and family services," Rodriguez said. "People don't all work an 8 to 5 job."
Paplow said the county already provides a lot of services, but perhaps information can be provided in different languages.
"I think the biggest thing is the language barrier and they're too scared to get help," he said of people of color.
On the issue of a county library, Paplow said the subject came up eight years ago when he campaigned for the District 3 county board seat.
"I agree it needs to be remodeled," he said. "It's a nice location where it's at. The time is not now because of COVID and the money situation the county has. For the future, I would like to see it remodeled and stay where it's at."
Rodriguez said something definitely needs to be done, whether that's remodeling or looking at another building in the future.
"Our demographics have changed. Technology is changing every day," she said. "There's just not enough space. Jackie (Van Horsen, the children's librarian) is doing programming with limited space. I really think it needs to be moved; there's not much room for parking."
Before any decision is made on the library, Rodriguez said the community needs to be engaged.
"A lot of decisions are made by people of power without asking, 'Where would you like it to be?', 'Do you want a new library?' 'Do you want this to be upgraded?' or 'What type of library do you want?' Engaging the young people is vital."
Both Rodriguez and Paplow raised the issue of needed daycare as an opportunity for future collaboration. Rodriguez said some of the $1 million JBS gave to the city of Worthington should be used to establish a daycare.
Paplow said daycare is needed, and people don't want to have to travel to take their kids to a daycare facility.
"They need to have one in town here," he said. "But then you have to find the workers that want to do that, too."
District 1 incumbent Ahlers pointed out that daycares are highly regulated businesses and that the issue has been discussed in frequent NEON meetings in the last couple of years.
The last question of the evening pertained to priorities if funding needs to be cut. All of the candidates circled back to increased collaboration.
Rodriguez suggested a couple of other ideas, including a possible pay freeze for county employees, or asking employees what they think can be cut, rather than relying on information from department heads.
"We have budgets at home and we have to do the same thing as commissioners," added Paplow. "We just have to prioritize."
Tuesday evening's debate was hosted by the Government Affairs Committee of the Worthington Area Chamber of Commerce. It will host a debate next Tuesday with the candidates for Independent School District 518 Board of Education candidates.