Nobles County gives support for possible rail park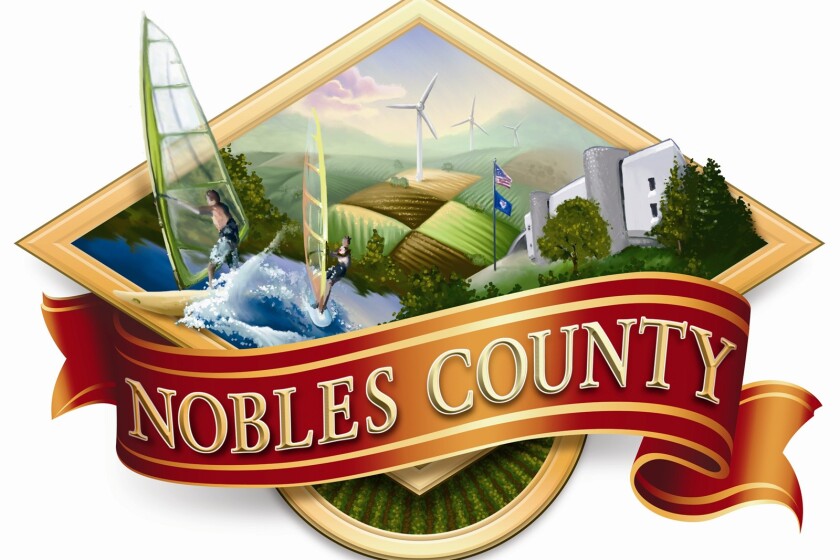 WORTHINGTON — Nobles County commissioners on Tuesday approved a letter of support for the Buffalo Ridge Regional Rail Authority to apply for CARES Act funding to pursue the construction of a Buffalo Ridge Industrial Rail Park project in Nobles County.
The estimated project cost is $12.5 to $13 million, according to Dan Kippley, who works in economic and business development for Ellis & Eastern. An 80-acre parcel in Section 16 of Westside Township, at the intersection of Nobles County 19 and CSAH 35, has been identified for the rail park.
Kippley said the grant requires a 20% match, adding that he's actively working to develop an investment group as Ellis & Eastern is already "tapped out" with its approximately $19.4 million investment in the shortline railroad between Org, south of Worthington, and Sioux Falls, South Dakota. Earlier this year, the railroad was awarded a $14.5 million CRISI (Consolidated Rail Infrastructure and Safety Improvements) grant to help fund those improvements.
Kippley said the industrial rail park will consist of roughly 73,000 feet of storage track to come off the main line. The track will cover approximately half of the 80-acre parcel, with the remainder of the space to be used for transloading from rail to road.
"This will spur on a lot of activity," Kippley told commissioners, explaining that the site will provide for transloading of grain, haul more sand and gravel from the region to either Worthington or Sioux Falls. It would possibly work with an LP gas supplier who wants to build a tank farm in closer proximity to farmers.
Currently, the supplier is bringing in LP by truck from North Dakota, and using rail would result in a cost savings of 3 to 4 cents per gallon.
"We're also in conversations with other people," Kippley said. "They won't make any type of commitment until they see that we've turned dirt."
Kippley said he will be applying for a conditional use permit for the project, subject to a federal CARES Act grant being awarded for it.
"The CARES Act has made a lot of money available for infrastructure," Kippley said. "We're hoping to make the case that this area has been hit by COVID, (impacting) small businesses and farmers.
"We think the railroad can provide more opportunities for grain for markets, lower-riced LP and bringing in aggregates to help the construction industry," he added. "It's a matter of whether we can sell that to the federal government."
In other action, the board:
Awarded a contract to Tri-State Construction, Jackson, to complete the finishing work on the data center space in the Nobles County Government Center. Tri-State Construction was the second lowest of four bidders, at $284,468, but could complete the work in 90 days, the shortest timeframe offered from all bidders.

Awarded a contract to Visions Construction Group of Tea, South Dakota, to improve Courtroom C in the Prairie Justice Center on a 4-1 vote with Commissioner Justin Ahlers opposed. Visions Construction presented the second lowest of three bids at $77,700, but could complete the work in 30 days, the shortest amount of time. The cost will be covered through the county's building fund. The work includes raising the judge's space, adding a door for the judge into the judge's hallway, and creating space for a small jury and small audience.

Approved requests for five-year tax abatement through the Nobles Home Initiative from Thomas and Lindsay Jenniges to construct a new home on his acreage at 11122 310th St., Ellsworth; from Angelle Berreau and Richard Holter to construct a new home at 821 Oklahoma Ave. S., Adrian; and from Mark and Jennifer Wibbens to construct a new home at 108 Ninth St. E., Adrian.

Rejected the lone bid received for the county's bituminous paving contract, as the bid was 23% ($305,000) higher than what had been estimated. Nobles County Director of Public Works Stephen Schnieder said they will seek bids again in the fall, delaying the work until 2021.

Accepted a $27,190.55 grant from the Minnesota Department of Public Safety to enhance the county's GIS database.

Approved a contract with McGrath Consulting Group, Wonder Lake, Illinois, to perform a mutual aid study of the county's nine fire departments and three outside-county fire departments that provide service. The county received a $25,000 grant to complete the study.

Approved requests from Librarian David Bradford to fill the full-time position of adult services librarian (formerly the reference librarian role); and from Sheriff Kent Wilkening to fill a part-time correctional officer vacancy.

Approved a citizen's request to change a yield sign to a stop sign at the intersection of Nobles County 56 and Dillman Avenue. There are sight restrictions on two of the corners due to building sites and trees.
Commissioner Gene Metz visited the intersection.
"In my eyes, it's a dangerous intersection," he said. "You have to be in the intersection to be able to see cross traffic."
Took no action at this point to make changes to signage at the railroad crossing on Nobles County 13. Rushmore City Clerk Colleen Gruis said with increased rail traffic, there is a concern that people are not yielding at the crossing. While the city does not want the yield sign changed to a stop sign, it would like a signal or even flashing lights on the yield sign.
Dan Kippley, with Ellis & Eastern Railway, said that with planned improvements to the rail line, train speeds will increase in the future. He said the community will need to talk with the Minnesota Department of Transportation about the process to create a safer rail crossing there.
Schnieder said he will start the process of finding out what the state needs to have on record, and will evaluate all railroad crossings on paved county roads.
Declared a 2008 Sterling LT9500 truck with plows and sander as surplus property to place on an online auction.

Approved sending a letter to federal legislators seeking COVID-19 support for pork producers impacted by supply chain disruptions at processing plants.

Approved a late fee structure for the new WiFi hotspots available for check-out at the Nobles County Library. The hotspots can be checked out for one week, with a late fee of $6 per day, to a maximum of $30, for those not returned on time.

Recognized Chief Deputy Auditor-Treasurer Cathy Roos for 15 years of service; and Highway Maintenance Crew Chief Steve Schultz for 25 years of service.

Presented the May Excellence in Performance Award to Michelle Morrison, Rock-Nobles Community Corrections.

Appointed Marty Rickers, Worthington, to the Nobles County Planning Advisory Commission.