Supreme Court decision puts pig policy under California control but the fight isn't over
The U.S. Supreme Court has upheld California's Prop 12, but the decision and its dissents left open possibilities for new ways to fight the law that curtails tight confinement of some livestock.
Could an inspector from California show up at your hog farm or the processing plant that buys your pigs? It's possible, said Adi Dynar, attorney with Pacific Legal Foundation.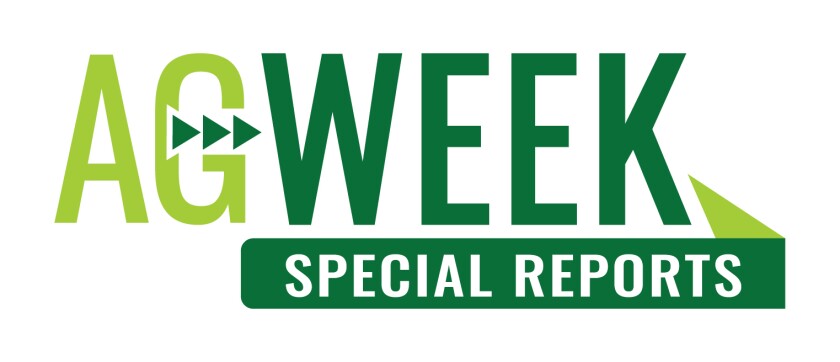 Meat processing was disrupted badly during the COVID-19 pandemic. The shutdown of major packing plants put a spotlight on local processors. Our Agweek Special Report looks at the current state of meat processing, including the impact of state and local funding and the impact of policy.
The U.S. Supreme Court on May 11 handed down a split decision that upheld California's so-called Proposition 12, a voter enacted law that considers confinement of pigs "cruel" if it prevents a pig from "lying down, standing up, fully extending (its) limbs or turning around freely." If they want their pork sold in California, pork producers nationwide are going to have to comply by July 1 with the law. The pork industry still is considering the implications of the law and what happens next.
The law originated from an initiated measure in 2018 which passed with about 63% of California voters in favor of it. The law requires that veal calves, breeding pigs and egg-laying hens be housed in confinement systems that comply with specific minimum standards for freedom of movement, cage-free design and minimum floor space.
Michael Formica, chief legal strategist for the National Pork Producers Council, which along with American Farm Bureau Federation filed the lawsuit that made it to the Supreme Court, expressed disappointment at losing the five-year battle in the Supreme Court.
"Perhaps what's most disappointing is that a majority of the Supreme Court agreed with us that Prop 12 is causing, or will cause significant harm to interstate commerce, especially to the U.S. pork industry," Formica said.
Dynar, who wrote a brief for the National Pork Producers Council that was included in the Supreme Court case, discussed the troublesome implications of Prop 12 for the rest of the country. Documents in the case said California makes up about 13% of the nation's pork market.
"Because California hardly produces any pork products themselves, the effect of Proposition 12 is felt only, or almost exclusively, outside of California," Dynar said.
California trying to enforce Prop 12 raises interesting questions.
"The primary mechanism for California is to send Agriculture Department inspectors all across the U.S. to inspect the farms, inspect the facilities and make sure that they are complying with California's requirements," Dynar said. "So, imagine … a deputy showing up at your door, saying, 'Hey, I'm from California. I want to inspect your facilities.' That in itself kind of shows you the kinds of problems you quickly run into."
Dynar said California tried to piggy-back on U.S. Department of Agriculture inspectors but he said the federal government was not interested in applying state laws.
The pork industry says the U.S. Supreme Court's split decision to uphold California's Proposition 12 law will create hardships for pork producers, consumers and animal health.
Justice Neil Grosuch wrote the majority opinion in the Supreme Court case, and his opinion centered largely on the fact that he and four other justices do not believe Prop 12 violates the "dormant Commerce Clause" of the U.S. Constitution because it does not discriminate between in-state and out-of-state pork producers.
"While the Constitution addresses many weighty issues, the type of pork chops California merchants may sell is not on that list," Gorsuch wrote.
The majority opinion also says that it's not possible to balance whether the economic costs of out-of-state compliance with Prop 12 are too burdensome compared to the perceived non-economic benefits of what supporters in California believe is better animal welfare.
"How is a court supposed to compare or weigh economic costs (to some) against noneconomic benefits (to others)? No neutral legal rule guides the way. The competing goods before us are insusceptible to resolution by reference to any juridical principle. Really, the task is like being asked to decide 'whether a particular line is longer than a particular rock is heavy,'" the opinion said, quoting an earlier court opinion.
"This ultimately, is a political issue that judges are not equipped to judge and make the determination and balance the competing interests that are at play when one state decides to reach outside its borders and regulate activity in another state," Formica said after the opinion was handed down.
However, Chief Justice John Roberts and Justices Samuel Alito, Brett Kavanaugh and Ketanji Brown Jackson dissented, saying they felt the costs could be — and should be — weighed.
"Petitioners identify broader, market-wide consequences of compliance — economic harms that our precedents have recognized can amount to a burden on interstate commerce," Roberts wrote.
Prop 12 is set to go into effect July 1.
Formica called the decision "part of a longer-term fight," and said NPPC is ready to continue to defend its members and the U.S. pork industry.
Both the opinions and the dissents in the case suggest ways forward for opponents of Prop 12. Chief among them is that Congress could enact a nationwide standard for pork production that would supersede California's law.
"That body is better equipped than this Court to identify and assess all the pertinent economic and political interests at play across the country," Gorsuch wrote in the majority. "And that body is certainly better positioned to claim democratic support for any policy choice it may make. But so far, Congress has declined the producers' sustained entreaties for new legislation."
But a dissent from Kavanaugh also suggests that Prop 12 could be challenged on other grounds. He feels there may be arguments that the law may raise Constitutional questions under the Import-Export Clause, the Privileges and Immunities Clause, and the Full Faith and Credit Clause, as well as other cases on the Commerce Clause. On the Full Faith and Credit Clause, his example was that Ohio law expressly allows what Prop 12 forbids.
"If so, the Full Faith and Credit Clause may preclude California from enacting conflicting regulations on Ohio pig farmers," Kavanaugh wrote.
"Especially in Judge Kavanaugh's dissenting opinion, he mentioned a few other areas of law where challenges to these kinds of actions could be launched," Formica said. "Certainly, as we go forward in the coming years, we and other groups who are facing similar challenges might look at those areas."
But Formica said he didn't know if those areas would be met with any more or less success.
"But we are looking at all options, and plotting what our next step will be," he said.
Dynar said there is some glimmer of hope that challenges to laws like Proposition 12 could be successful. He said the Supreme Court was essentially ruling on a "dormant Commerce Clause" challenge and let Prop 12 stand in this case but left the door open for other challenges.
If a producer or processor in a state outside of California were found in violation of Prop 12, that could give rise to another legal challenge.
"I would love to take that kind of a case to the Supreme Court," Dynar said. "It really is a bad, bad statute."
Fear for additional consequences
In his dissent, Kavanaugh also wrote that he feared California's model could be used to create chaos on many issues, in and out of agriculture.
"California's law thus may foreshadow a new era where States shutter their markets to goods produced in a way that offends their moral or policy preferences — and in doing so, effectively force other States to regulate in accordance with those idiosyncratic state demands," he wrote.
And that's a fear for many in agriculture.
Prop 12 violates the "horizontal separation of powers," Dynar said.
"If California is trying to experiment with laws like this, by dictating conduct in some other states, that is a huge constitutional problem, and not just a constitutional problem, an economic one, as we have seen from the California court case, and also a moral one," Dynar said. "Michigan voters do not want California voters to dictate what they should do, and it's as simple as that."
Jill Resler, CEO of Minnesota Pork — which encompasses both the checkoff-funded Minnesota Pork Board as well as the Minnesota Pork Producers Association, said that Prop 12 is an example of overreach by a state regulation.
"The biggest concern is states making decisions on production practices for other states," she said. "What does that look like, on this issue and other issues broadly? And so that's of the greatest concern, this kind of patchwork of federal regulations, state-by-state regulation on production practices across this country.
While Prop 12 affects only pork sold in California, there are similar ideas being floated in other states. Arizona's Department of Agriculture, for example, is instituting a cage-free eggs requirement for a state with very limited egg production.
Proposition 12 does not speak to confinement specifications for meat birds, but the decision is still concerning and disappointing to poultry producer John Zimmerman, of Northfield, Minnesota.
Zimmerman, a member of the Minnesota Turkey Growers Association, raises antibiotic-free turkeys, a combination of conventionally raised and free range, because demand for those turkeys is consumer driven, he said. He's disappointed to hear rules like Prop 12 come through as it can limit sales and create extra costs for producers, which is ultimately passed on to consumers.
"California is a big market, and they are forcing the rest of us, basically, to comply with their demands if we want to continue to do business with them," Zimmerman said. "I don't think the option of not selling to California is a viable one."
Zimmerman said what this rule could mean for the future of meat birds is still unknown — but the concern remains that more rules like this will work down the pipeline.
He prefers to operate his business by giving consumers what they want, rather than giving consumers what the government mandates. If consumers are showing they want a type of meat raised in a specific manner, and that they are willing to pay the cost, then producers will adjust to meet that demand.
"We just don't want to see it mandated or legislated that we all have to comply with those regulations," Zimmerman said.
Among all those in his industry, the only ones happy about giving animals more space are the heat suppliers, Zimmerman said. Fewer animals in a building means more heat is needed for the upper Midwest's frigid winters.
"The rest of us are having issues, but the heater guys, they're looking forward to this," he said.