Trojan marching band shows spirit, quality at Peach Bowl
Band returns today with several awards to their credit
WORTHINGTON — By almost any measure, the Worthington High School "Spirit of Worthington" Trojan Marching Band's tour to the Chick-fil-A Peach Bowl in Atlanta, Ga., has been a success.
Loaded on four coach buses, the group is slated to arrive in Worthington around 7:30 p.m. tonight as their week-long tour rolls to its end.
"The band has been really well received," said director Jon Loy, who was also formally recognized for his individual contributions to the festival.
"Worthington really made a big impression on everyone, and not just musically," he continued. "The students' unselfishness and willingness to help others, and to reach out supportively, caused several representatives of other participating bands to comment that our genuine spirit and love for band was infectious."
Fittingly, at the Peach Bowl Music Festival Awards dinner Sunday evening, the Trojans received the Peach Bowl Music Festival Spirit Award, along with several other honors. The WHS band also was named Field Show Grand Champion and additionally earned first place in the concert band, field show and parade categories.
Worthington's four senior band commanders — Sarah Desmith, Addison Wass, Cynthia Souksavath and Katie O'Donnell — were named the outstanding drum majors in the field show competition, while the band's color guard and auxiliary members were cited as outstanding in their category for the parade competition.
"People really enjoyed our field show," affirmed Loy, mentioning that the band missed receiving the grand champion parade distinction by a fraction of a point.
"We were honored to perform at the Peach Bowl FanFest along with the other college and high school bands, and we had so many opportunities to represent our state and community," he added.
"Our kids performed more than any other band here, and that was by invitation from the Peach Bowl Music Festival committee."
Other high school bands involved were from Ohio, Pennsylvania, Arkansas, Georgia and Pennsylvania. Loy said such geographic diversity aided the students in learning more about different parts of the country.
"In other states, they have different marching styles and musical selections — and Minnesota bands have a distinctive way of doing parade shows, so it was fun to offer that.
"We kicked off the Peach Bowl parade, and the parade organizers liked it so much they said, 'We need to do this every year,'" continued Loy.
Although Loy has taken bands to several other national appearances since beginning his tenure as WHS band director in 2006, he feels this trip was somewhat singular.
"What was unique about this year's Peach Bowl is that all of the participating band directors had met last June on a site visit to Atlanta," explained Loy.
"We [the directors] became good friends over the months leading up to the event, which allowed for all of our bands to have a really great camaraderie; they cheered for one another and took group pictures together, and the Peach Bowl Music Festival organizers said they'd never seen such a close-knit group of bands.
"It was a special year for the Peach Bowl and the bands that happened to be attending this year."
The WHS parade show, a patriotic presentation titled "We the People" that opens with portions of taped speeches of President John F. Kennedy and civil rights leader Martin Luther King, was "very well received everywhere we performed it," said Loy.
"How appropriate to have those messages from such iconic U.S. figures at the heart of it."
Loy has also been gratified to see the thousands of views the Trojans' Atlanta performances received via its Facebook page.
"And they performed live for thousands, too, so we are very appreciative of all who got us there and who helped make it happen while we were there," said Loy, mentioning the dedication of his band staff and parent volunteers, among others.
Overall, Loy said all aspects of the trip had gone smoothly, including bus travel and sightseeing, which culminated for the group Monday at sites including the National Center for Civil and Human Rights, the World of Coca-Cola and the CNN Tower, among other places.
"This brings back great memories of when the Trojan band went to the Outback Bowl Festival in the Tampa, Florida, area during the holiday break between Christmas and New Year's of 2014 to 2015," said Loy.
"That tour to Tampa helped bring us to this point, in terms of performances and positive attention for our marching band program."
With an approximately 22-hour trip home still ahead of him and his musical entourage, Loy was positive and gratified by the way his band students represented their school district and community at all Peach Bowl activities.
"We are grateful for the invitation," he said, "and we're excited to see where this experience may take us in the future."
1
/
4:
Four of the awards won by Worthington High School's marching band for their Peach Bowl performances are shown during a Sunday evening banquet in Atlanta. (Submitted photo by Anne Foley)
2
/
4:
Three more of the awards won by the WHS marching band over the weekend. (Submitted photo by Anne Foley)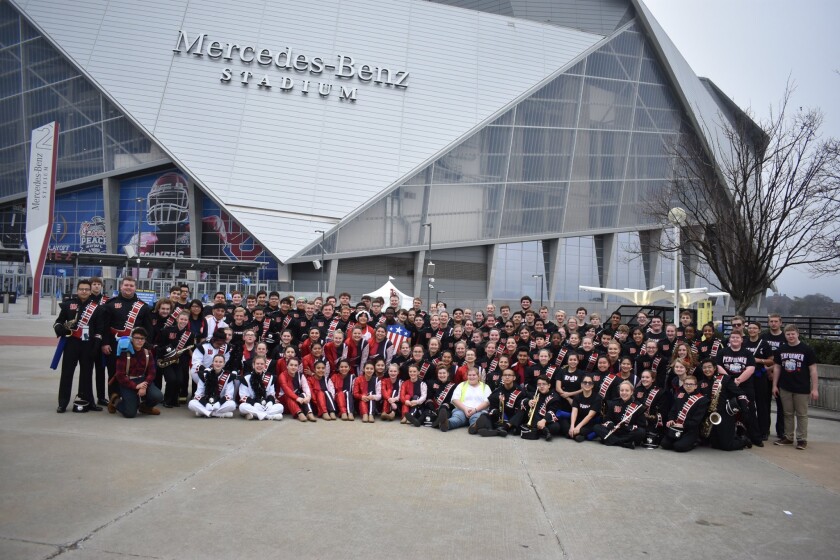 3
/
4:
The "Spirit of Worthington" Trojan Marching Band poses Saturday outside Mercedes-Benz Stadium in Atlanta soon after performing its "We The People" show for the final time. (Submitted photo by Anne Foley)
4
/
4:
Worthington marching band students perform in Saturday morning's Peach Bowl Parade. (Submitted photo by Anne Foley)