Updated: Area experiences 24-hours of rainfall mid-week
WORTHINGTON -- Areas across southwest Minnesota and northwest Iowa experienced nearly 24 hours of consecutive rainfall Wednesday and into Thursday. According to the National Weather Service in Sioux Falls, S.D., in a 48-hour period, the Worthingt...
WORTHINGTON - Areas across southwest Minnesota and northwest Iowa experienced nearly 24 hours of consecutive rainfall Wednesday and into Thursday.
According to the National Weather Service in Sioux Falls, S.D., in a 48-hour period, the Worthington-area received approximately 4.67 inches of rain. Rainfall began at 6:51 a.m. June 20 and continued through 4 a.m. June 21, said NWS Meteorologist Alex Ferguson. Light rain continued through Thursday morning and cooler temperatures persisted.
Other official inch-totals from NWS observers in southwest Minnesota include: Luverne, 5.35; Jasper, 4.02; Pipestone, 2.85; Slayton, 3.07; Lakefield, 3.12; northeast of Round Lake, 2.87; Storden, 2.83. In the northwest Iowa region, inch-totals include: Sibley, 4.92; Rock Rapids, 4.56; Lake Park, 3.09; and northeast of Larchwood, 5.72.
Future chances for rainfall exist today and Monday into Tuesday of next week, Ferguson said.
Rainfall leads to road closures, damage Motorists throughout the area had to find alternative routes, as the rain caused closures of certain areas of interstate, state and county highways and gravel township roads across the region.
Counties that requested state disaster assistance by Friday afternoon included Nobles, Murray and Rock counties. That also includes Osceola and Lyon counties in northwest Iowa.
According to Nobles County Emergency Management Director Joyce Jacobs, the county decided to request disaster assistance because a number of townships had reported damage to her office Thursday. Damage reports included culvert damage, washed out road shoulders and gravel washed off the roadway. No roads in the county completely washed away, she said.
The full extent of damage was still unknown Friday afternoon, as areas with standing water over gravel roads persisted.
"Some roads are still barricaded and water is over the road," she said. "Once that goes down, they'll be able to see what the situation is."
Nobles County roads experienced minor damage, which Nobles County Public Works Director Steve Schnieder said was rectified within a day.
"We didn't have any roadways wash out and haven't noticed any damage to culverts," Schnieder said.
Schnieder said the majority of work accomplished due to the rainfall was barricading roads and then re-graveling when the water cleared.
One county roadway remained closed just before noon on Friday.
The rainfall amounts also directed attention to the center of Worthington.
According to Worthington Public Works Director Todd Wietzema, the city's infrastructure largely escaped much damage as a result of the recent rainfall.
The concern, he added, was around Lake Okabena, as it reached its maximum capacity this week.
Campgrounds at Olson Park were evacuated around 1 a.m. Thursday morning, and flooding near Sunset Bay across the bike trail caused damage, he said.
Wietzema said the city did sandbagging on the corner of Lake Street and Seventh Avenue.
A number of watercraft was reported floating unclaimed on Lake Okabena early Thursday morning. Docks and boat lifts were also under water at points across the lake.
Nobles County Sheriff Kent Wilkening issued a no wake zone early Friday, which was in effect until further notice.
No wake zones were also issued on Cottonwood Lake in Windom and at Fish Lake between Lakefield and Okabena in Jackson County.
A number of homes also experienced water damage, including sewer backups, Wietzema said. City Administrator Steve Robinson said residents may make arrangements with Schaap Sanitation to discard of any water-damaged items.
Crop damage Because the drying period and temperature could affect the survivability of area crops, it was unknown Thursday to what extent the rainfall would affect the crops. However, considering the year's late planting season and already saturated soil, Minnesota Extension Educator for Crops Liz Stahl could not think of an immediate benefit the crops would experience due to the amount and timeliness of the moisture.
"The biggest concern are the areas where crops are under water," the Worthington-based extension educator said Thursday. "We certainly do have those areas throughout the fields, and the question there will be how long are those crops under water, will they survive and are they going to dry up?"
Corn and beans immersed under water do have survivability potential, Stahl said. Depending on the temperature and crop stage, these crops can possibly survive two to four days, she said.
Farmers should be able to determine in three to five days if the crop will survive, she added.
Stahl said other possible concerns about the recent amount of rainfall include reduced yield, stalled root development, nitrogen losses, increased risk of disease and mud residue affecting plant's ability to connect to photosynthesis.
While the moisture will likely prove adequate for farmers that were able to apply pre-emergent herbicide, Stahl encourages farmers to pay close attention to herbicide labels and staying within stage of growth restrictions to avoid crop injury or residues in the harvestable crop.
"It's been a tough year to make herbicide applications do any kind of work," she said.
The recent rain won't affect area farmers the same, considering how certain areas were able to dry out enough this spring to plant, while others never did rid of areas with standing water, and planted around them.
"There's some areas that have been inundated more than others and others have been a little more fortunate," she said.
Minnesota Extension has a variety of resources related to flooded crops on its website:
http://www.extension.umn.edu/agriculture/crops/
1
/
3:
A Carp gets caught in the grill of the overflow outlet at the flood control pond at Minnesota West. (Tim Middagh/The Globe)
2
/
3:
A recent rainfall causes a section of a cornfield 6 miles north of Worthington and one mile west on 180th street to flood. (Tim Middagh/The Globe)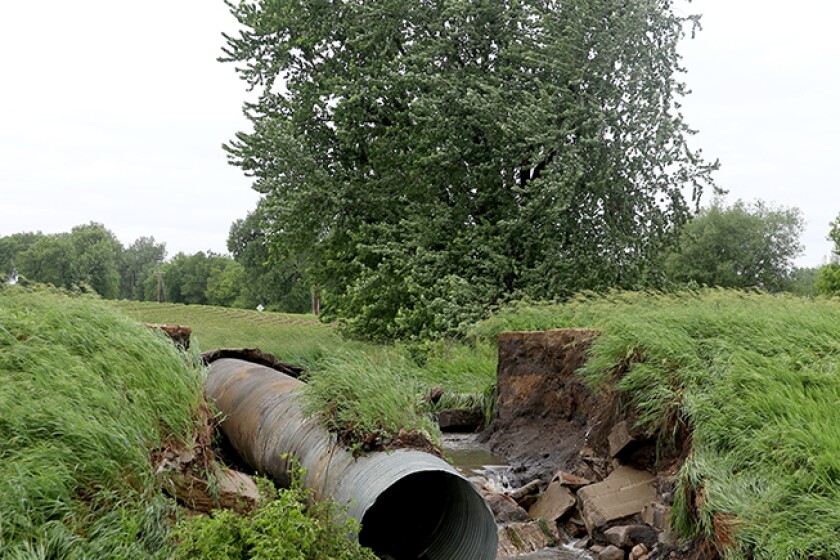 3
/
3:
A culvert washed out of the roadbed west of Worthington on Oliver Ave. and Fox Farm Road on 260th street. (Tim Middagh/The Globe)