Year in Review 2020: Many Worthington parks see improvements
Work made possible by local option sales tax revenue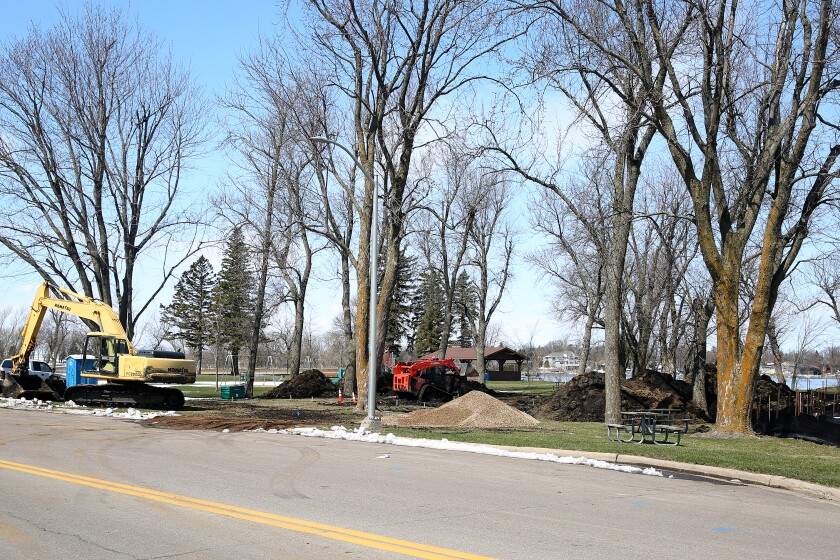 WORTHINGTON — Parks have long been one of this community's most visible amenities, and there has been multiple investments made to enhance these spaces over the course of the year.
These projects represent Phase One of the total local option sales tax projects approved by city voters in November 2018. Here's a short rundown of some of the Worthington parks and improvements they've received:
BUSS FIELD: A new restroom building was constructed near the parking lot.
CENTENNIAL PARK: A new shelter house nearly identical to the old structure, with its architecture complementing the new Beach Nook building, has gone up. New playground equipment has been added at the park, complete with a replaced safety surface. Trail work in the vicinity of the Beach Nook has also been done.
Along with the Centennial Park improvements, the Beach Nook began renting kayaks, paddleboards and canoes this past summer.
SLATER PARK: The old restroom building at Slater Park was razed and replaced by a combined restroom and shelter house., and there's a new parking lot as well.
Worthington Director of Public Works Todd Wietzema said last week that there's some work remaining at the facility, including plumbing and installation bathroom partitions as well as tree planting. Once opened (not this winter), the Slater Park restrooms will be available year-round.
LUDLOW PARK: The old restroom was razed and new facilities are now in place., as well as a new parking lot.
SUNSET PARK: The city installed additional concrete pads this spring at the park's boat landing and has redone the drive coming off West Shore Drive. It's now a concrete-paved area.
PLEASANT PARK: A contract was awarded to rebuild the park's two tennis courts.
OLSON PARK: The city improved electrical services to the park's individual campsites, upgrading them to 50-amp services.
TRAIL LIGHTS: The multipurpose trail that extends from 10th Avenue along Whiskey Ditch to Oxford Street is now lit..
One additional local park project is already on the docket for 2021. Chautauqua Park will be the home this coming spring to a new all-inclusive playground, thanks to fundraising spearheaded by the Worthington Early Risers Kiwanis. The club, which received a $125,000 matching grant from the Worthington Regional Health Care Foundation, presented a check of more than $253,000 to the city for the project in March. The city will also contribute $100,000 in local option sales tax revenue toward the effort.
Work has already also begun on another high-visibility project to be finished in 2021: the 10th Street Plaza. Included will be reconstruction of the paved area near the intersection of 10th Street and Second Avenue, a new shelter building, public restrooms, green space, a 10-foot trail and an area at the terminus of 10th Street dedicated for an art exhibit. The placeholder budget for the project is $1 million.