Saliva testing site for COVID-19 now open in Worthington
Hosted by the Worthington Event Center, the site is open from noon to 7 p.m. Mondays, Thursdays and Fridays; and from 10 a.m. to 4 p.m. Saturdays and Sundays.
WORTHINGTON — Eight tables — each topped with a box of sanitizers, paper towels and laminated directions — were set up inside the Worthington Event Center Thursday morning as Vault Health prepared for the noontime opening of Worthington's semi-permanent saliva testing lab for COVID-19.
The event center will serve as a no-barriers public test site at least through February as the global pandemic continues, according to Adam Schlesinger, state field director for Vault Health. The company is coordinating all 22 saliva testing sites across the state, with Worthington selected as the latest community to host testing. The community is the only one in southwest Minnesota — outside of Mankato — to provide the saliva test.
The testing site at the Worthington Event Center, 1447 Prairie Drive, is open from noon to 7 p.m. Mondays, Thursdays and Fridays; and from 10 a.m. to 4 p.m. Saturdays and Sundays. Appointments are encouraged online at mncovidtestingappt.as.me/schedule.php, although walk-ins are welcome.
Upon entry, individuals will be asked to don a disposable face mask and follow signs to the testing area. A table containing individually wrapped saliva kits — each tube marked with a barcode for ease in tracking — awaits just inside the room, and people will be directed to one of eight tables set up for testing.
Vault Health has hired local individuals to oversee the testing and offer assistance during the process.
People with a smartphone will be able to complete the testing with little help, as the directions ask them to create an account with their name, address, email address and phone number. This information is necessary to receive the results and to assist with contact tracing in the event of a positive test. For families, a separate email is needed for each individual.
During the registration process, individuals will be asked if they've had a recent exposure to someone who tested positive for COVID-19 and, if they are feeling sick, will be asked when the symptoms began. There is also an insurance component on the website, although with the barrier-free program, those who aren't insured — or whose insurance won't cover the cost — will not be billed.
Site workers will have iPads available to assist those who do not have a smartphone, and work-arounds can be done for those who don't have an email address so that they can receive their results via telephone.
"We want to make sure everyone stays healthy and safe," said Shawn Schloesser, a community and business development specialist with Minnesota's Region 9, who was assisting at the site on Thursday.
For an accurate test, people are asked not to eat or drink anything or use tobacco products within at least 30 minutes of submitting a saliva sample. Two milliliters of saliva is needed for the testing.
Schlesinger said there's no time limit for people to give their sample, while Schloesser said it's easier if people work on building up saliva in their mouth as they work through the information screens on their smartphone.
"It's a no-pressure situation," Schlesinger said.
Once an adequate amount of saliva has been collected in the tube, the individual will raise their hand and an aide will verify the sample.
Once the tube is capped, a blue liquid releases in the saliva to keep it viable until it reaches the testing lab in Oakdale. Samples will be sent to the lab at the end of each day the test site is operational. People should receive their results within 24- to 48 hours, Schlesinger said.
Because the test site is set up to assume that everyone who enters the facility is positive for COVID-19, signs are used to mark entrance and exit points for a one-way direction through the testing area.
"We want to make sure everyone is safe and comfortable," Schloesser said.
There is no limit on how many times a person can go through to be tested while the site is operational. People are advised to get tested if they are not feeling well, or if they have come into contact with someone who tested positive for the novel coronavirus.
The Worthington testing site is open to anyone who wants to be tested — including people who live out of state.
Worthington City Administrator Steve Robinson, who attended Thursday morning's media event, said the city is happy to be working with the state's Emergency Operations Center to host a local saliva testing site for COVID-19.
Several weeks ago, Nobles County joined a pilot project for saliva testing in which people could order an at-home test kit, submit their sample once the kit arrived and mail it back to the testing lab to await results. Schloesser said at-home testing remains an option for the public, but coming in for testing at the event center will speed up the process.
As a public service, we've opened this article to everyone regardless of subscription status. If this coverage is important to you, please consider supporting local journalism by clicking on the subscribe button in the upper righthand corner of the homepage.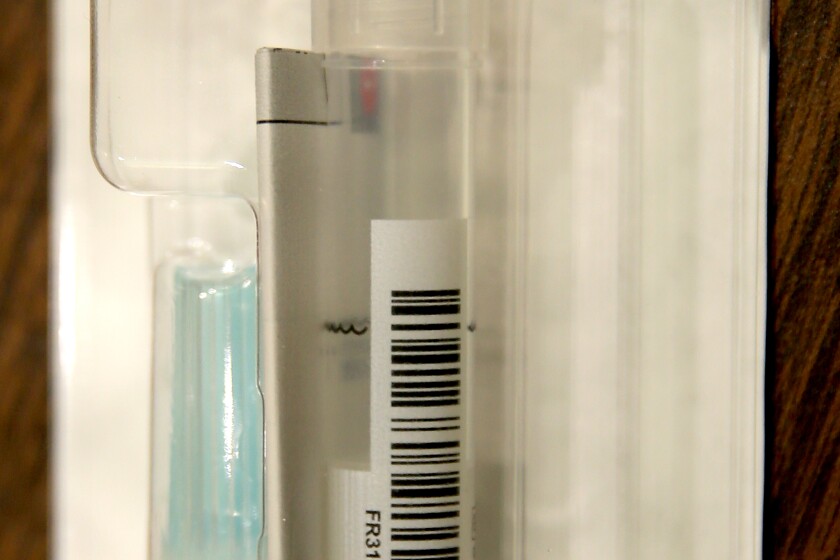 1
/
4:
COVID-19 test kit at the Worthington Event Center before Worthington's Saliva Testing Clinic opens at noon Thursday. (Tim Middagh/The Globe)
2
/
4:
Instructions for testing at Worthington's Saliva Testing Clinic. (Tim Middagh/The Globe)
3
/
4:
State of Minnesota COVID-19 Info displayed at Worthington's Saliva Testing Clinic. (Tim Middagh/The Globe)
4
/
4:
COVID-19 test kits at the Worthington Event Center before Worthington's Saliva Testing Clinic opens at noon Thursday. (Tim Middagh/The Globe)