2022 GLOBE ALL-AREA FOOTBALL TEAM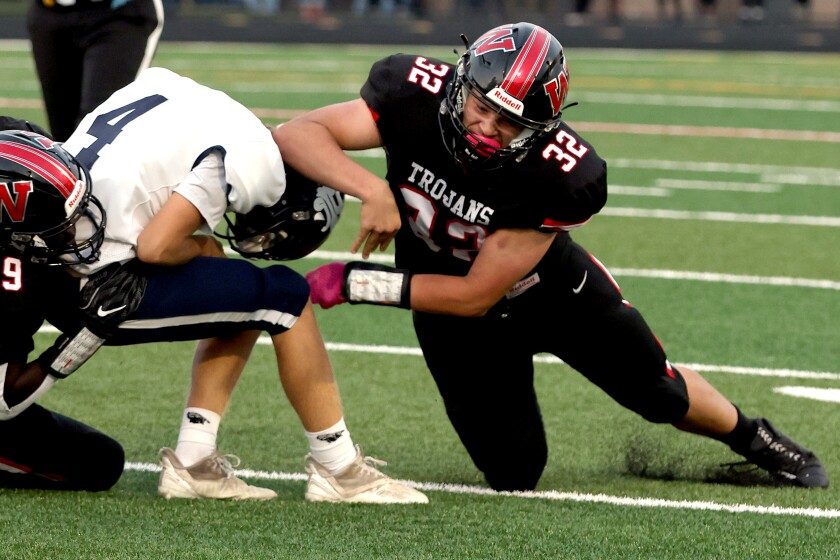 We are part of The Trust Project.
OFFENSE
Kellen Johnson
Quarterback
Pipestone Area
A star passer and runner for three seasons, Johnson holds Pipestone school records for touchdown passes (51), passing yards (4,827), completions (344) and attempts (671). Completed 120 of 240 aerials in his senior season for 1,752 yards and 17 TDs. Chosen to participate in the Minnesota Football Coaches Association 2022 High School Football All-Star Game.
Abe Paulzine
Quarterback
Murray County Central
A leader and class act, Paulzine always focused on what was best for the team. Unselfish. Does all the little things right. The Rebels needed to pass more often than they did in 2021, and Paulzine responded by completing 82 of 163 throws for 1,093 yards and 15 touchdowns. Also rushed 87 times for 301 yards and five TDs.
Brady Ross
Quarterback
Westbrook-Walnut Grove
A very accurate passer, Ross completed 479 of 809 passes in 2022 for 5,120 yards and 34 touchdowns in his career. Completed 62 percent of his 318 passes in 2022. His ability to throw timing routes kept drives alive when opposing defenses dropped into coverage. Also threw the deep ball well.
Tyce Gunderson
Quarterback
Harris-Lake Park
A northwest Iowa standout, Gunderson rushed for 1,028 yards and 20 touchdowns while passing for 987 yards and 16 touchdowns as a senior. Also had a 37-yard receiving TD and a 55-yard TD fumble return. Amassed 41 solo tackles on defense as a linebacker. Has 3,589 career passing yards with 60 TDs plus 1,572 rushing yards and 33 TDs.
Isaac Simonson
Quarterback
Red Rock Central
A junior, Simonson completed 123 of 228 passes for 1,407 yards and 18 touchdowns, with just seven interceptions. With one more season to go, he's already passed for 1,863 yards.
Gabe Wolff
Running back
Jackson County Central
A tough runner who could achieve in the short-yardage situations and break a long run to paydirt, Wolff helped the Huskies qualify for the Minnesota state Class AA tournament with a perfect record. The thousand-yard runner averaged nearly seven yards per tote in 2022 and set a new school record with a 96-yard TD run in the regular season.
Carter Benda
Running back
Murray County Central
A starter since his sophomore year, Benda's tough running belied his 5-6, 165-pound frame. A shoulder injury limited his availability as a senior, but he returned near the end of the season. Speedy and hard-nosed, Benda was also a great leader.
Quentin Wolf
Fullback
Adrian/Ellsworth
A 6-foot, 190-pounder, Wolf was moved from tailback to fullback as a senior without a single complaint, then became the lead blocker for a teammate who rushed for 867 yards in eight games. He personally rushed 166 times for 899 career yards. As a linebacker, he made 53 tackles in 2022 and 187 for his career.
Carter Therkilsen
Running back
Red Rock Central
This freshman tailback rushed 265 times for 1,533 yards over the fall season, with 11 touchdowns. Also caught 11 passes for 105 yards and a score.
Chase Bootsma
Running back
Edgerton
The 6-3, 170-pound Bootsma led District 9 South (West) in rushing with 1,137 yards on 174 carries over eight games. He finished the campaign with 1,423 yards and nine touchdowns. Defensively, he intercepted four passes. Took some hard hits, and gave some hard hits, too.
Kasey Gerhard
Lineman
Worthington
A team captain for the Trojans, an outstanding leader, and a team player. Gerhard is a three-year starter on the offensive line and was a reserve as a freshman. Improved every year. Smart, and helpful to his teammates. Became a very good defensive lineman as a senior.
Matt Haley
Lineman
Jackson County Central
Co-Offensive Lineman of the Year in his district, Haley was consistently outstanding on defense. A team captain who was sometimes used in the defensive line. Helped the Huskies to a 12-1 record. A success everywhere he played.
Dawson Frodermann
Lineman
Adrian/Ellsworth
The anchor of the Dragons' offensive line for the past three seasons, the 6-2, 220-pound Frodermann could always be counted on to make a good block. He pulled often and was successful. Made 20 tackles from his defensive line spot in 2022 and finished his career with 89 tackles.
Kole Curry
Wide receiver
Westbrook-Walnut Grove
Called by co-head W-WG coach Carter Ross the most "electric" player he's coached in 25 years, Curry caught 90 passes for 774 yards and three touchdowns in 2022. Also rushed 50 times for 341 yards and four TDs while completing seven of 16 passes for 128 yards. Was W-WG's primary offensive threat.
Rysley Borman
Wide receiver
Pipestone Area
Borman caught 43 passes for 718 yards and nine touchdowns over the 2022 campaign. Also returns kicks and plays safety on defense, where he intercepted two passes and returned one for a score. Broke the school record for yards in a game by catching eight passes for 219 yards. Tied a school record with four touchdowns in a game.
Christian Tentinger
Tight end
Murray County Central
The focal point of the MCC offense, Tentinger led his team in receptions and touchdowns during the fall, catching 35 for 452 yards and eight scores. Has great hands and the ability to get open anywhere on the field. Played multiple positions on defense and was constantly around the ball.
DEFENSE
Jared Fischer
Edgerton
Lineman
The Lineman of the Year for his 9-Man district, Fischer had 12 quarterback sacks this season. He was also an important cog in Edgerton's ability to become the No. 1 offensive team in the district as the Flying Dutchmen rushed for 2,422 yards. Fischer, at six-foot, 210 pounds, is the guy EHS ran behind when it had to convert in short yardage situations.
Caden Miller
Lineman
Pipestone Area
A defensive tackle, Miller had 37 tackles and three sacks in 2022. The leader of the PA defensive line for two seasons, the 6-3, 300-pounder helped the Arrows hold opponents to an average of just 30 yards rushing per game. Voted the Defensive Lineman of the Year in the sub-district.
Cameron Scholten
Lineman
Jackson County Central
Named co-Defensive Lineman of the Year in the district's Silver division, Scholten is a three-year starter. He was a key player in the offense, which averaged 390 yards and 34 points per game heading into the state tournament. Was also key on a defense that allowed just 217 yards and 12 points per game.
Cody Moser
Nose tackle
Hills-Beaver Creek
The 6-6, 330-pound Moser had 7.5 tackles for loss on defense. He moved very well for his size and was often double-teamed from his nose tackle position, which made it easier for H-BC's linebackers to make plays. Offensively at guard, the Patriots often ran right behind him.
Wyatt Meyeraan
Lineman
Heron Lake-Okabena/Fulda
An excellent center on offense and a force on defense, Meyeraan led HL-O/F with 81 tackles including 15 for loss. Had 2.5 sacks, forced two fumbles, and had two fumble recoveries. A junior, he also punted and kicked. Came into his own late in the season, which helped the Coyotes become more competitive. Has a great motor and is a great penetrator into rival backfields.
Riley Tatge
Defensive end
Hills-Beaver Creek
Physical and athletic, the 6-2, 190-pound junior showed a toughness on both sides of the football (He's a tight end on offense). Had 36 tackles and 8.5 tackles for loss in the fall, with three fumble recoveries and one quarterback sack. Offensively, caught 19 passes for 301 yards and two touchdowns.
Keaton Skarupa
Defensive end
Red Rock Central
The leader of the RRC offensive line for the past two years, Skarupa has blocked for back-to-back thousand-yard rushers. From his defensive end position, he made 109 total tackles as a senior, including 60 solos. Made 22 tackles for loss. Had 216 career tackles, including 111 solo.
Caleb Vancura
Linebacker
Jackson County Central
Co-Linebacker of the Year in his district, Vancura is a three-year starter. A dominant blocker at tight end on offense, he caught nine passes in 2022 for an average of 26 yards per reception. Also played on the line on defense and was a playmaker everywhere -- sometimes unstoppable. Has been named to the Minnesota Football Coaches Association Minnesota High School All-Star Game.
Nasim Zeidi
Linebacker
Worthington
A two-year captain, a great leader and an outstanding teammate, Zeidi was always reliable on the field. Was excellent at recognizing plays and calling defensive sets. Has a knack for finding the football. Named the district Linebacker of the Year as a junior. In his senior year, he made 84 tackles, six of them for losses. Also intercepted two passes.
Jaren Winselman
Linebacker
Adrian/Ellsworth
A middle linebacker on defense, a guard on offense, this 6-foot, 220-pounder was a team leader on the defensive side. He played from sideline to sideline with a physical style, leading the Dragons in tackles for a second consecutive season, with 79. An emotional player, he helped set the tone for A/E.
Rogen Smidt
Linebacker
Pipestone Area
The Arrow's best blocker from his tight end/fullback position, the senior Smidt stood out as a pass-catcher in crucial situations. Led the team defensively in tackles with 67. Has more than 150 career tackles. Has a knack for making big play after big play, as evidenced by his 29 career tackles for loss.
Vander Mathiowetz
Linebacker
Red Rock Central
Accumulated 134 total tackles on defense in 2022, with 68 solos and 13 tackles for loss. The senior finished with 227 total tackles in his career, including 110 solo and 22 for loss. As a tight end on offense, Mathiowetz caught 36 passes for 510 yards and nine touchdowns in 2022.
Connor Connell
Linebacker
Luverne
An excellent athlete, the 6-4, 225-pound Connell finished the year with more than 50 tackles from his linebacker spot. Has an uncommon blend of size and speed. On offense he was moved all over the field and led the team in rushing with 411 yards and seven touchdowns. Passed for 1,026 yards and nine touchdowns and also caught 18 passes for 251 yards and two scores.
Abagotte Opiew
Cornerback
Worthington
A captain for the Trojans, Opiew was a shutdown cornerback whose quickness and speed could lock down opposing receivers. In the second half of the season he began playing quarterback on offense, where he administered that side of the ball an injection of life. Made several big runs, giving opposing defenses fits on how to cover him.
Gannon Ahrendt
Cornerback
Luverne
A 6-4, 160-pound senior, Ahrendt was a rare four-year varsity player for Luverne. His career was filled with big plays. He scored four touchdowns this season against arch-rival Pipestone Area in the annual fight for the Battle Axe. Was an exceptional cover corner and was often assigned to other teams' top receivers. Finished the season with 35 receptions on offense for 705 yards and 11 touchdowns.
Marenono Opiew
Safety
Worthington
Also a captain for the Trojans, Marenono was versatile on defense and played with intelligence. One of the team's best tacklers and cover defenders, he could be a weapon on offense as a receiver where he averaged more than 20 yards a reception. He also punted well. Made 46 tackles with one interception on the defensive side.
--Text by Doug Wolter
WORTHINGTON -- They shot 3's in the first half like it was taking a walk in the park. They played stifling defense. They took advantage of a Worthington High School girls basketball team that was missing three productive players.
The Minnesota West women's basketball team held together in the second half to protect a lead and defeat a strong Riverland team, 77-70, in Worthington on Wednesday
Adrian/Ellsworth junior Jaren Winselman is a state tournament-level wrestler hoping to get back this year to the big event