All-Area Boys Basketball Team chosen for 2023
Here it is: The 2023 Globe All-Area Boys Basketball Team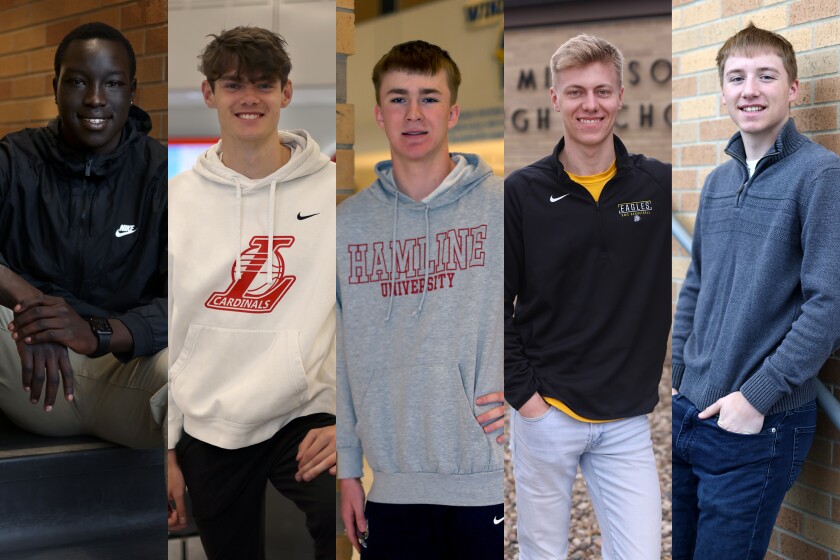 Gannon Ahrendt
Senior forward
Luverne Cardinals
"If you are looking for the most talented (basketball player) it is probably him," said an area coach on the ability of LHS senior basketball player Gannon Ahrendt.
Ahrendt has played on the Cardinals varsity basketball team since his eighth grade year, and did not disappoint in his final senior season. Ahrendt broke the Cardinals all-time scoring record in a January 6 game against Marshall with 1,248 points.
Ahrendt was a matchup nightmare for area teams. He can score from anywhere but truly shines in the paint, where his outstanding leaping skills make everything look easy.
Henry Erickson
Senior guard
Windom Area Eagles
There was no team that moved faster than Windom Area boys basketball this past winter season which averaged 90.6 points per game. The Eagles offense flourished with senior point guard Henry Erickson at the helm.
Erickson could score and distribute at the same time. He scored 24.1 ppg and averaged 11.4 assists. When Erickson had the ball in his hand, there was a strong feeling that somebody for the Eagles was scoring. He pushed the Eagles to score early, often and fast. Erickson was a true and modern point guard for the Eagles.
Erickson scored 599 points and broke his junior record of points in a season. His 850 career assists are certainly near the top of the all-time list in Windom and his name is cemented in third all-time, with 1,569 career points.
Dawson Rieck
Senior guard
Southwest Minnesota Christian Eagles
"Rieck's Range Starts Here" were among signs that could be seen in the SWC student section this past winter season. Dawson Rieck was an impressive point guard for a very talented and dangerous Eagles team.
Rieck was a textbook definition of a floor general. He had good vision, ball handling and charisma. He could pass to the multitude of scoring threats on his team, or even spot up from just past the logo for deep 3-point shots.
Rieck finished his high school career with 978 points for the Eagles. He was adaptable throughout his time at SWC. And as the point guard this past season he proved himself as one of the best basketball players in the area.
"One of the best I have ever coached," said Eagles head coach Jamie Pap.
Abagotte Opiew
Senior forward
Worthington Trojans
Abagotte Opiew was voted as team MVP for the Trojans at their end of season awards banquet, and for good reason. Opiew was a talented scorer and defender for the Trojans. He would blanket the top option for the opposing team while consistently scoring 12 points per game on efficient shooting.
Opiew and the rest of his senior class pushed the Trojans to one of their best basketball seasons in recent memory. Opiew could score from anywhere, he finished strong under the rim and would punish opponents if left unchecked in the 3-point corners.
But where Opiew really shined was on defense. Strong enough to keep opponents from going through, and quick enough to keep them from running by, there truly was no easy way to score against him. An athlete to the core, Opiew was instrumental to the Trojans success.
Kaleb Knothe
Junior guard
Worthington Trojans
Knothe was the emotional engine of a very good Trojans squad. He had ice in his veins, and made two buzzer-beating shots. The first one came in the Fergus Falls Holiday tournament, and the second came in Pipestone to beat the Arrows 63-62.
Knothe does a lot of work for the Trojans that does not fill the stat sheet. He plays lights out on defense. He has good vision and made smart decisions as a secondary ball handler and pass-aficionado. He also can take a charge and positions himself well to take them often.
Knothe scored just over 12 points per game on a team that played a defense first philosophy. Unselfish to the core, Knothe was a loud pulse behind the Trojans' breakout season.
Marenono Opiew
Senior forward
Worthington Trojans
Jarett Kuipers
Senior center
Southwest Minnesota Christian Eagles
Sawyer Drent
Senior forward
Heron Lake-Okabena/Fulda Coyotes
Dan Kleven
Senior guard
Westbrook-Walnut Grove Chargers
Kole Curry
Senior guard
Westbrook-Walnut Grove Chargers
Bryce Hoekman
Junior center
Murray County Central Rebels
Abe McKibbin
Senior guard
Windom Area Eagles
Erik Hesebeck
Senior guard
Jackson County Central
Tanner Graphenteen
Senior guard
Murray County Central Rebels
Travis Rogotzke
Senior guard
Jackson County Central Huskies
Mikele Walu
Senior guard
Worthington Trojans
Jacob Uilk
Senior guard
Southwest Minnesota Christian Eagles
Hudsen Jenniges
Sophomore forward
Westbrook-Walnut Grove Chargers
Drew Rothenberger
Junior guard
Windom Area Eagles
Gavin DeBeer
Junior forward
Luverne Cardinals