Central Lyon holds off Sibley-Ocheyedan girls basketball team, 60-50
A big third quarter helped visiting Central Lyon upend the Sibley-Ocheyedan girls basketball team Tuesday night in a showdown between 6-1 squads.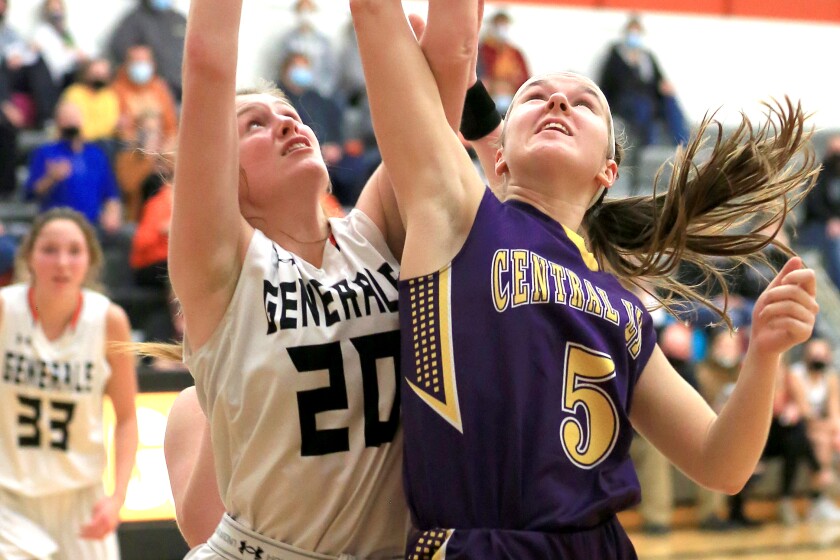 SIBLEY, Iowa -- A big third quarter helped visiting Central Lyon upend the Sibley-Ocheyedan girls basketball team Tuesday night in a showdown between 6-1 squads.
The Lions scored the first 12 points of the quarter to assume a 44-29 lead on the Generals, and in spite of a furious S-O comeback attempt, they held on for a 60-50 win.
There are no moral victories between two good teams such as these, but that the home-standing Generals played the Lions evenly for most of the game constitutes notable improvement from the 2019-20 campaign.
"Last year they beat us in the first game of the season, 86-65. Then later, they beat us again, 66-40," said Sibley-Ocheyedan head coach Steve Kellen.
On Tuesday, the first half was tight throughout. Central Lyon led for most of the way, but the Generals chipped away relentlessly.
A big play for S-O came with 2:42 to go before halftime as 6-foot sophomore Madison Brouwer reached up and blocked a pass at the top of the key. She then came up with the loose ball and drove to the other end of the floor for a layup and was fouled. The ensuing 3-point play gave the Generals a 25-24 advantage.
That inspired the Generals' other super sophomore, 5-5 guard Bria Wasmund, who made a diving steal near midcourt at the 2:26 mark, leading to another Brouwer layup.
But Central Lyon recovered to take a 32-29 lead into intermission, then went on a 12-point run to start the second half as 5-9 junior Brooklyn Krull scored seven of those points.
Sibley-Ocheyedan, fighting back furiously with Wasmund leading the way on defense, outscored the visitors 16-10 in the fourth quarter. Sydney Richardson hit a big 3-point shot to cut S-O's deficit to 51-44 with 3:46 to go. But the Generals' comeback attempt fell short after Wasmund -- running over a Central Lyon rival while trying to get into position to make a steal -- fouled out with 2:17 remaining.
Brouwer, who had seven rebounds and three assists, finished with 15 points to lead the Generals, and Wasmund had 12 points to go along with three assists and three steals. Marissa Ackerman had 10 rebounds, 8 points and three assists.
Wasmund was all over the court, especially in the second half after the Generals succumbed to that 12-point run. Her speed and aggressiveness gave the Lions fits. It just wasn't enough in the end.
"She's a spark plug. I don't think a lot of people know, but her foot's been bothering her all season. I don't think people can see that," said Kellen.
If Wasmund was less than 150 percent on Tuesday night, it didn't show.
"She's one of those players, you can let her loose and she's going to make the right decision," Kellen said.
Hayden Heimensen, a 5-8 senior, tallied 19 points for Central Lyon to lead all scorers. She had 15 points in the first half. Addison Klosterbuer finished with 16 points and Krull had 11.
Despite the setback, Kellen expressed happiness at his team's determination.
"I'm proud that we are where we are," he said, looking back on the Generals' 0-8 start last season. "I think we're right on pace to where we want to be."
Sibley-Ocheyedan 14 29 34 50