Family rivalry: For the first time ever, father and son Mike and Skyler Wenninger will coach against each other on Tuesday
On Tuesday, for the first time ever, father and son, Mike and Skyler Wenninger, will coach a baseball game against each other.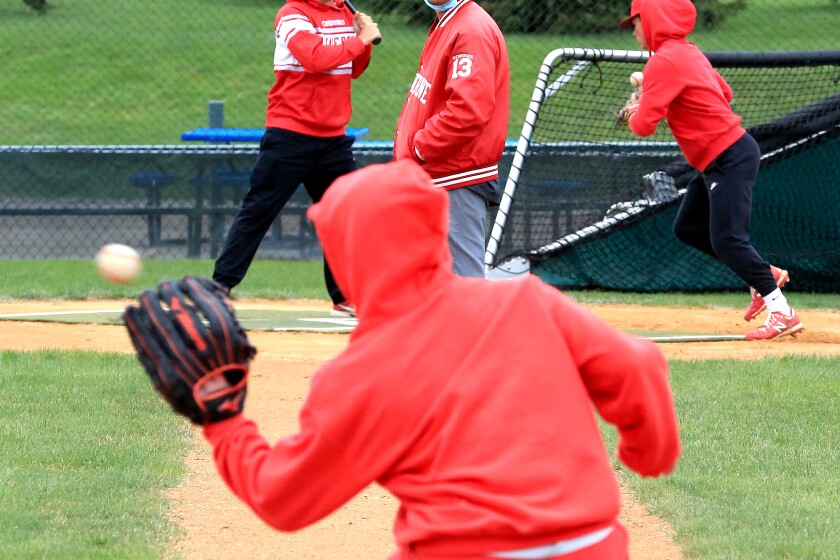 WORTHINGTON -- Mike Wenninger asked an unusual question:
"Is it appropriate," he said, "to give the opposing coach a hug at the pre-game umpire meeting?"
No, not normally. But when the Luverne Cardinals and Worthington Trojans high school baseball teams meet at 5:30 p.m. in Worthington on Tuesday, it's OK. The game will mark the first time ever that father and son, Mike and Skyler Wenninger, will coach against each other.
At first glance, it might seem weird that either Wenninger would embrace on the baseball field. Both of them are known for their toughness and grit. And on Tuesday, they'll not only square off against each other, but Sklyer will also take on his younger brother, Cade, a key player for the 2021 Cards.
Mike, the veteran LHS mentor, practically every season whips his Cardinals into one of the top baseball teams in southwest Minnesota and often has them competing for state tournament berths. He's a hard driver in practice, insisting that every player focus laser-like on his craft and expend every ounce of energy being the best he can be.
Skyler, like his father, was a star high school and college player, and in many ways he's a chip off the ol' block. If anything, his intensity as a player even eclipsed his dad.
Recently, Mike recalled a story about his son that happened several years ago.
"He's not going to like me to say this," he began. "Skyler and I are more similar in temperament than his brother. Cade is more thought-first, and Skyler and I are probably more instinctive. When he was in the ninth grade and I was his ninth-grade coach, he was fiery. And he talked back to his coach. And at that time he offered to take his skills to Adrian."
Who knew that there was a chance Skyler could have been a star for the Adrian Dragons, 16 miles away from home-town Luverne?
"When he did offer, I think what surprised him is that I handed him the phone with Coach (Kevin) Nowotny's number in it, ready to be dialed," continued Mike. "But since that time, we both decided we're on the same team. Once you get to know Skyler a little more, you'll know that he has passion for what he does. He loves kids and he loves baseball."
The 2021 Trojans have a veteran lineup that has shown inconsistency for the first half of the season, but they have also shown that they're more than capable of beating very good teams. The Cardinals are (to no one's surprise) state-ranked.
Worthington, Mike points out, always plays Luverne tough, and the Trojans possess several high-quality athletes. "If their top-end pitchers throw strikes, look out," he said.
Skyler was handed the Worthington baseball job in 2020, but COVID-19 canceled his first season as the leader of the varsity. Now he gets to finally square off against his dad, and he's suitably excited.
"Coaching against my dad, it's almost a dream come true -- getting to play against him, someone I looked up to my whole life," he said immediately following a 6-5 loss to a solid Marshall team last Tuesday.
He has often asked his father for coaching advice, and he always receives it. Both of them are very competitive, said Skyler, who revealed that Mike always likes to compare high school, college and amateur baseball careers with his son.
"He definitely won't take it easy. There's always those bragging rights," Sklyer said, looking ahead to Tuesday's showdown. "I think (a win) would mean more to me. He's got a lot more wins under his belt than me. I think it'd be more fun for me to beat him."
Mike said he doesn't recall ever taking it easy on his kids. He's not likely to change on Tuesday. But whatever happens, he said he'll still invite Skyler home for Christmas.
A hint of a smile shows on his face when he contemplates the thought.
"I am 10 times more likely to invite him back if he wins," he concluded, "than he would if I win."